Metal self-ligating braces are a more sophisticated orthodontic therapy than traditional braces. Several advantages of this therapy have led to its popularity among patients, including the absence of elastics, a shorter duration, ease of cleaning, and better aesthetics.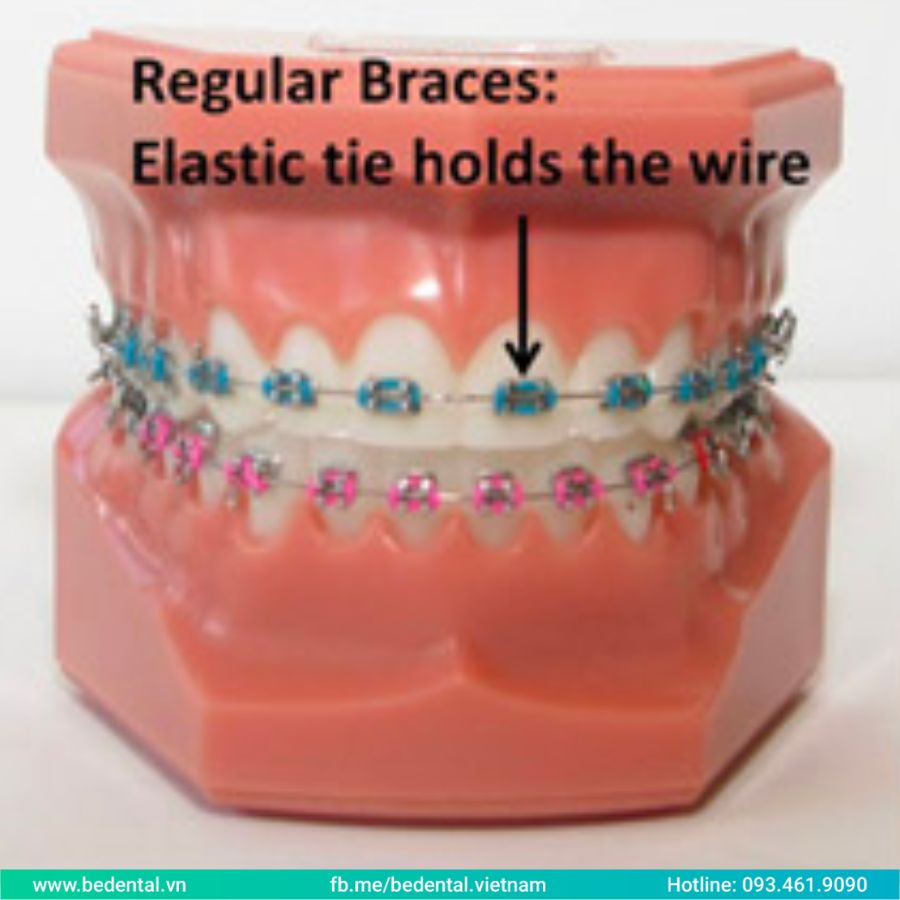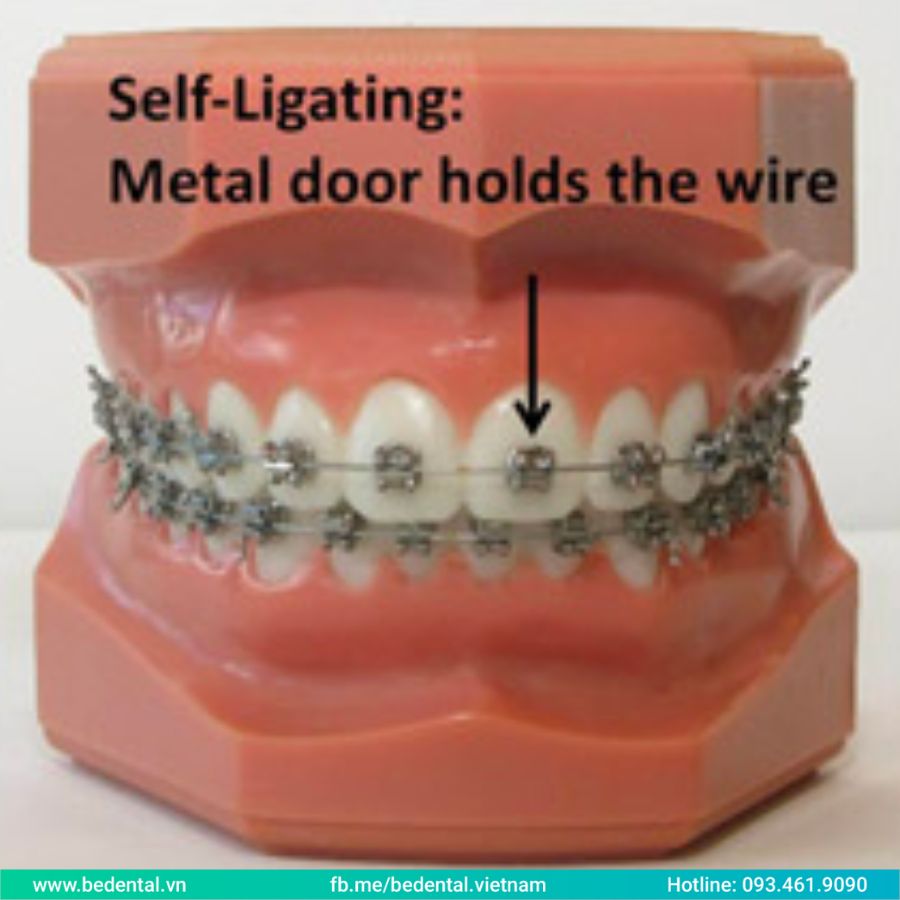 Traditional metal braces include a bracket, archwire, and elastic to maintain the archwire in place. While wearing brackets, it is easy to break the elastic band and lose the archwire, thus it is important to visit the dental clinic periodically to adjust. To address these shortcomings, self-ligating metal braces were developed, which replaced the elastic band technique with automated latches/self-ligating.
Are metal self-ligating braces effective ?
Several factors must be addressed while evaluating the efficiency of metal self-ligating braces. Following are the benefits and drawbacks of metal self-ligating braces:
Advantages:
Beauty: The patient's teeth will not discolor if a rubber band is not used, allowing the patient to talk more confidently. When there are fewer colors and accessories, braces are less obvious.
Shorter duration: Because of the automated locking mechanism, the arch wire glides freely in the bracket, and the teeth come in evenly and solidly. Because teeth shift continually, braces take less time than older procedures.
Minimizing archwire loss: Because of the automated latch, there is no need for an elastic band, and there is no chance of the archwire slipping owing to archwire expansion.
Easy to clean: The base's smooth rounded edges and lack of corners serve to prevent scratching of the mouth mucosa. Also, the sensation of ease when eating, as opposed to being entangled, facilitates dental hygiene.
Lowering friction on bracket arch wires and the traction of teeth moving, assisting persons with braces in minimizing pain and discomfort when wearing brackets
There is no need to visit the dentist on a regular basis: Because the bracket moves automatically, you won't have to visit the clinic as regularly to have the wire adjusted.
Disadvantages:
Although the automated bracket addresses the typical bracket elastic band's issue of simple removal, it still has the following disadvantages:
Braces are visible clearly so in compare with Invisalign and ceramic braces, this method is considered to be less aesthetic

Higher price than traditional method'

The locking mechanism may break or get stuck, requiring repair and slowing down treatment

Smaller brackets may be less effective when rotating larger teeth
Duration of metal self-ligating braces
Self-ligating metal braces can help you save 4-6 months on braces as compared to regular braces. The exact time to wear braces depends on how the brackets are worn, the health of your teeth, and the age of the individual wearing the brackets. The sooner you have your braces on, the faster they will work. Braces normally last 12 to 24 months.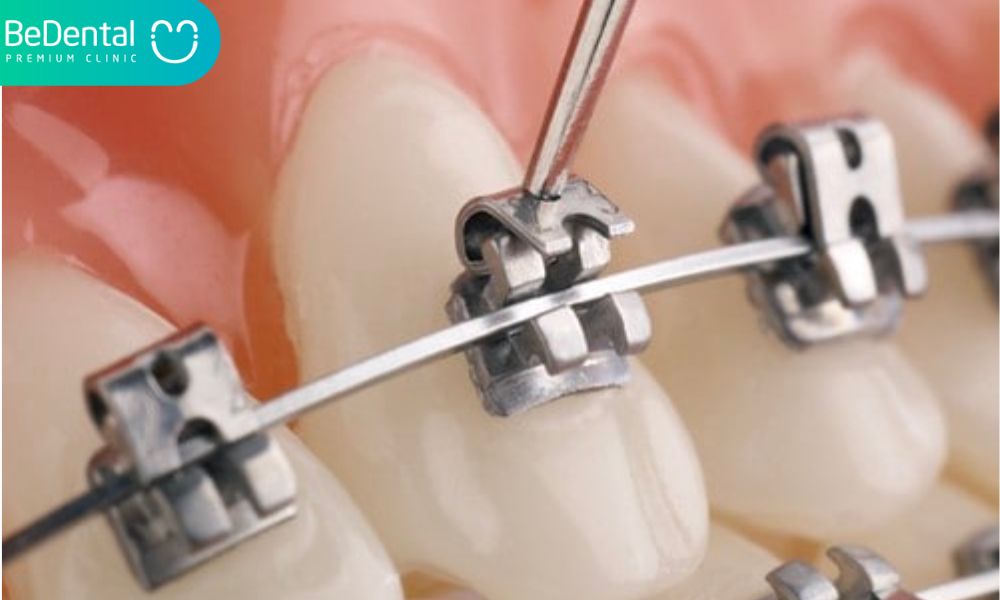 Dentists at BeDental will assist patients in bracing and avoiding tooth extraction with the use of Damon and the F.A.C.E technique.
Who is a candidate for metal self-ligating braces?
Self-ligating braces are a wonderful treatment choice for anybody looking for straight teeth in a pleasant and efficient orthodontic procedure. They are ideal for people who wish to complete treatment as quickly as possible, have fewer office appointments, and are happy with the visible look of braces connected to the teeth.
Everyone in need of orthodontic care can benefit from self-ligating braces, which are an effective therapy for a variety of orthodontic disorders.
They are also a wonderful alternative for people seeking to straighten their teeth without spending a lot of money: self-ligating braces, like regular metal braces, are on the less costly side of orthodontic treatments. Self-ligating braces are a natural alternative for a pleasant, efficient, and easy-to-clean treatment. This powerful treatment will produce excellent results.
Metal self-ligating braces' cost
Metal self-ligating braces generally range in price from $3,500 to $8,500. Many dental insurance coverage will cover at least a percentage of your orthodontic treatment costs.
Where can you get the services?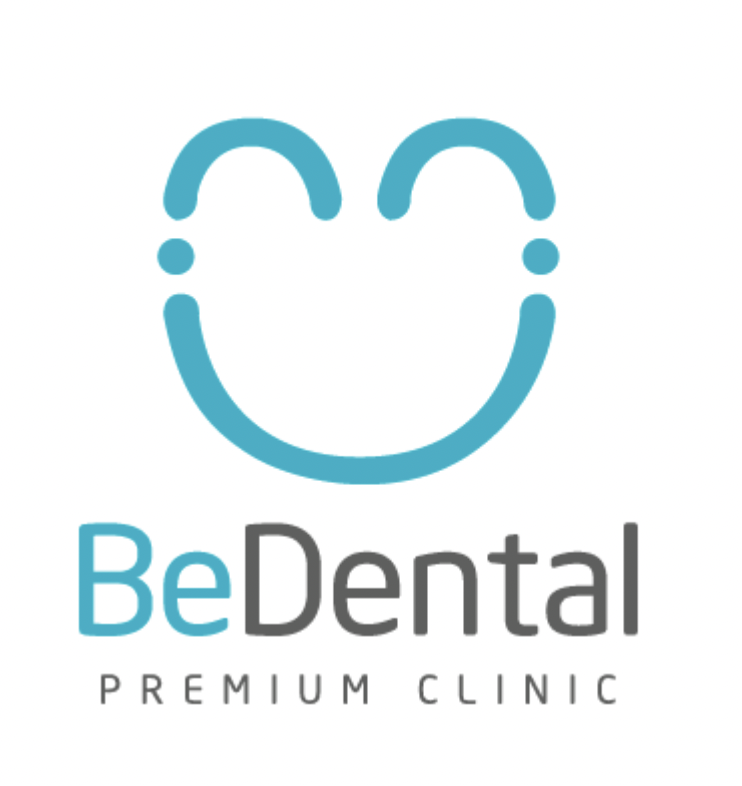 BeDental will be the best choice for those who want to experience the top-notch facilities and qualified dentist.
After a short period of operation, the center quickly established itself as a popular destination for dental treatments and a leader in the area of dentistry. BeDental is set to become the top dentistry facility in Vietnam, thanks to highly qualified dental specialists, cutting-edge technology, and cutting-edge equipment such as a 3D Scan CT scanner, Panorama and Cephalo X-ray machines, a laser teeth whitening system, and so on. BeDental was established with the mission "Sow smile, spread success", and believe that everyone deserves to have a charming and confident smile. That's why Be tried their best to solve the dental problems or obstacles that hide your stunning smile.
In reality, expenses are variable and rely on a variety of factors in a dental office, such as region, facilities, staff, service quality, brand awareness, technology, and so on. BeDental has revised their price list as our facilities and technologies have improved over the last ten years of growth and development. They make certain that their fees are affordable and flexible to a variety of financial conditions.
Dental services Price list at Bedental
Here is dental services price list at BeDental
Over 10,000 patients from oversea chose Bedental last year because we provide premium quality dental care at affordable fees and prices.
We do not provide the cheapest dental works in Vietnam as premium dental works cannot be offered at cheap price.
However, compared to the prices of dentists in US, UK, Australia and New Zealand….. you can expect to save up to 70% of the cost of dental treatments while getting the same level of quality. All products, materials and equipment are manufactured in the US, Japan or Europe. All of them are FDA and CE safety regulation compliant.
ORTHODONTICS PRICE LIST
SERVICE CODE
NAME
PRICE (VND)

CN01

1. Orthodontic Trainer

7.000.000

2. Orthodontic Brace

CN02

Japanese traditional

metal brace

 (See more…)

(2 jaws)

30.000.000

CN03

USD traditional metal brace

 (See more…)

(2 jaws)

35.000.000

CN04

Self-ligating metal brace

(See more…)

(2 jaws)

42.000.000

CN05

Traditional ceramic brace

(See more…)

(2 jaws)

35.000.000

CN06

Self-ligating ceramic brace

(2 jaws)

55.000.000

CN07

Traditional Sapphire brace

(2 jaws)

45.000.000

CN08

Miniscrew: 2.500.000/1 vis

(See more…)

2.500.000

3. INVISALIGN

CN09

Clincheck film

10.000.000

CN10

Invisalign Express Package (Simple)

(Each jaw)

35.000.000

(2 jaws)

45.000.000

CN11

Invisalign Lite Package (Mild)

(Each jaw)

60.000.000

(2 jaws)

75.000.000

CN12

Invisalign Moderate Package (Moderate)

(Each jaw)

85.000.000

(2 jaws)

110.000.000

CN13

Invisalign Comprehensive – level 1 (Unlimited)

Full/ Package

130.000.000

CN14

Invisalign Comprehensive – level 2 (Unlimited)

Full/ Package

150.000.000
FAQs:
Are metal self-ligating braces bigger?
Passive Self Ligating Braces (PSLB)
To optimize the space between each bracket, metal self-ligating braces employ a smaller archwire. This design combination minimizes friction substantially while allowing the appliance to move more freely.
Can metal self-ligating braces break?
Treatment times may be slowed due to an increased probability of breakage: the self-ligating brackets' "locking door" might break or loosen, forcing maintenance and thus slowing treatment durations.
How do you brush with metal self-ligating braces?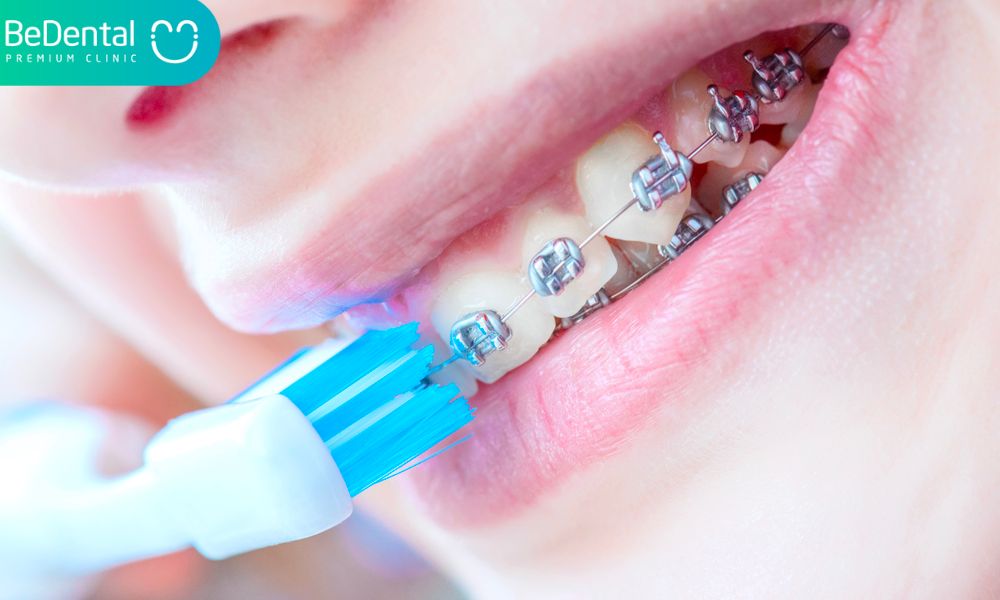 Brush your gum line first, at a 45-degree angle, with your toothbrush. Then, brush the brackets with a downward angle on top and an upward angle on the bottom. After brushing, rinse one more.
Do metal self-ligating braces need tightening?
They do need to be tightened, but not as frequently, and it's a simpler and faster process.
Why are metal self-ligating braces less painful?
The lack of elastic bands minimizes friction and the amount of effort necessary to secure a patient's teeth. As a consequence, patients have reduced tooth erosion or degradation, as well as less pain. Patients reported a 60% decrease in discomfort. When compared to standard brackets.
More
Osstem implant and 3 considerable benefits
Ceramic brace and 4 common questions
Cleaning Water Flossers: How To Clean Water Flosser
Dental Bridge and 4 Types of Dental Bridge
Tooth Fillings and 3 Problems with Tooth Fillings
Tư vấn chuyên môn bài viết:
BÁC SĨ DƯƠNG THỊ THÙY NGA
Bác sĩ chỉnh nha tổng hợp
Ngôn ngữ giao tiếp: Tiếng Việt, Tiếng Anh, Tiếng Nga
Đặt Lịch Hẹn
Xem Hồ Sơ
BEDENTAL - TOP STANDARD DENTISTRY SYSTEM
In HANOI
Address 1: 7B Thi Sach St, Ngo Thi Nham, Hai Ba Trung Dist, Ha Noi. - 0934.61.9090
Address 2: 343 Tay Son St, Nga Tu So Ward, Dong Da Dist, Ha Noi. (Nga Tu So Cross) - 0934.61.9090
Address 3: CC2 Tower  Nguyen Huu Tho St, Dinh Cong Ward, Hoang Mai Dist, Ha Noi. (Inside True Hope ) - 0934.61.9090
In HO CHI MINH
Address 1: 140 Nguyen Van Thu St, Da Kao, Dist. 1, Ho Chi Minh. - 0766.00.8080
Address2: 25, City Land urban area, Go Vap Dist, Ho Chi Minh - 0766.00.8080
Working: 9am - 9pm everyday