What is chipped tooth? Enamel, or the robust outer layer of your teeth, is one of the most powerful substances in your body. However, a forceful hit or extreme wear and tear can cause a tooth to become chipped. The outcome is a jagged tooth surface, which can be unpleasant, abrasive, and disfiguring.
Reasons for a chipped tooth
Teeth can get chipped for a variety of causes. The following are some of the most common causes:
Biting down on hard food, like ice or hard candy

Falls or car crush

Playing contact sports without a mouthguard

Repeated dental work, such as grinding or clenching teeth
Factors Contributing to Chipped Tooth
It appears to be the cause of weakening teeth chipping more easily than strong teeth. The following are some elements that weaken tooth strength:
Enamel is worn away by cavities and tooth decay. Large fillings could make teeth more fragile.

Loss of enamel can result from grinding teeth.

Spicy foods, fruit juices, coffee, and other meals high in acid can erode dental enamel and reveal the tooth's surface.

Acid reflux and heartburn, two digestive conditions, can cause stomach acid to enter the mouth and damage tooth enamel.

Frequent vomiting may be brought on by eating disorders or binge drinking, which can produce acid that can erode away at enamel.

Sugar leads to the growth of germs in your mouth, and these bacteria can harm your enamel.

As tooth enamel weakens with age, those over 50 are more likely to have less durable enamel. The majority of those with fractured teeth—nearly two-thirds—were over 50, according to research in the Journal of Endodontics.
Which teeth are in danger?
A weak tooth is susceptible. The second lower molar and teeth with fillings are the most vulnerable to chipping, according to one study, maybe because they require so much force to eat. Having said that, healthy teeth can nevertheless crack.
Symptoms of a chipped tooth
You might not even realize the chip if it is little and not in the front of your mouth. If you experience symptoms, these might include:
Your teeth could have a rough surface when your tongue runs over them.

There is discomfort in the gums close to the chipped tooth.

discomfort from biting pressure on the tooth, which can be severe if the chip is close to or exposes the tooth's nerves, irritation of your tongue from "grabbiness" on the tooth's uneven and rough edge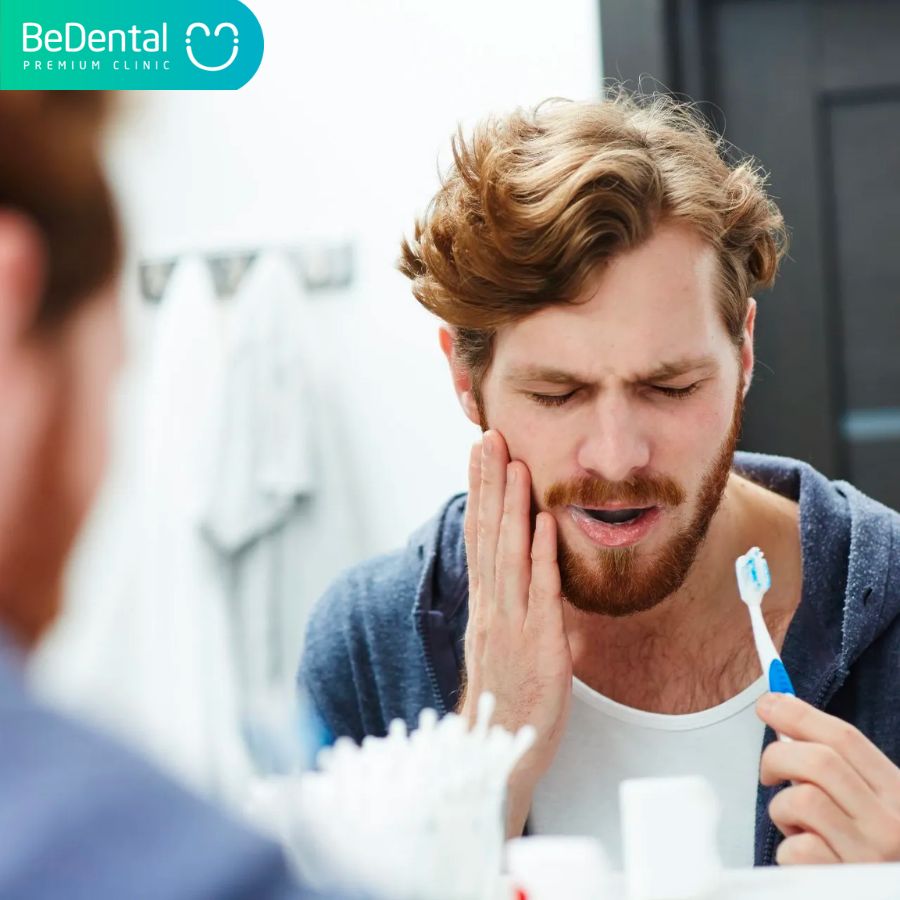 Identifying a chipped tooth
Your dentist can determine if you have a chipped tooth by looking inside your mouth. They will also take into account your symptoms and ask you about any events that could have caused the chipping.
Treatment options for a chipped tooth
The location, intensity, and symptoms of a chipped tooth decide the appropriate course of therapy. Unless it is causing severe discomfort and really preventing you from eating or sleeping, it is not a medical emergency.
Yet, in order to prevent infection or further damage to the tooth, you should visit your doctor as soon as you can. Simple tooth smoothing and polishing can frequently fix minor chips.
For chips that are more extensive, your doctor could suggest the following: 
Reattachment of teeth
Put the fractured tooth fragment, if you still have it, in a glass of milk to keep it moist. The calcium will support its development. Without eating it, tuck the substance into your gum if you don't have any milk.
After that, visit your dentist immediately away. They might be able to put the component back on your tooth.
Bonding
A composite resin (plastic) material or porcelain is used to bond and sculpt the surface of your tooth (layers of ceramic). Utilizing UV rays, the material is dried and toughened. Once the material has dried, it is reshaped to precisely suit your tooth.
Up to 10 years may pass before bonds are issued.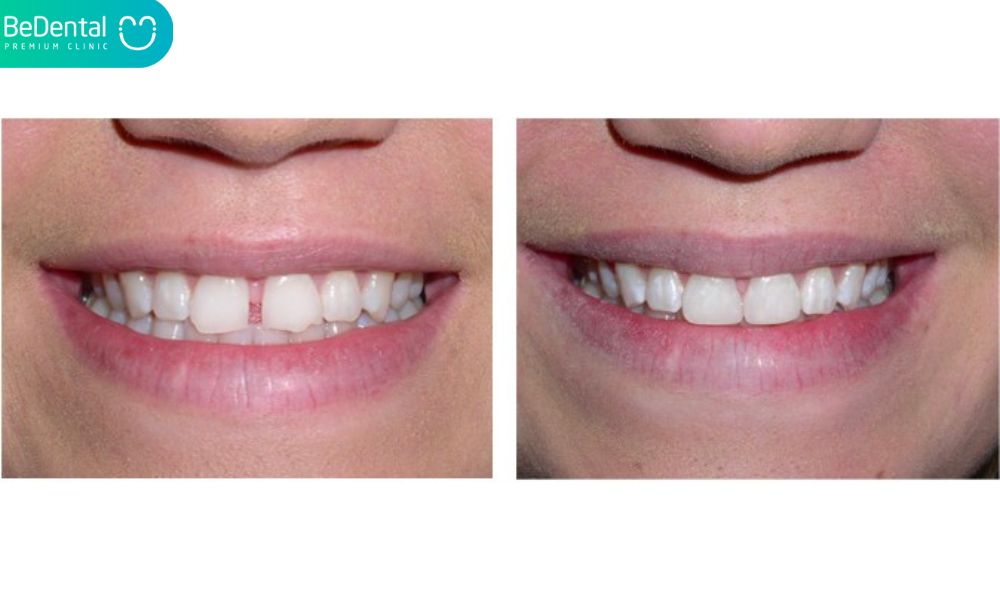 Before placing the veneer, your dentist will smooth away a portion of the tooth's enamel to make room for it. Normally, they remove less than a millimeter.
In order to make the veneer, a mold of your tooth will be taken by your dentist and sent to a manufacturing facility. (A temporary veneer may be used in the interim.) Once finished, your dentist will cement the permanent veneer on your tooth.
Due to the excellent quality of the materials used, the veneer may last up to 30 years.
Onlays in dentistry
A dental onlay, which is frequently used on the surface of molars, may be suggested by your dentist if the chip only affects a tiny section of your tooth. (If there is significant damage to the tooth, your dentist could recommend a full dental crown.) In order to check your teeth and determine whether there is enough room for an onlay, the dentist may decide to give you anesthesia.
Your dentist will frequently take a mold of your tooth and send it to a dental lab in order to create an onlay for you. When the onlay is ready, they will cement it in place after fitting it to your tooth.
Some dentists can quickly mill porcelain onlays in the office and attach them the same day thanks to technical improvements.
Depending on how frequently you consume foods that damage the onlay and which tooth was damaged, dental onlays can last for decades. For instance, a molar that is put under a lot of pressure when chewing will wear more quickly.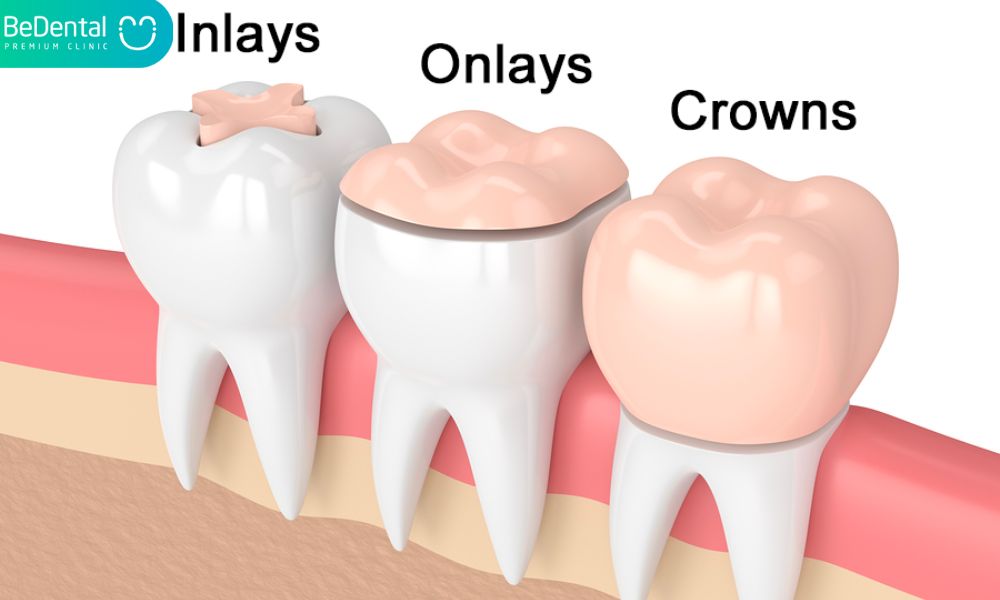 Dental expenses
Depending on where you live in the country, the cost of living varies greatly. Involved tooth type, chip size, and if the pulp (where the nerves are located) is damaged are further implications. However, the following is the average price range you should expect to pay:
Tooth smoothing or planing. About $100.

Reattachment of a tooth. The cost of the dental examination, which can range from $50 to $350, is your responsibility. The cost should be low, though, as tooth reattachment doesn't call for a lot of supplies.

Bonding. Depending on the difficulty, between $100 and $1,000.

Onlays or veneers. The cost can range from $500 to $2,000, but it will also depend on the material and the amount of dental preparation required before attaching the veneer or crown.
Self-care for a broken tooth
While a chipped tooth will almost likely need to be fixed by a dentist, there are steps you may do to protect your teeth in the interim.
Place a teabag, sugar-free gum, a temporary dental filling, or dental wax over the tooth's pointed edge to shield your tongue and gums.

Take an anti-inflammatory painkiller, such as ibuprofen, if you have discomfort (Advil, Motrin IB).

Apply ice to the outside of your cheek if the chipped tooth is making you uncomfortable.

self-care for a cracked tooth

While a cracked tooth will almost likely need to be fixed by a dentist, there are steps you may do to protect your teeth in the interim.

When you eat, food that has become lodged between your teeth might put pressure on your chipped tooth. Floss to remove this food.

Do not chew on a tooth that has been chipped.

Rub clove oil around any sore gums to numb the area.

When participating in sports or at night if you grind your teeth, use a mouthguard.
Chipped teeth complications
If the chip is big enough to damage the root of your tooth, infection could happen. The most common form of therapy is a root canal. The following are some indicators of such an infection:
Pain while eating

Sensitivity to hot and cold

Fever

Bad breath or sour taste in your mouth

Swollen glands in your neck or jaw area
Q&A
Can a chipped tooth be fixed?
Crowns and veneers can both be used to repair damaged teeth. The dentist may suggest one therapy over another, though, depending on the severity of the injury. If the tooth is still in reasonably excellent shape, a veneer could be sufficient. A dental crown is typically necessary for a severe chip or crack, though.
What happens if you chip a tooth?
A chipped tooth may result in dental decay, which will lead to sensitivity. Additionally, a part of the tooth's protective enamel will be gone, exposing the tooth's inner nerves and rendering them vulnerable to pressure, hot, cold, sweet, and acidic foods and beverages.
Is a chipped tooth serious?
The nerve of your tooth might be exposed if you have a chip in your tooth, which is harmful to your health. The tooth is already weaker, agitated, and damaged since cracks are frequently caused by cavities. It frequently fractures in the first place because the density has been decreased by deterioration.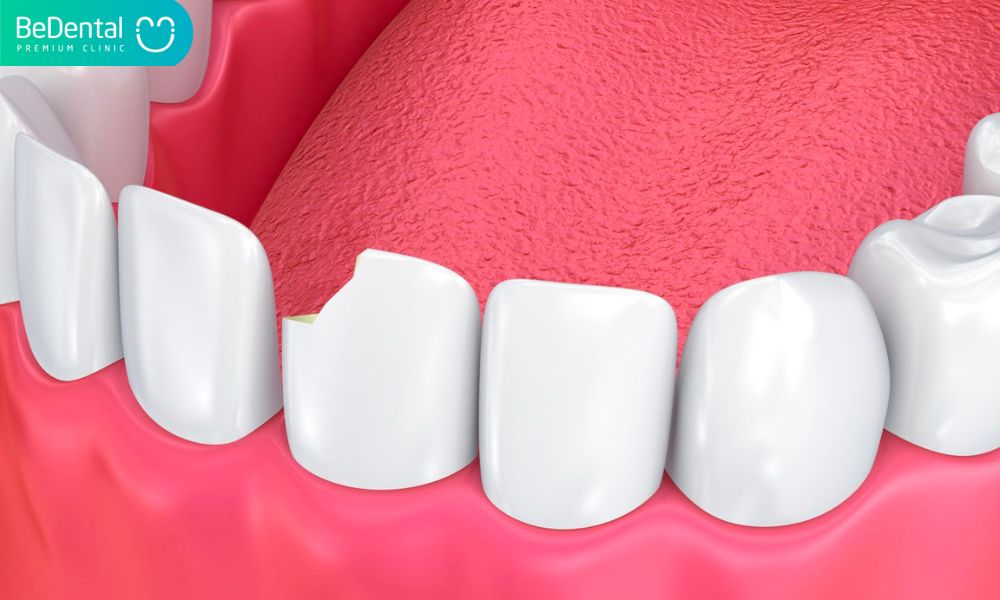 Do chipped teeth heal naturally?
While tiny chips may relieve the uncomfortable sensations, chipped teeth can not get better on their own and need to be treated by a dental specialist.
Can you live with a chipped tooth?
The cracked tooth is prone to infection, which if left untreated will only worsen over time. There are several health issues that might arise if this infection spreads to the head and neck. A chipped tooth may pose a life-threatening situation, but this is uncommon.
At what age do teeth start chipping?
Enamel is more prone to cracks after age 50. As we age, bruxism, or teeth grinding, which wears down the teeth and develops cracks, can also be a problem.
More
Dental Bridge and 4 Types of Dental Bridge
Dental in Vietnam and Top 5 Clinics
Scaling and Polishing – Deep Oral Cleaning and 5 Habits To Keep Teeth Healthy
Tooth decay and 11 risk factors
Dental Implant Care and 6 Common Concerns
Tư vấn chuyên môn bài viết:
BÁC SĨ ĐÀM TRỌNG HIẾU
Bác sĩ phụ trách chuyên môn tại Bedental
Ngôn ngữ giao tiếp: Tiếng Việt, Tiếng Anh
Đặt Lịch Hẹn
Xem Hồ Sơ
BEDENTAL - TOP STANDARD DENTISTRY SYSTEM
In HANOI
Address 1: 7B Thi Sach St, Ngo Thi Nham, Hai Ba Trung Dist, Ha Noi. - 0934.61.9090
Address 2: 343 Tay Son St, Nga Tu So Ward, Dong Da Dist, Ha Noi. (Nga Tu So Cross) - 0934.61.9090
Address 3: CC2 Tower  Nguyen Huu Tho St, Dinh Cong Ward, Hoang Mai Dist, Ha Noi. (Inside True Hope ) - 0934.61.9090
In HO CHI MINH
Address 1: 140 Nguyen Van Thu St, Da Kao, Dist. 1, Ho Chi Minh. - 0766.00.8080
Address2: 25, City Land urban area, Go Vap Dist, Ho Chi Minh - 0766.00.8080
Working: 9am - 9pm everyday