Welcome to the vibrant and dynamic city of Hanoi, where the nightlife scene comes alive with a plethora of exciting bar clubs. If you're seeking an unforgettable and exhilarating experience after the sun sets, look no further. Hanoi boasts an array of trendy and diverse bar clubs that cater to all tastes and preferences, promising to take your nights to new heights.
From stylish lounges to pulsating dance floors, Hanoi's bar clubs offer a captivating blend of music, drinks, and an electric atmosphere. Whether you're a party animal looking to dance the night away or someone who prefers a more laid-back and intimate setting, Hanoi has the perfect spot for you.
Each bar club in Hanoi has its own unique character, offering a distinct ambiance and experience. Whether you're drawn to the sleek sophistication of upscale establishments or the gritty charm of hidden gems tucked away in the city's bustling streets, you'll be spoiled for choice.
In this article, we'll take you on a journey through some of Hanoi's most iconic bar clubs. We'll explore their signature features, the music genres that set the mood, the talented DJs and live bands that grace their stages, and the immersive experiences that await you within their walls.
1900 Le Theater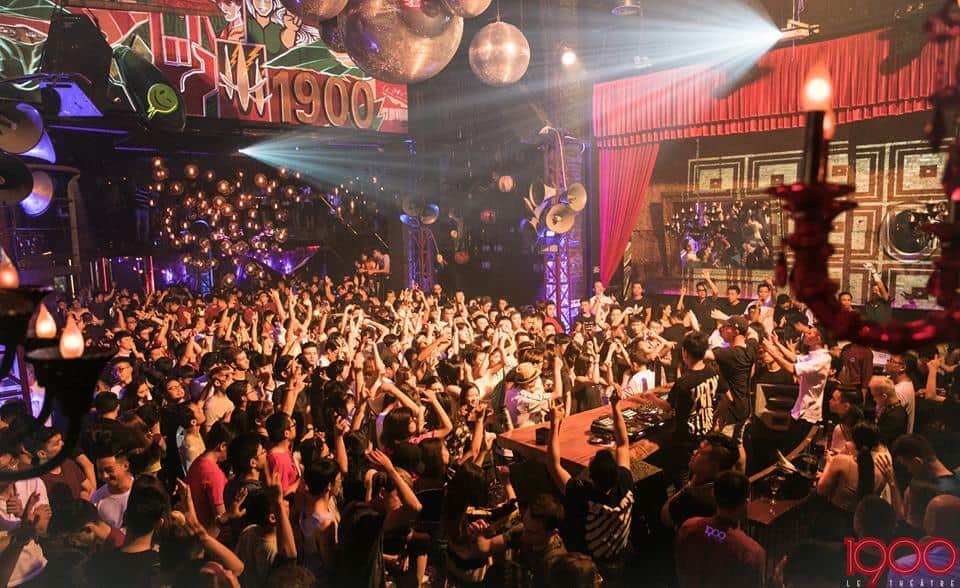 Located in the heart of Hanoi's bustling entertainment district, 1900 Le Theater on Ta Hien Street is one of the popular bar clubs beloved by young people. Formerly a traditional theater, 1900 Le Theater has retained its original charm while incorporating artworks showcasing Hanoi's culture.
The space at 1900 is quite spacious, featuring a mezzanine level and a centrally located bar counter. The decor is eye-catching and leaves a strong impression. With a focus on creating a civilized and wholesome bar environment primarily for young people, students, and teenagers, 1900 not only develops a wide range of beverage options and invests in music to satisfy the youth's passions, but also strives to create a modern and sophisticated atmosphere. It is not just a bar, but also a place to experience the vibrant culture of Hanoi. Hence, the establishment has strict age regulations for entry and alcohol consumption.
Equipped with modern sound systems, lighting, and professional DJs and musicians, 1900 has successfully built a top-notch, wholesome, and contemporary nightlife destination in Hanoi today.
CONTACT INFORMATION:
Address: 8B Ta Hien, Hoan Kiem, Hanoi
Hotline: 0911 991 900 & 0911 111 900
You may also want to check out >> Top 10 beer club in Hanoi that you should check out 
Shark Club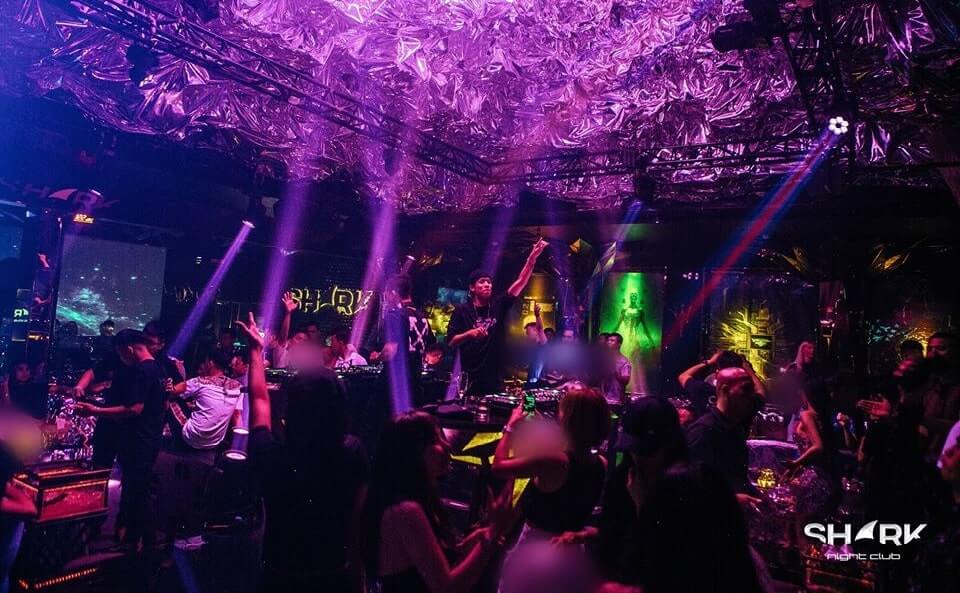 Located on Trang Tien Street in the bustling center of the capital city, Shark Club is a shining star in Hanoi's nightlife scene. It brings together unique cultural elements through its music taste and top-notch performances by leading showbiz artists. It is an entertainment space that the young generation shouldn't miss.
Equipped with world-class sound and lighting systems, Shark Club offers crisp, resonant, and pleasing audio experiences. Moreover, the club boasts a distinctive stage technology with unique and captivating effects, the first of its kind in Vietnam. 
The space at Shark Club is meticulously designed and divided into different areas, from the interior to the entertainment area, ensuring the most scientific and logical layout possible. The club provides standing and seating areas along with a dynamic dance floor. Depending on the customers' preferences, the club arranges the most suitable and convenient positions for them.
Shark Club is truly the go-to place for fun and entertainment for the young crowd, thanks to its vibrant atmosphere and lively music, featuring the participation of many top Vbiz artists such as Hồ Ngọc Hà, Bằng Kiều, Binz, Soobin Hoàng Sơn, Bích Phương, Trịnh Thăng Bình, Đức Phúc, Erik, Amee, Orange, Tlinh, MCK, and more.
Furthermore, Shark Club always takes the lead in bringing world-class DJs to Vietnam, including Marlo, Dash Berlin, Mr.Black, and renowned resident DJs such as Huy DX, DS, Gary Binh, who are well-known figures in the capital city's nightlife scene. With this lineup, Shark Club consistently attracts a large number of visitors.
Under the skillful hands of professional DJs, partygoers will enjoy dynamic trance parties featuring the presence of iconic figures in Vietnam's electronic music community. Prominent names like Thiện Hí, Kaiser, and Karoo Dinh promise to create an explosive and energetic night of music.
Not only that, but Shark Club also offers a diverse and extensive drink menu. In addition to familiar strong drinks from top manufacturers, the club presents a selection of cocktails that are essential. Crafted by skilled bartenders, each cocktail is an artistic masterpiece, delivering unique flavors and evoking distinct emotions tailored to each customer's order.
CONTACT INFORMATION:
Address: 21 Trang Tien, Hoan Kiem District, Hanoi
Phone: 0908 552 121
Bar New Square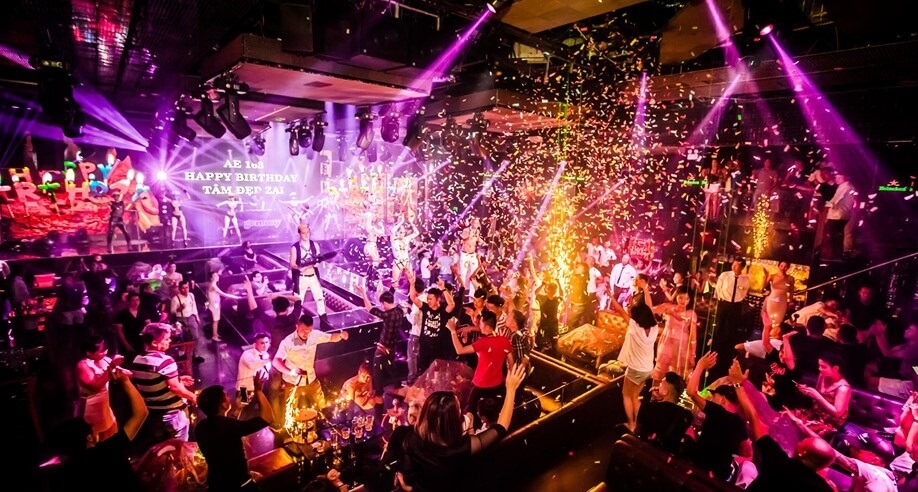 New Square is one of the largest bars in Hanoi, beloved by the young crowd. Its reputation stems from being one of the first bars in Hanoi, pioneering in the realm of entertainment and lively music when such bars were still rare.
Furthermore, the vibrant atmosphere and modern interior design, coupled with an impressive sound system, elevate New Square to a level that other bars struggle to match. New Square has a capacity of approximately 1,000 people and is located within the Deawoo Hotel in Hanoi (360 Kim Ma – Ba Dinh – Hanoi).
Every week, New Square hosts numerous events featuring the participation of many famous artists. Amidst the enchanting and mesmerizing lighting, guests can unwind and immerse themselves in vibrant music played by renowned Vietnamese and international DJs.
CONTACT INFORMATION:
Address: 360 Kim Ma, Ngoc Khanh, Ba Dinh, Hanoi
Phone: 0903 249 670
The Opera Club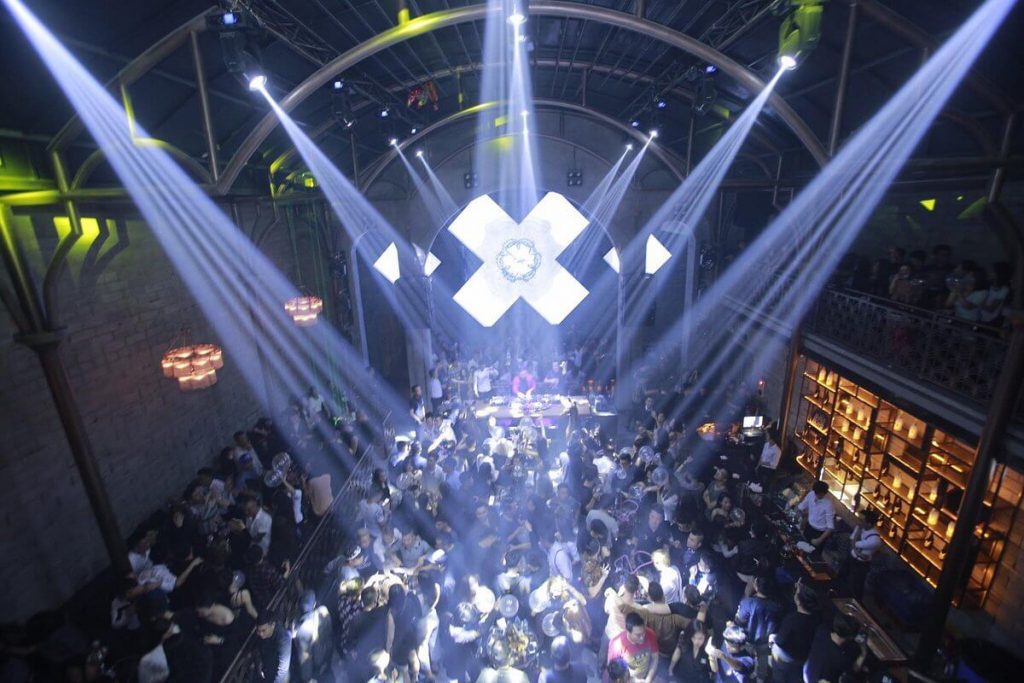 Although The Opera Club has only recently made its debut in Hanoi, it has already attracted a significant number of EDM music enthusiasts, who flock to this trendy new venue. Located at 18 Luong Ngoc Quyen, Hoan Kiem, Hanoi, The Opera is the new party destination in the capital city that bar and club enthusiasts should not miss this year.
Even though the design is still 80% complete, the young crowd in Hanoi couldn't wait any longer and had to check-in at this rumored fusion of Fuse Bar and XOXO Club. Through the exhilarating moments of the beautiful and handsome party-goers, it is evident that The Opera is a convergence of sophisticated lighting, dynamic space, and energetic music. With its cutting-edge music taste, The Opera Club attracts a large number of Vietnamese youths and notably, a diverse group of foreigners.
CONTACT INFORMATION:
Address: 18 Luong Ngoc Quyen, Hoan Kiem, Hanoi
Hotline: 0901 021 818
Email: theopera.vn@gmail.com
Opening hours: 21:00 – 02:00 (Wednesday – Sunday)
Read more >> Top 6 cocktail pubs in Hanoi you don't want to miss
Jigger Cocktail & Wine Bar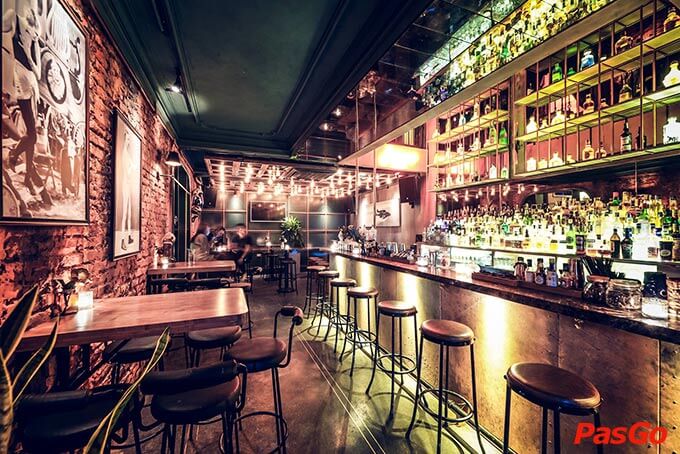 Jigger Cocktail & Wine Bar, established nearly a year ago, is situated on Nam Ngư Street amidst eateries, beauty salons, and clothing stores. Housed within this beautifully refurbished building is a speakeasy-style bar with a unique and contemporary design. The space at Jigger Cocktail & Wine Bar is meticulously crafted, from the lighting and seating to the wall details and neon signs, creating an exquisite and cozy ambiance that stands apart from the hustle and bustle of the capital city.
Leading the bar team is Helen Nguyen, formerly known as a trainer at The Unicorn. Helen has brought a fresh perspective to both the service and cocktail crafting style. For her, a delicious drink must strike a balance between flavors.
Moreover, Helen's mixology style combines modern techniques while still embracing simplicity and the value of ingredients. She constantly has an unwavering passion for creating new beverages, with the driving force being the satisfaction and happiness of her guests.
CONTACT INFORMATION:
Address: 59 Nam Ngư, Cửa Nam, Hoàn Kiếm, Hanoi
Phone: 0948 888 420
Polite & Co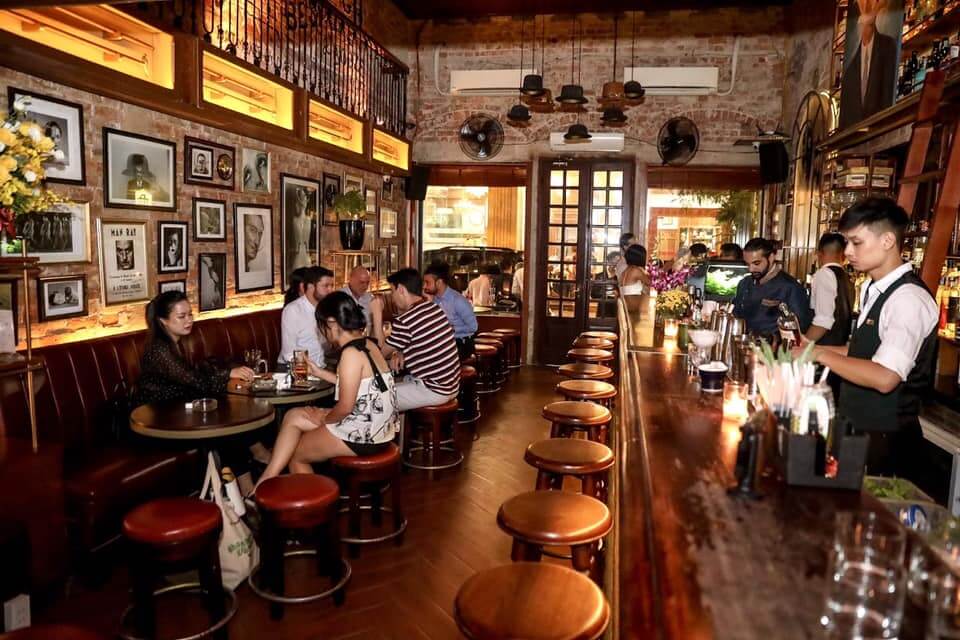 Polite & Co, formerly known as Polite Pub, was established by a Hanoi local. The precursor to Polite Pub was the first traditional pub in the capital, opened in 1995. In 2013, the pub owner passed on Polite Pub to his grandson for succession. This marked the time when the bar underwent renovations and reopened under the name Polite & Co, specializing in serving whiskey and cigars. Currently, while the bar is gradually incorporating itself into the cocktail scene, whiskey remains a popular beverage here.
Drawing design inspiration from upscale gentlemen's clubs of the 1920s, the interior of Polite & Co exudes sophistication and warmth. Here, the cocktail menu changes every six months, featuring a collection of 25 cocktails from around the world as well as concoctions that evoke the flavors of Hanoi. A special Mixology Journey menu is crafted, typically consisting of 5-10 cocktails prepared based on weekly themes.
For a menu with a distinctive Hanoi touch, the bar also creatively introduces five locally-inspired cocktails, utilizing local ingredients, each presenting not only complex flavors but also meticulous presentation. One of them is The Street Vendor, a cocktail that reminisces about the old quarter of Hanoi through a concoction of gin-infused chamomile, showcasing layers of fruit and floral notes.
CONTACT INFORMATION:
Address: 5B Bao Khanh Alley, Hanoi
Phone: 0968 949 606
Email: politeandco.hanoi@gmail.com
Lift Bar & Lounge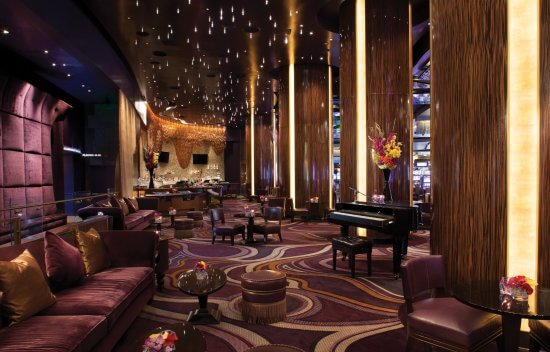 Lift Bar & Lounge boasts a grand and luxurious space, accompanied by excellent music featuring hip-hop and house genres mixed by top DJs from Vietnam and around the world. 
Lift Bar & Lounge has successfully fulfilled the first two criteria of a renowned bar: a beautiful ambiance and a high-quality, vibrant sound system. Understanding the preferences and desires of Hanoi's young crowd, Lift Bar & Lounge has created a surprising entertainment paradise with a premium lighting system complementing the stunning interior space.
Lift Bar & Lounge possesses an extremely grand and elegant space adorned with colorful lights that create captivating visual effects, contributing significantly to the joy and excitement for young patrons visiting this bar. Lift Bar & Lounge is always an attractive meeting point, whether for business discussions or simply a casual chat with friends and loved ones.
CONTACT INFORMATION:
Address: 18 Ly Thuong Kiet, Hoan Kiem, Hanoi
Phone: 0968 385 555
Pharaoh's Bar & Upper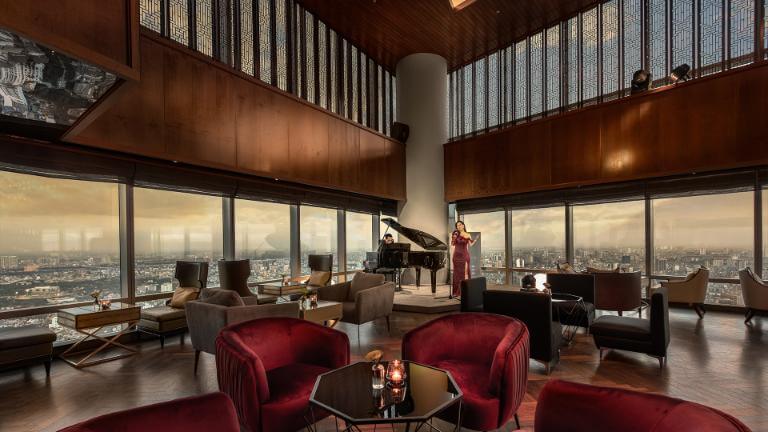 If you're a fan of high-rise spaces, then Pharaoh's Bar & Upper is the place for you. Located on the 63rd floor of the Lotte building, from here, you can enjoy a panoramic view of Hanoi at night. The stunning view alone is a great advantage for Pharaoh's. Pharaoh's Bar & Upper welcomes visitors to experience the perfect nightlife of Hanoi by offering light bites and handcrafted cocktails.
The bar has received many positive feedbacks regarding the service attitude of the bar staff. With a less crowded atmosphere compared to Top of Hanoi on the 65th floor, you can still enjoy a private space when meeting with friends. And especially, if you want to dance a little, you can head up to the loft area with a DJ playing music every night.
If you're looking for a trendy bar with excellent cocktails, Pharaoh's Bar & Upper is the best choice for you. Let's create a memorable night in Hanoi with Pharaoh's Bar & Upper.
CONTACT INFORMATION:
Address: Floors 63-64, Lotte Center, 54 Lieu Giai, Hanoi
Hotline: 024 3333 1704
Email: pharaohbar@lotte.net
Conclusion
In a city as vibrant and diverse as Hanoi, the bar scene offers a myriad of options for those seeking a memorable night out. Whether you're a cocktail connoisseur, a lover of live music, or simply in search of breathtaking views, Hanoi's bars have something for everyone.
So why not gather your friends, colleagues, or loved ones and embark on an unforgettable evening? Head over to Polite & Co, where the timeless charm of a traditional pub blends seamlessly with the artistry of mixology. Savor the rich flavors of their expertly crafted cocktails while immersing yourself in an atmosphere reminiscent of a bygone era.
For those who crave a high-rise experience, Pharaoh's Bar & Upper is the perfect choice. Take in the panoramic view of Hanoi's enchanting skyline from the 63rd floor of the Lotte building, while indulging in delightful bites and handcrafted cocktails that exemplify the art of mixology.
If you're seeking a more energetic ambiance, Lift Bar & Lounge awaits you. Let the beats of hip-hop and house music transport you into a world of electrifying energy while enjoying the luxurious and grand space that surrounds you. With its impeccable service and dazzling light displays, Lift Bar & Lounge is the ultimate destination for those who want to see and be seen.
In Hanoi, the possibilities for a memorable night out are endless. Whether you choose to unwind with a sophisticated drink, dance the night away, or simply soak in the breathtaking views, these bars offer an invitation to experience Hanoi's vibrant nightlife like never before. So gather your friends, raise a glass, and let the magic of Hanoi's bars weave unforgettable memories that will last a lifetime. Cheers to an extraordinary night out in the heart of Hanoi!
You may also want to check out >> Top 10 Pubs In Hanoi That Worth Your Night!
Tư vấn chuyên môn bài viết:
BÁC SĨ DƯƠNG THỊ THÙY NGA
Bác sĩ chỉnh nha tổng hợp
Ngôn ngữ giao tiếp: Tiếng Việt, Tiếng Anh, Tiếng Nga
Đặt Lịch Hẹn
Xem Hồ Sơ
BEDENTAL - TOP STANDARD DENTISTRY SYSTEM
In HANOI
Address 1: 7B Thi Sach St, Ngo Thi Nham, Hai Ba Trung Dist, Ha Noi. - 0934.61.9090
Address 2: 343 Tay Son St, Nga Tu So Ward, Dong Da Dist, Ha Noi. (Nga Tu So Cross) - 0934.61.9090
Address 3: CC2 Tower  Nguyen Huu Tho St, Dinh Cong Ward, Hoang Mai Dist, Ha Noi. (Inside True Hope ) - 0934.61.9090
In HO CHI MINH
Address 1: 140 Nguyen Van Thu St, Da Kao, Dist. 1, Ho Chi Minh. - 0766.00.8080
Address2: 25, City Land urban area, Go Vap Dist, Ho Chi Minh - 0766.00.8080
Working: 9am - 9pm everyday