Welcome to the vibrant city of Hanoi, where the nightlife scene is as diverse as its rich cultural heritage. Among the myriad of options, cocktail pubs stand out as havens for those seeking an exquisite drinking experience. 
Hanoi's cocktail pubs offer a delightful fusion of flavors, ambiance, and impeccable service, making them an essential stop for both locals and visitors alike. 
From classic cocktails with a twist to innovative concoctions crafted by talented mixologists, these establishments showcase the artistry of bartending while providing a cozy and inviting atmosphere. 
Join us as we explore the world of cocktail pubs in Hanoi, where every sip is a journey of taste and every visit promises an unforgettable evening of indulgence.
1) Funtasia Cocktail & Wine Bar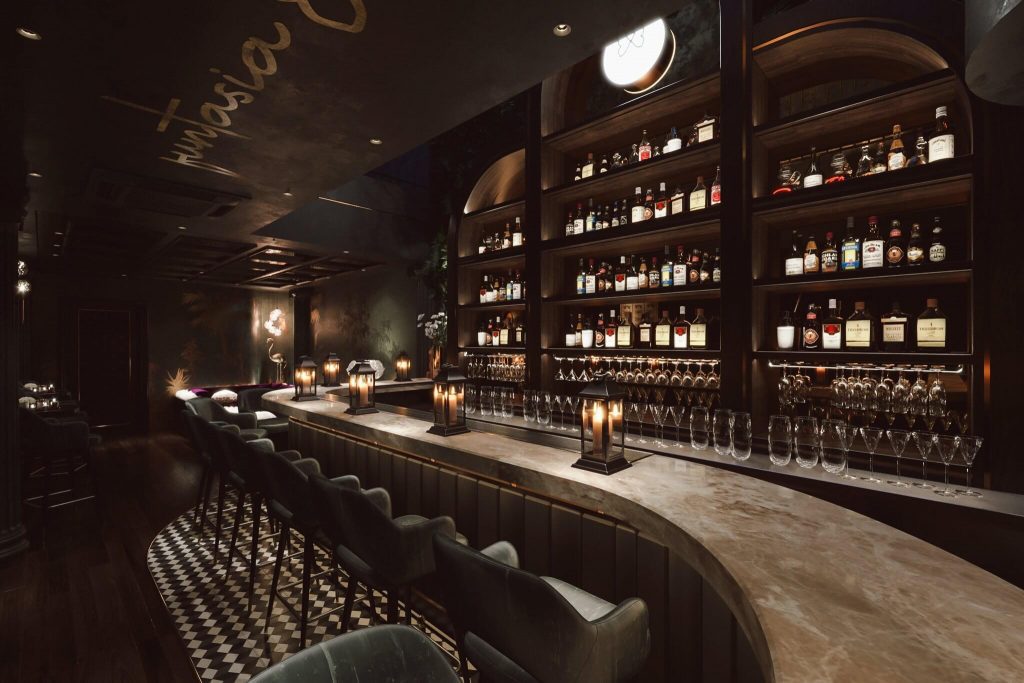 Located on Tông Đản Street, in the heart of the city and next to the Old Quarter, with a romantic view, Funtasia Cocktail & Wine Bar is an ideal destination for relaxing your soul with great music and chilled drinks in a cozy setting to fully enjoy the nightlife.
However, finding the exact location of this bar can be quite an exciting discovery for many, as it is hidden behind a flower shop called "Sayhoa." To enter Funtasia, you have to pass through these beautiful flower stalls. Following the colorful and floral-scented path, you will be greeted with the words "How are you today," marking your official entrance into the space of Funtasia Cocktail & Wine Bar.
Inheriting the characteristic "mystery" of hidden bars, Funtasia Cocktail & Wine Bar brings forth interesting and unique experiences within its interior space. Funtasia meticulously designs every corner with high-quality furnishings, creating a space that maintains the classic style of a speakeasy bar while incorporating modern colors to cater to the tastes of today's young generation.
The combination of earthy tones and mystical lighting further enhances the elegant and refined beauty of the bar. Notably, Funtasia uses 100% greenery to decorate the multi-level wall at the bar counter, featuring tropical-themed artwork, butterfly and insect collections, and starry skies, creating a sense of a friendly and fairy-tale-like natural garden, in line with the bar's name, "F-u-n-t-a-s-i-a."
Beyond stimulating curiosity and fascination with its innovative design concept and impressive interior, another unique aspect that you shouldn't miss at Funtasia Cocktail & Wine Bar is its diverse world of drinks with names that are one of a kind, carrying a close and positive meaning inspired by the cyclical growth of plants.
The professional bartender team is an integral part of Funtasia Cocktail & Wine Bar. They all have experience working at famous cocktail bars in Saigon and Hanoi, not only mastering mixology techniques but also possessing communication skills, wit, deep understanding of various types of spirits, and the ability to create drinks based on the mood and personality of each guest.
It can be said that the experience at Funtasia is a perfect combination of sound and taste, from the music performed by professional DJs or the high-quality XDJ RX3 sound system to the incredibly diverse range of cocktails, from beautiful presentation to exceptional flavors. It will undoubtedly provide the most complete evening for anyone who steps inside.
The bar's space is arranged to accommodate small tables for couples, large tables for groups of friends, and a bar counter for those who prefer to enjoy their time alone.
Whether you visit Funtasia alone or with loved ones, the bar is pleased to welcome and serve its valued guests in a private space for relaxation or to share daily life stories.
CONTACT INFORMATION:
Address: 4 Tông Đản, Hoàn Kiếm, Hanoi
Phone: 0988 275 995
Email: funtasiabar@gmail.com
Opening hours: 18:00 – 2:00
2) Nê Cocktailbar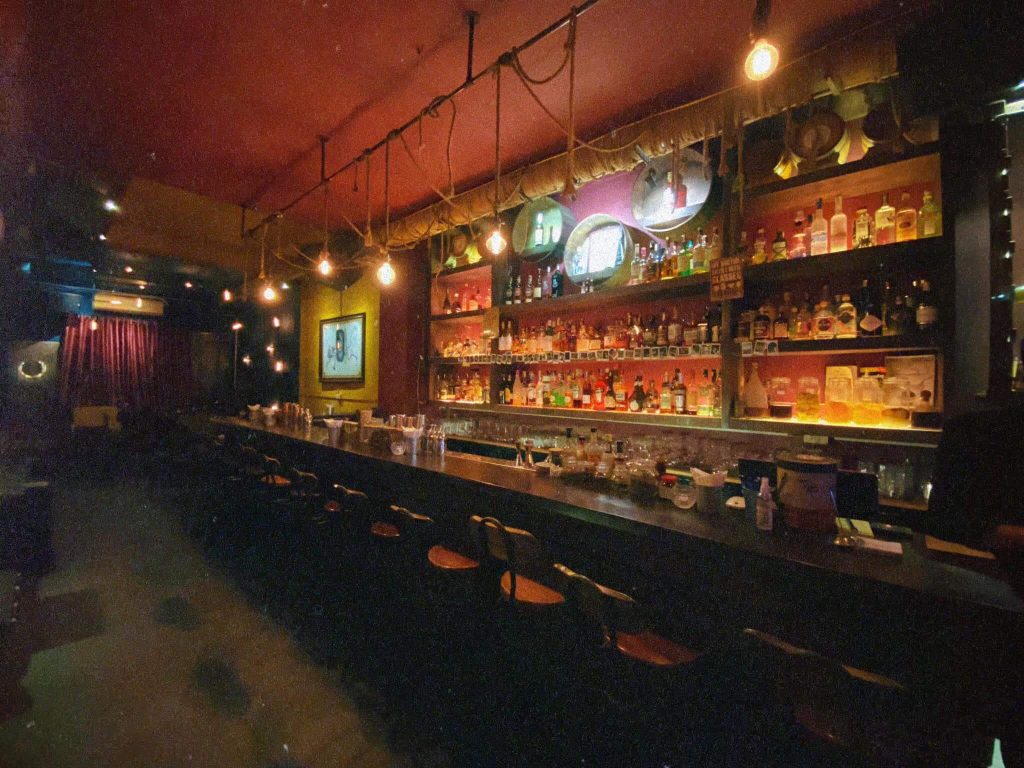 Nê Cocktailbar is a popular destination among many young people in Hanoi. It is a favorite spot for couples and a great place for those who appreciate wine and cocktails. Nê Cocktailbar attracts bartenders who come together to meet, chat, and exchange experiences. Start your evening with the familiar Negroni cocktail, its indescribable aroma of herbs melting away the day's worries. It's hard to have just one cocktail at Nê, given the tempting offers from the skillful and charismatic bartenders. And occasionally, they might even treat you to some cocktail shots.
If you find yourself at Nê, chances are you'll have a memorable night, either slightly tipsy or happily intoxicated. Nê loves its guests, and their safety after a night of drinking is a top priority, as Nê wants to meet them again many more times… The menu at Nê Cocktailbar is incredibly diverse, with many easy-to-drink cocktails tailored for the ladies. The space is decorated simply, gently, yet exudes a refined ambiance. Combined with soft, soulful music, Nê Cocktail Bar has been ranked among the top 220 bars in the world.
CONTACT INFORMATION:
Address: 3B Tống Duy Tân, Hàng Bông Ward, Hoàn Kiếm District, Hanoi
Phone: 0793 993 934
Email: nebarhanoi@gmail.com
Opening hours: 19:30 – 02:00″
3) The Alchemist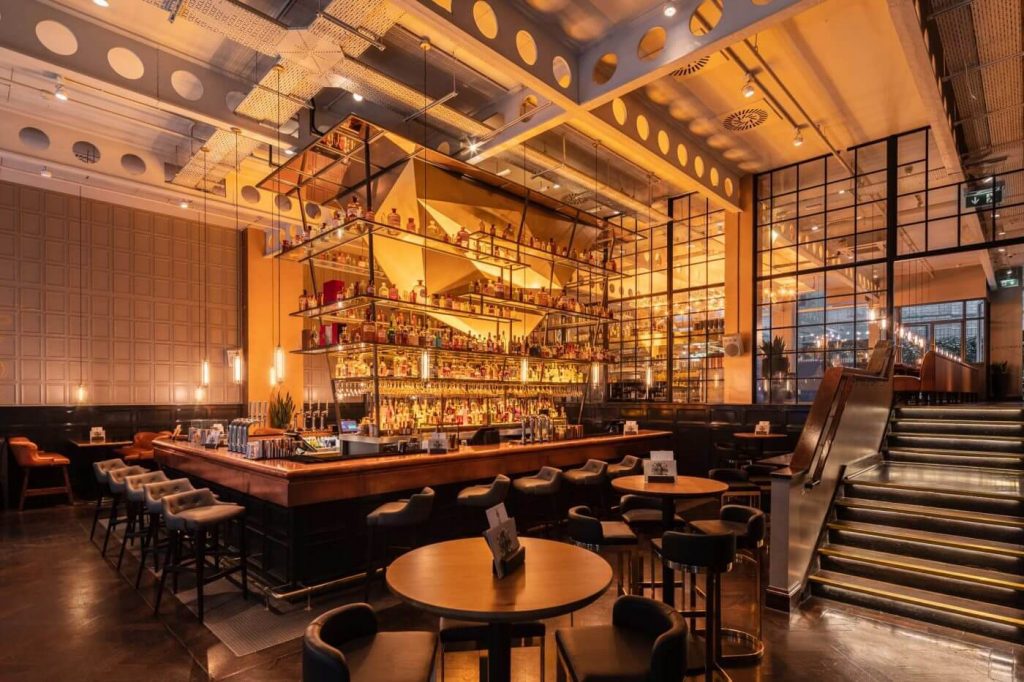 Located on the second floor of a house in the historic Nguyen Quang Bich Street, as soon as you step into the establishment, The Alchemist impresses customers with its nostalgic and cozy atmosphere, characterized by unique and meaningful design elements.
The Alchemist is filled with jazz and classical music, creating a classic ambiance. The dim and warm lighting in the venue provides a comfortable feeling, allowing customers to open up, easily share conversations with friends, and enjoy delicious cocktails. The drinks at The Alchemist receive positive feedback from customers, as they are crafted with flavors that match those found in foreign bars. Beyond the beautiful space and delightful beverages, customers are also satisfied with the polite, attentive, and dedicated service provided by the staff.
Thanks to its outstanding quality, The Alchemist attracts not only local customers but also visitors from abroad. The nightlife in Hanoi reflects the vibrant lifestyle of the city, with the emergence of gentle lounge bars, lively clubs, and upscale cocktail bars. Sometimes, an excess of rock and pop music can become overwhelming, prompting music lovers to seek something more soothing. Although jazz clubs may not be the first thing that comes to mind when thinking of Hanoi's dynamic nightlife, they still hold a special place in the hearts of Hanoians whenever they need to relax their minds.
CONTACT INFORMATION:
Address: 25 Bat Su, Hang Bo Ward, Hoan Kiem District, Hanoi
Phone: 0968 713 442
Email: wobartending@gmail.com
Opening hours: 19:00 – 01:00
4) Polite & Co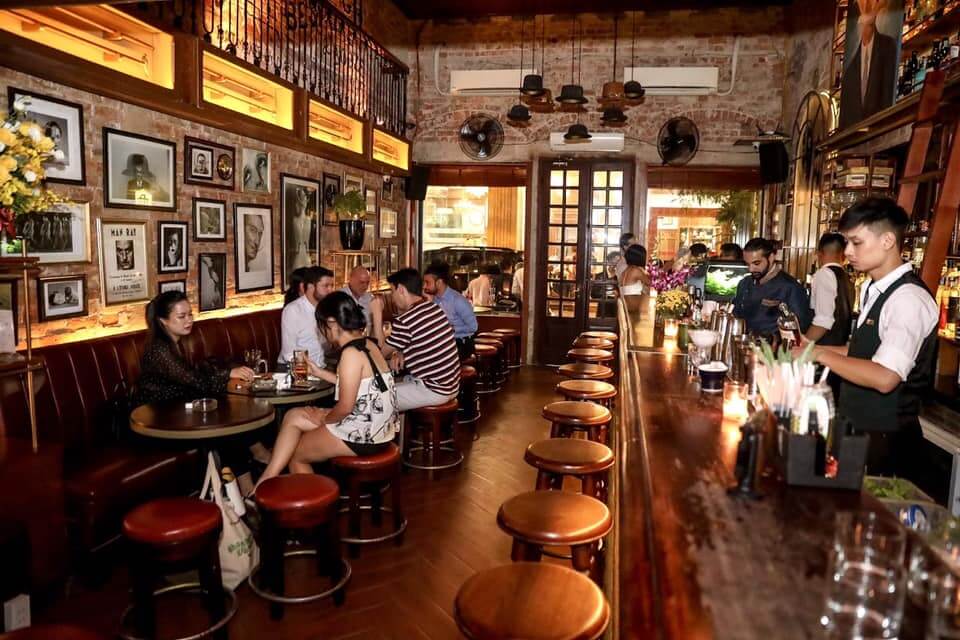 Polite & Co is a classic-style cocktail pub in Hanoi. The pub often plays gentle and soothing melodies, creating a pleasant atmosphere. Polite & Co offers a wide variety of cocktails with different flavors.
The drinks at Polite & Co satisfy even the most discerning customers. The quick and friendly service is an added advantage of Polite & Co. At Polite Pub, we often break the conventional rules of classic cocktails. We don't go overboard, but we add enough to make them more impressive than the original versions.
For example, with the classic cocktail Negroni, we add sweetness and spice notes to balance the bitterness of Campari by using a touch of the popular Ableforth's Old Tom Gin from Europe. We also add a few drops of Orange Bitters to highlight the orange flavor of Campari and Sweet Vermouth. These small adjustments create a Negroni that is truly unique and remarkable.
Polite & Co draws inspiration from the gentlemen's clubs of the 1920s. Formerly known as Polite Pub, it provides an intimate space to enjoy special coffee and a cozy atmosphere to savor cocktails and whisky for a memorable night. Polite & Co takes pride in offering a menu of hot beverages with a classic European style, featuring characteristics from Western countries. Come and indulge yourself.
CONTACT INFORMATION:
Address: 5B Bao Khanh Alley, Hang Trong Ward, Hoan Kiem District, Hanoi
Phone: 0968 949 606
Email: politeandco.hanoi@gmail.com
Opening hours: 17:00 – 00:00
5) The Summit Bar
When it comes to one of the most beautiful cocktail bars in Hanoi, it would be a great omission not to mention The Summit Bar. To reach The Summit Bar, you need to park your vehicle on the ground floor and take the elevator up. Located on the 20th floor of the 5-star Pan Pacific Hotel, this cocktail bar boasts a luxurious, grand, and classy view.
Sitting on this airy rooftop, you can gaze upon the panoramic view of Hanoi, admire the Nhật Tân Bridge, Trúc Bạch Lake, or West Lake. Observing the endless night sky from the 20th floor of Pan Pacific Hotel Hanoi, the colorful festival of fireworks across Hanoi illuminates the moment of transition as we raise our glasses to welcome 2023 and exchange the most sincere expressions of love.
Especially if you come here during twilight, you can also enjoy the romantic sunset over West Lake. In the evening, you can observe the stars in the Hanoi night sky. In addition to the attractive outdoor space, The Summit Bar also offers cozy and elegant indoor seating, suitable for discreet dates.
The prices at the bar may be slightly high, but they are completely worth the experience you will have. To add an interesting touch to this autumn season, Pan Pacific Hanoi introduces a unique collection of cocktails inspired by various types of sparkling wine. The enticing flavors of each drink combine the sweetness of sparkling wine with a variety of fresh fruits such as strawberries, mangoes, and lemons, along with a hint of fiery vodka, promising to bring forth a complete sensory experience for a peaceful evening with your loved one.
CONTACT INFORMATION:
Address: 20th floor, Pan Pacific Hanoi Hotel, 1 Thanh Niên Street, Trúc Bạch Ward, Ba Đình District, Hanoi
Phone: 0901 778 318
Email: summit.pphan@panpacific.com
Opening hours: 14:00 – 23:00
6) Gallery Bespoke Cocktail Bar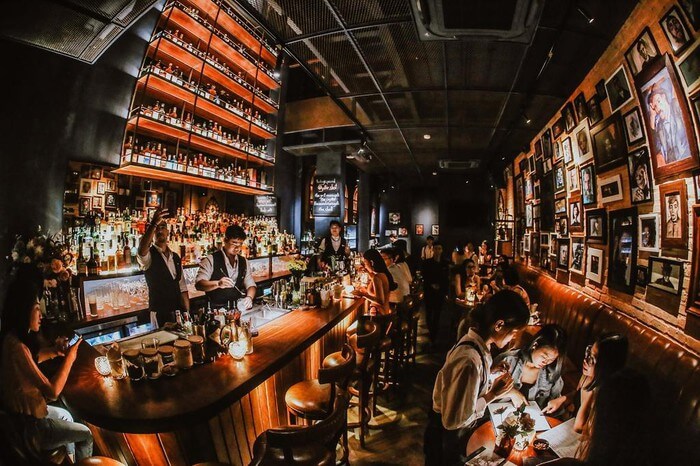 The nights filled with the sound of Jazz music make me crave for a hint of the intoxicating aroma of alcohol. It could be the elusive herbal scent hidden in Gin, or the strong man who fills the entire space with his rugged masculine appeal like Vodka. It could also be simply the sweet and hazy Margarita that suddenly makes the drops of Tequila feel unfamiliar.
The nights immersed in the ambient Jazz music, they are the nights of wine, cocktails, and moments that take the wandering soul to a place beyond reality. At Gallery Bespoke Cocktail Bar, there's no extravagance, no sensuality, no emotions that make you burst into awe at first sight. In an old-fashioned space, the cocktails with a vintage soul are preserved.
The cocktails are transformed in various ways. They are classics, yet prepared to be both unfamiliar and familiar, or the signature drinks of Papa Doble presented right before your eyes, infused with the secret "legacy" of Louis, making the intoxicating feast at the Painting Room even more vibrant. And here, the bestseller drink menu offers the highest pinnacle of flavors, the most memorable selections from both the old and new menus. It's a chance to reminisce about past memories while experiencing new and refreshing cocktail combinations.
If a Barista is the one who crafts coffee, and a Bartender is the one who mixes alcoholic beverages, then a Mixologist is the expert of flavors, the creator of cocktails, the master of mixology, or the sorcerer of intoxication. Continuously bringing diverse drinking experiences, Gallery Bespoke Cocktail Bar not only offers a remarkable signature cocktail menu but also attracts many distinguished mixologists, both domestic and international, to enhance the fragrance of alcohol and the length of intoxication.
CONTACT INFORMATION:
Address: 95 Phùng Hưng Street, Hàng Bồ Ward, Hoàn Kiếm District, Hanoi
Phone: 0941 111 420
Email: info@jigger.vn
Opening hours: 18:30 – 02:00
Conclusion
In conclusion, if you're looking for a vibrant and enjoyable place to unwind, socialize, and indulge in exquisite cocktails, look no further than the cocktail pubs in our city. With their stylish ambiance, skilled mixologists, and a wide range of creative and tantalizing drink options, these pubs offer an experience that goes beyond just a night out.
Whether you're a cocktail aficionado or simply someone who appreciates a well-crafted drink, these pubs have something to suit every taste bud. From classic concoctions with a modern twist to innovative and unique creations, you'll find yourself immersed in a world of flavors and sensations.
Moreover, the lively atmosphere of these pubs provides the perfect backdrop for a memorable night with friends or a romantic evening with that special someone. The friendly bartenders and welcoming staff will ensure that you feel right at home, making your visit truly enjoyable and unforgettable.
So why not gather your friends, or perhaps that special someone, and head over to one of the cocktail pubs in our city? Indulge in the artistry of mixology, savor the delightful flavors, and let the vibrant atmosphere transport you to a world of relaxation and enjoyment. Whether it's a casual hangout or a special celebration, these pubs offer the perfect setting for a night to remember.
You may also want to check out >> Top 10 cafe shops near me in Hanoi
BEDENTAL - TOP STANDARD DENTISTRY SYSTEM
In HANOI
Address 1: 7B Thi Sach St, Ngo Thi Nham, Hai Ba Trung Dist, Ha Noi. - 0934.61.9090
Address 2: 343 Tay Son St, Nga Tu So Ward, Dong Da Dist, Ha Noi. (Nga Tu So Cross) - 0934.61.9090
Address 3: CC2 Tower  Nguyen Huu Tho St, Dinh Cong Ward, Hoang Mai Dist, Ha Noi. (Inside True Hope ) - 0934.61.9090
In HO CHI MINH
Address 1: 140 Nguyen Van Thu St, Da Kao, Dist. 1, Ho Chi Minh. - 0766.00.8080
Address2: 25, City Land urban area, Go Vap Dist, Ho Chi Minh - 0766.00.8080
Working: 9am - 9pm everyday
Tư vấn chuyên môn bài viết:
BÁC SĨ DƯƠNG THỊ THÙY NGA
Bác sĩ chỉnh nha tổng hợp
Ngôn ngữ giao tiếp: Tiếng Việt, Tiếng Anh, Tiếng Nga
Đặt Lịch Hẹn
Xem Hồ Sơ