If you enjoy lively atmospheres or need a place to unwind and forget about the worries in both work and relationships, beer restaurants and bars are undoubtedly suitable destinations for you. 
In the bustling city of Hanoi, such places are indispensable, leading to the establishment of numerous beer restaurants and bars that attract a large number of customers.Let's look at some the must check out beer clubs in Hanoi.
1) Quán Nhậu tự do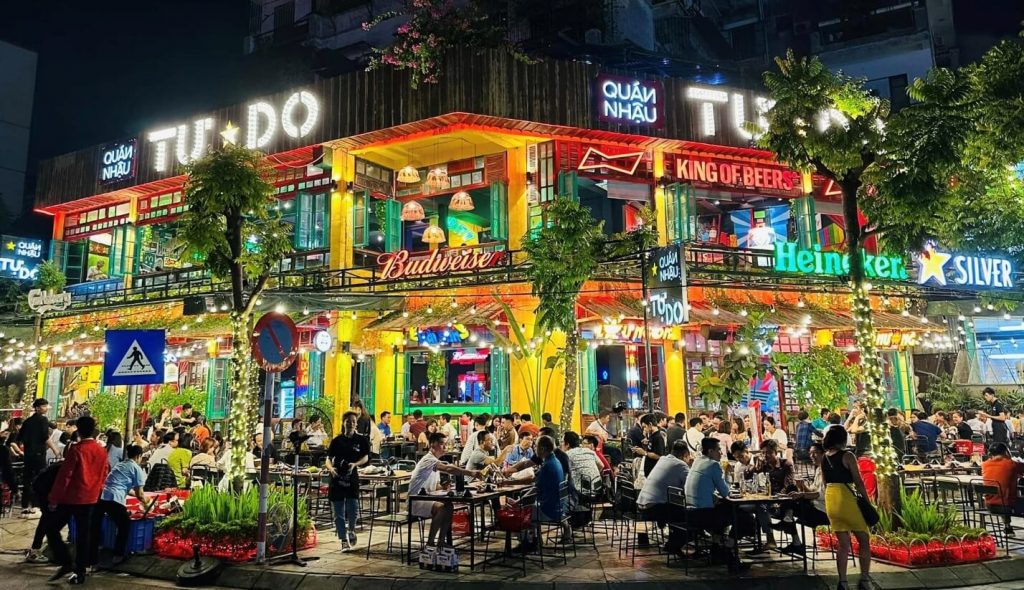 "Quán Nhậu Tự Do is not only for men but has gradually won over women as well. The establishment provides a sophisticated and wholesome entertainment environment, with enthusiastic staff members. It offers a variety of beers, especially those with clear origins, ensuring a sense of safety. Quán Nhậu Tự Do earns extra points for offering delicious food at reasonable prices, allowing you to comfortably enjoy your time with friends here.
In particular, Quán Nhậu Tự Do serves some unique dishes that can only be found here, such as spicy stir-fried fish stomach, garlic-burnt fish stomach, garlic-burnt goat, crispy duck feet with satay sauce, traditional Chinese medicine stewed beef heart, grilled beef tendons, and more. Quán Nhậu Tự Do always aims to provide customers with joyful and relaxing moments with friends, colleagues, and loved ones …  Enjoy the exquisite and aromatic dishes, accompanied by refreshing glasses of beer, to sweep away the worries of life and work!
CONTACT INFORMATION:
Address:
– 19 Alley 10 Nguyen Van Huyen, Cau Giay District, Hanoi – 0348 579 060
– 68 Tho Nhuom, Hoan Kiem District, Hanoi – 0328 576 797
– 08 Le Dai Hanh, Hai Ba Trung District, Hanoi – 0586 056 800
Phone: 0866 991 986  &  0886 861 919
2) Vuvuzela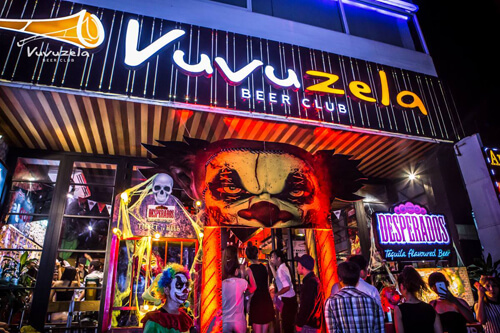 VUVUZELA is one of the well-known Beer Club-style restaurants in Hanoi that combines various culinary styles. It is a popular gathering place for meetings, get-togethers, and celebrations, known for its delicious and famous dishes in Thanh Xuan district. With premium and refreshing beer, enticing and mouthwatering food, and a vibrant atmosphere, VUVUZELA always provides the most comfortable moments for its guests.
It is a captivating destination for beer lovers and those passionate about exploring new things. At VUVUZELA, guests can find almost any type of fresh beer, from familiar brands like Tiger and Heineken to Zamky – a fresh Czech beer introduced for the first time, as well as many other imported beers from Belgium, the Czech Republic, the Netherlands, and more.
In addition to beer, VUVUZELA's drink menu offers a variety of options such as vodka, wine, soft drinks, and juices. Of course, great drinks should be accompanied by "standard" snacks, and VUVUZELA brings you unique dishes in various culinary styles. Especially, they offer modern and unique dishes such as Stone Grilled Beef, Grilled King Crab with Cheese, American-style Salad with Teriyako Sauce & Snow Fish, Mixed Salad with Butter Garlic Salmon, Grilled Lamb Ribs, American-style Sausage, and more. Your culinary feast with beer at VUVUZELA will be limitless and memorable.
CONTACT INFORMATION:
Addresses:
– 275 Nguyen Trai, Thanh Xuan District, Hanoi
– 17T5 – T6 Hoang Dao Thuy, Cau Giay District, Hanoi
– 8 Trang Thi, Hoan Kiem District, Hanoi
– 1st Floor, Sunrise Building, Block D11, Cau Giay Urban Area, Cau Giay District, Hanoi
Phone: 1900 6622
Read more >> Top 10 cafe shops near me in Hanoi
3) IBiero – Vietnamese Craft Beer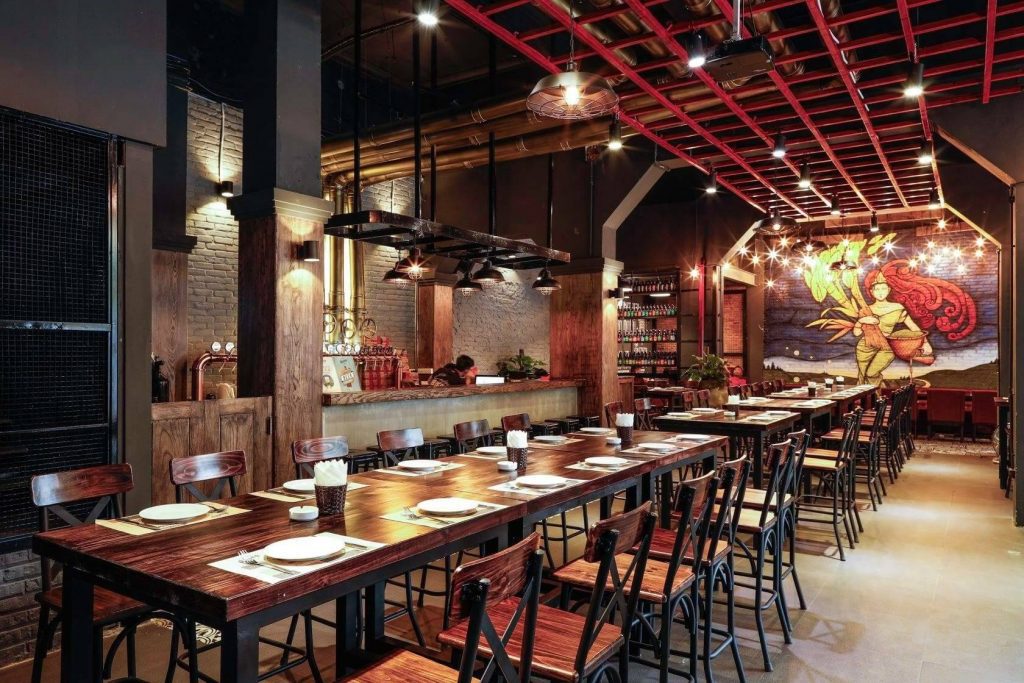 IBiero – Vietnamese Craft Beer is one of the craft beer restaurants in Hanoi. IBiero – Vietnamese Craft Beer restaurant offers Hanoi diners an authentic experience of enjoying craft beer with delightful flavors, combined with high-quality cuisine, in a luxurious and cozy ambiance.
The master brewers at IBiero – Vietnamese Craft Beer skillfully blend natural ingredients unique to Vietnam, along with their creativity in the brewing and fermentation process, to create beers with rich, captivating flavors that are characteristic of the tropical region and suitable for the Vietnamese palate. Here, you will have the opportunity to enjoy over 14 unique craft beer flavors that are not easily found elsewhere.
What could be better than enjoying cool beers with delicious and excellent dishes after a long and tiring day of work, along with friends? At IBiero – Vietnamese Craft Beer, you will have the chance to savor enticing dishes in vibrant Asian style, such as Grilled Mixed Beef, Smoked Salmon, Sriracha Salmon, Stewed Beef Tripe with Pepper, Grilled Lamb Ribs with Thyme Sauce, Braised Oxtail in Beer, and Stewed Green Pepper Beef Tripe. It's truly irresistible, isn't it?
CONTACT INFORMATION:
Address:
99 Lê Duẩn, Hoàn Kiếm District, Hanoi – 024 3880 2222
48 Lê Văn Lương, Thanh Xuân District, Hanoi – 024 2266 4848
460 Minh Khai, Hai Bà Trưng District, Hanoi – 024 3207 6076
Phone: 0912 229 900 & 0946 819 989 & 0912 229 900
You may also want to check out >> Top Gym Near Me: Unlock Your Fitness Potential with the Ultimate Gym
4) Quan IL Divo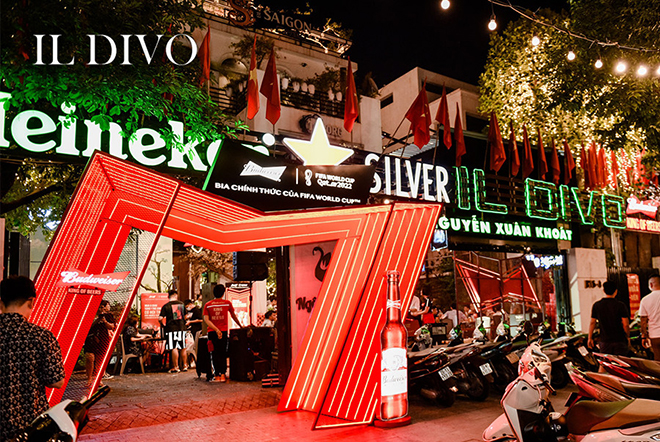 Finding a late-night dining venue in Hanoi is already challenging, let alone finding one that is reputable, offers beautiful spaces, exquisite dishes, and staff that is extremely attentive and friendly. One of the hottest late-night dining venues in the city that no food lover should miss is IL Divo Restaurant. Not only does it attract thousands of customers with its quality fresh beers and top-notch selected snacks made from the finest ingredients, but IL Divo is also an ideal destination for night owls as it serves customers until 4 am.
Specifically, the restaurant accepts orders until 3 am and remains open to serve customers until 4 am, making IL Divo Restaurant the perfect first stop for couples or groups of friends who enjoy hanging out late at night. What could be more wonderful than raising a glass with your friends, siblings, or loved ones around a hot pot of smoked frog at 2 am? All of this can be found at IL Divo Restaurant, where you just need to pick up the phone and call the hotline to make a reservation!
CONTACT INFORMATION:
Address:
281 Đội Cấn, Ba Đình District, Hanoi
BT6 – 4 Nguyễn Xuân Khoát, Bắc Từ Liêm District, Hanoi
285 Nguyễn Khoái, Hai Bà Trưng District, Hanoi
Phone: 0389 263 588
5) Cheering Beer – All you need is BEER
Cheering Beer – All you need is BEER has undergone many years of operation and development, leaving indelible marks and asserting its position in the restaurant and service industry. Through long-term operations and continuous innovation, with the greatest desire to receive love and trust from respected diners, Cheering Beer has become an irreplaceable destination for discerning food lovers in Hanoi.
Customers come to Cheering Beer – All you need is BEER not only to enjoy a diverse and enticing drink menu from many famous brands but also to indulge in a menu of food that is nothing short of perfect. The ingredients are meticulously chosen, carefully processed, and elaborately prepared by professional chefs.
With a spacious and airy restaurant space, a nature-friendly wooden architectural style, Cheering Beer confidently welcomes hundreds of diners to its establishment. Over the years of operation, Cheering Beer has become an indispensable architectural beauty in Hanoi's culinary scene, proud of its huge loyal customer base that has been and continues to accompany Cheering Beer.
CONTACT INFORMATION:
Address:
2 Ly Thuong Kiet, Hoan Kiem District, Hanoi – 0948 023 232
27 Le Van Luong, Thanh Xuan District, Hanoi – 0886 852 727
6) Bia Sành Điệu – Craft Beer Restaurant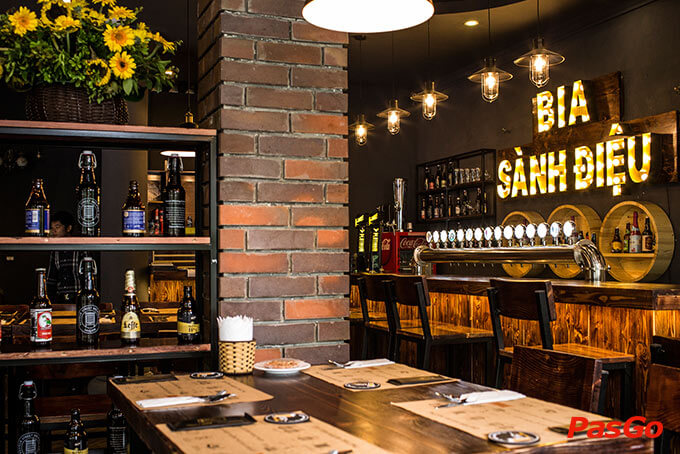 Bia Sành Điệu – Craft Beer Restaurant is the place where you can indulge in various craft beers from most brewers across Vietnam. It is not only a favorite spot for many regulars but also a place where many customers choose to return for subsequent visits. Here, diners can enjoy up to 20 types of craft beers and Belgian beers. Moreover, the food here is delicious and diverse, perfectly suited to the taste buds of the majority of Vietnamese people.
Another attractive aspect of Bia Sành Điệu – Craft Beer Restaurant is its service attitude. Despite being crowded and packed even on weekends, instead of causing long waiting times, the service here is very fast. The service staff is extremely enthusiastic, with smiling faces, and promptly caters to every customer's needs. With these wonderful aspects, why hesitate to visit Bia Sành Điệu?
CONTACT INFORMATION:
Address:
30 Luu Quang Vu, Cau Giay District, Hanoi – 0848 322 322
183 Nguyen Tuan, Thanh Xuan District, Hanoi – 0849 322 322
Phone: 0946 261 362
7) Hoa Vien Craft Brewery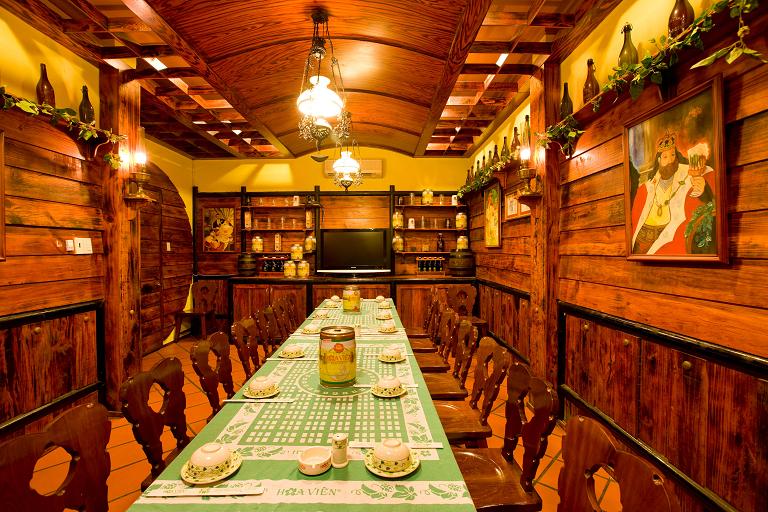 Established in 1995, Hoa Vien Craft Brewery has become a familiar destination for beer enthusiasts in both Saigon and Hanoi. Collaborating with Pivo Praha, Lukr Ingeneering, and the Research Institute for Beer and Barley of the Czech Republic, Hoa Vien has successfully built a brewing line within the restaurant premises, using the traditional brewing techniques of the Pilsen region.
The construction and decoration of the two restaurants have received special attention and meticulous investment. The architects have harmoniously combined wood and copper materials in the decor, along with antique objects, creating a sense of returning to the historic Bohemian restaurants of the early 20th century.
For the first time in Vietnam, customers can personally pour their own glasses of cold beer, directly connected from the beer tanks in the cellar to their tables. This is a unique and special feature of Hoa Vien Craft Brewery. With spacious garden space, cozy indoor areas, and private VIP rooms, guests always feel a friendly and intimate atmosphere. The menu at Hoa Vien offers a diverse range of dishes, constantly changing and refreshing on a weekly and seasonal basis, allowing diners to choose the most delicious options.
CONTACT INFORMATION:
Address: 1A Tang Bat Ho, Hai Ba Trung, Hanoi
Phone: 0903 289 263
Read more >> Top 6 cocktail pubs in Hanoi you don't want to miss 
8) Sparta Beer Club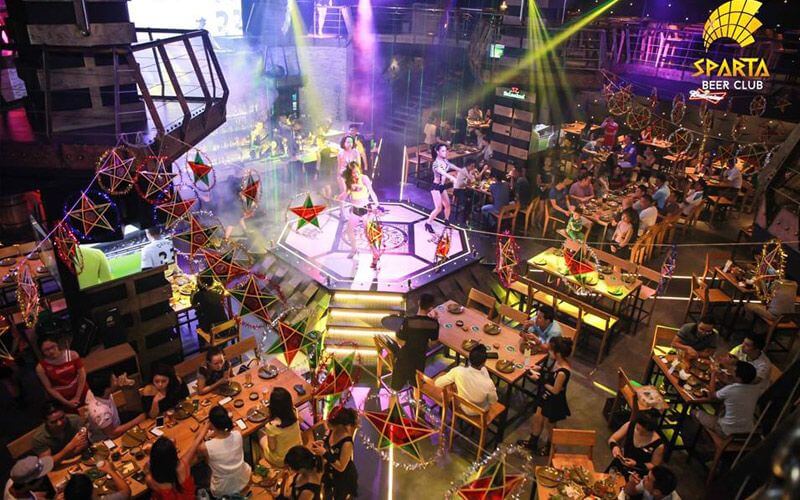 When it comes to German beer establishments in Hanoi, one cannot overlook Sparta Beer Club. It is a well-known destination for beer enthusiasts who appreciate German beer in the capital city. In addition to offering German beer products processed with modern imported technology, Sparta leaves a lasting impression on its guests with its unique and distinctive ambiance. Sparta Beer Club is designed in a modern style based on the concept of a unique "beer arena." The club spans an expansive area of 800 square meters, suitable for hosting both large-scale events and individual customers.
The food at Sparta Beer Club is prepared in a rustic manner, following traditional recipes that are not only delicious but also appealing to the most discerning food connoisseurs. The drink menu caters to both men and women, with over 100 imported fresh beer options, ensuring a wide range of choices to satisfy beer enthusiasts. Most importantly, this beer club offers reasonable prices, making the experience more enjoyable for its customers. The staff is prompt, enthusiastic, and attentive, solidifying Sparta's reputation as the top beer club in Hanoi.
CONTACT INFORMATION:
Address: Floor M, SongHong Land Building, 165 Thái Hà, Đống Đa District, Hanoi
Phone: 0911 165 165 & 0888 165 165
Opening Hours: 16:00 – 00:00
9) New Sphinx Restaurant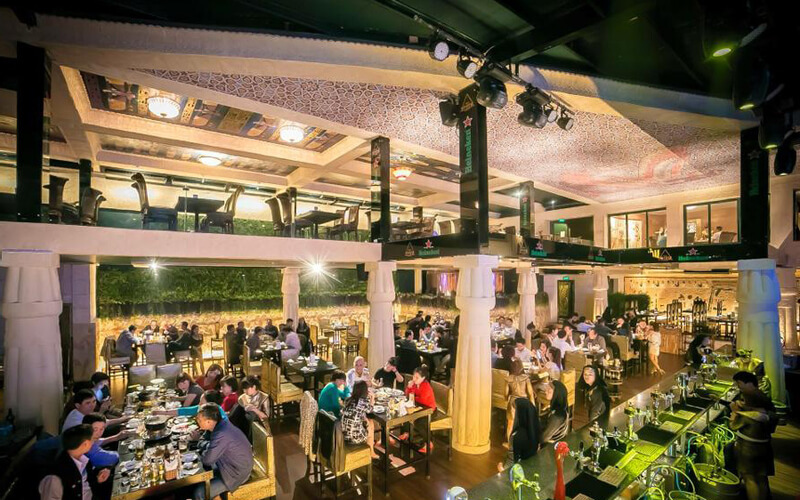 You will easily notice in Lang Ha, Dong Da District, a super large and impressive Beer Club called New Sphinx Restaurant, with an eye-catching Egyptian style. The space is spacious and beautiful, decorated with Egyptian colors everywhere. It can be said that this place is worth every penny you spend. The beer here has a rich malt flavor. At first sip, you may feel a bitterness on your tongue, but after a while, you will discover a very interesting sweet taste. The menu is very diverse, offering both Asian and Western dishes, allowing you to choose according to your preferences.
One unique aspect that showcases the sophistication and massive investment of New Sphinx Restaurant is that every day, there are music shows and dances, mainly performed by famous dance troupes and artists, bringing a joyful and relaxed atmosphere to the party. And one unmistakable impression of this place compared to other Beer Clubs is the attentive and dedicated service of the staff. It is very suitable for festive gatherings, hanging out with friends, and organizing birthdays.
CONTACT INFORMATION:
Address: 2 Lang Ha, Ba Dinh District, Hanoi
Phone: 0822 152 222 & 0822 312 222 & 024 3772 5397
Opening Hours: 10:30 – 23:00
You may also want to check out >> Top 10 pubs in Hanoi that worth your night 
10 ) 3 Zan Beer Club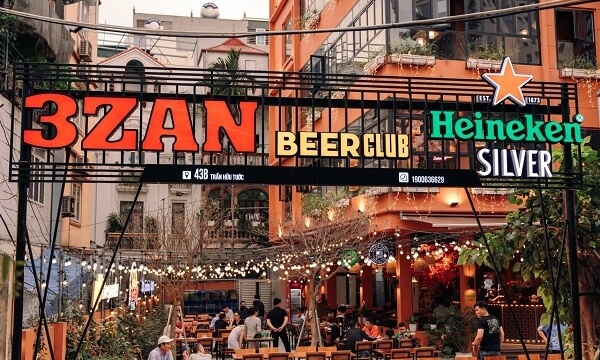 Sometimes, amidst the busyness and pressures of life, you want to find a space to unwind, and in that case, 3 Zan Beer Club is the place you should visit. 3 Zan Beer Club has become a familiar destination for young people in Hanoi as well as foreign tourists. In terms of ambiance, 3 Zan Beer Club is designed in a Western style, offering a luxurious, comfortable, and cozy atmosphere. The staff provides professional service, creating a comfortable experience for customers.
At 3 Zan Beer Club, you can not only enjoy various famous beers but also indulge in a diverse and rich food menu. The beers are imported from renowned global brands, ensuring to satisfy even the most discerning palates. The restaurant offers a wide range of Asian and Western dishes, using fresh and carefully selected ingredients that cater to the taste preferences of each customer. So, don't hesitate any longer, gather your friends and family and head to 3 Zan Beer Club to savor these unique dishes.
CONTACT INFORMATION:
Address: 43B Tran Huu Tuoc, Dong Da District, Hanoi
Phone: 0769 918 918 & 0962 556 655
Tư vấn chuyên môn bài viết:
BÁC SĨ DƯƠNG THỊ THÙY NGA
Bác sĩ chỉnh nha tổng hợp
Ngôn ngữ giao tiếp: Tiếng Việt, Tiếng Anh, Tiếng Nga
Đặt Lịch Hẹn
Xem Hồ Sơ
BEDENTAL - TOP STANDARD DENTISTRY SYSTEM
In HANOI
Address 1: 7B Thi Sach St, Ngo Thi Nham, Hai Ba Trung Dist, Ha Noi. - 0934.61.9090
Address 2: 343 Tay Son St, Nga Tu So Ward, Dong Da Dist, Ha Noi. (Nga Tu So Cross) - 0934.61.9090
Address 3: CC2 Tower  Nguyen Huu Tho St, Dinh Cong Ward, Hoang Mai Dist, Ha Noi. (Inside True Hope ) - 0934.61.9090
In HO CHI MINH
Address 1: 140 Nguyen Van Thu St, Da Kao, Dist. 1, Ho Chi Minh. - 0766.00.8080
Address2: 25, City Land urban area, Go Vap Dist, Ho Chi Minh - 0766.00.8080
Working: 9am - 9pm everyday