Pubs in Hanoi – In the lively metropolis of Hanoi, a city renowned for its vibrant culture and bustling thoroughfares, a burgeoning pub culture has emerged to cater to the tastes of its lively young populace. This compilation reveals the top 10 pubs that have gained the affection of Hanoi's youthful demographic, where memorable experiences are forged through a fusion of lively atmospheres, excellent music, and good times.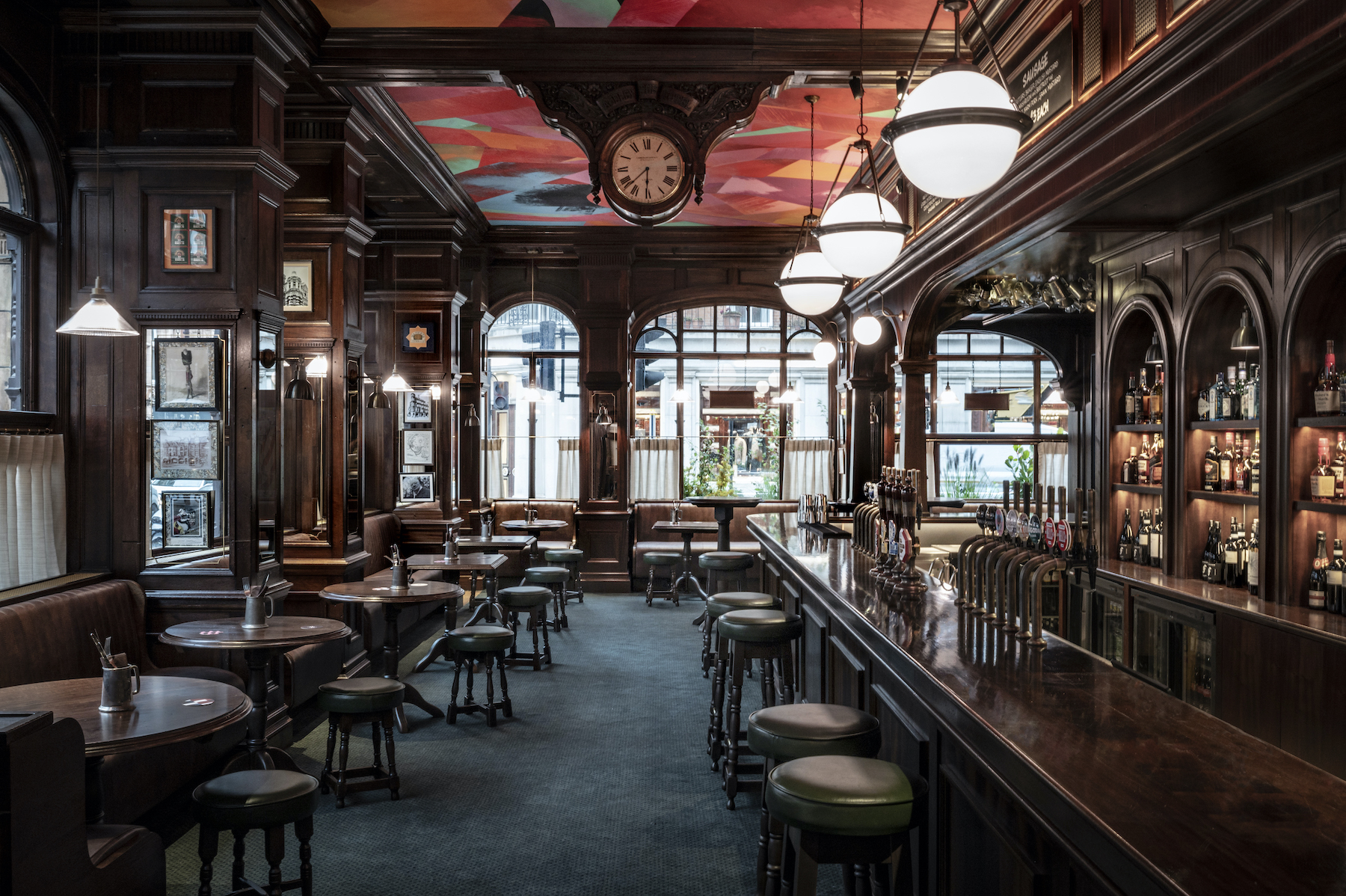 Top 10 Pubs In Hanoi That Worth Your Night!: King Pirates Pub – A Pirate-Styled Pub in Hanoi
Address: 24B Hang Giay, Hang Buom, Hoan Kiem
Price Range: 50,000 VND – 200,000 VND
Operating Hours: 10:30 AM – 02:00 AM
King Pirates is a Hanoi pub that attracts both locals and foreigners. The atmosphere here is youthful, and dynamic, always filled with a cheerful vibe and spontaneous games. The pub draws inspiration from the Caribbean pirates, evident in its decor inside and out. King Pirates is not exceptionally spacious, so it often spills out onto the sidewalk. Sitting outside is a great choice for those who want to have lively conversations. If you prefer a quieter, less noisy ambiance, then head indoors.
Beer, Cocktails, and Coffee are the three popular beverages at King Pirates Pub. Here, you can sample some exclusive cocktails crafted by the esteemed "captain," including Captain Sparrow, Barbarossa, Calico Jack, Captain Slim, Captain Flower, Captain Black, and more. The common thread in the taste of these drinks is the refreshing sensation as if you're embarking on a sea voyage. After a hot and sultry day of strolling through the Old Quarter, King Pirates makes for the perfect stop to cool down and relax.
Top 10 Pubs In Hanoi That Worth Your Night!: Factory 47 – A Unique Architectural Gem of a Pub in Hanoi
Address: 47 Hang Buom, Hoan Kiem
Price Range: 50,000 VND – 250,000 VND
Operating Hours: 10:00 AM – 03:00 AM
Factory 47 stands out as one of the most distinctive pubs in Hanoi. Stepping inside, you'll feel like you've entered a miniature factory still under construction, but in reality, it's a unique artistic creation by the owner. The space primarily utilizes LED lighting and a warm, subdued color palette that induces relaxation and helps you forget all your weariness. Factory 47 occasionally hosts music events, so if you're up for some unwinding, be sure to check their schedule and drop by.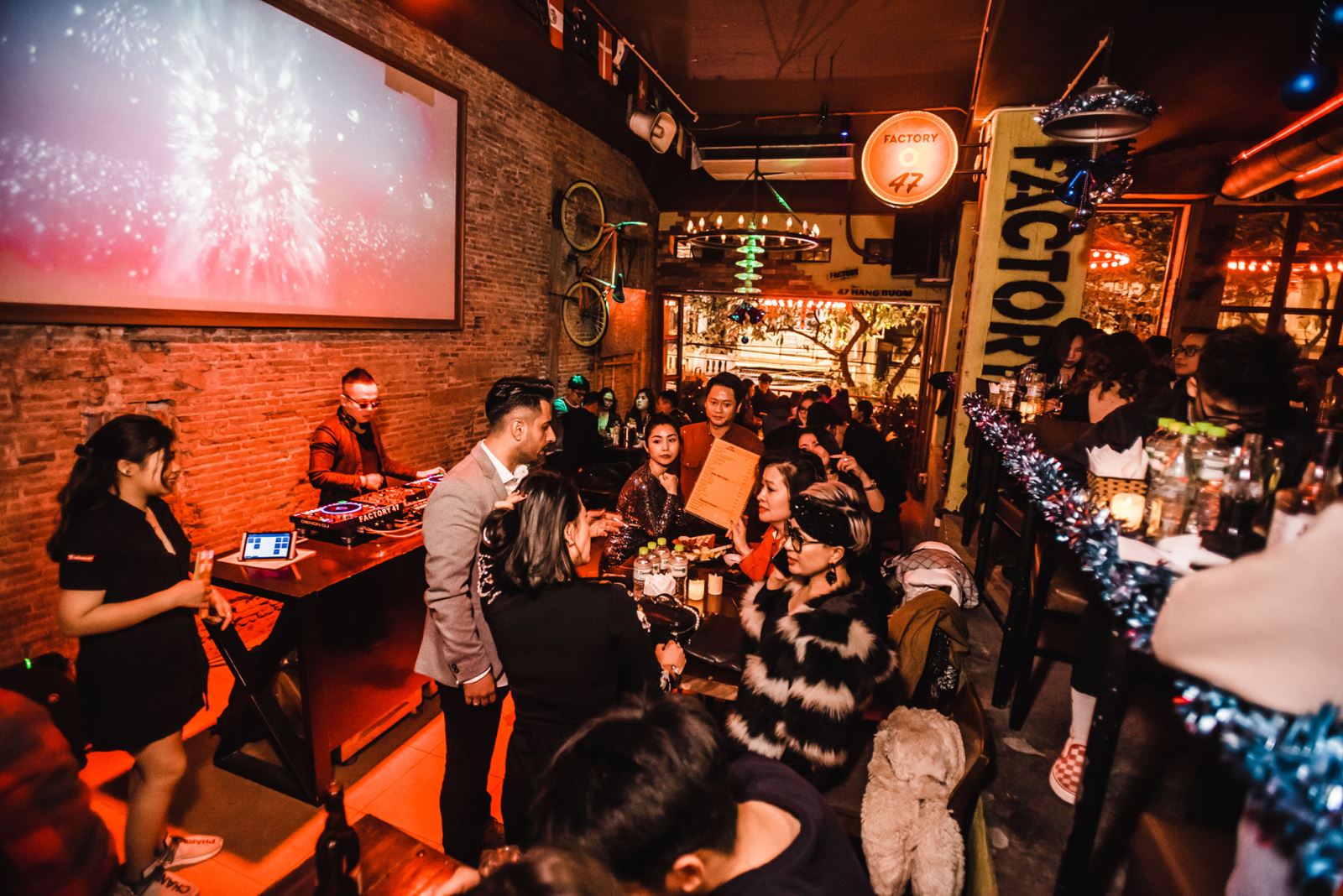 Factory 47 boasts a menu that's refreshingly different from other pubs, with a wide selection of snacks and fast bites, particularly a tantalizing collection of delicious sandwiches. The beverages mostly revolve around cocktails, whisky, and non-alcoholic refreshing drinks. Each drink is intertwined with its own unique story; a sweet young lady might opt for "The Lucky," while a young man looking to convey his affection to his beloved can choose "The Rose Girl." If you're in the mood for something more exotic, savor a "Lady from the West."
Top 10 Pubs In Hanoi That Worth Your Night!: Brew Sister Solist Pub – Hanoi's Easygoing Music Pub
Address: 13 Xuan Dieu, Quang An, Tay Ho
Price Range: 60,000 VND – 300,000 VND
Operating Hours: 4:00 PM – 5:00 AM
Situated near West Lake, Solist Pub is a well-known spot for many young people to relax and enjoy the breeze. The interior design leans towards a classic style, featuring wooden furniture and artwork to create a distinctive ambiance. The most prominent feature is the small stage, equipped with various musical instruments to entertain the patrons.
Brew Sister Solist Pub's advantage lies in its cocktail offerings, all crafted with unique recipes to evoke a sense of allure in their flavors. Everything the pub provides is about lightness and clarity in one's spirit. So, to kickstart energetic days, you can choose from options like Mojito, Margarita, Manhattan, Blue Hawaii, Gin Fizz, or Sanhorita.
Best Things To Do At Night In Hanoi – 10 Activities To Do For Unforgettable Nights
Top 10 Pubs In Hanoi That Worth Your Night!: Nê.Cocktailbar – A Private Pub in Hanoi
Address: 3B Tong Duy Tan, Hang Bong, Hoan Kiem
Price Range: 100,000 VND – 200,000 VND
Operating Hours: 7:30 PM – 2:00 AM
Nê.Cocktailbar is tucked away in a culinary alley, amidst several renowned bars and cafes. However, it stands out with its vibrant red exterior that captures attention from the outside. The venue is small, cozy, and modestly decorated. The clientele mainly consists of couples and groups of 3-4 friends. Everyone here respects each other's privacy, maintaining a peaceful atmosphere where everyone savors their own drinks.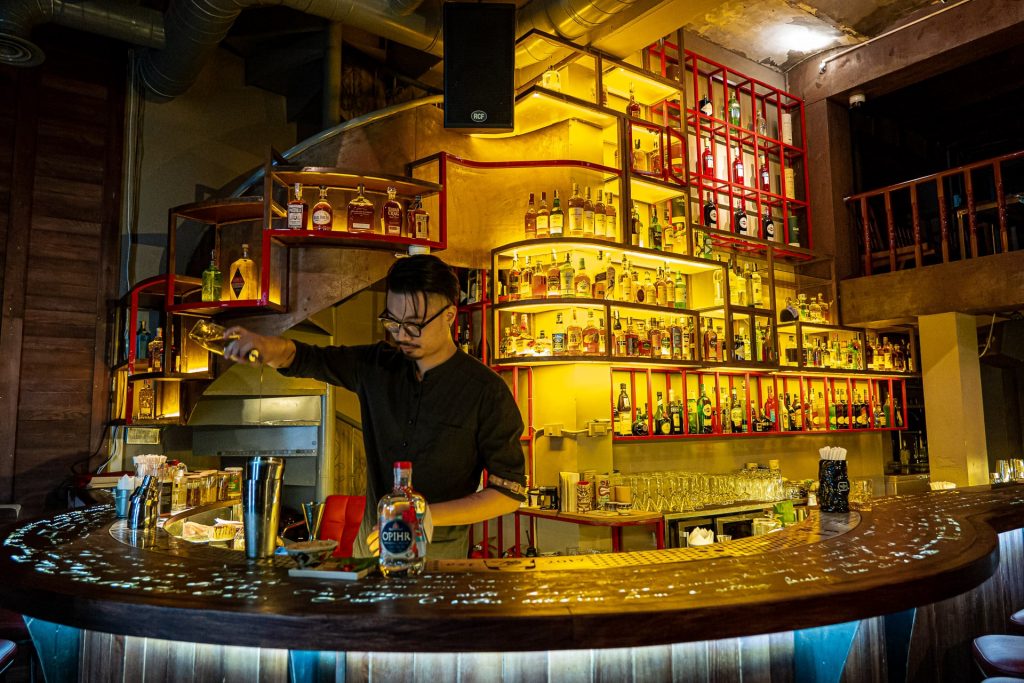 Nê.Cocktailbar is hailed as a haven for cocktail enthusiasts. The owner is a renowned figure in the mixology scene, further enhancing its reputation. The bar specializes in unique cocktails, and the flavors are distinct from other places. Some drinks are dedicated to those who love Hanoi, such as "Hanoi Autumn" or "Pho Cocktail." When you visit Nê.Cocktailbar, it's highly recommended to try a variety of drinks to discover your personal truth about the best pub in Hanoi.
Top 10 Pubs In Hanoi That Worth Your Night!: MAD Botanist – A Pub in Hanoi's Old Quarter
Address: 45 Ly Quoc Su, Hang Trong, Hoan Kiem
Price Range: 250,000 VND – 500,000 VND
Operating Hours: 9:00 AM – 1:00 AM
MAD Botanist is situated on a bustling street, directly across from Hanoi's Grand Cathedral. Many people often refer to MAD as the "Western-style pub" because it primarily caters to foreign patrons. The spacious two-story venue offers a cozy and serene atmosphere on the lower floor and a refreshing, scenic view on the upper floor. This spot is perfect for an escape from the hectic pace of life.
At MAD, the focus is primarily on serving a variety of gin in both traditional and modern styles. Each type of gin is used to craft a range of different drinks, from strong to light. The bartenders here are professionally trained and ready to cater to the customer's preferences. In addition to gin, there are also light beers available, making it a suitable choice for those who want to enjoy a drink while contemplating and admiring the Old Quarter.
Top 10 Pubs In Hanoi That Worth Your Night!: Polite & Co – A Traditional Pub in Hanoi
Address: 5B Nguyen Bao Khanh, Hang Trong, Hoan Kiem
Price Range: 50,000 VND – 150,000 VND
Operating Hours: 4:00 PM – 12:00 AM
Polite & Co is known as a traditional liquor establishment that has been revitalized into one of Hanoi's earliest pubs. The pub's ambiance draws inspiration from early 20th-century nightclubs, with a touch of chaos mingling with liberation. Polite & Co consistently offers a gentle, comfortable atmosphere through soft, ambient yellow lighting and a faint scent of wood. Customers who come here often carry unique stories with them, and Polite & Co becomes a place to preserve those tales.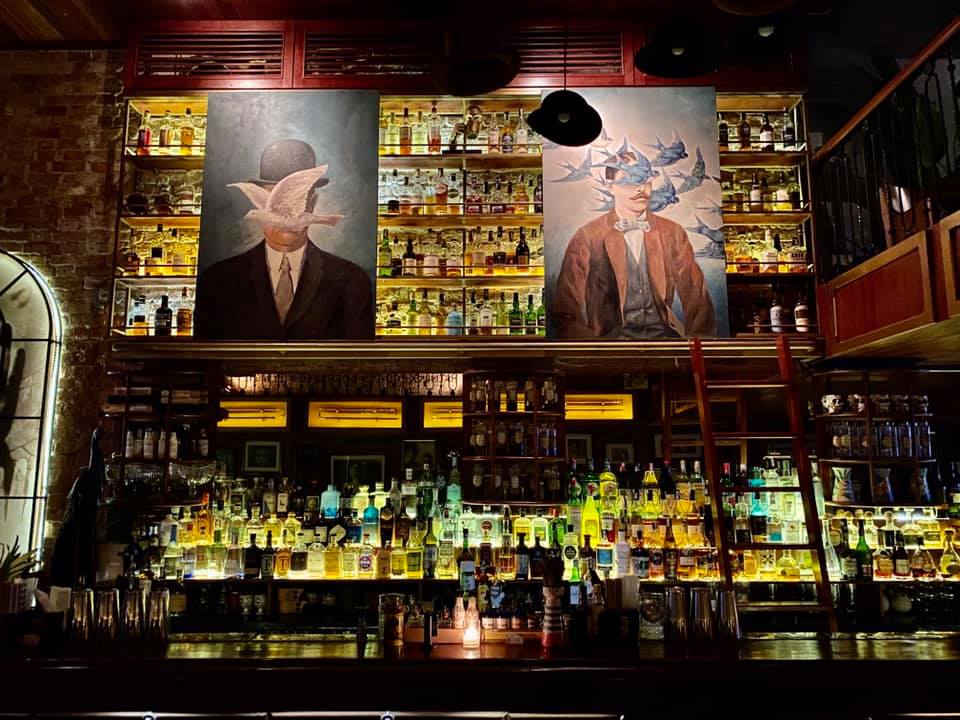 In its early days, the pub specialized in serving whisky and cigars, but later expanded to include a variety of cocktails. Each drink here evokes the special, familiar flavors of Hanoi. To achieve this, the owner carefully selects natural, locally distinctive ingredients. When it comes to cocktails, the bartenders create them based on weekly themes or "customize" them to match the customer's mood. If you lean towards tradition, Polite & Co is undoubtedly an ideal destination.
Top 10 Pubs In Hanoi That Worth Your Night!: The Unicorn Pub –  Unique Pub in Hanoi
Address: 2A Hang Than, Nguyen Trung Truc, Ba Dinh
Price Range: 25,000 VND – 200,000 VND
Operating Hours: All Day
The Unicorn is a familiar spot for many young people, partly because the owner is a young Vietnamese, creating a sense of connection. The pub's space is not overly spacious, with mostly wooden furnishings that create warmth and tranquility. With a capacity of only 30 people or so, it's suitable for solo visits or for a small group of 1 or 2 friends. If you visit The Unicorn, it's recommended to sit at the bar counter seats, where you can watch the bartenders at work and have a charming chat with the owner.
The owner of The Unicorn is Mr. Nguyen Tien Tien, who has won the Vietnam Bartender Championship and ranked 17th in the World Class competition. With these accolades, the quality and uniqueness of the drinks here are unquestionable. To create a distinctive mark, he has revamped all the cocktail recipes, paying special attention to Hanoi's characteristics. "Pho Cocktail" and "Com Cocktail" are highly praised, and you must give them a try.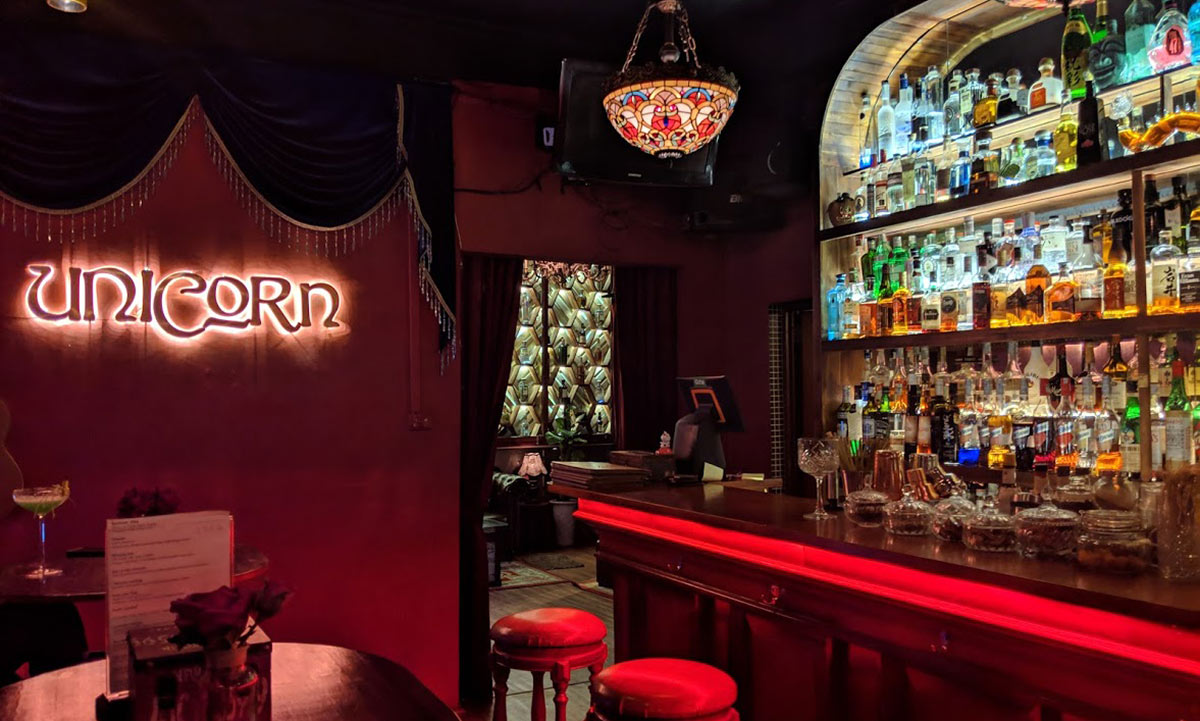 Top 10 Pubs In Hanoi That Worth Your Night!: Prague Pub – A Beautiful Pub in Hanoi
Address: 39 Hang Buom, Hoan Kiem
Price Range: 50,000 VND – 150,000 VND
Operating Hours: 11:00 AM – 12:00 AM
Prague Pub offers a modern, elegant, and spacious setting where you can sit indoors or outdoors. Guests tend to prefer visiting in the evening when the ambiance becomes exceptionally chill. It's a place where people can leisurely unwind and enjoy a relaxing weekend. If you're looking for a livelier atmosphere, you can still sit outside on the sidewalk and enjoy the hustle and bustle.
Prague Pub consistently receives high praise for the quality of its drinks, which not only come in a variety but are also delicious. For those on a budget, you can comfortably savor a few cold and refreshing cocktails for just 50,000 VND. If you're looking for something stronger, you can try Vodka Marni or beers like Corona and Pilsner Urquell. Prague Pub is always bustling with customers, especially foreigners, making it a great place to socialize and meet new friends.
Top 10 Pubs In Hanoi That Worth Your Night!: The Alchemist – A Classic Pub in Hanoi
Address: 19 Nguyen Quang Bich, Cua Dong, Hoan Kiem
Price Range: 70,000 VND – 250,000 VND
Operating Hours: 7:15 PM – 12:00 AM
The Alchemist, also known as "Nhà Giả Kim" in reference to the famous book by Paulo Coelho, is a place where the owner hopes people can find their own life truths. The pub is decorated in a classic European style, with the space illuminated by small lights and fragrant candles. The most impressive feature remains the bar counter, with an extensive liquor cabinet showcasing hundreds of enticing beverages.
Only those who are well-versed in wines and have a deep love for cocktails would choose to visit The Alchemist. Each drink here is meticulously crafted, with precise measurements and careful garnishing. The owner shares that he wants each of his drinks to help people forget their worries, so when he starts making a drink for a customer, he initiates a conversation with them and tailors the drink to their mood and preferences.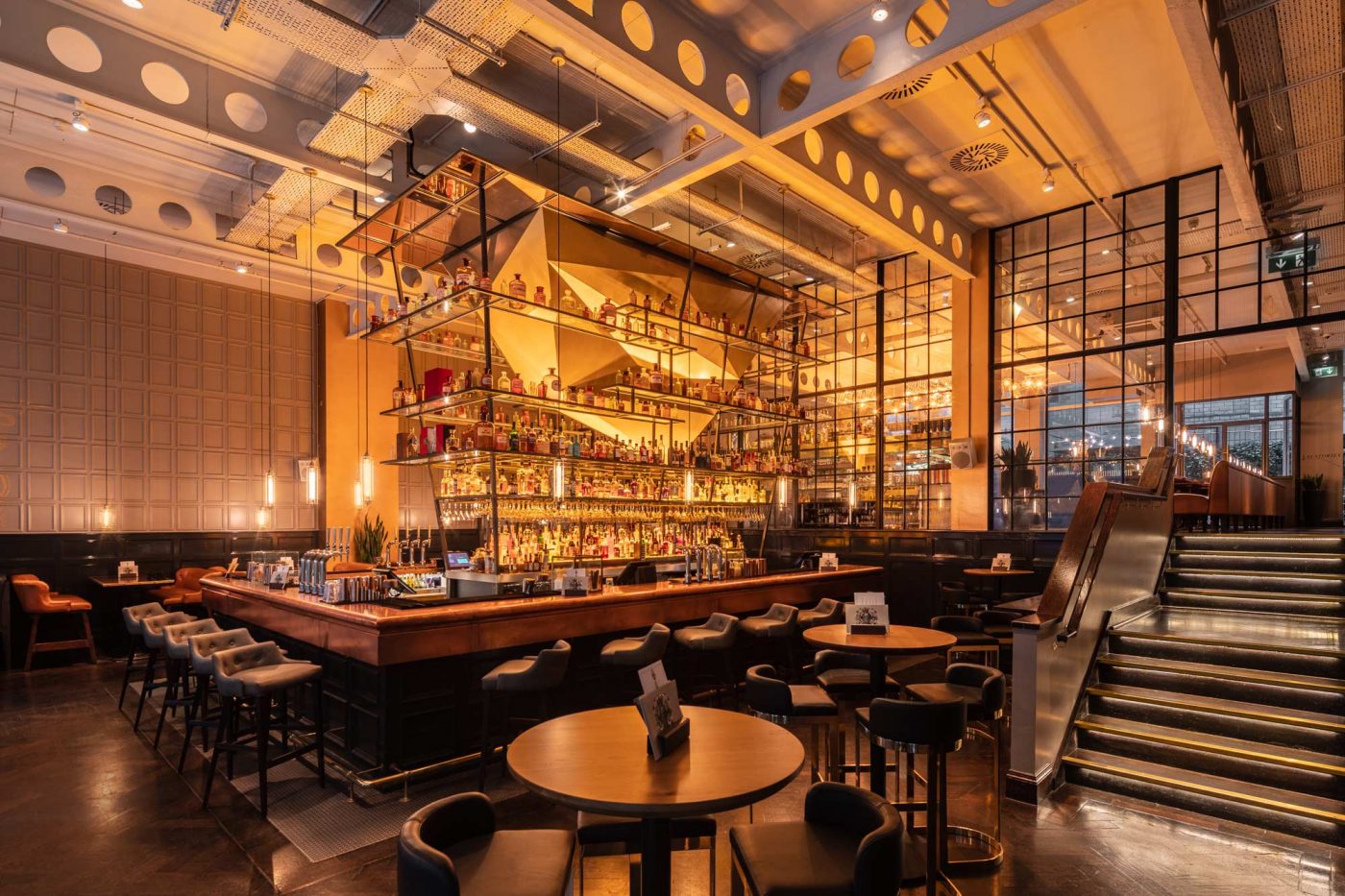 Top 10 Pubs In Hanoi That Worth Your Night!: Hero Club – An Affordable Pub in Hanoi
Address: 42M Yen Phu, Truc Bach, Ba Dinh
Price Range: 100,000 VND – 500,000 VND
Operating Hours: 9:00 PM – 4:00 AM
If you're looking for a lively pub in Hanoi with pulsating music, Hero Club is a promising destination. The establishment boasts a quality DJ lineup, a unique musical taste, and an impressive sound and light system. Occasionally, the owner organizes mini-concerts for those passionate about music and eager to showcase their talents. Hero is perfect for gathering with friends, enjoying music, and dancing on weekends.
Hero offers a diverse range of drinks, including traditional beers, spirits, whisky, cocktails, and more. Drinks are often sold in combo deals, making it more affordable when you go with a group. They also serve snacks, primarily consisting of fresh and high-quality fruits. Visiting Hero ensures a fun and wholesome experience, as they do not allow the use of prohibited substances like laughing gas.
Embracing Vietnam's Natural Beauty: Vietnam's 1-of-a-kind Spectacular Scenery