I. Introduction
1.1 Welcome to Hanoi
Welcome to Hanoi, the thriving Vietnamese capital! Hanoi, which is located in northern Vietnam, is a mesmerizing fusion of ancient history, active street life, and mouthwatering food. 
Enjoy steamy bowls of pho while you wander the Old Quarter's winding alleyways and see the city's rich cultural legacy, which includes traditional water puppet shows and historical temples. Discover the capital city's warm welcome and distinctive charm for an unforgettable adventure in the heart of Vietnam.
1.2 A Brief Overview of Vietnam
Southeast Asian nation of Vietnam is renowned for its breathtaking natural scenery, varied culture, and turbulent past. 
It has a population of about 95 million and a diverse range of customs, dialects, and traditions. Vietnam provides a variety of experiences for visitors, from the verdant rice terraces of Sapa in the north to the busy streets of Ho Chi Minh City in the south. 
Periods of imperial control, French colonialism, and the Vietnam War have left enduring imprints on its identity throughout its history. Vietnam is currently a fast expanding country with a booming economy and a distinctive fusion of traditional values and modern ideas.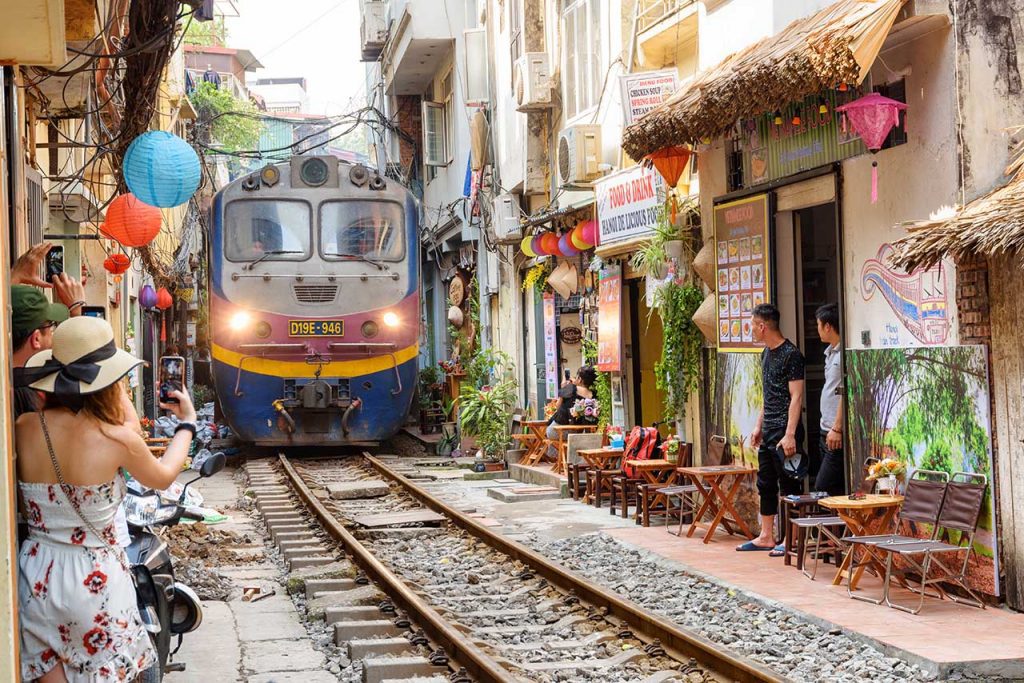 II. Hanoi's Historical Tapestry
2.1 The Ancient Roots of Hanoi
The capital city has a long history that dates back more than a thousand years. Thang Long, which means "Ascending Dragon," was the city's original name when it was founded in 1010 AD by Emperor Ly Thai To. 
It served as the national capital of several Vietnamese dynasties, seeing both the expansion and decline of states. Ancient temples, citadel walls, and the city's architecture all bear traces of its past. 
The capital of Vietnam, Hanoi, has a timeless quality that preserves its cultural history while tying the modern city to its historic past.
2.2 Colonial Influence and Modernization
Hanoi's identity has been considerably impacted by colonial influence and modernisation. The architecture and culture of the city were profoundly influenced by the French colonial period, which lasted from the late 19th century until the middle of the 20th century. 
To see evidence of this impact, stroll down the capital city's tree-lined boulevards, take in the beauty of its stately colonial architecture, and stop by sites like the capital city's Opera House. 
Hanoi underwent modernisation and urban expansion after gaining its independence, resulting in a cityscape that blends old-world elegance with an advancing modern skyline. The capital city is a distinctive and exciting vacation destination due to the blending of ancient and modern aspects.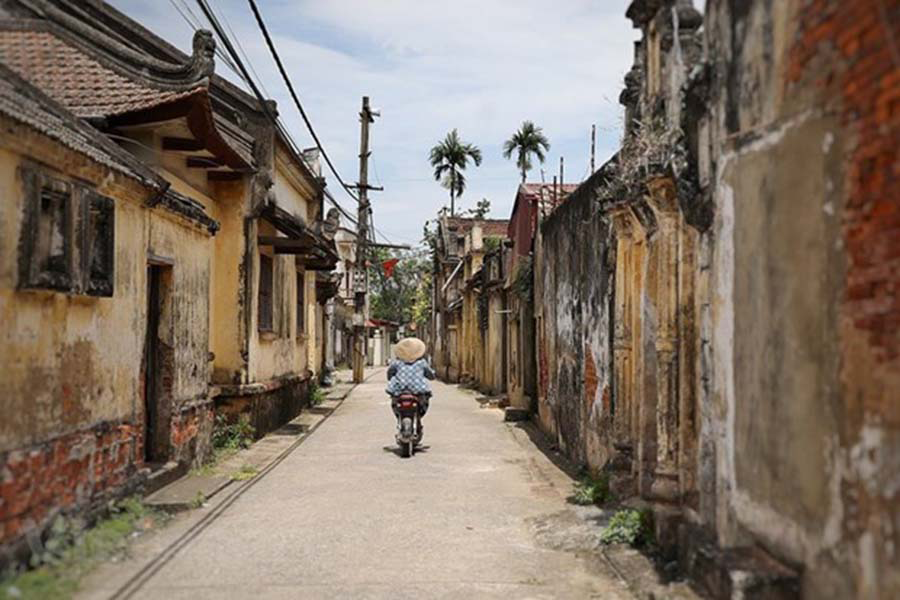 III. Navigating the Old Quarter
3.1 Exploring the 36 Streets
It's an exciting excursion through the capital city's Old Quarter to explore the 36 Streets. The city's lifeblood are these tiny, twisting streets, each of which specializes in a different trade or specialty. 
You may meander through alleyways with shops selling silk, pottery, shoes, and other items, getting a taste of the capital city's burgeoning economy via the bustling market scenes and colorful storefronts. 
This historical area is a must-visit for anybody hoping to really experience Hanoian culture since it is filled with secret courtyards, antique temples, and a delicious assortment of street food sellers.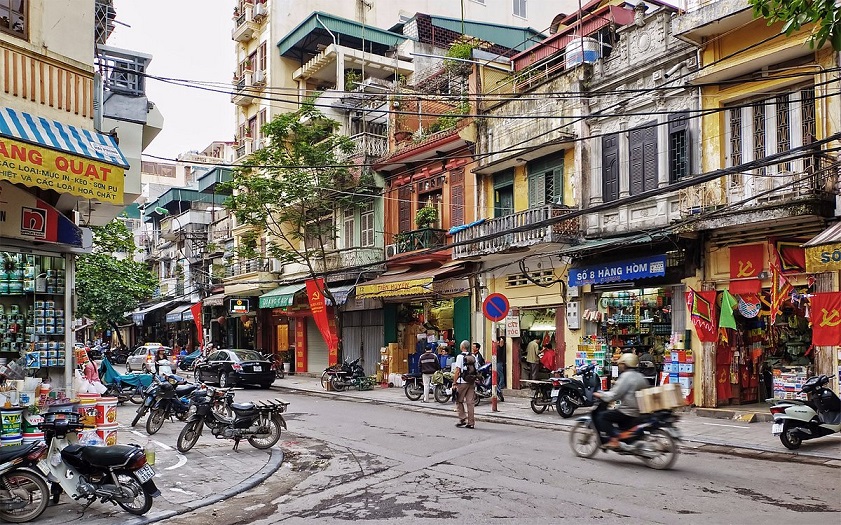 3.2 Hidden Courtyards and Pagodas
The Old Quarter of Hanoi is a hidden gem full with pagodas and courtyards just waiting to be found. You'll find tranquil courtyards concealed behind old wooden gates among the busy shopfronts and roadways. 
These serene havens provide a haven from the bustle of the metropolis. In addition, there are several attractive pagodas across the capital city, such the Bach Ma Temple and the Jade Mountain Temple, where you can take in the exquisite construction, vibrant decorations, and a sense of spiritual peace despite the bustle of the city. These undiscovered attractions offer a glimpse into the spiritual and cultural heart of the city, making them mandatory pit stops for anybody touring the capital city.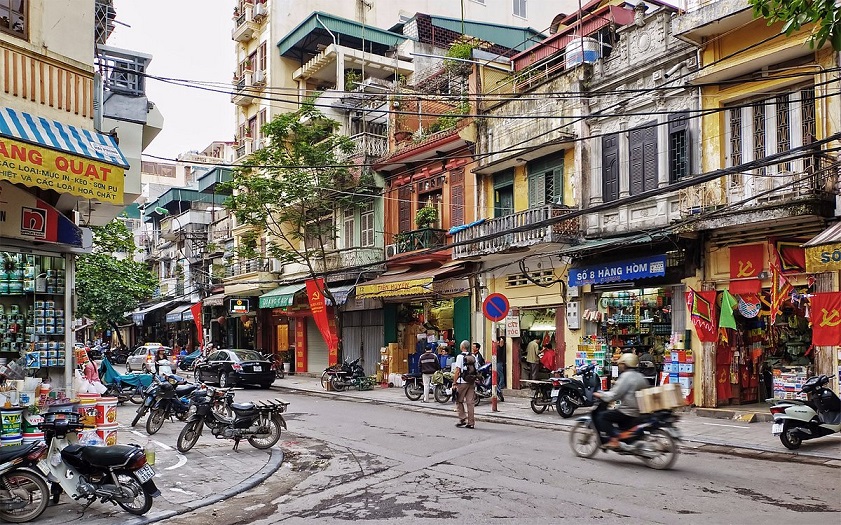 3.3 Street Food Adventures
Hanoi is a street food heaven, and exploring the city's culinary scene is a wonderful aspect of daily life. 
Street vendors and crowded marketplaces provide a variety of delectable foods, including the well-known pho and bun cha as well as banh mi and fresh spring rolls. Don't miss enjoying these delicious delicacies while seated on little plastic stools and mingling with the neighborhood. 
A savory trip through the capital city's culinary heritage and a real taste of Vietnam's rich and varied cuisine may be had by exploring the city's street food scene.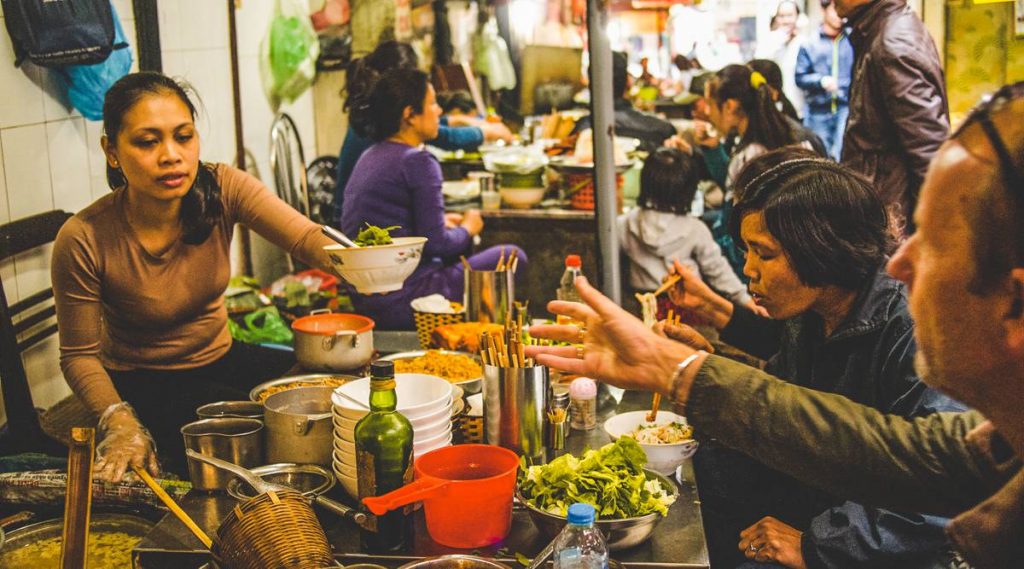 IV. Icons of Hanoi
4.1 Hoan Kiem Lake and the Ngoc Son Temple
The Ngoc Son Temple and Hoan Kiem Lake are well-known locations in the center of Hanoi. Hoan Kiem Lake, also called "Lake of the Restored Sword," is a tranquil haven in the middle of the busy metropolis. 
The Ngoc Son Temple, which is located on a small island inside the lake, is accessible through a charming red bridge. The temple is a must-see location due to its historical significance and beautiful architecture. 
A leisurely stroll around the lake provides a peaceful haven and a window into the capital city's enduring allure, maybe in the early morning or late at night.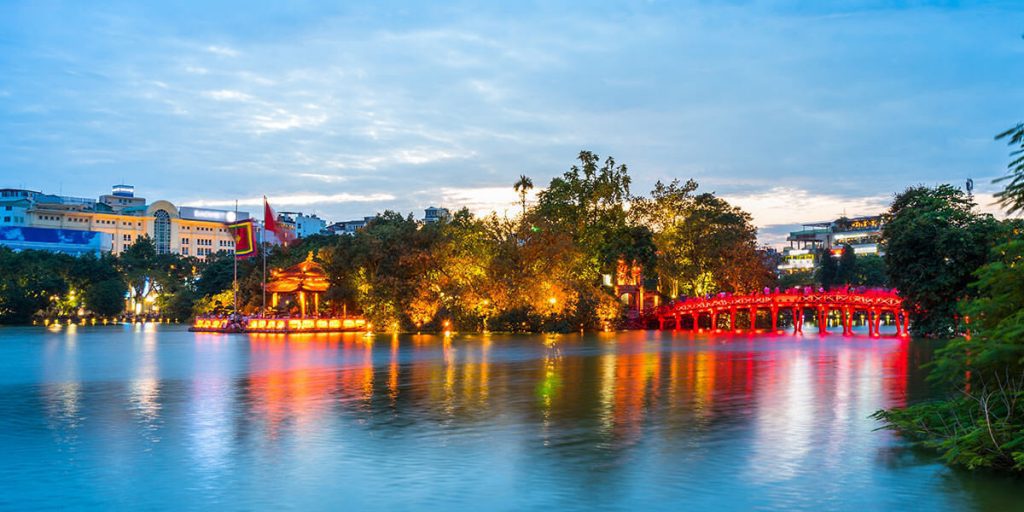 4.2 Ho Chi Minh Mausoleum and Presidential Palace
Famous sites in the capital city that are devoted to the nation's famous leader, Ho Chi Minh, including the Presidential Palace and Ho Chi Minh Mausoleum. His embalmed remains are kept in the majestic mausoleum, which is a site of somber devotion. 
The Presidential Palace, which is nearby, features stunning botanical gardens and French colonial architecture. In addition to learning about Ho Chi Minh's life and the history of Vietnam's independence war, visitors may tour the palace's outside. These locations offer a thorough understanding of the nation's history and are key cultural attractions in the capital city.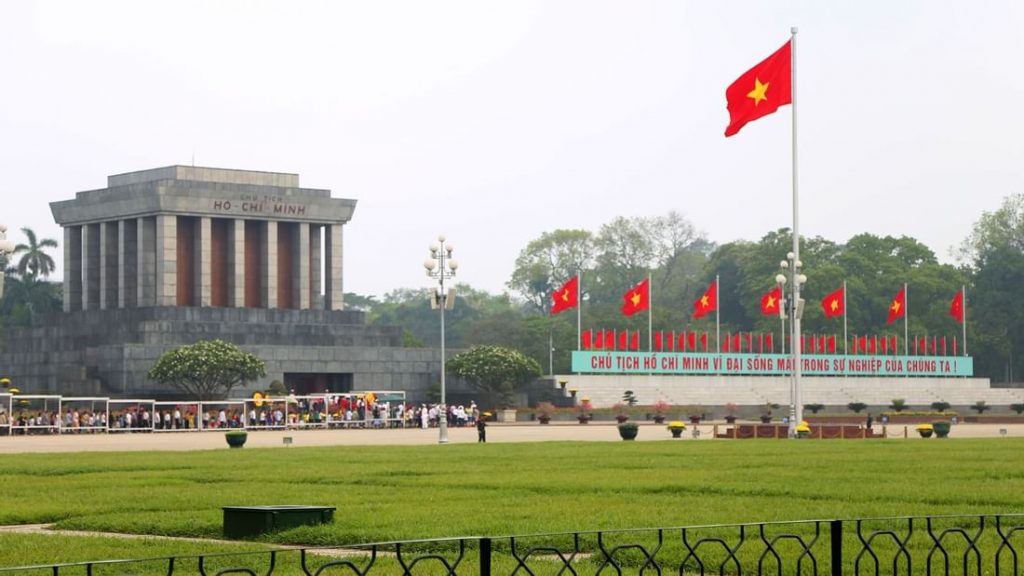 4.3 Tran Quoc Pagoda
Vietnam's oldest Buddhist temple is the Tran Quoc Pagoda, which is located on a tiny island in Hanoi's West Lake. The beautiful architecture and quiet surroundings of this serene and gorgeous pagoda are well-known. 
Views of the lake are stunning, and visitors may explore the imposing stupa, lush gardens, and elaborate sculptures. The Tran Quoc Pagoda is a must-see site for everyone looking for some quiet time and natural beauty in the capital city. It is not only a place of spiritual importance but also a tranquil sanctuary in the middle of the busy city.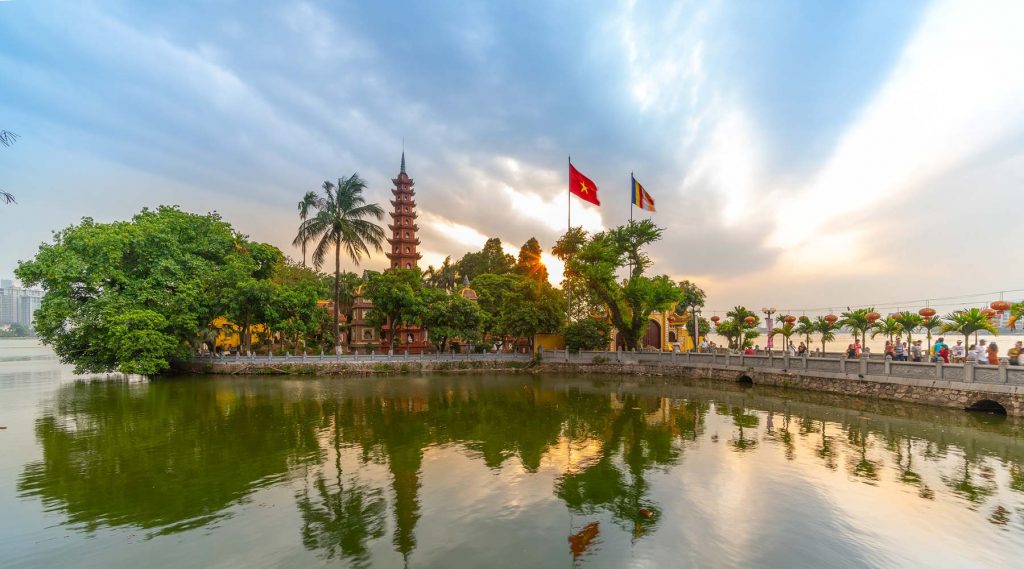 V. Culinary Delights of Hanoi
5.1 Pho: The National Dish
Vietnamese pho is a savory and fragrant noodle soup that is sometimes referred to be the country's national cuisine. Delicate rice noodles, a flavorful broth, and your choice of meats or veggies make up this dish. 
It gives the ideal harmony of tastes and is typically topped with fresh herbs, lime, and chile. Savoring a steamy bowl of pho, whether from a street vendor's modest booth or a neighborhood restaurant, is a must-do culinary experience in the capital city. It offers a flavor of Vietnamese culture and cuisine in every spoonful.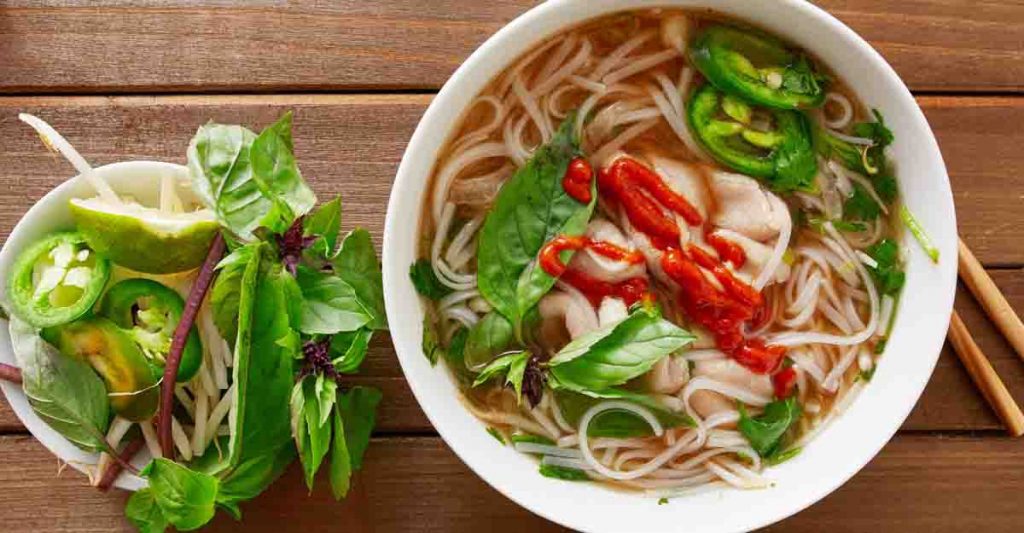 5.2 Bun Cha: Grilled Pork Noodles
Bun Cha is a popular Vietnamese meal that has grilled pork served with rice noodles and fresh herbs. This delicious combination is sometimes served with a dipping sauce composed of fish sauce, lime, sugar, and chile. 
Hanoi is famous for its Bun Cha, and eating it in the city is a gourmet delight. Bun Cha is a must-try treat for food fans visiting the capital city, thanks to the smokey scent of grilled pork and the blending of savory and sweet ingredients.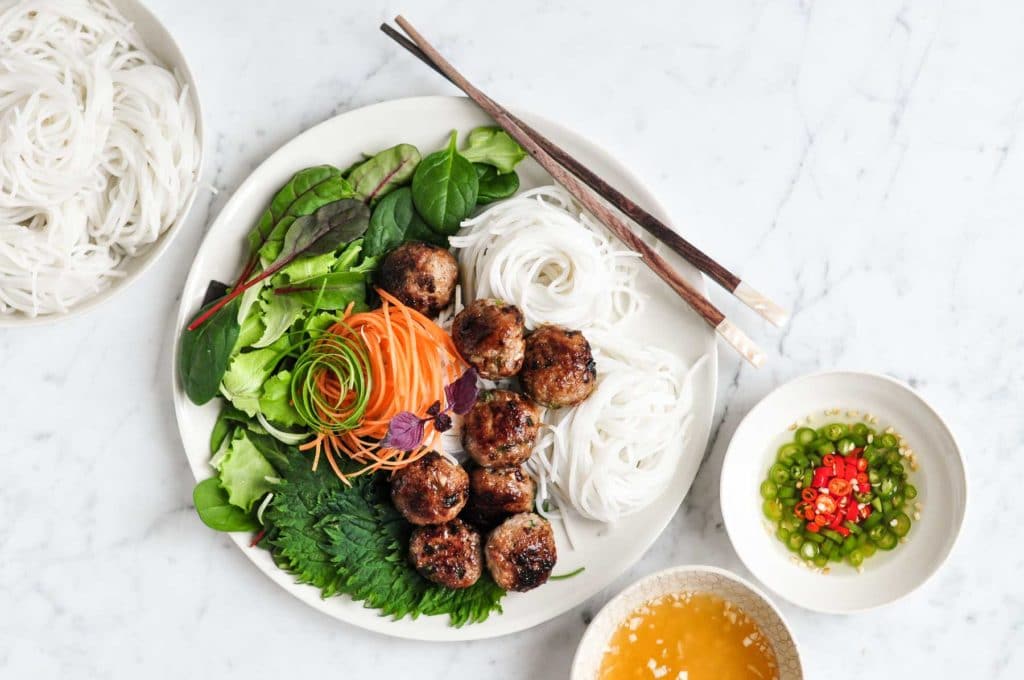 5.3 Egg Coffee and Other Local Treats
Egg Coffee (Ca Phe Trung) is one of the most distinctive local delights available in the capital city. This creamy and sweet coffee combination is topped with whipped egg yolks, making it a sumptuous and delicious beverage. 
Aside from Egg Coffee, you may have crunchy spring rolls (Nem Ran), savory pancakes (Banh Xeo), and sticky rice with mung beans (Xoi Xeo). 
These delightful sweets are best enjoyed at the capital citys street sellers and cozy cafés, which offer a sense of the city's culinary inventiveness and warmth.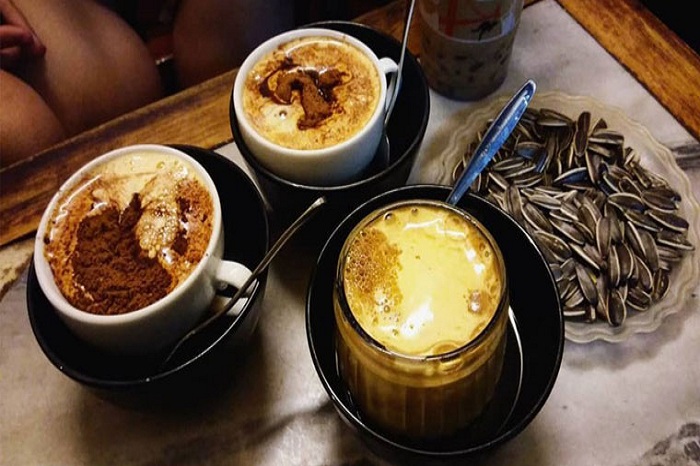 VI. Hanoi's Cultural Heritage
6.1 Water Puppetry: A Traditional Art Form
Water Puppetry is a compelling traditional art form that evolved in the villages of northern Vietnam's Red River Delta. It consists of puppeteers moving wooden puppets on the surface of a water-filled stage while live traditional music and singing is played. 
The performance covers stories from Vietnamese mythology and history, and it's a one-of-a-kind cultural experience that sheds light on the country's history. The Thang Long Water Puppet Theatre in the capital city is a well-known place for witnessing this centuries-old art form, which provides a fascinating and interesting peek into Vietnamese culture.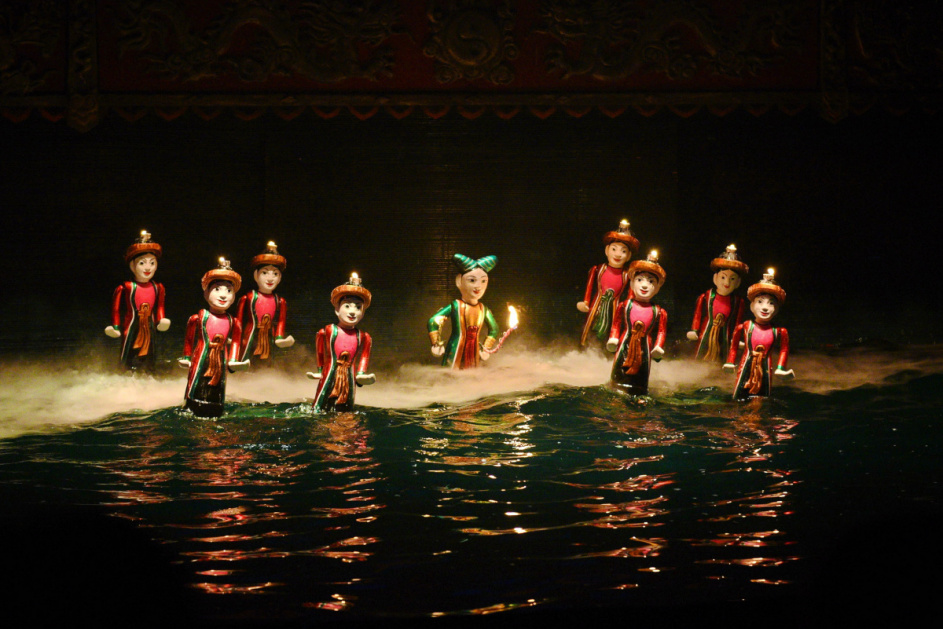 6.2 Traditional Markets and Crafts
Hanoi has thriving traditional marketplaces and talented artists where you may find a broad variety of Vietnamese crafts and items. Dong Xuan Market, for example, has a lively atmosphere with shops offering everything from textiles and pottery to street food and souvenirs. 
Furthermore, the city's Old Quarter is a center for traditional crafts, where you may observe talented artists at work crafting things such as silk clothes, bamboo products, and lacquerware. Exploring these marketplaces and workshops gives a varied cultural experience as well as the opportunity to bring home one-of-a-kind, handcrafted the capital city treasures.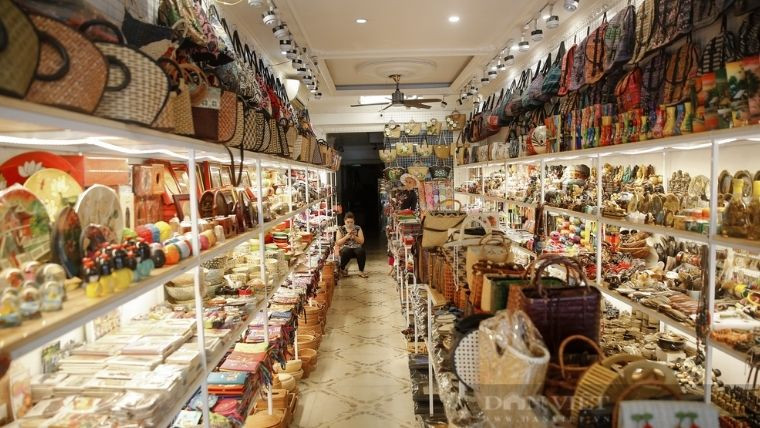 VII. Modern Hanoi
7.1 Contemporary Dining and Nightlife
Hanoi has a vibrant eating and nightlife scene. A variety of preferences are catered to by upscale restaurants, trendy eateries, rooftop bars, and exciting nightclubs. There includes international cuisine as well as Vietnamese fusion meals. 
There are live music establishments, drink lounges, and street-side beer sellers for amusement. The capital city combines historic charm with modern entertainment, making it a popular destination for all types of visitors.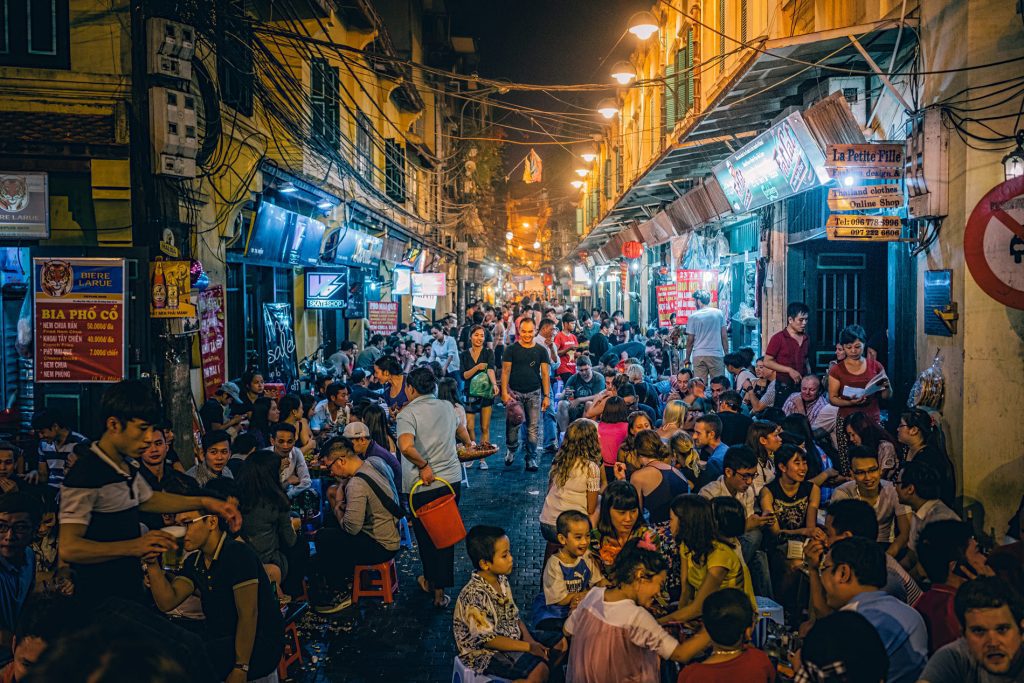 7.3 Shopping in Hanoi
Hanoi shopping is a great experience. From busy marketplaces like Dong Xuan Market to tiny stores in the Old Quarter, the city has something for everyone. 
Exquisite silk items, handcrafted pottery, lacquerware, and one-of-a-kind Vietnamese art may be found. Remember to haggle for the best discounts. Whether you want souvenirs or high-quality crafts, The capital city's retail scene has something for everyone, making it a worthwhile aspect of your vacation.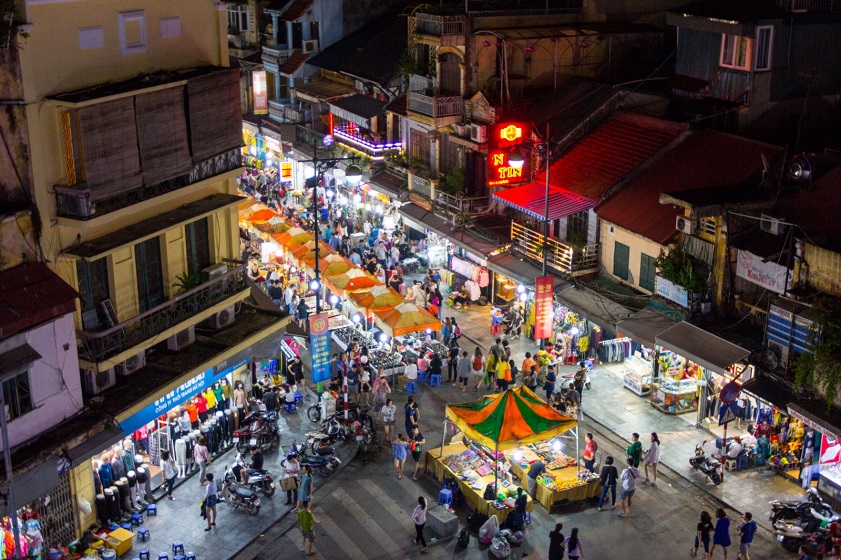 VIII. Practical Tips for Travelers
8.1 Getting Around Hanoi
Getting about the capital city is simple and enjoyable. For speedy mobility, the city provides a dependable network of taxis, motorbike taxis, and ride-sharing services. 
Cyclos and electric shuttles go at a slower pace, making them excellent for sightseeing. The Old Quarter's tiny streets are best explored on foot. 
Bicycles may be rented for an environmentally responsible choice. Familiarize yourself with street names and sights to help you navigate this hectic metropolis.
8.2 Where to Stay
Accommodation options in the capital city are diverse and welcoming. The city has a variety of lodging alternatives, ranging from luxury hotels to budget-friendly guesthouses and hostels. 
Because of its central position, the Old Quarter is a popular choice, while West Lake provides a more serene backdrop. Consider staying in colonial-era buildings converted into boutique hotels to immerse yourself in the capital city's heritage. Whatever your budget or tastes, the capital city provides a wide range of accommodations to make your stay pleasant and enjoyable.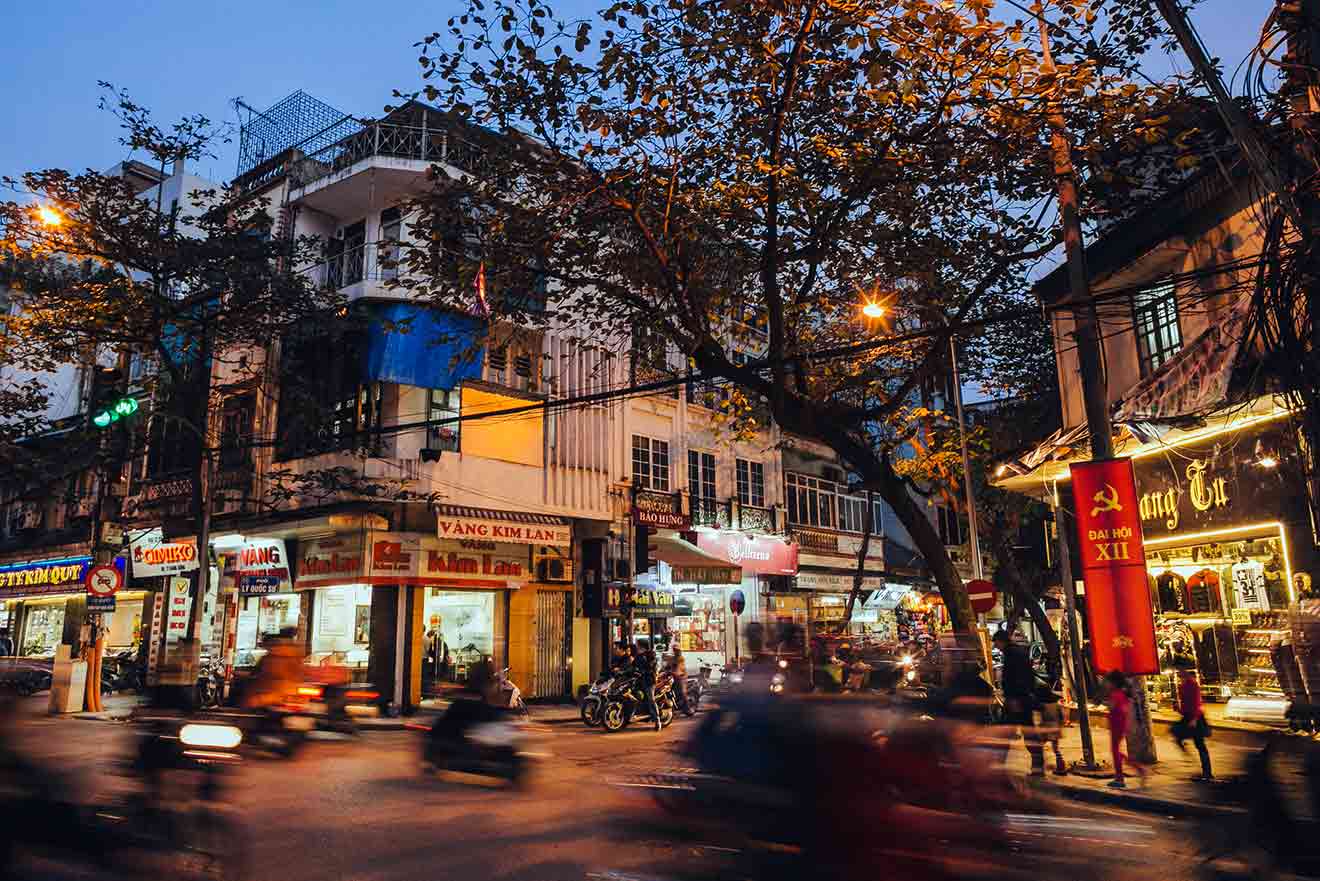 BEDENTAL - TOP STANDARD DENTISTRY SYSTEM
In HANOI
Address 1: 7B Thi Sach St, Ngo Thi Nham, Hai Ba Trung Dist, Ha Noi. - 0934.61.9090
Address 2: 343 Tay Son St, Nga Tu So Ward, Dong Da Dist, Ha Noi. (Nga Tu So Cross) - 0934.61.9090
Address 3: CC2 Tower  Nguyen Huu Tho St, Dinh Cong Ward, Hoang Mai Dist, Ha Noi. (Inside True Hope ) - 0934.61.9090
In HO CHI MINH
Address 1: 140 Nguyen Van Thu St, Da Kao, Dist. 1, Ho Chi Minh. - 0766.00.8080
Address2: 25, City Land urban area, Go Vap Dist, Ho Chi Minh - 0766.00.8080
Working: 9am - 9pm everyday
Tư vấn chuyên môn bài viết:
BÁC SĨ DƯƠNG THỊ THÙY NGA
Bác sĩ chỉnh nha tổng hợp
Ngôn ngữ giao tiếp: Tiếng Việt, Tiếng Anh, Tiếng Nga
Đặt Lịch Hẹn
Xem Hồ Sơ