Welcome to Hanoi, Vietnam, a city renowned for its captivating history and vibrant energy. However, it is the culinary scene that truly steals the spotlight. In this article, we take you on a culinary adventure through the bustling streets of Hanoi, introducing you to the top 10 famous tasty food brands that have become an integral part of the city's culinary fabric.
Whether you're a seasoned food enthusiast or an adventurous traveler seeking an authentic taste of Hanoi, join us as we explore the stories, histories, and tantalizing flavors behind Hanoi's top 10 famous tasty food brands. Get ready to embark on a culinary journey like no other, where tradition and innovation blend seamlessly to create an unforgettable dining experience in the heart of Hanoi.
Top 10 famous tasty food brands in Hanoi's Old Quarter  – Chè 4 Mùa – Hàng Cân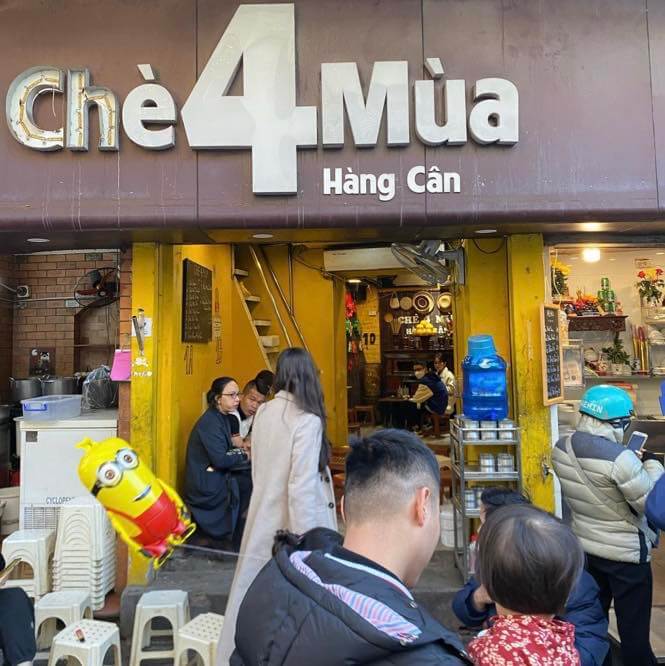 Many generations of Hanoi residents have been attached to a small tea shop located at the beginning of Hang Can Street, where various types of tea rotate throughout the seasons, rarely taking a day off. Established before 1975, it is considered one of the oldest tea shops in Hanoi's Old Quarter.
The signboard of "Chè 4 Mùa" tea shop is easily noticeable when passing by Hang Can Street. The shop's customer flow remains steady, both in winter and summer. While strolling through the Old Quarter in the afternoon, one can see a row of customers spilling onto the sidewalk, enjoying a cup of delicious tea. Even tourists who have not heard of its reputation often become curious and stop by for a taste. Despite the increasing number of eateries in Hanoi, many people remain loyal to the experience of savoring traditional tea in a corner of the old streets, where the simple plastic chairs and seating arrangements may be a bit inconvenient.
During the summer season at "Chè 4 Mùa," you can indulge in green bean, black bean, lotus with longan, or pearl tapioca teas. In the winter, the menu changes to include ginger tea, floating rice cake, and mixed sweet soup. With simple and uncomplicated ingredients, "Chè 4 Mùa" entices customers with the traditional flavors of smooth white rice cake, spicy ginger, tender and chewy lotus seeds, silky green beans, and fragrant jasmine-infused tea that is lightly sweet. The food hygiene in the shop is also well-maintained, with the tea ingredients stored in covered containers. After placing an order, the seller scoops the components into a cup and serves the customers.
CONTACT INFORMATION:
Address: 4 Hang Can Street, Hoan Kiem District, Hanoi
Phone: 0984 583 333
Opening Hours: 09:00 AM – 10:00 PM
Top 10 famous tasty food brands in Hanoi's Old Quarter – Bún Chả Đắc Kim – Hàng Mành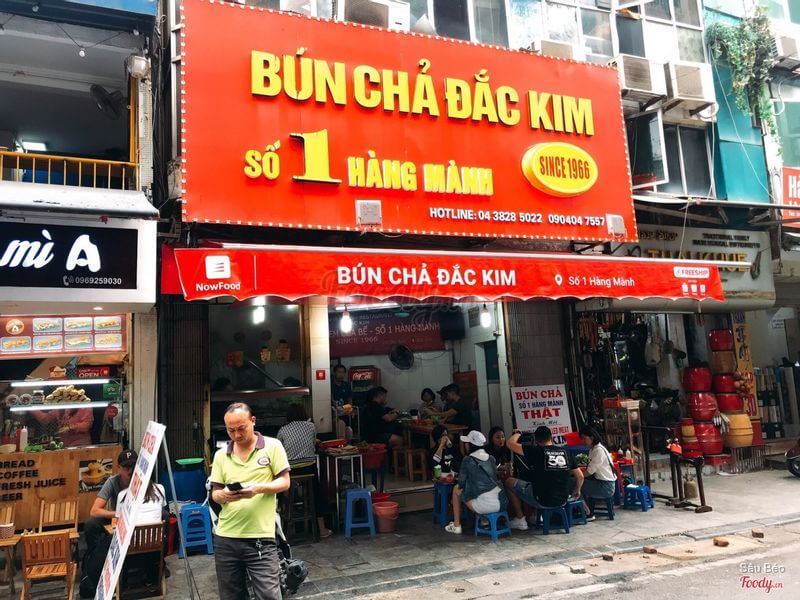 It's not too difficult to find a delicious eatery in Hanoi's Old Quarter. When mentioning Hanoi's bun cha, many people may think of the famous bun cha Obama. But have you ever tried Bun Cha Dac Kim – Hang Manh, a delightful restaurant that everyone remembers when asked about it? Located at the beginning of Hang Manh Street, Bun Cha Dac Kim has become a familiar destination for foreign tourists visiting the capital to savor Hanoi's culinary delights. With a relatively small space, during peak hours, diners have to go up to the upper floors or be seated right on the sidewalk.
One notable feature here is the meticulousness in selecting ingredients. Specifically, the pork must be either pork belly or pork shoulder, finely minced with a knife, marinated with spices, garlic, and delicious fish sauce before being grilled over charcoal. 
Each serving of Bun Cha consists of a plate of vermicelli noodles, grilled meat, and handmade meatballs that are kneaded and grilled right in the restaurant, emitting a fragrant aroma. The serving of Bun Cha is large and comes with a bowl of hot and flavorful fish sauce broth. Adding a little bit of carrot and papaya along with garlic and chili makes it even more enticing. When you eat it with fresh herbs, it becomes incredibly delicious.
Each serving of Bun Cha at Dac Kim is prepared generously, with plenty of meat, and priced between 50,000 and 60,000 Vietnamese dong. Despite complaints about limited seating space and slightly higher prices, the restaurant continues to attract a bustling crowd and has become one of Hanoi's culinary icons.
CONTACT INFORMATION:
Address: 1 Hang Manh Street, Hoan Kiem District, Hanoi
Phone: 024 3828 7060
Opening Hours: 09:00 AM – 09:00 PM
Top 10 famous tasty food brands in Hanoi's Old Quarter – Xôi Chè Bà Thìn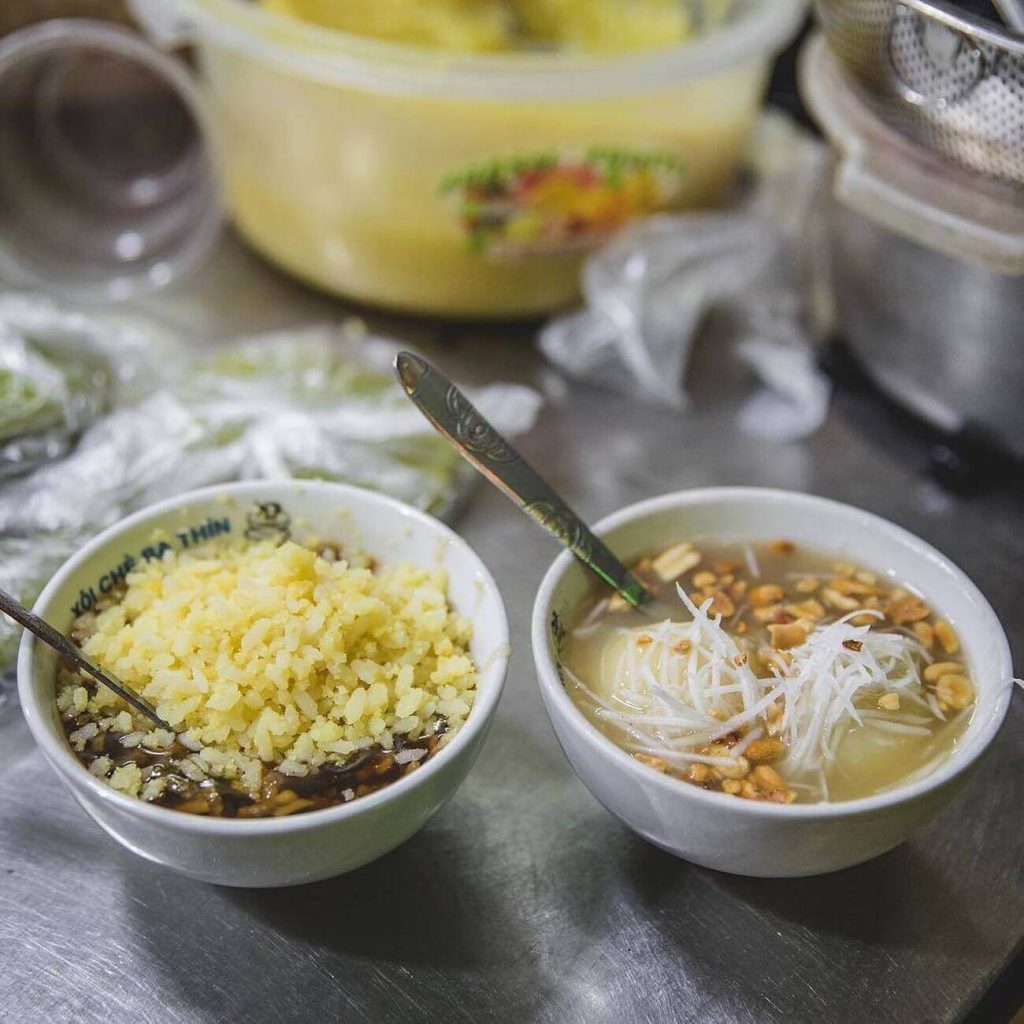 When it comes to sweet sticky rice and sweet soup, everyone immediately thinks of the famous Xoi Che Ba Thin in the renowned snack street of Hanoi's Old Quarter. It is considered one of the delightful street foods that make Hanoians proud. Xoi Che Ba Thin's shop is quite small, with enough space for a counter to display various types of sweet soups. Due to its small size, there are no tables, only plastic chairs where customers can sit and enjoy their food on the sidewalk.
However, Xoi Che Ba Thin has never been short of customers, especially during weekends. Despite its small size, the staff's attitude is commendable—quick, friendly, and efficient in serving food. As soon as you sit down, the menu is promptly provided, and within about two minutes after placing your order, you are served a steaming hot and fragrant bowl of sweet soup.
Xoi Che Ba Thin offers a menu for both summer and winter seasons. In the summer, their best-selling items are refreshing cold sweet soups, such as chilled tofu pudding with black jelly and mixed sweet soup. The mixed sweet soup consists mainly of green beans and black beans without many types of jellies or pandan jelly like modern sweet soup shops today. They also serve lotus seed sweet soup and iced tamarind drink. On the other hand, during the winter season, Xoi Che Ba Thin is bustling with customers who come for their glutinous rice dishes and "banh troi tau" (floating rice ball dessert). These are the two most beloved dishes by customers.
The glutinous rice dishes at Xoi Che Ba Thin are exceptional, offering a variety of options such as lotus seed glutinous rice, green bean pandan glutinous rice, black sesame glutinous rice, and dense black bean glutinous rice. Additionally, they serve hot sweet soups, including warm mung bean sweet soup, bee honeycomb sweet soup, and fragrant sticky rice stir-fried with green rice flakes. Visit this place to experience the traditional flavors of sweet soup, the simplicity, and authenticity of their preparation that will surely captivate your heart.
CONTACT INFORMATION:
Address: 1 Bat Dan, Hoan Kiem District, Hanoi
Phone: 0936 628 887
Opening Hours: 08:00 AM – 11:00 PM
Top 10 famous tasty food brands in Hanoi's Old Quarter – Long Vi Dung Nộm Thịt Bò Khô
When it comes to delicious eateries in Hanoi's Old Quarter, one cannot overlook Long Vi Dung Dry Beef Salad. Along the streets of Hoan Kiem, you will find several salad shops lined up. However, the most delicious and popular one is Long Vi Dung Dry Beef Salad. The salad here is perfectly balanced with a sweet and sour taste, and it comes with a generous amount of accompanying ingredients.
The dry beef portion is substantial and includes traditional shredded papaya, fragrant herbs, crispy beef tendons, tender and flavorful dried beef, fried peanuts, and savory boiled beef slices. All the ingredients are mixed together with the restaurant's special seasoning and topped with a layer of roasted sesame seeds.
The dry beef salad here is not tough or dry but rather delicious, flavorful, and tender. The combination of the crunchy roasted peanuts, the crispy beef tendons, the fresh taste of shredded papaya, the aroma of herbs, and the essential sweet and tangy sauce creates an incredibly enticing dry beef salad.
It is a perfect match when served with sticky rice cakes. If you visit Long Vi Dung for their dry beef salad in Hanoi during the weekend pedestrian street, you will undoubtedly become addicted to this dish. Additionally, the restaurant offers a variety of other dishes such as clear dumplings and fried sour rolls. Compared to other establishments, Long Vi Dung Dry Beef Salad is relatively expensive at around 50,000 VND per serving.
CONTACT INFORMATION:
Address: 23 Ho Hoan Kiem, Hoan Kiem District, Hanoi
Phone: 0904 656 708
Opening hours: 08:00 – 22:30.
Top 10 hotpots in Hanoi – Exploring the Irresistible Hotpot Culture of Hanoi
Top 10 famous tasty food brands in Hanoi's Old Quarter – Bún Đậu Hương 55 Phất Lộc
Bún Đậu Hương 55 Phất Lộc is a popular street food stall in Hanoi, Vietnam, known for its authentic "hàng rong" (wandering vendor) atmosphere. The stall consists of a small cart serving bún (rice noodles), fried tofu, and a few plastic chairs for customers to sit and enjoy their meal on the sidewalk. Surprisingly, both locals and foreigners appreciate the unique ambiance of this street food experience.
The bún used in this dish is a type of small, cut rice noodle. The fried tofu is crispy and cut into bite-sized pieces. The delicious and distinctive mắm tôm (fermented shrimp paste) is prepared by mixing it with a little sugar, squeezing in some lime juice, and adding chili for a rich and flavorful taste. The mắm tôm is evenly stirred before being served with fresh vegetables and pickled cucumbers.
Nowadays, bún đậu mắm tôm offers many additional options for accompaniments such as fried spring rolls, boiled meat, fermented pork roll, stuffed steamed rice cake, and offal. It has long been renowned as one of the best places to enjoy bún đậu in Hanoi. Located in Ngõ Phất Lộc, on Hàng Bạc Street, it attracts many visitors who come to savor this delicious dish.
One of the highlights of this bún đậu stall is the mắm tôm, which is sourced from Thanh Hóa province. This unique mắm tôm is fragrant with a pink hue and is meticulously prepared by the skilled hands of the stall owner. Moreover, the ingredients for the bún đậu are carefully selected. The tofu must be made from Mơ village soybeans, known for their soft and smooth texture. The bún noodles are sourced from Phú Đô village, ensuring they are cut into small, suitable pieces for customers. The aromatic herbs, including Vietnamese balm and perilla, are selectively chosen from Láng village.
The price for a serving of bún đậu at this stall is quite affordable, varying depending on the additional items chosen by customers such as meat, spring rolls, or offal. One notable aspect that impresses customers is that the fried tofu is never pre-cooked but only fried upon the arrival of each customer to ensure its freshness and crispiness.
Contact Information:
Address: 55 Ngõ Phất Lộc, Hoàn Kiếm District, Hanoi
Phone: 0932 385 858
Opening hours: 10:30 AM – 3:00 PM
Top 10 famous tasty food brands in Hanoi's Old Quarter – Nem Chua Rán Hội Quán Tạm Thương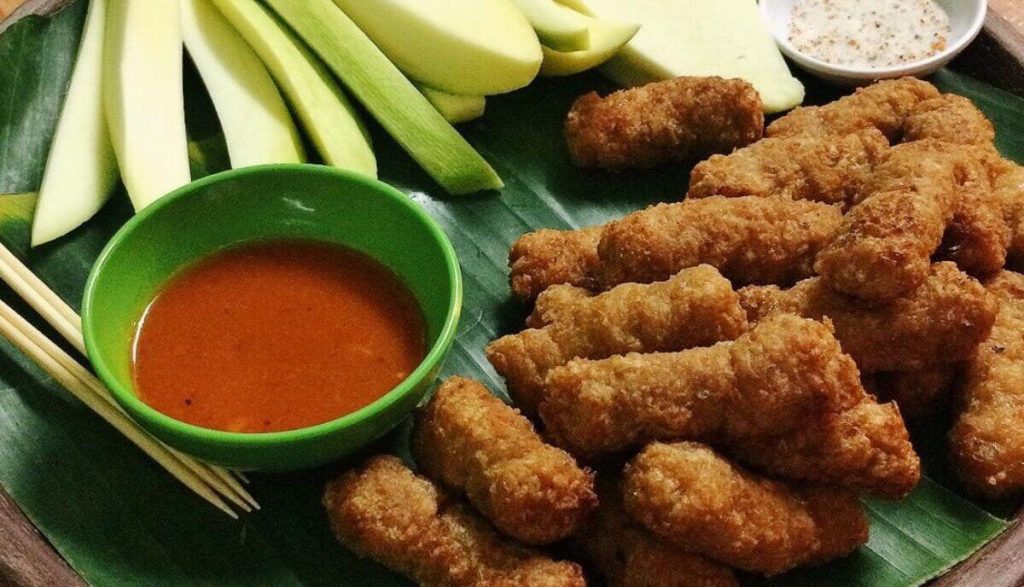 Ngõ Tạm Thương is famous for its crispy and delicious nem chua (fried fermented pork rolls). In addition to nem chua, they also make french fries in a unique way. The accompanying dishes include fried corn, fried sweet potato, and pickled cucumbers. The fried nem chua is wrapped in leaves and beautifully presented, attracting many foreign tourists. What's special is that although the entire lane sells nem chua, there is no competition or aggressive tactics among the vendors. It is a civilized environment.
Tạm Thương is a small lane nestled in the heart of Hanoi, with a length of about 10 meters. Despite its small size, it is well-known among young people in Hanoi for its famous and delicious nem chua. Since there are several nem chua stalls in this small lane, you can choose any of them because the quality is the same. Once you try the nem chua here, you will remember it forever and come back multiple times.
The nem chua is crispy, non-greasy, and has a soft and sweet taste when eaten. The nem chua at the stalls sells out within a day, so you can rest assured about its quality. One thing that creates an unforgettable flavor for Tạm Thương's nem chua is the soy-based dipping sauce. The sauce is not the bottled kind but homemade, giving it a rich and spicy taste that pairs perfectly with the nem chua. During the early autumn weather, enjoying nem chua with a group of friends or loved ones is both affordable and enjoyable.
There is one thing to note for those who want to try Tạm Thương's nem chua: the lane is quite narrow, making it challenging for motorcycles or bicycles to navigate. It is best to go on foot.
Contact Information:
Address: 40 Ngõ Tạm Thương, Hoàn Kiếm District, Hanoi
Phone: 0949 381 836
Opening hours: 11:00 AM – 11:00 PM
Top 10 famous tasty food brands in Hanoi's Old Quarter – Phở Gia Truyền Bát Đàn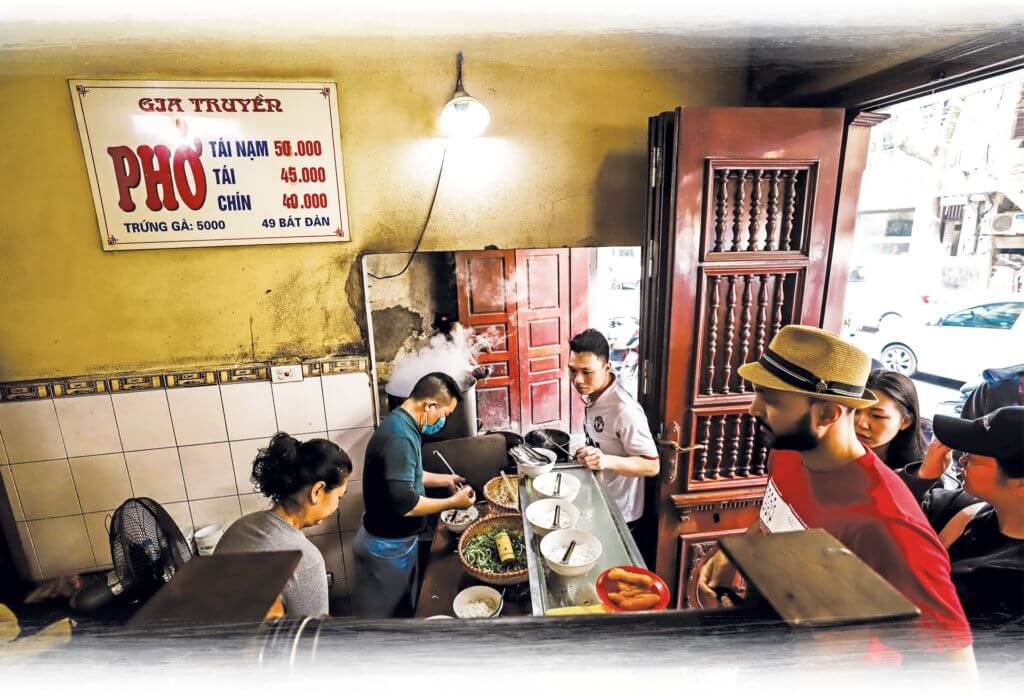 When you visit Pho Gia Truyen Bat Dan, you will experience the atmosphere of the past: queuing up, carrying your own bowl, serving yourself, and finding a seat. The place is always crowded, especially in the morning, with people lining up to buy their turn. Pho Bat Dan is said to be the original Hanoi pho, with a fragrant aroma, clear broth, tender and pink beef, and a generous serving in the bowl. Whether it's the locals, office workers, or foreign tourists, everyone queues up to get their share. Every person from Hanoi and every visitor to Hanoi must visit Pho Bat Dan to truly taste the most authentic pho.
When you visit the restaurant, order a bowl of pho with well-done and rare beef, add a side of poached eggs. The bowl is filled with plenty of meat, and the broth is rich and flavorful, possibly cooked from various types of meat. I find it even more flavorful than the Ly Quoc Su system. During weekends or peak hours in the evening or morning, you may have to queue up, pay, and then carry your bowl of pho to the table yourself.
If you want to have fried dough sticks, you need to order and pay separately as they are not automatically included. Despite the crowd, no customer has any complaints about the service or the quality of the food. The pho is both firm and tender, white and fragrant with the fresh taste of rice, and the broth has a natural and sweet flavor. The beef is freshly prepared on-site, and when eaten with spring onions and cilantro, it becomes an unforgettable experience. All the flavors blend together, and with a few sticks of fried dough, it is truly a wonderful meal.
CONTACT INFORMATION:
Address: 49 Bat Dan, Hoan Kiem District, Hanoi
Opening hours: 06:00 AM – 10:00 AM | 06:00 PM – 08:30 PM
Top 10 famous tasty food brands in Hanoi's Old Quarter – Mỳ Vằn Thắn Đinh Liệt
Dinh Liet Wonton Noodle is one of the top choices for noodle lovers in the Old Quarter of Hanoi. A bowl of Dinh Liet Wonton Noodle is filled with two main ingredients: egg noodles and wontons, along with flavorful slices of barbecued pork, boiled eggs, seasonal greens, fresh peeled shrimp, and garnished with fresh green onions. It is served with a meticulously prepared broth that is clear and has a distinct sweet taste. Although the bowl of noodles at Dinh Liet Wonton Noodle may not be overflowing, the ingredients are fresh, well-seasoned, and always served hot. The noodles are cooked in hot water but still maintain a satisfying chewiness.
The accompanying side dishes are also noteworthy, with tender and chewy wontons, succulent slices of red barbecued pork, and thin slices of boiled liver with a slightly firm texture. However, the standout dish at this noodle shop is the dry noodles.
It includes the same ingredients as the wonton noodle soup, but instead of being served in a broth, it is topped with a homemade brown sauce that is shiny and appetizing, adding a unique and delicious flavor. It is this unique twist that sets Dinh Liet Wonton Noodle apart. With a bowl of delicious noodles like this, diners only pay 35,000 VND, making it a suitable choice for a nutritious breakfast or lunch.
CONTACT INFORMATION:
Address: 9A Dinh Liet, Hoan Kiem District, Hanoi
Opening hours: 07:00 AM – 02:00 PM | 05:00 PM – 10:00 PM
Top 10 famous tasty food brands in Hanoi's Old Quarter – Quán Bún Thang Bà Đức
If you love Hanoi cuisine, especially traditional dishes and fantastic late-night food in the Old Quarter, then you definitely can't miss out on "bun thang." This special dish is a harmonious combination of 11 ingredients in a bowl of vermicelli noodles, with a flavorful and clear broth that creates an exquisite taste. Enjoying a steaming bowl of bun thang in the beautiful ambiance of the Old Quarter is truly unbeatable.
From Dinh Tien Hoang Street, turn onto Cau Go Street, and don't forget to visit Bun Thang Ba Duc to savor this delicious dish. It's the perfect suggestion for you to enjoy the best bun thang in the Old Quarter. Bun thang is a unique dish of Hanoi, and it gets its name from the fact that a bowl of bun thang consists of 11 different ingredients. 
A bowl of bun thang is filled with chicken, eggs, shredded pork, duck, julienned radish, bean sprouts, shrimp paste, mushrooms, and more, complemented by a touch of fresh lime and a bit of chili sauce. The combination is exceptional. The fragrant and flavorful bun thang with its variety of ingredients will surely satisfy your taste buds. And all of this can be enjoyed for only 30,000 VND per bowl. The food here is not only delicious but also clean, and the service is enthusiastic, making it a favorite among diners.
CONTACT INFORMATION:
Address: 48 Cau Go, Hoan Kiem District, Hanoi
Opening hours: 06:00 PM – 10:00 PM
Top 10 famous tasty food brands in Hanoi's Old Quarter – Nhà hàng Thịnh Vượng – Chim Nướng Tạ Hiện
Specialty of succulent roasted pigeons at Prosperous Restaurant – Tạ Hiện is incredibly renowned among those who adore pigeon dishes. This eatery has been around for over a decade and is nestled quite deep into the area; if you don't make reservations in advance, you won't find a seat. The two standout dishes at this place are the roasted pigeon and steak. When the pigeon dish is served to guests, it's piping hot, aromatic, and irresistibly rich.
The pigeon is roasted to perfection, with a crisp, charred exterior and tender, sweet, and flavorful meat inside. The restaurant seasons the pigeon with the finest spices. Prosperous Restaurant – Tạ Hiện is a top-notch dining spot in the "Western Quarter" that you shouldn't miss. Grilled pigeon is a renowned delicacy on Tạ Hiện Street.
On this small street, you can easily find numerous grilled pigeon restaurants. However, the one that pleases diners the most is Prosperous Restaurant – Tạ Hiện, located at number 13. Prosperous Restaurant – Tạ Hiện has been in the grilled pigeon business for nearly 20 years.
The grilled pigeon at Prosperous Restaurant – Tạ Hiện carries unforgettable, fantastic flavors. Before grilling, the pigeon meat is meticulously marinated with spices. Afterward, each pigeon is skewered and grilled over an open flame until it emits a rich, aromatic scent. When you enjoy the grilled pigeon, it's dipped in a mix of chili, tangy lime, and savory salt and pepper. The spicy kick of the chili, the sweet tang of the lime, and the rich succulence of the pigeon will leave you thoroughly delighted.
CONTACT INFORMATION:
Address: 13 Tạ Hiện Street, Hoàn Kiếm District, Hanoi
Phone: 024 3825 1838
Conclusion
In conclusion, Hanoi's Old Quarter is a culinary paradise, boasting an array of famous and delicious food brands that are a must-visit for any food enthusiast.
This article has highlighted the top 10 best food brands in Hanoi's Old Quarter, showcasing the diverse and mouthwatering dishes they offer. From traditional Vietnamese delicacies to international fusion cuisine, these food brands in Hanoi's Old Quarter are a testament to the vibrant culinary scene of the city.
Whether you're a local resident or a traveler exploring Hanoi, these are the food brands you have to check out in Hanoi's Old quarter. So, if you find yourself in Hanoi's Old Quarter, be sure to check out these renowned food brands and treat yourself to an unforgettable gastronomic experience. Allow your taste buds to embark on a journey through the flavors of Hanoi and immerse yourself in the rich culinary heritage of this historic district.
BEDENTAL - TOP STANDARD DENTISTRY SYSTEM
In HANOI
Address 1: 7B Thi Sach St, Ngo Thi Nham, Hai Ba Trung Dist, Ha Noi. - 0934.61.9090
Address 2: 343 Tay Son St, Nga Tu So Ward, Dong Da Dist, Ha Noi. (Nga Tu So Cross) - 0934.61.9090
Address 3: CC2 Tower  Nguyen Huu Tho St, Dinh Cong Ward, Hoang Mai Dist, Ha Noi. (Inside True Hope ) - 0934.61.9090
In HO CHI MINH
Address 1: 140 Nguyen Van Thu St, Da Kao, Dist. 1, Ho Chi Minh. - 0766.00.8080
Address2: 25, City Land urban area, Go Vap Dist, Ho Chi Minh - 0766.00.8080
Working: 9am - 9pm everyday
Tư vấn chuyên môn bài viết:
BÁC SĨ DƯƠNG THỊ THÙY NGA
Bác sĩ chỉnh nha tổng hợp
Ngôn ngữ giao tiếp: Tiếng Việt, Tiếng Anh, Tiếng Nga
Đặt Lịch Hẹn
Xem Hồ Sơ