Nestled in the vibrant culinary scene of Vietnam, Hanoi stands out as a city that tantalizes the taste buds with its diverse and delectable cuisine. Among the many mouthwatering dishes that grace the tables of Hanoi, hotpot holds a special place in the hearts of locals and visitors alike. In this article, we embark on a flavorful journey to explore the rich and enticing world of hotpots in Hanoi.
Hanoi, the capital city of Vietnam, is renowned for its rich culinary traditions, and hotpot is a beloved centerpiece of its gastronomic landscape. Hotpot, also known as lẩu or nồi, is a communal dining experience where diners gather around a simmering pot of flavorful broth, cooking an array of fresh ingredients. From fragrant herbs and spices to succulent meats and an assortment of vegetables, Hanoi's hotpots offer a delightful symphony of flavors and textures that captivate the senses.
Throughout this article, we will delve into the diverse hotpot offerings that grace the bustling streets of Hanoi. From the renowned Ashima Mushroom Hotpot, where rare and precious mushrooms take center stage, to the tantalizing Freedom Beef Hotpot, featuring tender beef and a medley of enticing ingredients, Hanoi's hotpot scene has something to satisfy every palate. Join us as we uncover the secrets of these hotpot havens, explore the unique flavors they offer, and discover the heartwarming communal spirit that permeates Hanoi's hotpot culture.
So, prepare your taste buds for an unforgettable adventure as we embark on a journey to uncover the enticing world of Top 10 hotpots in Hanoi, where every dip and simmer promises a symphony of flavors and a shared experience of joy and togetherness.
Top 10 hotpots in Hanoi – Haidilao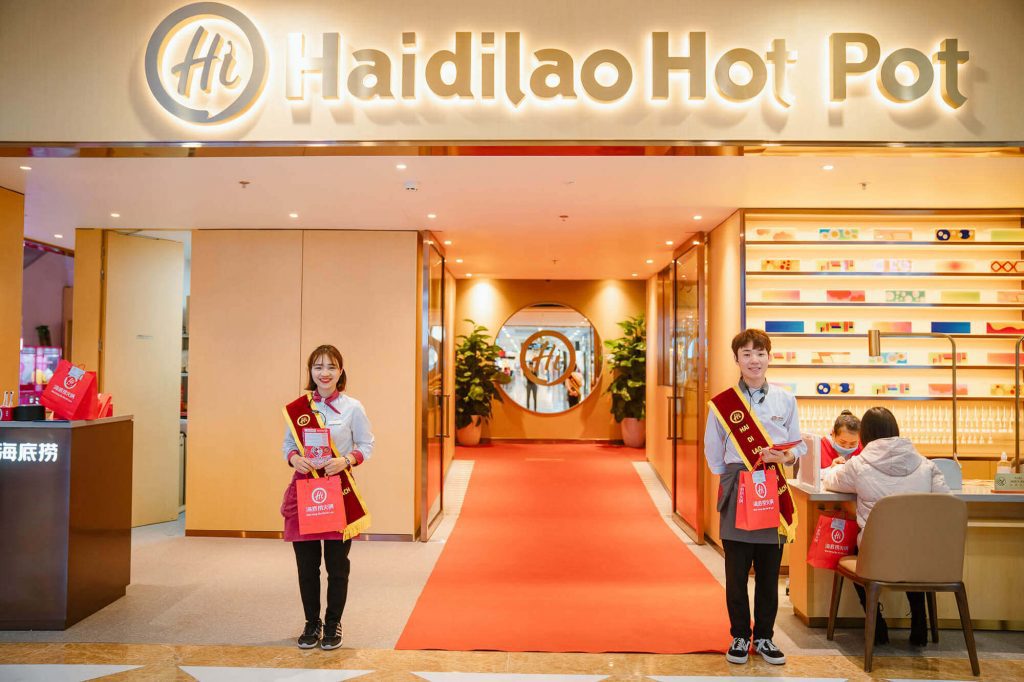 Although relatively new in Hanoi, Haidilao has gained popularity recently for its delicious and diverse hot pot dishes, as well as its excellent service. Haidilao is a high-quality hot pot restaurant chain that embodies the essence of Chinese cuisine.
With each hot pot flavor, Haidilao provides a unique dining experience that allows guests to appreciate the skill and dedication of Haidilao's talented chefs. Unlike buffet-style service, Haidilao serves dishes individually. The menu offers a wide variety of ingredients for dipping, including meat, seafood, vegetables, noodles, and various types of mushrooms. The broth options are plentiful, ranging from bone broth, mushroom broth, and Thai broth to tomato broth, herbal broth, pickled cabbage broth, and spicy broth. Guests can choose single, double, or multi-compartment hot pot pots to enjoy a greater variety of flavors.
Although not a buffet, Haidilao provides a self-service food counter and a variety of homemade sauces that are constantly replenished. Additionally, Haidilao offers hot pot sets for takeaway if you are unable to dine at the restaurant. With quality food, satisfactory service, elegant ambiance, and the added bonus of watching skilled chefs perform their noodle-dancing artistry, Haidilao is the perfect destination to enjoy the essence of Chinese hot pot cuisine with your loved ones.
CONTACT INFORMATION : 
Addresses:
– L6 Vincom Center Pham Ngoc Thach, 2 Pham Ngoc Thach, Trung Tu, Dong Da, Hanoi – 024 3350 2929
– 6th floor, Vincom Nguyen Chi Thanh, 54A Nguyen Chi Thanh, Lang Thuong, Dong Da, Hanoi – 024 3918 6633
Opening Hours: 10:00 AM – 12:00 AM
Top 10 hotpots in Hanoi – Manwah – Taiwanese Hot Pot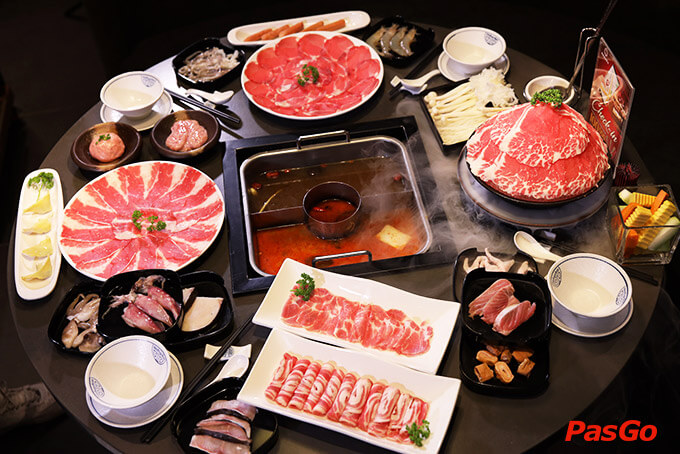 Renowned as a great hot pot restaurant in Hanoi, ManWah Taiwanese Hotpot entices diners with authentic Taiwanese hot pot dishes. If you haven't had the chance to experience Taiwanese-style hot pot at this place, you're truly missing out. With each meal, ManWah – a brand under the Golden Gate Group – takes guests on a culinary journey, offering traditional Taiwanese hot pot recipes and ingredients.
The hot pot dishes are prepared with fresh and reasonably priced ingredients. The broth is simmered from bones, resulting in a rich and flavorful base. As soon as you taste it, you'll savor the delicious sweetness on your palate. The aromatic and mouthwatering broth is sure to captivate your senses.
The hot pot buffet features over 60 dipping options, including a variety of meats, seafood, sausages, and vegetables. As the hot pot boils, you can dip the meat, seafood, and vegetables, enhancing the flavors to your liking. One special aspect here is that you can customize your own dipping sauce according to your taste preferences. Apart from the enticing hot pot dishes, the ambiance of ManWah Taiwanese Hotpot also appeals to many diners. The combination of nostalgic and modern elements through the furniture and decor creates a comfortable atmosphere suitable for guests of all ages. When enjoying hot pot at this restaurant, you'll feel incredibly at ease.
Contact Information:
Addresses:
– Lot T252-253, 2nd floor, Aeon Mall Ha Dong, Hanoi – 024 7300 1669
– 1st floor, Ho Guom Mall, Mo Lao, Ha Dong, Hanoi – 024 7300 8021
Phone: 1900 6622
Top 10 hotpots in Hanoi – Hotpot Story
The package includes the essence of 5 international hotpot flavors: Thai, Chinese, Japanese, and Korean, allowing diners to indulge in the rich and delightful taste of hotpot, accompanied by unique side dishes and an unlimited line counter. You can enjoy a complete meal from appetizers to the main course (hotpot), side dishes, and desserts, all in one restaurant – Hotpot Story. Especially, the restaurant emphasizes using fresh and high-quality ingredients, such as premium American beef and fresh vegetables sourced from Da Lat farms, ensuring delicious meals for customers. Hotpot Story aims to provide an excellent dining experience and create joyful moments for many customers.
The 5 international hotpot flavors include Suki and Tom Yum from Thailand, Sichuan from China, Miso from Japan, and Bulgogi from Korea. These flavors take diners on a gastronomic journey through different regions, offering the best dining experience. By maintaining the core essence of each local hotpot flavor, the chefs at Hotpot Story have adjusted and balanced them to create delightful hotpot dishes that cater to Vietnamese tastes, achieving a "perfect 10" with excellent dipping ingredients and an endless line counter.
Hotpot Story goes beyond just providing a meal; it brings moments of joy and happiness to everyone. With modern and comfortable dining spaces and attentive service, Hotpot Story has won over many diners.
CONTACT INFORMATION:
Addresses:
– 3rd Floor, Aeon Mall Long Bien, 27 Co Linh Street, Long Bien, Hanoi – 024 3829 1188
– 5th Floor, Vincom Nguyen Chi Thanh, 54A Nguyen Chi Thanh Street, Dong Da, Hanoi – 024 3936 0088
Phone: 19002 34546
Top 10 hotpots in Hanoi – Kichi Kichi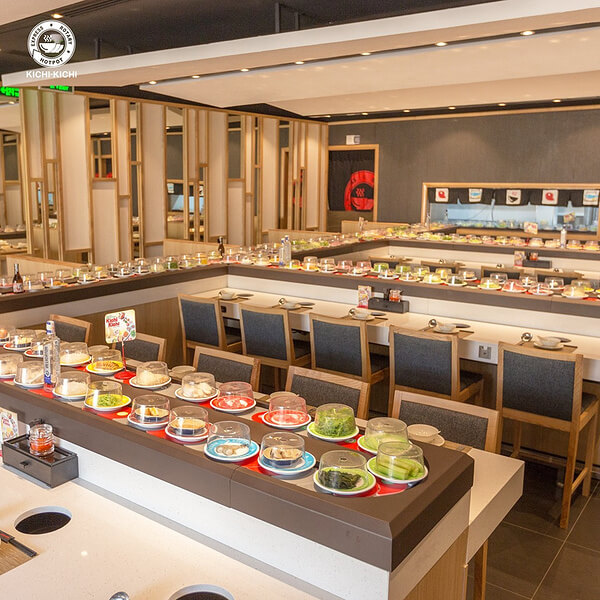 Surely everyone knows or has enjoyed conveyor belt hotpot at Kichi Kichi. Kichi-Kichi is a leading buffet hotpot restaurant chain in Vietnam. Delicious and diverse dishes are served on a unique and modern conveyor belt, combining the serving style of Kaiten from Japan with contemporary architecture. With a fixed price, customers can enjoy nearly 100 exquisite hotpot ingredients, including imported American beef, whole salmon, fresh seasonal vegetables, mushrooms, etc. The American beef at Kichi Kichi is carefully selected and of premium quality. The beef is thinly sliced, beautifully marbled, and dipped into the tangy and spicy Thai hotpot broth, creating a rich and tender flavor.
The iconic Tom Yum hotpot flavor, beloved for its sour and spicy taste, perfectly complements all the dipping ingredients: beef, shrimp, octopus, salmon, dumplings, mushrooms, meatballs, and more. Besides the Thai hotpot flavor, Kichi Kichi offers various other hotpot flavors such as Kim Chi, Mushroom, Hong Kong, Japanese, Singaporean, and Miso. The dessert counter is constantly replenished, the space is spacious, and the staff is polite and efficient.
CONTACT INFORMATION:
Addresses:
– 12C Lang Ha, Thanh Cong, Ba Dinh, Hanoi – 024 7300 6887
– 101B Pham Ngoc Thach, Trung Tu, Dong Da, Hanoi – 024 7300 7994
Phone: 1900 6622
Top 10 hotpots in Hanoi – Lẩu Phan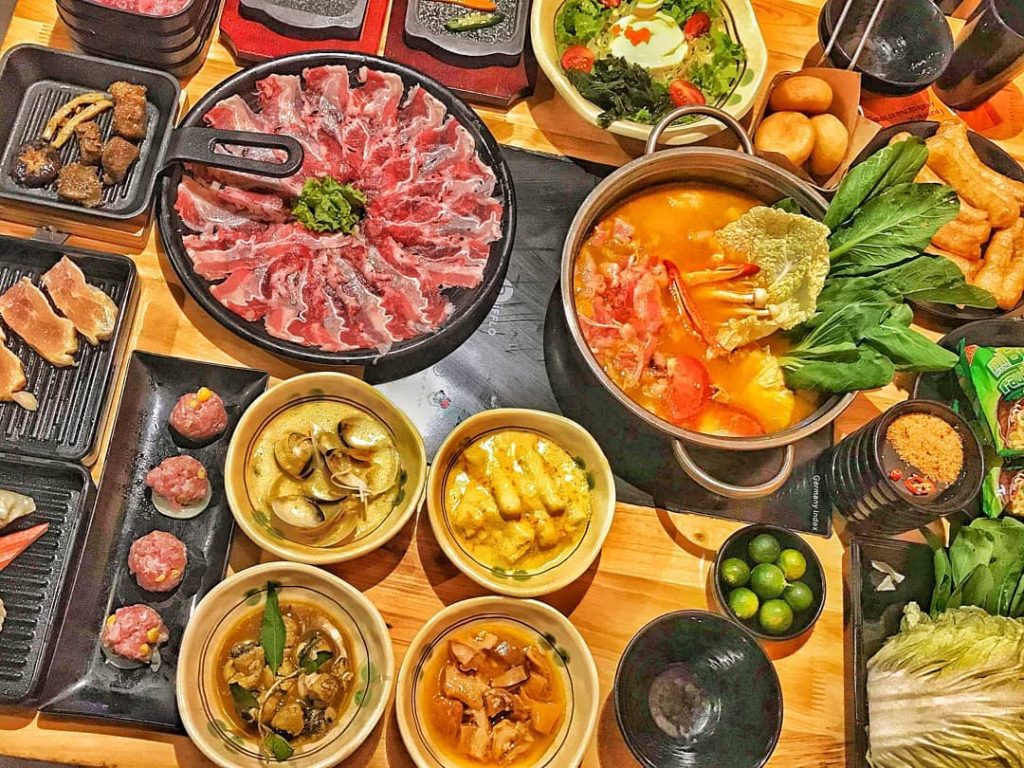 True to its name, Lẩu Phan specializes in serving hot pot dishes with three main broth options: kimchi broth, Thai broth, and crab paste broth. With imported Australian beef as the main dipping ingredient, Lẩu Phan has brought a fresh and modern twist to beef lovers in Hanoi.
Who can resist the enticing aroma of sizzling kimchi hot pot or the billowing smoke of Thai hot pot, with a tantalizing spicy sensation that lingers in your nose and leaves a memorable sweet flavor? Whether it's kimchi or Thai hot pot, each has its own unique flavor and color, but the dipping ingredients remain the same.
You'll find fresh and beautifully sliced cuts of Australian beef such as brisket, tendon, ribs, and sirloin, skillfully prepared by the chefs to enhance the vibrant colors. Various mushrooms and greens are also essential for the hot pot experience, including fragrant mushrooms, crispy shimeji mushrooms, straw mushrooms, Chinese cabbage, Chinese celery, tofu skin, and fried dough sticks, creating a colorful and absolutely delightful dining experience.
According to loyal customers of Lẩu Phan, their kimchi hot pot with "super delicious" broth has a distinct flavor that is hard to find elsewhere. Once you've tried it, you won't want to order any other type of broth because it's just "too good to resist." The kimchi broth is not overly spicy; it strikes a perfect balance and, combined with the mild sweetness of simmered beef bones, creates a refreshing and enjoyable taste. The sour and sweet kimchi, along with its unique secret pickling method, retains its vibrant color and characteristic crunchiness, complementing the beef perfectly and preventing any overwhelming flavors.
CONTACT INFORMATION:
Address:
7 Đào Duy Anh, Đống Đa, Hanoi
485 Nguyễn Văn Cừ, Long Biên, Hanoi
Phone: 1900 2808
Opening hours: 11:00 AM – 2:00 PM | 6:00 PM – 11:00 PM
Top 10 hotpots in Hanoi – ThaiExpress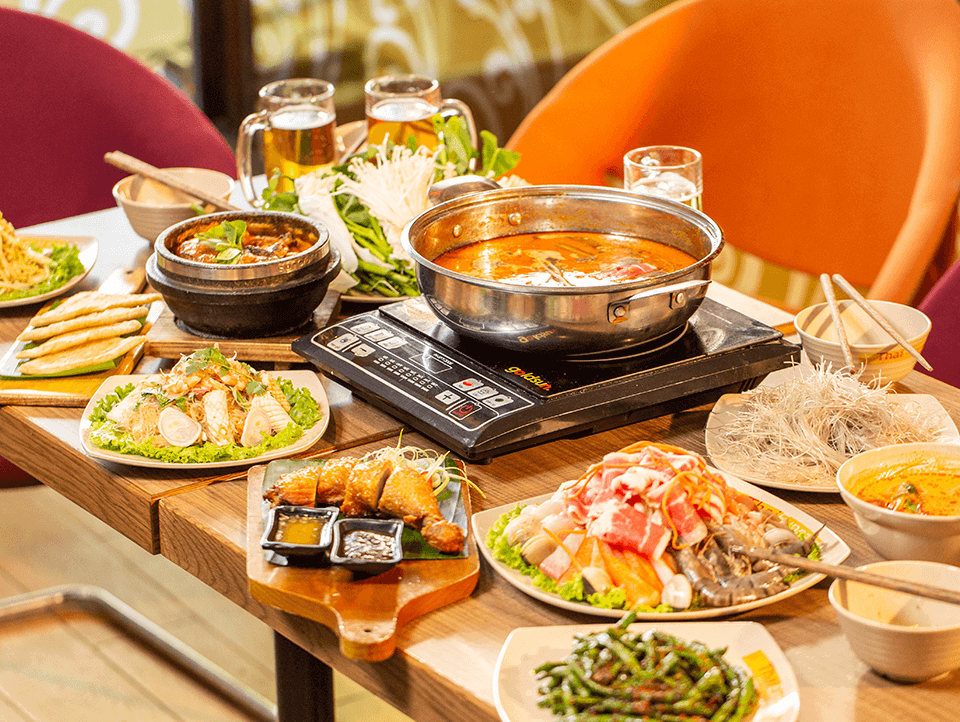 With a mission to bring the exquisite flavors of Thai cuisine to Hanoi, ThaiExpress restaurant has made continuous efforts to deliver delicious and aromatic meals. Their culinary philosophy is clear: vividly portray the essence of each dish using fresh and flavorful ingredients, which has made ThaiExpress one of the most renowned Thai restaurants in Hanoi.
At ThaiExpress, with prices ranging from 250,000 to 350,000 Vietnamese dong per person, you can indulge in enticing dishes such as spicy and sour Thai hot pot, seafood mango salad, crispy shrimp paste sandwiches, seafood glass noodle salad, grilled Pattaya chicken drumstick, Tom Yum soup with shrimp, Tom Yum fried chicken wings, stir-fried snow peas with shrimp paste, and stir-fried glass noodles with mushrooms. The delicate blend of spices, fresh ingredients, and unique cooking techniques will deliver the authentic flavors of Thai cuisine.
The ambiance of Thai Express combines tradition and modernity while still capturing the essence of the Golden Temple Land. From the intricate floral decorations on the walls and ceiling to the elegant bar counter and kitchen design, Thai Express truly encapsulates a miniature version of Thailand in Vietnam. The yellow and orange tones used in the wall decor and furniture create a sense of closeness to nature, reflecting the Thai culture. Thai Express promises to be an ideal destination for those who want to experience and embrace the culinary wonders of Thailand.
CONTACT INFORMATION:
Address:
Lot T261, 2nd Floor, Aeon Mall Ha Dong, P Duong Noi, Ha Dong, Hanoi – 024 2280 6600
B2-R2-10, Royal City, 72A Nguyen Trai, Thanh Xuan, Hanoi – 024 6664 8899
Phone: 19002 34546
Top 10 hotpots in Hanoi – Food center
Food Center aims to bring a Thai cuisine-focused restaurant chain, carefully selecting the essence of the Land of Golden Temples and skillfully adapting it to suit the Vietnamese palate while maintaining its unique identity. It offers incredibly delicious and enticing dishes for diners to enjoy.
When talking about Food Center, Thai hotpot is a must-mention dish that has built the reputation of this restaurant chain. Although not a unfamiliar dish, Food Center knows how to innovate its serving style, providing diners with a completely new experience. Diners will feel curious and excited right from the name of this dish, "9-levels-of-cloud Thai hotpot." Indeed, when the tower of hotpot ingredients is brought to the table, including 6 trays of beef, along with beef balls, enoki mushrooms, and noodles, everyone will feel enthusiastic and eager to start their feast immediately.
Not only does the Thai 9-levels-of-cloud hotpot captivate diners with its unique and tantalizing flavors, but the broth itself is also incomparable anywhere else. To create a truly delicious broth, the restaurant's chefs meticulously select the best bone parts and simmer them for hours to extract the natural sweetness. At Food Center, the most popular dish among diners is probably the UFO Hotpot Buffet with its distinctive Thai hotpot flavor, served on a giant flying plate. The Thai hotpot here is known for being "easy to get used to, easy to eat, and easy to fall in love with," making it irresistible for diners.
CONTACT INFORMATION:
Addresses:
– 85 Tran Phu, Ha Dong, Hanoi – 0372 815 885
– 204 Nguyen Trai, Thanh Xuan, Hanoi – 090 6969 204
Phone: 0792 858 689
Top 10 hotpots in Hanoi – Lẩu Wang (Wang Hotpot)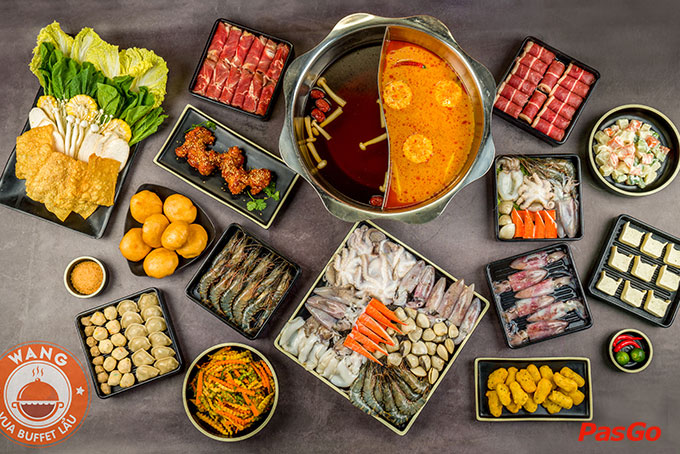 Lẩu Wang is one of the most popular dining destinations among young people in Hanoi today. With its outstanding and attractive features, diners will regret not having eaten here before. Diners will be completely satisfied when experiencing the five-flavor hotpot menu at the restaurant: authentic and spicy Thai hotpot, fiery kimchi hotpot, rich and sweet mushroom hotpot, refreshing and sour snake hotpot, and the unique and incomparable Wang hotpot. With fresh ingredients carefully prepared with premium spices, the restaurant ensures both quality and food safety.
When it comes to food, each customer has different preferences. At Lẩu Wang, the majority of customers are delighted with the authentic and spicy Thai hotpot. In addition, regardless of different tastes, the freshness of the ingredients will please all diners. Lẩu Wang takes pride in the quality and safety of its products. When diners come here, they not only enjoy the delicious and attractive flavors of the dishes but also have peace of mind while indulging in them. This contributes to creating a joyful, healthy, and safe dining experience for families and loved ones.
Whether you are a student or an office worker, Lẩu Wang offers a variety of buffet options to meet the needs of all diners. With the 99k buffet set, diners can enjoy a wide selection of 9 dishes, including premium Australian beef belly. With the 129k buffet, you can experience a menu of 26 dishes, featuring Australian beef belly, Australian corn, Australian beef tendon, as well as various appetizers and desserts. In addition, Korean-style crispy pork head and deboned crocodile fish, currently favored by young people, are also available on the menu.
CONTACT INFORMATION:
Addresses:
– 134 Tran Dai Nghia, Hai Ba Trung, Hanoi
– 21, 19/5 Street, Van Quan, Ha Dong, Hanoi
Phone: 1900 0081
Top 10 hotpots in Hanoi – Ashima Mushroom Hotpot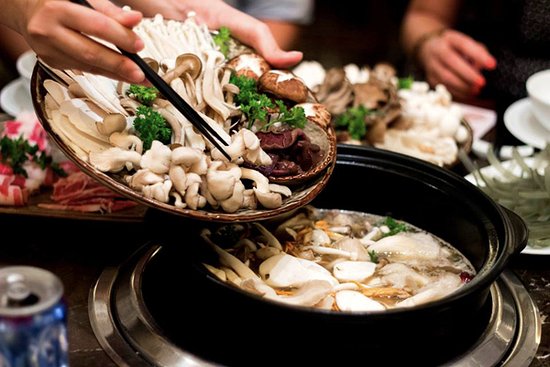 What could be more wonderful in this winter than sitting in an authentic Asian space with your loved ones and friends, enjoying Ashima Mushroom Hotpot: delicious and healthy. Ashima Mushroom Hotpot restaurant chain features an architectural style deeply rooted in the Asian culture: a rich golden color with a touch of nostalgia and coziness, small square-shaped wall panels resembling the layers of an ancient forest beehive, and a cluster of hanging lights creating a space that is both elegant and welcoming… making diners feel warm in the chilly air.
Ashima is considered a fine-dining restaurant chain in Vietnam, specializing in unique and distinctive mushroom hotpot. All dishes in the restaurant are made from a special ingredient, mushrooms. Here, there are more than 30 types of fresh mushrooms categorized as rare and precious, once considered treasures of ancient emperors, such as Matsutake mushrooms, hedgehog mushrooms, beef liver mushrooms with their distinctive aroma…
Fresh mushrooms are harvested and immediately transported to a refrigerated storage facility, preserving their freshness and crispness, especially for highland mushrooms, where cold storage helps maintain their freshness and crunchiness.
The head chef of the Ashima chain says: The process of preparing mushrooms must be clean and fast, with the aroma of mushrooms blending into the hands of the chef as an endless source of inspiration to create delicious, unique, and truly enticing dishes. Mushrooms are an ingredient that brings us many surprises, rich and naturally flavorful. From the moment you step into Ashima restaurant, diners will perceive the unmistakable aroma of the hotpot, permeating the air and stimulating the desire to indulge in it immediately.
CONTACT INFORMATION:
Addresses:
60 Giang Van Minh, Kim Ma, Ba Dinh, Hanoi – 024 7300 7317
17 Huynh Thuc Khang, Dong Da, Hanoi – 024 7300 7316
Phone: 1900 6622
Top 10 hotpots in Hanoi – Freedom Beef Hotpot
At Freedom Beef Hotpot, diners can enjoy the unique "EARTH POTS" beef hotpot and special "APPETIZERS" made from beef. The tail (rib) beef hotpot set with fresh and delicious ingredients starts at only 169k. Fresh and delicious dipping ingredients are carefully selected with prices starting from 25k. Special dipping sauce enhances the full flavor of the hotpot.
With a 600m2 space in the heart of Hanoi, the restaurant is ready to welcome hundreds of guests. The beautiful and spacious view is perfect for friends to check-in. A wide variety of attractive and delicious hotpot combos and dishes are available.
The entire restaurant is equipped with a cool air conditioning system. The tender and fresh beef brisket, along with other unique ingredients such as beef tendons, beef tripe, beef omasum… combine with the rich and aromatic broth. The ingredients include U Beef, Beef Tenderloin, Beef Flank, Beef Marrow… Adding a touch of sourness from green pineapples, spiciness from red chili, and the delicious sweetness of accompanying spices, creating a stimulating taste experience.
The combination of beef tail, grilled onions, green peppercorns, and the special recipe of Freedom Beef Hotpot creates a uniquely delicious broth, unlike any other in Hanoi.
This is truly a place worth meeting, gathering with friends and loved ones.
CONTACT INFORMATION:
Addresses:
58 Khuc Thua Du, Cau Giay, Hanoi – 0869 926 590
1 Tran Xuan Soan, Hai Ba Trung, Hanoi – 0886 861 919
Phone: 0866 991 986 & 0886 861 919
Hotpot is a favorite dish for company parties or gatherings with friends, sitting together, chatting and enjoying the aroma of hotpot on cold winter days like this is truly wonderful, isn't it, my friends? With my recommendations, I wish you find a hotpot restaurant that you love and have a joyful and meaningful meal with your loved ones and friends.
BEDENTAL - TOP STANDARD DENTISTRY SYSTEM
In HANOI
Address 1: 7B Thi Sach St, Ngo Thi Nham, Hai Ba Trung Dist, Ha Noi. - 0934.61.9090
Address 2: 343 Tay Son St, Nga Tu So Ward, Dong Da Dist, Ha Noi. (Nga Tu So Cross) - 0934.61.9090
Address 3: CC2 Tower  Nguyen Huu Tho St, Dinh Cong Ward, Hoang Mai Dist, Ha Noi. (Inside True Hope ) - 0934.61.9090
In HO CHI MINH
Address 1: 140 Nguyen Van Thu St, Da Kao, Dist. 1, Ho Chi Minh. - 0766.00.8080
Address2: 25, City Land urban area, Go Vap Dist, Ho Chi Minh - 0766.00.8080
Working: 9am - 9pm everyday
Tư vấn chuyên môn bài viết:
BÁC SĨ DƯƠNG THỊ THÙY NGA
Bác sĩ chỉnh nha tổng hợp
Ngôn ngữ giao tiếp: Tiếng Việt, Tiếng Anh, Tiếng Nga
Đặt Lịch Hẹn
Xem Hồ Sơ