When it comes to gastronomic delights, Hanoi stands as a vibrant and diverse culinary destination. With its rich history, vibrant street food culture, and a plethora of traditional and modern dining establishments, Hanoi has become a haven for food enthusiasts from around the world. Among the countless eateries that grace the city's bustling streets, a select few have been recognized and celebrated by the prestigious Michelin Guide.
In this article, we delve into the world of Hanoi's top restaurants, an elite collection of culinary establishments that have received the coveted Michelin seal of approval. These gastronomic gems have been meticulously chosen for their exceptional quality, innovative flavors, and outstanding dining experiences. Whether you're a discerning food lover, an adventurous traveler, or simply someone seeking to indulge in the finest cuisine, these Michelin-voted restaurants are guaranteed to leave a lasting impression on your taste buds.
From traditional Vietnamese delicacies to international fusion creations, Hanoi's Michelin-voted restaurants offer a tantalizing array of flavors and culinary experiences. Prepare to embark on a gastronomic journey as we explore the exquisite dishes, impeccable service, and captivating ambiances that define each of these top-rated establishments. Whether you're a fan of street food or prefer elegant fine dining, there's something for everyone on this culinary adventure through Hanoi's vibrant and ever-evolving restaurant scene. So, fasten your seatbelts and get ready to savor the best of Hanoi's culinary delights, as we unveil the top restaurants that have earned the esteemed recognition of Michelin.
1) Bếp Prime – Top-Class Restaurant in Hanoi Voted by Michelin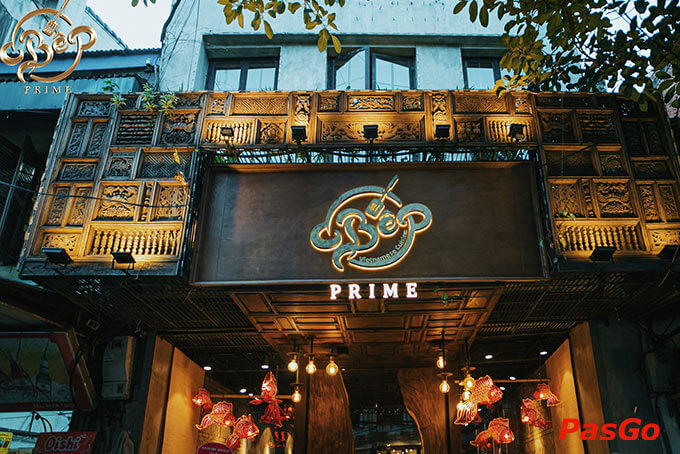 Bếp Prime is a top-class restaurant in Hanoi that has been voted by Michelin. It is also one of the five establishments of the renowned Bếp Quán restaurant chain. Bếp Prime is famous for its excellent culinary quality and dishes that embody the flavors of Vietnam. The menu features creations by Chef Nguyễn Văn Thái, the culinary director, who has over 20 years of experience working as a chef and head chef in 5-star restaurants and hotels such as Metropole, SUM Villa, and Vinperl Đà Nẵng. As a result, the dishes at Bếp Prime use familiar ingredients but offer a unique twist in terms of taste, preparation, and presentation.
Beyond being a unique culinary destination, visiting Bếp Prime allows you to immerse yourself in the traditional Vietnamese cultural ambiance. Every detail, from the furniture and decorative items to the Đông Hồ paintings, is meticulously arranged in an 80-year-old house built in French architecture style on Hàng Điếu Street. This creates a warm and intimate atmosphere, reminiscent of being at home. With over 80 carefully selected and meticulously crafted dishes on the à la carte menu from all over the country, you will undoubtedly experience the essence of Vietnamese cuisine to the fullest at Bếp Prime.
Why Choose Bếp Prime?
– Enthusiastic and attentive staff who pay attention to every detail of customer preferences, ensuring each visit is a delightful surprise.
– The quality of the dishes remains exceptional over time, and the flavors at Bếp Prime will always feel like your first time.
– Fresh ingredients and clean food preparation processes guarantee the safety and satisfaction of the customers.
– A diverse and extensive menu that is constantly renewed and creatively developed over time.
– Professional and elegant presentation style that appeals to both Vietnamese and international guests.
Contact Information:
Address: 12 Hàng Điếu Street, Hoàn Kiếm District, Hanoi, Vietnam
Phone number: 1900 636 932
Website: https://bepquan.vn/
Opening hours: Monday to Sunday: 10:00 am – 2:00 pm / 5:00 pm – 12:00 am
2) The East Restaurant – Michelin Voted Restaurant in Hanoi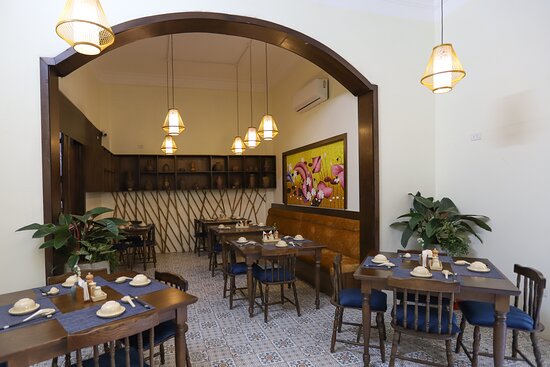 The first restaurant on the list of Michelin-voted restaurants in Hanoi is The East Restaurant. At The East Restaurant, you can indulge in Oriental cuisine. You will experience the distinctiveness of traditional and rustic dishes found in small streets, as well as the exceptional flavors of East Asian cuisine in an elegant restaurant setting.
Thanks to its Northern Vietnamese dishes, The East Restaurant leaves a strong impression on its customers. You can start with crispy fried crab spring rolls, with a smooth filling and rich flavor. Then, you can try bún chả, a traditional dish that has made the restaurant famous and is also a popular street food in the capital city.
Why Choose The East Restaurant?
– Experience unique Indochinese cuisine with fresh and delicious flavors, ranging from rustic to sophisticated.
– Utilize fresh and carefully selected ingredients sourced locally to ensure the quality of each dish.
– Professional, enthusiastic, and experienced staff who provide dedicated service and ensure an excellent dining experience.
– Create a cozy, elegant, and comfortable space for diners to relax, enjoy their meal, and have conversations with family and friends.
Contact Information:
Address: 5B Tống Duy Tân Street, Hoàn Kiếm Ward, Hanoi
Phone number: 0963 733 797
3) Don Duck Old Quarter Restaurant – Chinese Cuisine in Hanoi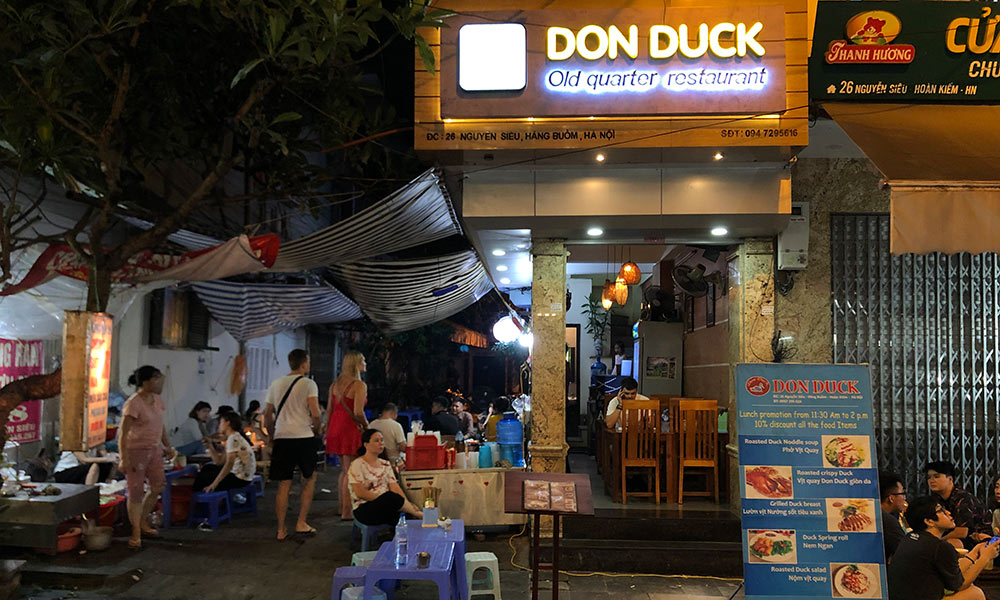 With its cozy atmosphere, Don Duck Old Quarter Restaurant is an ideal destination, especially for those who love duck dishes. Delicious food, a simple ambiance, and reasonable prices make this place a favorite. The dedicated and professional staff always ensure customer satisfaction. They are attentive in serving and ready to provide advice on dishes and assist customers in choosing according to their personal preferences.
Don Duck Old Quarter Restaurant is located in the Old Quarter of Hanoi and can prepare almost all duck-related dishes. If you want to enjoy authentic Vietnamese cuisine, try the duck pho here. If you want to explore a familiar dish with Chinese culinary influences, try the Peking duck or duck hotpot, duck spring rolls, or even crispy fried duck with sweet and sour sauce.
Some of the signature dishes at the restaurant that you can try:
– Duck pho
– Duck hotpot
– Duck spring rolls
– Duck sausage
– Crispy fried duck
– Peking Roast Duck
Contact Information:
Address: 29 Bát Đàn, Hàng Bồ, Hoàn Kiếm, Hanoi
Phone number: 0983 559 506
You may also want to check out >> Top 6 cocktail pubs in Hanoi you don't want to miss out
4) Habakuk Bistro – Michelin-Awarded Restaurant in Hanoi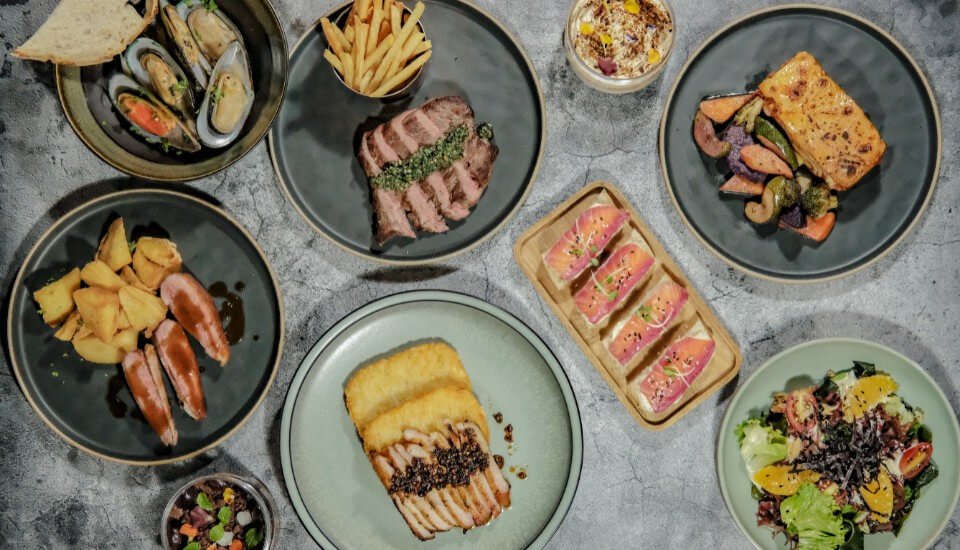 The Michelin-voted restaurant in Hanoi that you shouldn't miss is Habakuk Bistro. The restaurant is tucked away on a small street, offering a cozy and private space. It is often chosen by many couples for their dining experience.
During the day, Habakuk Bistro operates as a coffee shop, specializing in serving premium coffee along with some light dishes for breakfast and lunch. In the evening, it transforms into a modern bistro. The dinner menu is simple, with a European style and Mediterranean flavors. The highly skilled chef prepares the dishes with care and ensures a balanced taste.
Highlights of Habakuk Bistro:
– Diverse menu with European style and Mediterranean flavors
– Skilled chef creating unique and exquisite dishes
– Beautifully presented dishes with harmonious colors
– Cozy, elegant, and modern design
– Private space for comfortable conversations and food enjoyment
Contact Information:
Address: No. 4 Phan Huy Chú Alley, Hoàn Kiếm, Hanoi
Phone number: 0389 682 892
Read more >> Top 10 Saunas in Hanoi dedicated to providing relaxation
5) Cồ Đàm Restaurant – Michelin-Awarded Restaurant in Hanoi
Cồ Đàm Restaurant is one of the vegetarian restaurants with unique architecture, offering an affordable fine dining vegetarian experience in Hanoi. It focuses on providing an exquisite and luxurious dining experience. The service style is quick, polite, and enthusiastic. The professional staff is dedicated to serving throughout the meal and explaining the unique characteristics of each dish, aiming to enhance the value and knowledge of the guests.
The menu here is diverse and presented simply yet elegantly. The dishes and beverages at Cồ Đàm Restaurant adhere to the principles of purity and use fresh and pure Vietnamese ingredients. Therefore, the delicious dishes in the restaurant provide guests with a delightful and unique experience from the very first taste. In addition to enjoying excellent cuisine, guests also have the opportunity to admire the space with strong Cham Pa cultural influences.
Signature dishes at Cồ Đàm Restaurant:
– Snow Lotus Soup
– Phở Cuốn Năng Nhân (Fresh Spring Rolls with Tofu Filling)
– Truffle Mushroom Spring Rolls
– Kim Kang Soup
– Braised Tofu with Chân Như Sauce
Contact Information:
Address: 68A Trần Hưng Đạo, Hoàn Kiếm, Hanoi
Phone number: 0908 333 696
6) Duong's Restaurant – Vietnamese-French Cuisine in Hanoi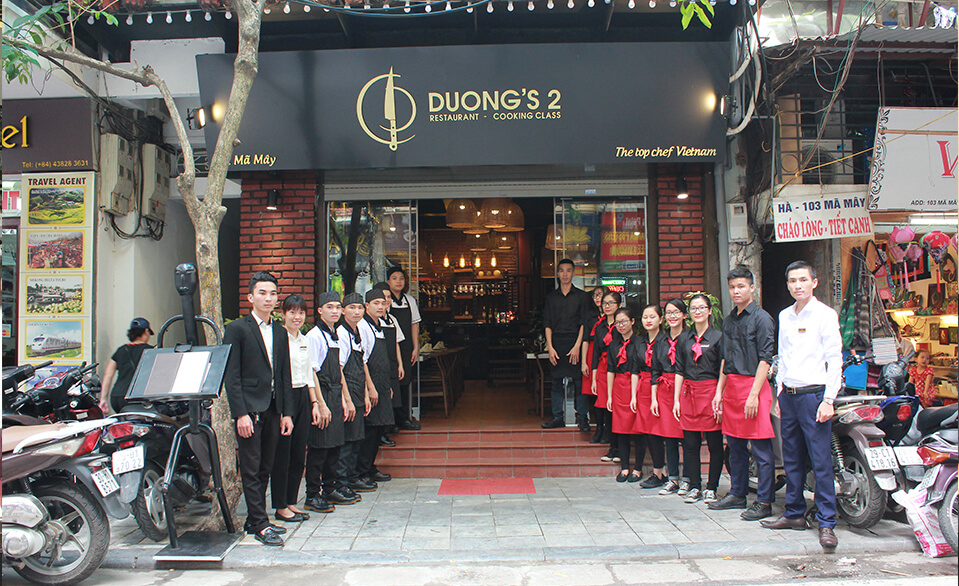 The next Michelin-awarded restaurant in Hanoi that I would like to introduce is Duong's Restaurant. It offers an excellent combination of traditional Vietnamese dishes and Vietnamese-French fusion cuisine. The dishes here are not only exceptionally delicious but also meticulously and exquisitely prepared works of art.
The freshness of the ingredients is a crucial factor in creating Chef Duong's culinary masterpieces. Furthermore, the utilization of local produce is the key to bringing out rich flavors in the dishes. Chef Duong develops the restaurant's menu based on the seasonal availability of ingredients, adding a unique touch to Duong's Restaurant's menu and providing a fresh and exciting experience for customers.
Recommended Hanoi dishes at Duong's Restaurant:
– Traditional Hanoi Spring Rolls
– Hanoi-style Grilled Pork with Vermicelli (Specialty)
– Cha Ca La Vong (Specialty)
– Green Mango Salad with Seafood
– Sticky Rice Yogurt Dessert
Contact Information:
Address: 27 Ng. Huyện, Hàng Trống, Hoàn Kiếm, Hanoi
Phone number: 024 3636 456
7) Pho 10 Ly Quoc Su – Hanoi Restaurant Honored by Michelin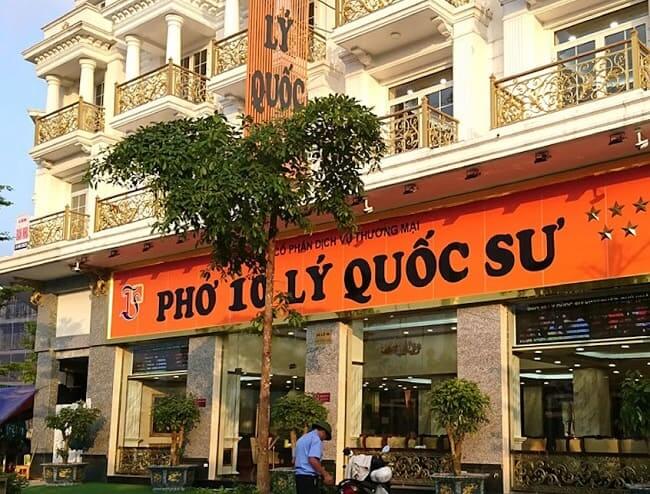 Pho 10 Ly Quoc Su is considered one of the famous pho chains in Hanoi. It is one of the Hanoi restaurants recognized by Michelin for its traditional pho dishes loved by pho enthusiasts in Hanoi. The hot and flavorful bowl of pho, with its rich broth, is sure to impress even the most discerning diners.
The menu at Pho 10 Ly Quoc Su is characterized by ten distinctive pho dishes. Among them, the must-try options include pho with rare and well-done beef, pho with flank and brisket, pho with beef tendon and corn. These pho dishes truly stand out with their bold flavors and authentic taste. The tender and smooth beef in each bite makes every mouthful of pho a delightful experience.
Pho 10 Ly Quoc Su brings satisfaction to diners with its delicious and hearty pho. It is not just a simple meal, but also a great opportunity to indulge in the traditional flavors of Vietnamese pho.
Why choose to enjoy pho at Pho 10 Ly Quoc Su:
Distinctive with ten different types of pho
Authentic taste of Hanoi-style pho
Generous and high-quality pho bowls
Tender beef
Reasonable prices
Contact information:
Address: 156 Vo Chi Cong, Xuan La, Tay Ho, Hanoi
Phone number: 0924 183 183
You may also want to check out >> Top 10 Beer club in Hanoi that you should check out
8) 1946 Cua Bac – Hanoi Restaurant Voted by Michelin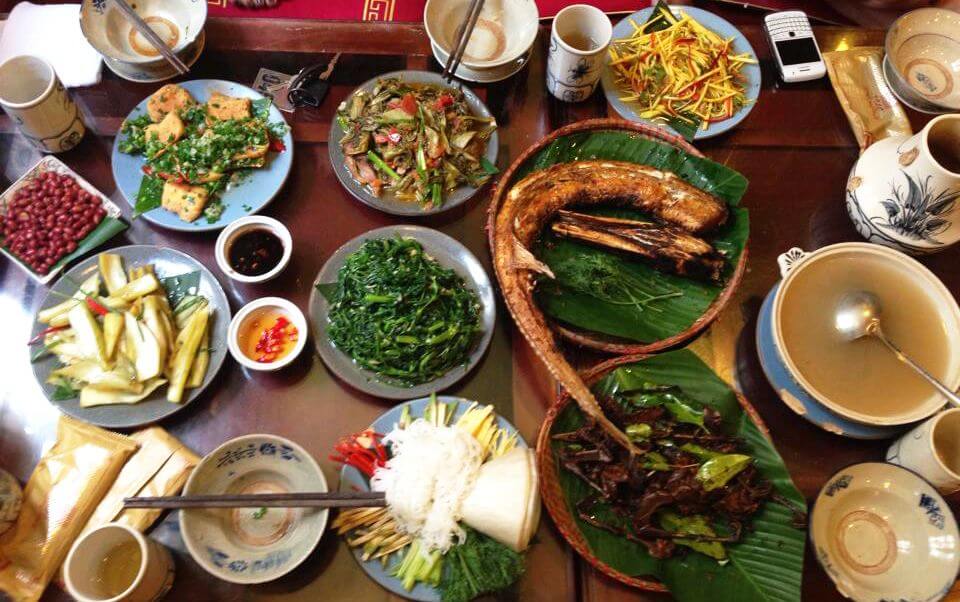 1946 Cua Bac is the next restaurant mentioned in the list of Hanoi restaurants voted by Michelin. This restaurant is well-known for its crab noodle soup (lau rieu cua) and rice porridge (lau chao). The lau rieu cua here has a distinctive countryside flavor, reminiscent of the rural countryside. The broth of this hot pot has a tangy and sweet taste, while the crab meat is tender and carries hints of the rice fields.
Fresh vegetables are served on the side, including water spinach and young banana blossoms. The ingredients for the hot pot, such as crab roe, pigeon, beef balls, are placed in small bowls. The restaurant pays attention to creating a traditional atmosphere and preserving the cultural essence of Hanoi. From the cherished ceramic bowls collected and brought from the hometown, to the crab soup eaten with tia to leaves, Thanh Tri rolled rice pancake, and soybean cake marinated with onions, all reflect the cultural heritage of Hanoi. That's why 1946 Cua Bac is a Hanoi restaurant voted by Michelin.
Reasons to choose 1946 Cua Bac:
Classic and nostalgic interior design, creating a cozy and intimate atmosphere

Professional and attentive staff

Traditional dishes with a strong cultural heritage of Hanoi
Contact information:
Address: 50 Mai Anh Tuan, O Cho Dua, Dong Da, Hanoi
Phone number: 0909 661 946
Tư vấn chuyên môn bài viết:
BÁC SĨ DƯƠNG THỊ THÙY NGA
Bác sĩ chỉnh nha tổng hợp
Ngôn ngữ giao tiếp: Tiếng Việt, Tiếng Anh, Tiếng Nga
Đặt Lịch Hẹn
Xem Hồ Sơ
BEDENTAL - TOP STANDARD DENTISTRY SYSTEM
In HANOI
Address 1: 7B Thi Sach St, Ngo Thi Nham, Hai Ba Trung Dist, Ha Noi. - 0934.61.9090
Address 2: 343 Tay Son St, Nga Tu So Ward, Dong Da Dist, Ha Noi. (Nga Tu So Cross) - 0934.61.9090
Address 3: CC2 Tower  Nguyen Huu Tho St, Dinh Cong Ward, Hoang Mai Dist, Ha Noi. (Inside True Hope ) - 0934.61.9090
In HO CHI MINH
Address 1: 140 Nguyen Van Thu St, Da Kao, Dist. 1, Ho Chi Minh. - 0766.00.8080
Address2: 25, City Land urban area, Go Vap Dist, Ho Chi Minh - 0766.00.8080
Working: 9am - 9pm everyday