Saunas in Hanoi – Hanoi, the vibrant capital of Vietnam, is not only renowned for its rich cultural heritage and delectable cuisine but also for its rejuvenating spa and sauna experiences. As tourists from around the world flock to this bustling city, they often seek solace and relaxation in its spa facilities.
In this guide, we'll unveil the top 10 saunas in Hanoi that have won the hearts of every traveler. Whether you're a visitor seeking a tranquil escape or a local looking for the ultimate relaxation spot, these saunas are sure to leave you refreshed and revitalized. Join us on a journey to discover the most sought-after wellness retreats that Hanoi has to offer.
Top 10 Saunas in Hanoi dedicated to providing relaxation
Huong Sen Spa –  A Heaven of Tranquil Indulgence
Huong Sen Spa stands as a beacon of top-tier, professional spa services seamlessly paired with invigorating massages in the heart of Hanoi. With multiple branches spanning across the nation, Huong Sen Spa has become a renowned sanctuary for health and beauty enthusiasts, particularly cherished by the city's weary residents.
One of the distinctive hallmarks of Huong Sen Spa is its elegant and refined design, creating an ambiance of serenity that effortlessly dissipates the burdens of daily life upon arrival. Offering an array of health and beauty treatments, its most notable feature is the steam bath and massage services, providing complete body purification, toxin elimination, profound relaxation, and overall health enhancement.
During the steam bath experience, you'll revel in the tranquility enveloped by soothing melodies and the gentle fragrance of herbal oils. Following the rejuvenating steam sessions, guests can unwind and savor delectable dishes such as boiled eggs, quail eggs, fish noodle soup, chicken vermicelli, or goat hotpot, perfect for indulging with friends and family.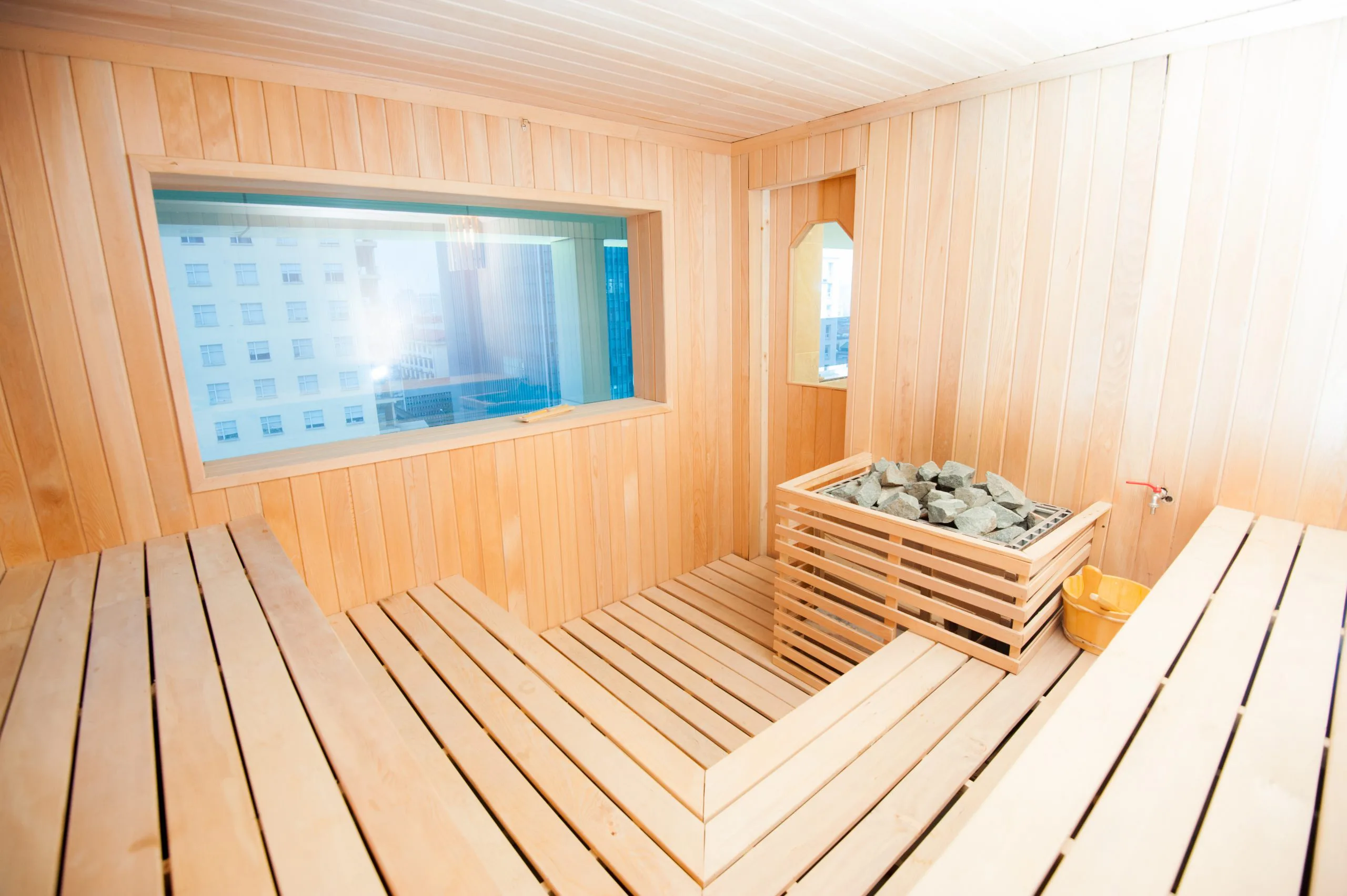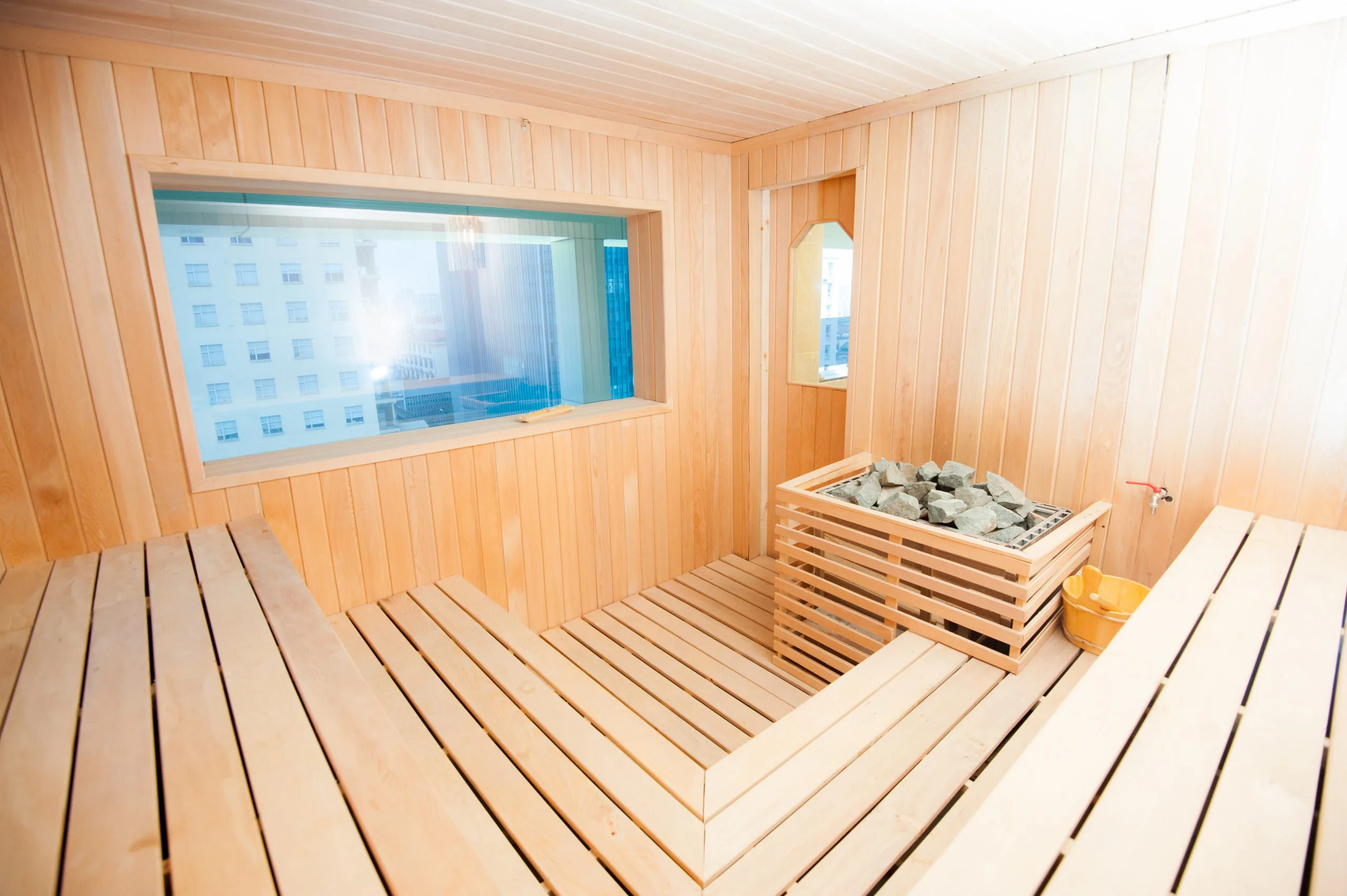 At present, Huong Sen Spa specializes in four core services: therapeutic massages for men, therapeutic massages for women, herbal baths, and physical therapy. These services go beyond mere relaxation, incorporating Eastern medicinal techniques to address joint and nerve-related ailments effectively.
Contact Information:
Address: 49 Thai Thinh, Dong Da District, Hanoi.
Opening Hours: 7:00 AM – 9:30 PM
Reference Price: 150,000 VND per person
Dencos Luxury Hanoi – Salt Stone and Herbal Spa
Dencos Luxury is one of the meticulously invested beauty establishments in technology and service selection, drawing inspiration from the leading cosmetic hospital system, Keimyung (South Korea). It boasts a team of top-tier cosmetic surgeons trained to international standards, with extensive experience abroad in every aspect of customer consultation, treatment, and care, both before, during, and after procedures.
Therefore, Dencos Luxury is undoubtedly a place worth considering for your sauna and beauty needs. Notably, it is a favored destination for numerous renowned actors and artists seeking beauty and health enhancements.
Regarding the sauna services at Dencos Luxury, they offer a unique system of sauna rooms that combine salt stone and herbal treatments, known for their gentle, safe, and highly effective qualities. This method involves the use of natural and benign medicinal herbs, making it suitable for customers of all ages and backgrounds, from the elderly to the young, pregnant women, and new mothers. It is especially suitable for those who regularly face fatigue and stress. This type of sauna is quite comfortable, suitable for all skin types, and has therapeutic effects, effectively alleviating joint pain and fatigue.
Choosing Dencos Luxury Hanoi for a salt stone and herbal sauna experience is an excellent opportunity for customers to enjoy premium services in a modern, private, and clean spa environment at an extremely affordable price. The quality of service provided exceeds expectations, making it a worthwhile choice.
Contact Information:
Address: 135 – 137 Bui Thi Xuan, Hai Ba Trung District.
Shio Spa: A Haven of Japanese-Inspired Relaxation
If you're in search of a reputable, safe, high-quality, and reasonably priced sauna destination, Shio Spa is an establishment you shouldn't overlook. Shio Spa is a leading health and beauty spa in Hanoi, designed in the Japanese style, offering an ambiance of relaxation, comfort, and the unique combination of Sakura-style sauna with Osen bathing culture – a distinctively Japanese experience.
This combination enhances the effectiveness of the sauna therapy, promoting maximum relaxation and releasing any negative energy or toxins from the body. Moreover, it ensures that customers, after their sauna session, experience a sense of comfort and lightness due to its sterilizing and immune-boosting properties, making it suitable for both children and the elderly.
Shio Spa also provides customers with top-tier health and beauty services within an impressively unique Japanese-inspired environment. Their range of services includes body massages, facial massages, skin care, skin whitening, saunas, and Onsen baths.
The staff and specialists at Shio Spa undergo comprehensive training and work professionally, coupled with a dedicated, attentive, and considerate attitude, guaranteeing customer satisfaction.
Contact Information:
Address: 107 Mai Hac De, Hai Ba Trung District, Hanoi.
Opening Hours: 9:00 AM – 8:00 PM
Reference Price: Starting from 160,000 VND per person.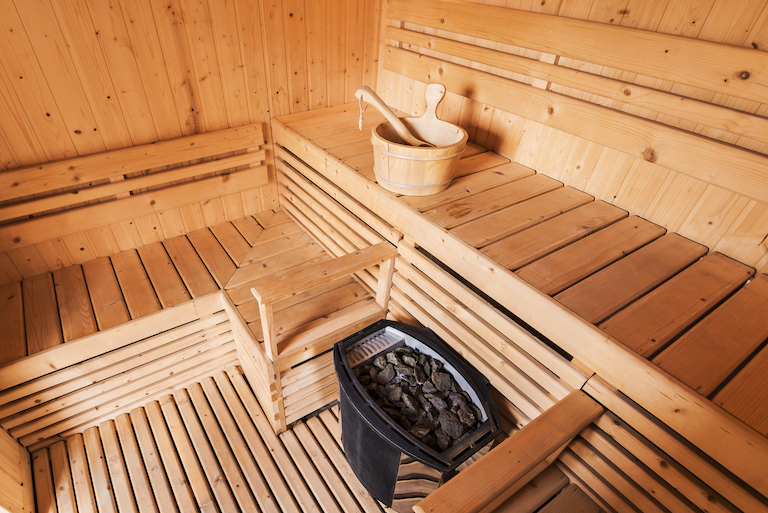 Osum Spa – Himalayan Salt Stone Sauna
When it comes to high-quality and reputable saunas, Osum Spa is a name that simply cannot be overlooked. It has gained recognition as a leading sauna spa in Hanoi, offering exceptional Himalayan saltstone sauna services cherished and favored by many. Additionally, Osum Spa is also among the top-rated relaxation massage destinations in Hanoi, as acclaimed by its own clientele.
Osum Spa excels in its Himalayan salt stone sauna therapy, renowned for its highly effective and noticeably beneficial impact on health, all at an affordable price. The sauna sessions take place in a spacious and serene environment, with the added bonus of complimentary light refreshments served during the sauna experience. This is a standout feature that distinguishes Osum Spa's sauna service from typical spas.
Furthermore, Osum Spa offers a unique massage technique that combines salt stones and natural essential oils. This treatment stimulates nerve pathways, promotes the elimination of toxins and excess fat from the body, and leaves your skin feeling soft, smooth, and radiant.
To ensure the utmost quality and safety, all materials used in constructing the sauna rooms at Osum Spa are directly imported from abroad. The sauna procedure at Osum Spa follows a standardized and optimized process, researched and developed by top healthcare experts, aiming to deliver the best sauna results while improving overall health and maximizing body care and beauty.
Please note that on weekends, the Himalayan Saltstone sauna service at Osum Spa tends to be quite crowded and can get a bit noisy. For those interested in experiencing the service, it's advisable to contact us in advance to make a reservation.
Contact Information:
Address: 119 Mai Hac De, Hai Ba Trung District, Hanoi.
Opening Hours: 9:00 AM – 9:00 PM
Reference Price: Starting from 200,000 VND per person.
Best Things To Do At Night In Hanoi – 10 Activities To Do For Unforgettable Nights
Himalaya Health Spa – Infrared Himalayan Salt Stone Sauna
Himalaya Health Spa stands as one of the longstanding health and beauty spas in Vietnam. With over 18 years of experience, Himalaya Health Spa has secured a strong position in the hearts of its customers, earning their trust and confidence in entrusting their beauty aspirations to the capable team of staff.
This establishment offers a wide range of beauty and health services, with the standout choice being the Himalayan saltstone sauna with advanced infrared technology, a top pick for a multitude of clients.
What sets this technology apart from conventional ones is the use of infrared salt stone sauna machines at Himalaya Health Spa. These machines utilize cutting-edge heat cables from South Korea, providing excellent and safe infrared heat to warm the sauna room, ensuring a comfortably regulated temperature that's neither excessively hot nor overwhelming for those who are heat-sensitive.
Himalaya Health Spa boasts over 100 diverse health care, treatment, and beauty services, all executed following standardized processes, ensuring efficiency and affordability.
Contact Information:
Address: 8 Nguyen Khuyen, Van Quan Urban Area, Ha Dong District, Hanoi.
Opening Hours: 9:00 AM – 7:30 PM
Reference Price: Starting from 150,000 VND per guest
Andeva Spa – The Unique 5-Star Health and Beauty Retreat
Andeva is one of the exclusive 5-star health and beauty spas in Hanoi, known and chosen by a diverse clientele. This establishment offers the Jjim Jil Bang service, one of the top-rated unique services that can be found in the land of Kim Chi (Korea).
Stepping into Andeva Spa, customers will be mesmerized by its design and layout—a spacious, elegant, and luxurious space filled with soothing music and fragrant scents that ensure utmost relaxation and the shedding of all worries.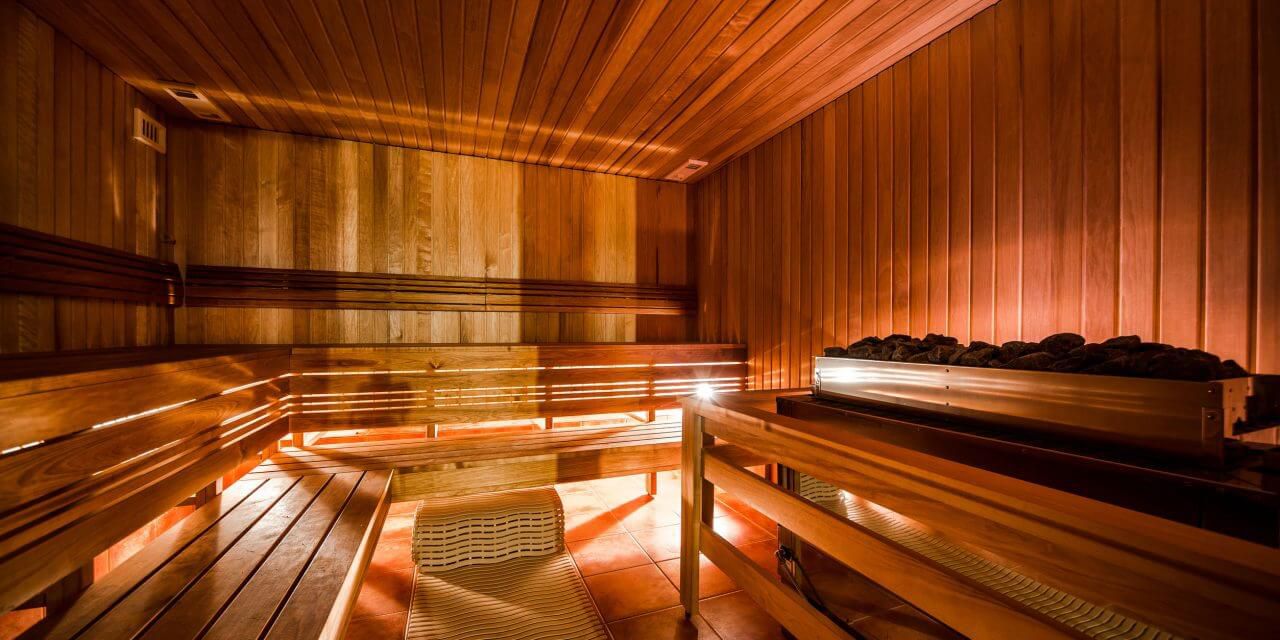 Customers opting for the sauna service at Andeva Spa will have the opportunity to experience the 15-step full-body relaxation sauna process according to Korean standards. Its distinctive feature is its suitability for large groups of friends or families seeking a relaxing sauna experience together.
Particularly, after experiencing the Jjim Jil Bang saltstone sauna, customers are treated to authentic Korean snacks and a resting area. Besides this sauna service, Andeva Spa offers a multi-sensory experience in specially designed sauna rooms inspired by Korea, featuring various natural elements like Himalayan salt stones, North Korean medicinal mud, infrared heat, Hinoki cypress wood, cold snow, and red clay.
Contact Information:
Address: 7th Floor, Sao Mai Plaza Building, 435 Tam Trinh Street, Hoang Mai District, Hanoi.
Opening Hours: 10:00 AM – 10:00 PM
Reference Price: 100,000 VND per person.
Xuan Huong Beauty Center – A Trusted Herbal Steam Spa
When it comes to reputable steam spas in Hanoi, Xuan Huong Beauty Center is an establishment that cannot be overlooked. With over 20 years of experience in health and beauty care, it stands out as one of the most effective and safe herbal steam spa addresses, praised by many women for its proper implementation of steam bathing using natural ingredients that deliver remarkable results.
Visiting Xuan Huong Beauty Center, customers will experience a unique difference compared to other places. It provides a sense of peace, closeness to nature, and freshness. Stepping out of here, customers will achieve maximum relaxation and enjoy top health benefits.
Xuan Huong Beauty Center offers a variety of services, with Himalayan salt stone steam and herbal steam baths, along with massage and acupressure services being favorites among many women. All of these services are performed by an experienced spa team with high-level skills and expertise in massage and acupressure techniques.
The steam bathing process here is particularly unique, utilizing herbs like mint leaves and boiling water to help customers alleviate fatigue, stimulate blood circulation, detoxify the body, improve joint and nerve conditions, relieve muscle tension, and rejuvenate energy levels, leaving the body and skin feeling incredibly relaxed and comfortable.
Contact Information:
Address: 22 Trieu Viet Vuong, Hai Ba Trung District, Hanoi.
Reference Price: 250,000 VND per person
Opening Hours: 8:00 AM – 8:00 PM
Thu Cuc Clinics – A Comprehensive Health and Beauty Center
Thu Cuc Clinics is one of the prominent names in the list of health and beauty care centers in Hanoi. Established in 1996, Thu Cuc Aesthetic Hospital is a trusted address that provides a wide range of services for skincare and aesthetic treatments.
In addition to cosmetic services, Thu Cuc Clinics also offers top-notch healthcare services that are highly appreciated for their quality. Among them, the hydrotherapy service is one of the top choices among customers.
This service is known for its warming and muscle-relaxing effects, making it ideal for those who regularly engage in physical activities or sports, as well as individuals with sedentary office jobs who often experience muscle tension. After undergoing hydrotherapy sessions, it can help alleviate various forms of discomfort, relieve stress, and improve overall well-being.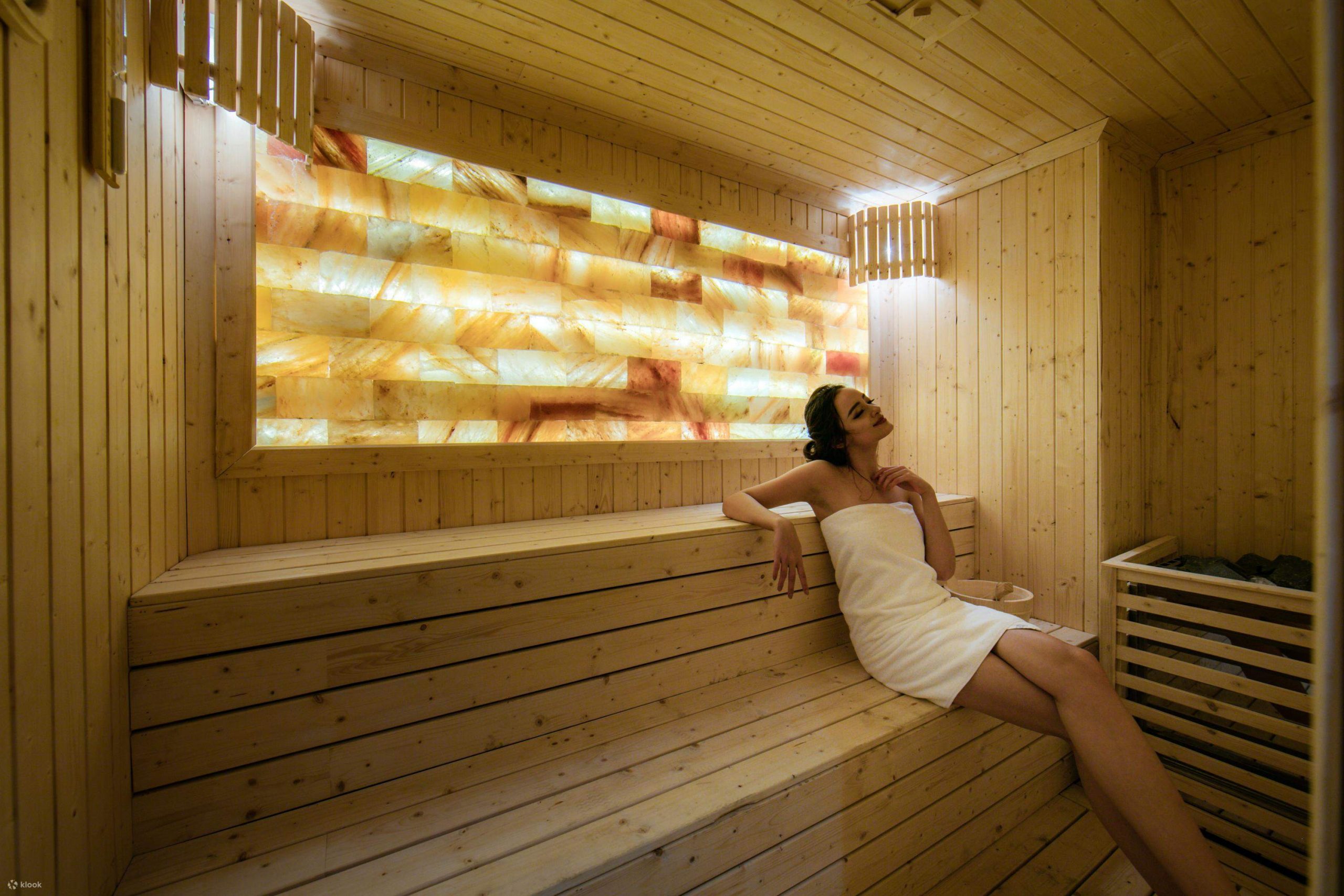 Apart from hydrotherapy, Thu Cuc Clinics also provides a variety of other steam bath services to diversify options for customers. These include hydraulic bath chambers, dry saunas, wet saunas, and more. Customers who visit Thu Cuc Clinics and opt for hydrotherapy sessions can combine them with full-body therapeutic treatments or hand and foot acupressure services to significantly enhance the effects of hydrotherapy.
Contact Information:
Address: 141 Ba Trieu, Le Dai Hanh, Hai Ba Trung District, Hanoi
Reference Price: 148,000 VND per person
Opening Hours: 8:00 AM – 7:00 PM
Dạ Yến Thảo Spa – A Premier Health and Beauty Retreat
Dạ Yến Thảo Spa aims to provide customers with top-notch health and beauty services, on par with those offered in developed countries. Their mission is to offer practical health benefits through steam baths and massages, which are highly regarded in today's wellness industry.
Upon entering Dạ Yến Thảo Spa, you'll immediately feel comfortable, serene, and completely separated from the hustle and bustle outside. Regardless of the season, the spa provides a warm and cozy atmosphere, thanks to its well-suited air conditioning system.
Dạ Yến Thảo Spa offers a wide range of beauty and health services, and one of the most popular among customers is the combination of body massages and herbal steam baths. Currently, the spa primarily offers three basic and renowned massage techniques:
Aromatherapy Massage: This uses essential oils extracted from natural herbs and coconut oil to make the skin smoother, provide natural moisturization, whiten the skin, and include a mixture of oatmeal to exfoliate dead skin cells.
Swedish Body Massage: This modern massage technique incorporates the most refined massage techniques from classic Swedish, Aroma, Thai, and Japanese Shiatsu massages.
Hot Stone Body Massage: This method is characterized by the use of natural volcanic stones, which help improve muscle tension, promote detoxification, and accelerate the body's recovery process.
In addition to these, Dạ Yến Thảo Spa is also famous for its mud wrap and body cream massages, allowing customers to choose their preferred services for ultimate relaxation.
When you visit Dạ Yến Thảo Spa, you'll experience top-notch services in a modern, tranquil, and warm atmosphere at very affordable prices. Steam bath services, whether wet or dry, are priced at approximately 100,000 VND, and if you choose a combo with a body massage, it will cost around 360,000 VND.
Discover 15 Top-notch Hanoi Hotels for Your Ultimate Rest and Relaxation.
Contact Information:
Address: 34 An Lac, My Dinh 1 Urban Area, Nam Tu Liem District, Hanoi
Opening Hours: 8:30 AM – 8:00 PM
Reference Prices: 100,000 VND – 360,000 VND per person
Muối Spa – A Himalayan Salt Stone Sauna Spa
Muối Spa is renowned as a top-tier establishment in Hanoi that specializes in high-quality health and beauty services. It stands out among the few spas that use premium pink salt as a key ingredient in their health and beauty treatments, ensuring the highest level of effectiveness.
In addition to its signature pink salt treatments, Muối Spa offers a range of other services that are highly favored by its clientele. Notably, their stone salt body massage is a popular choice, offering maximum relaxation while effectively relieving aches, pains, and muscle tension, making it an ideal choice for office workers and individuals with physically demanding jobs.
One of Muối Spa's key strengths lies in its dedicated steam room facilities, designed according to the standards of authentic Korean Jjim Jil Bang sauna rooms. Furthermore, the spa's staff and specialists are professionally trained in Korean techniques, ensuring that customers can experience an authentic Korean-style spa right in Vietnam.
After undergoing Muối Spa's services, customers have the opportunity to relax in a dedicated area. Here, they can engage in activities such as playing games or enjoying complimentary nutritious food, including nourishing porridge, boiled eggs, Korean-style grilled eggs, and brown rice tea, all of which contribute to a holistic health experience.
Contact Information:
Address: 21 Nguyen Khuyen Street, Van Mieu Ward, Dong Da District, Hanoi
Opening Hours: 8:00 AM – 9:00 PM
Reference Price: Approximately 125,000 VND per person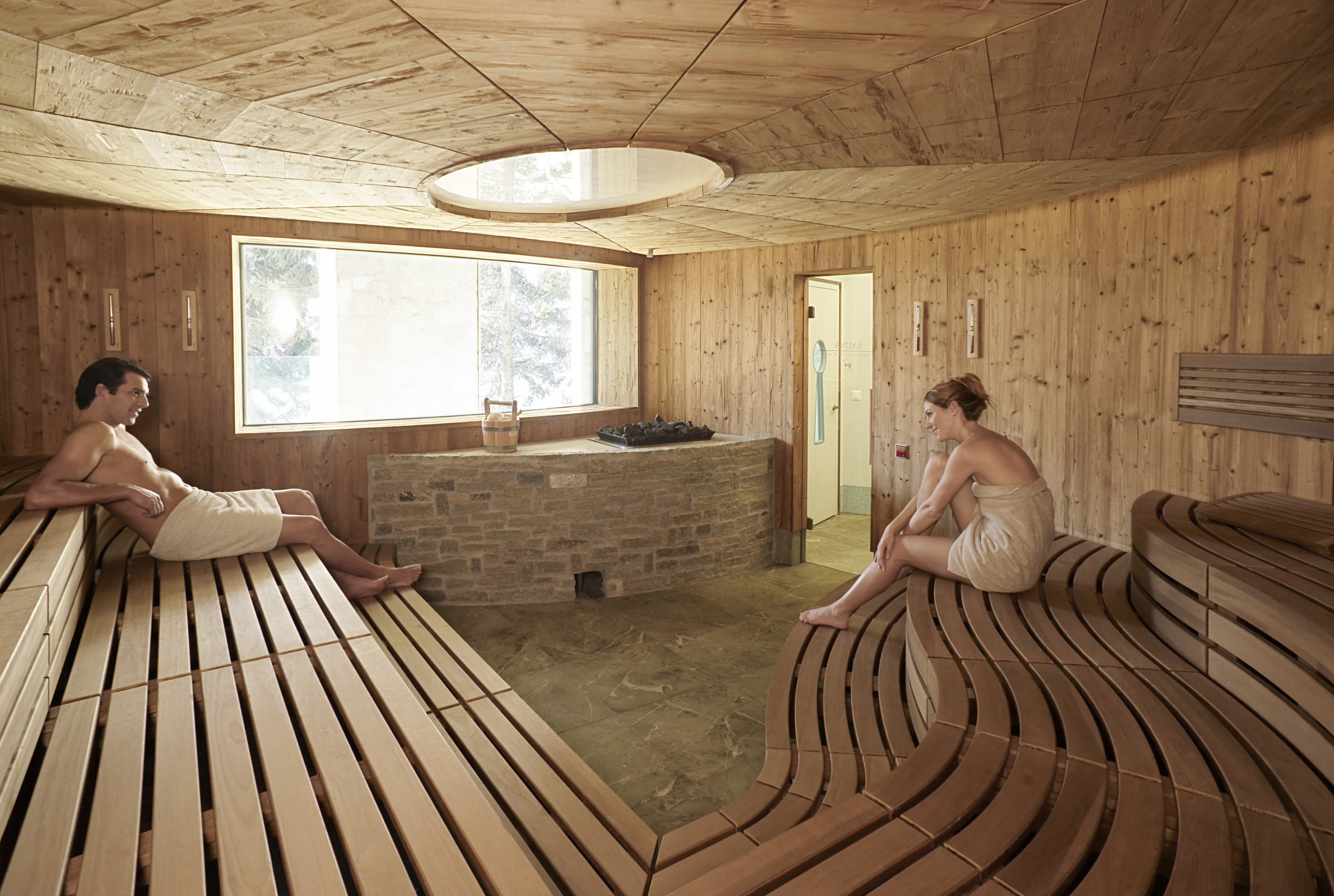 In this article, we've explored several spa options in Hanoi with Himalayan salt stone sauna and massage services. Each spa offers unique and effective experiences for health and beauty. Depending on your personal preferences and budget, you can choose one of these spas to enjoy moments of relaxation and rejuvenation.
Whether you choose Osum Spa with its tranquil atmosphere and complimentary light refreshments, Himalaya Health Spa with advanced infrared sauna technology, Andeva Spa with an authentic Korean Jjim Jil Bang experience, Xuân Hương Beauty Salon with its eco-friendly herbal sauna, Thu Cúc Clinics with its stress-reducing bubble bath sauna, Dạ Yến Thảo Spa with a variety of massage techniques combined with sauna, or Muối Spa with the intriguing benefits of Himalayan pink salt, you will have the opportunity to reap the benefits of salt stone sauna and massage in a comfortable and professional environment.
Take care of yourself and enjoy moments of relaxation at one of these spas to rejuvenate your health and balance your spirit. Don't forget to contact the spa directly for more details on pricing and appointments. Wishing you an enjoyable and relaxing experience at the spa.
Tư vấn chuyên môn bài viết:
BÁC SĨ DƯƠNG THỊ THÙY NGA
Bác sĩ chỉnh nha tổng hợp
Ngôn ngữ giao tiếp: Tiếng Việt, Tiếng Anh, Tiếng Nga
Đặt Lịch Hẹn
Xem Hồ Sơ
BEDENTAL - TOP STANDARD DENTISTRY SYSTEM
In HANOI
Address 1: 7B Thi Sach St, Ngo Thi Nham, Hai Ba Trung Dist, Ha Noi. - 0934.61.9090
Address 2: 343 Tay Son St, Nga Tu So Ward, Dong Da Dist, Ha Noi. (Nga Tu So Cross) - 0934.61.9090
Address 3: CC2 Tower  Nguyen Huu Tho St, Dinh Cong Ward, Hoang Mai Dist, Ha Noi. (Inside True Hope ) - 0934.61.9090
In HO CHI MINH
Address 1: 140 Nguyen Van Thu St, Da Kao, Dist. 1, Ho Chi Minh. - 0766.00.8080
Address2: 25, City Land urban area, Go Vap Dist, Ho Chi Minh - 0766.00.8080
Working: 9am - 9pm everyday