Embarking on a culinary journey to Thailand without leaving the vibrant city of Hanoi is now possible with the abundance of exceptional Thai restaurants gracing the capital. From fragrant curries to spicy street food, Hanoi offers a diverse and tantalizing array of Thai dining options. Whether you are a fan of aromatic herbs, bold spices, or the perfect balance of sweet and sour flavors, these top 10 Thai restaurants in Hanoi are guaranteed to satisfy your cravings and transport your taste buds to the land of smiles.
Join us as we explore the remaining top 10 Thai restaurants in the city, each with its own unique charm and culinary offerings that will leave you craving for more. Prepare to indulge in the flavors of Thailand's rich heritage right here in the heart of Hanoi.
Top 10 Thai restaurants in Hanoi – Thai Koh Yam Restaurant
The staff at Thai Koh Yam Restaurant are incredibly attentive and always greet you with warm and friendly smiles. This restaurant is perfect for romantic dates, group gatherings, or family reunions. With over 60 authentic Thai dishes on the menu, the restaurant expertly combines enticing and fresh ingredients with unique cooking techniques to create a variety of delicious dishes. 
From tender American beef, succulent pork belly, and juicy grilled chicken to flavorful shrimp, giant squid tentacles, and fragrant fish cakes, the renowned flavors of Thai cuisine are sure to captivate your taste buds. 
Thai cuisine is known worldwide for its unique and mesmerizing qualities that leave a lasting impression from the very first bite. Indulge in crispy fried seafood mushrooms, distinctive pork or chicken labb, chilled herb-infused chicken, irresistible spicy and tangy grilled pork, and the famous Namchimchao sauce. You'll also have the opportunity to savor authentic Thai rice when you try the renowned Tom Yum soup paired with fragrant Thai jasmine rice.
Each Thai Koh Yam Restaurant combo offers a fantastic mini culinary tour of Thailand, taking your taste buds on an exhilarating journey that will immediately turn you into a devoted "Thai food addict." Furthermore, the restaurant offers delivery services through various food delivery apps, allowing you to enjoy signature Thai dishes such as grilled pork neck, pomelo fish salad, Tom Yum soup, and golden Thai hot pot right at your dining table – perfect for those lazy food enthusiasts.
Contact Information
Address:
34A Quang Trung, Hoan Kiem District, Hanoi – 0962 294 040
330 Thai Ha, Dong Da District, Hanoi – 0866 406 355
122K1 Giang Vo, Dong Da District, Hanoi – 0974 870 083
Top 10 Thai restaurants in Hanoi – Thai Opera Restaurant
Located on the bustling Trang Tien Street, near Hoan Kiem Lake, the pedestrian street, and famous attractions of Hanoi, Thai Opera is an ideal space for quality time with family, friends, and colleagues while exploring Thai cuisine. At Thai Opera Restaurant, under the skilled hands of experienced Thai chefs, using traditional recipes and imported spices from Thailand, along with carefully selected ingredients, the restaurant serves the most authentic and regionally distinctive dishes that encapsulate the soul of Thai cuisine in the heart of the capital.
Three must-try dishes at Thai Opera – 33 Trang Tien:
Pomelo fish salad: The fish meat is deboned, minced, and deep-fried to perfection, combined with a special sauce that boasts a tangy flavor from the pomelo, the spicy sweetness of fish sauce, and the rich creaminess of roasted peanuts.

Tomyum seafood soup: This dish is alluring with its rich and fragrant broth infused with lemongrass, featuring the characteristic sour and spicy taste of Tom Yum combined with the fresh and carefully selected seafood ingredients.

Thai Green/Red Curry: A delicate fusion of herbs and spices, infused with the creamy richness of coconut milk, Thai green or red curry has won over the taste buds of every diner.
Like a symphony of exquisite, premium ingredients, each dish at Thai Opera Restaurant will undoubtedly provide you with new, special, and inspiring experiences every time you visit. Beyond offering a refined and unique culinary journey, Thai Opera also creates a space for private, warm dining experiences, allowing you to cherish precious moments with your loved ones.
Therefore, if you are a Thai food enthusiast, be sure to include Thai Opera Restaurant in your must-try list. Otherwise, you'll miss out on something truly remarkable!
Contact Information
Address: 33 Trang Tien, Hoan Kiem, Hanoi
Phone: 0707 565 566
Top 10 Thai restaurants in Hanoi – ThaiExpress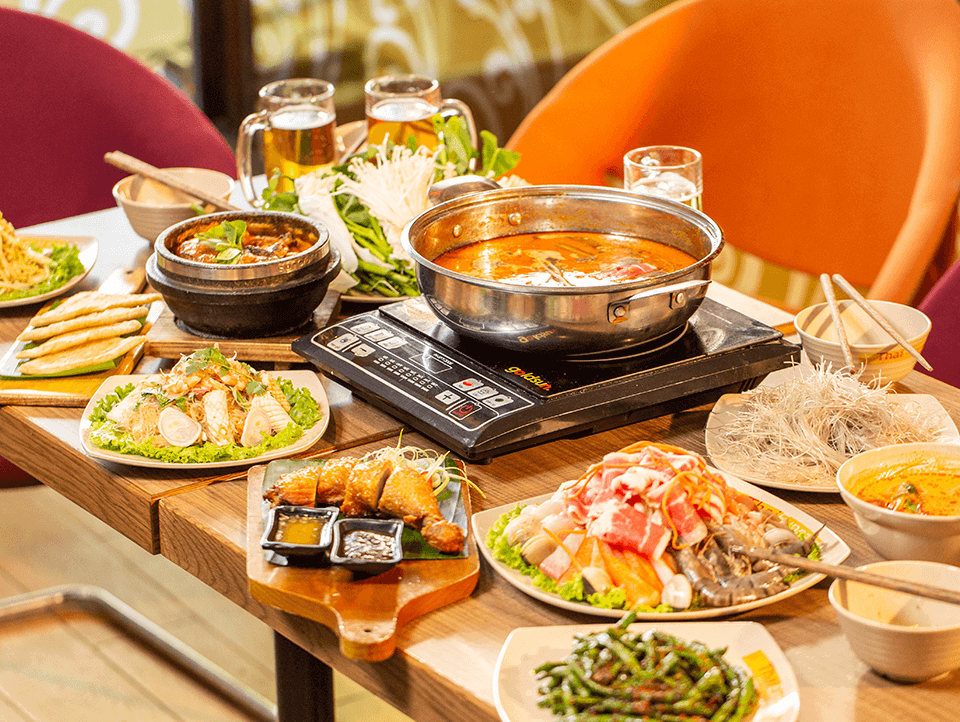 ThaiExpress is the largest modern Thai restaurant chain in the world. The philosophy of ThaiExpress is inspired by the desire of customers to enjoy food in a comfortable, elegant, luxurious, and cozy environment, experiencing authentic Thai specialty dishes at the most reasonable prices. The distinct expression of Thai cuisine is evident in the unique presentation of dishes and the flavors of each dish.
To date, the chain has successfully expanded to 35 restaurants in 10 countries within 8 years (Australia, China, India, Indonesia, South Korea, Malaysia, Mongolia, Saudi Arabia, Singapore, and Vietnam).
The culinary style and business philosophy of ThaiExpress have attracted a large number of customers from countries all over the world. ThaiExpress is not just a simple restaurant; it is also a convenient destination for you to share, enjoy, and explore delicious Thai cuisine with its authentic flavors and attentive, professional service. The passionate experience through each Thai flavor is the ultimate culinary experience that has kept customers coming back for many years.
Contact Information
Addresses:
– Vincom Mega Mall Ocean Park, Gia Lam, Hanoi – 024 6688 5288
– Vincom Center Tran Duy Hung, Cau Giay District, Hanoi – 024 6688 0122
– Vincom Mega Mall Smart City, Nam Tu Liem District, Hanoi – 024 6688 0266
Phone: 1900 234 546
Top 10 Thai restaurants in Hanoi – Khrua Baan Thai
Here's another address for Thai food enthusiasts to visit. Khrua Baan Thai serves the best Thai dishes, from simple street food in Bangkok to unique traditional Thai dishes that have made the name of Thai cuisine.
With the strength of fresh ingredients and clear origins, just like homemade, Khrua Baan Thai not only satisfies customers with delicious, authentic Thai dishes that preserve the flavors of Thailand but also constantly strives to improve and maintain consistent quality of food and professional service. This helps customers immerse themselves in the restaurant's ambiance, enjoy the food, and have the best experiences when visiting Khrua Baan Thai.
Contact Information
Addresses:
– 89 Trieu Viet Vuong, Hai Ba Trung District, Hanoi – 0786 166 266
– 358 Thai Ha, Dong Da District, Hanoi – 0329 166 266
– 2 Tran Kim Xuyen, Cau Giay District, Hanoi – 0965 652 785
– 37 Bat Dan, Hoan Kiem District, Hanoi – 0763 166 266
– 233 Ngoc Lam, Long Bien District, Hanoi – 0769 166 266
– 155 Nguyen Van Loc, Ha Dong District, Hanoi – 0765 166 266
Opening hours: 11:00 AM – 10:00 PM
Top 10 Thai restaurants in Hanoi – Me me bistro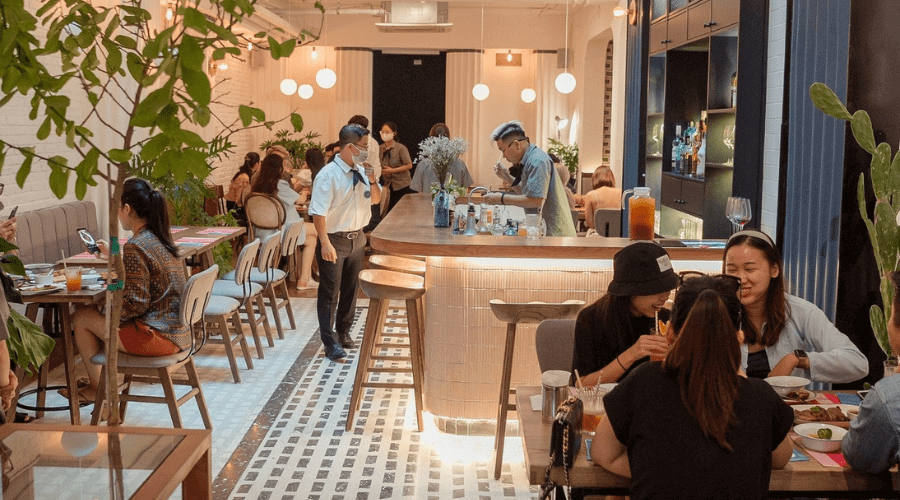 Me me bistro is one of the highly regarded Thai restaurants in Hanoi. The restaurant has a cozy and suitable space for small groups or families. The menu focuses on authentic Thai dishes such as tomyum, som tam, pad Thai, without introducing new and fusion creations.
Some other dishes that are also mentioned by customers include soft-shell crab with salted egg curry or prawns with tamarind sauce and cashew nuts. Additionally, the bistro pays great attention to beverages, offering a fancy bar counter and creative drinks like Thai tea or tangy tamarind-flavored drinks.
Customers unanimously agree that the food at Me me bistro captures the authentic Thai flavors, which is rare to find among other restaurants with a similar culinary style in Hanoi. Among them, pad Thai receives the most praise with its chewy noodles, flavorful seasoning, beautiful presentation, and stimulating colors. Notably, it is topped with a soft-boiled egg, which adds a creamy richness when mixed with the noodles.
Contact Information
Addresses:
– 47A Nguyen Huu Huan, Hoan Kiem District, Hanoi – 0708 218 218
– 51A Mai Hac De, Hai Ba Trung District, Hanoi – 0703 218 218
– 34T Hoang Dao Thuy, Cau Giay District, Hanoi – 0767 018 018
Opening hours: 11:00 AM – 11:00 PM
Top 10 french restaurants in Hanoi – Discover the Culinary Delights
Top 10 Thai restaurants in Hanoi – Thai Pattaya BBQ & Hotpot – Thai Barbecue & Hotpot Street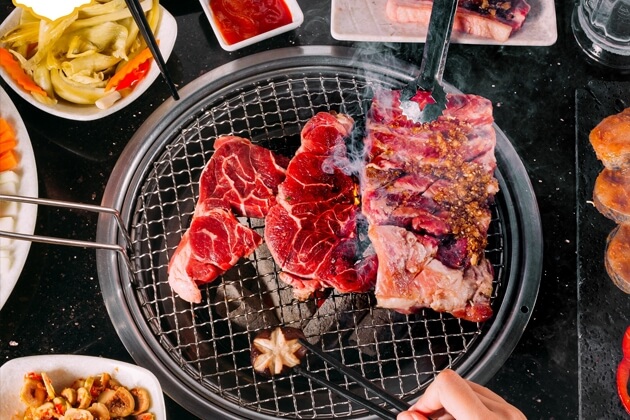 Located in the bustling center of Hanoi, Thai Pattaya BBQ & Hotpot – Thai Barbecue & Hotpot Street is an ideal destination for Thai food enthusiasts. The buffet-style barbecue and hotpot at Thai Pattaya BBQ & Hotpot offer a fantastic experience with enticing grilled dishes marinated with unique flavors and a wide variety of fresh and delicious ingredients for the hotpot.
At the buffet feast at Thai Pattaya BBQ & Hotpot – Thai Barbecue & Hotpot Street, you can indulge in a meal featuring a wide range of authentic Thai dishes prepared in various styles such as grilling, stir-frying, and, most notably, Thai hotpot with spicy broth accompanied by a tempting assortment of fruits and desserts. It is the first Thai Buffet – Hotpot – Barbecue restaurant in Hanoi! With 40 specially crafted Thai sauces and premium quality fresh ingredients, it creates a perfect Thai dining experience for you in the upcoming winter days.
Thai street food always captivates people with its visually appealing presentation and incredibly delicious flavors. The dishes offer a balance of sour, spicy, sweet, and salty tastes, enhanced by the fine texture of sea salt and the aromatic fragrance of green peppercorns, just like you are sitting on the streets of Thailand.
The fragrant coconut-based hotpot broth is incredibly satisfying, and there is an abundance of meat and various ingredients to choose from. The accompanying dishes like fried rice and salads are also delightful. Moreover, the seafood toppings such as prawns and squid are prepared using traditional recipes that are sure to impress you.
So, you must visit here to experience these wonderful offerings. Delicious food and attentive service are what will make you remember this restaurant as a true embodiment of traditional Thai flavors.
Contact Information
Addresses:
– 6A Lang Ha, Ba Dinh District, Hanoi
– Aeon Mall Ha Dong, Ha Dong District, Hanoi
– Aeon Mall Long Bien, Long Bien District, Hanoi
Phone: 0889 865 222
Top 10 Thai restaurants in Hanoi – Thai Restaurant – Chai Talay
Thai Restaurant – Chai Talay is one of the most popular Thai restaurant chains in Hanoi. It has received many positive reviews from customers such as: "The restaurant is spacious and cool, and the staff quickly brings out the food. The meat is usually not too fatty. The hotpot broth is delicious and has a coconut flavor. There aren't too many ingredients for dipping, just meat, vegetables, fried dough, and noodles."
The slices of American beef belly are both tender and fragrant, and when dipped into the tangy and spicy hotpot broth, it becomes a delightful combination. The generous portions of meat are so tempting that you can't resist. The set of premium American beef here is very affordable, allowing you to enjoy it to the fullest. The staff even serves the meat without you needing to call them.
The team at Thai Restaurant – Chai Talay provides attentive and thoughtful service, and the authentic Thai dishes will create unforgettable experiences for you.
Contact Information
Addresses:
– 474 Xa Dan, Dong Da District, Hanoi – 0962 490 602
– 5 Khuong Trung, Thanh Xuan District, Hanoi – 0359 082 143
Opening hours: 10:30 AM – 2:30 PM | 5:30 PM – 10:30 PM
Top 10 Thai restaurants in Hanoi – Botanica Thai Bistro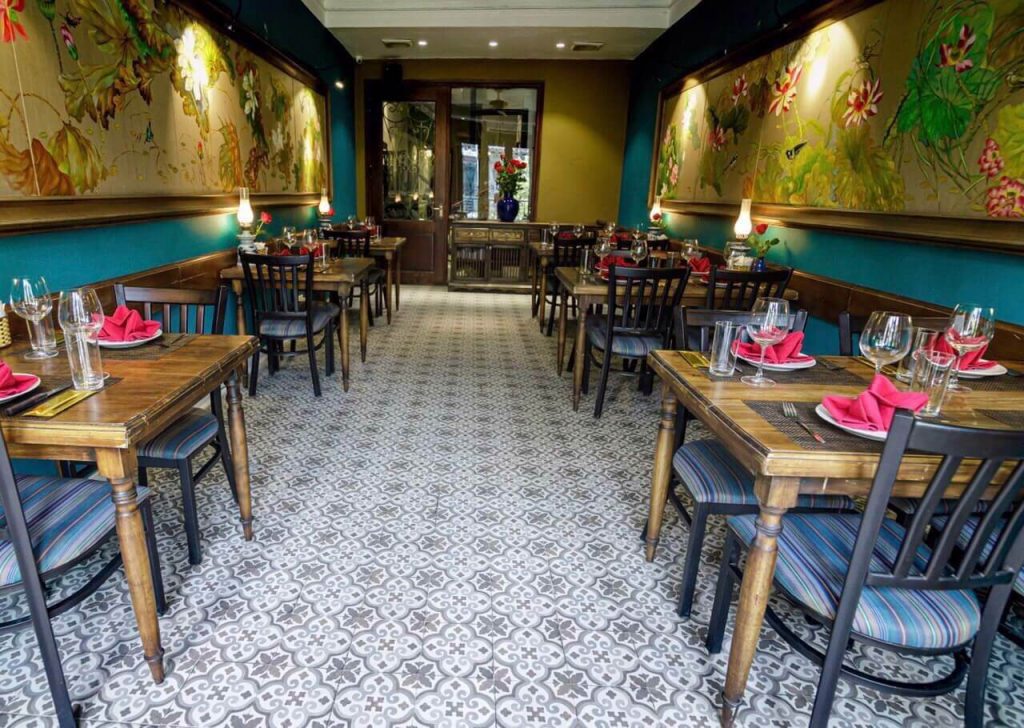 At Botanica Thai Bistro, traditional Thai dishes such as pad Thai, Tom Yum soup, shrimp salad, Chiang Mai Thai hotpot, mango sticky rice, etc., are faithfully recreated using 100% imported spices from Thailand. Botanica Thai Bistro not only creates meals but also provides a space for bringing families, relatives, friends, and colleagues together, offering an excellent experience through attentive and professional service.
What would happen if you combine the rich culinary traditions of Thailand with Western or Vietnamese cuisine? Aimed at exploring new boundaries in the culinary experience with a fusion food spirit, the chefs at Botanica have created completely new and unique dishes.
Thai flavors combined with dishes like steak, salmon, or Italian pasta create completely new culinary creations. Fusion cuisine is simply the combination of dishes and flavors from diverse cultural backgrounds, creating an experience that stimulates not only the taste buds but also the visual and olfactory senses of the diners.
Moreover, for the first time in Vietnam, Botanica Thai Bistro combines Thai cuisine with wine. Carefully selected wines from new wine regions around the world, such as Romania and Russia, enhance the culinary experience for you and your family.
Contact Information:
Addresses:
– 21 Le Van Huu, Hai Ba Trung District, Hanoi – 0965 401 915
– 54 Trung Hoa, Cau Giay District, Hanoi – 0906 681 915
Top 10 Thai restaurants in Hanoi – Coca Restaurant – Thai Hotpot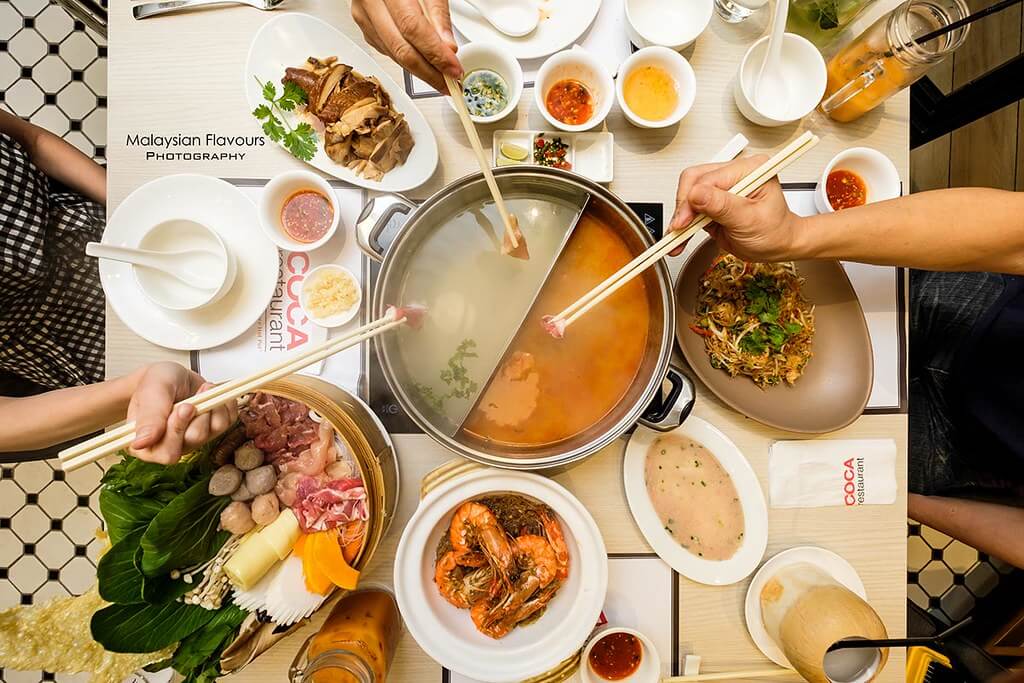 Coca Restaurant – Thai Hotpot is a renowned restaurant that originated in 1957 and has been present in over 20 countries worldwide. It has now entered the Vietnamese market. Specializing in Thai hotpot and authentic dishes from the Land of Smiles, Coca Restaurant takes great pride in being awarded the Thai Select certification, which recognizes restaurants serving authentic Thai cuisine abroad.
At Coca Restaurant – Thai Hotpot, diners have the opportunity to explore a menu of over 100 unique dishes ranging from appetizers, main courses, hotpot, to delectable Thai desserts. The use of fresh tropical ingredients and distinctive Thai spices, such as curry powder, chili, lemongrass, and lime leaves, combined with the expertise and deep understanding of Thai cuisine by the talented and experienced team of chefs, creates incredibly enticing and unique flavors that diners cannot resist.
Impressing guests from the moment they arrive with its eye-catching design and prominent Coca Restaurant – Thai Hotpot signage, stepping inside, they will be further surprised by the distinctive space adorned with brown wooden tones and yellow lighting, evoking the ancient, mysterious charm of Thailand.
Contact Information:
Addresses:
– 75 Lang Ha, Dong Da District, Hanoi – 024 3960 5555
– 18 Dao Tan, Ba Dinh District, Hanoi – 024 2240 5555
Phone: 0835 935 555
Top 10 Thai restaurants in Hanoi – TukTuk Thai Bistro
TukTuk Thai Bistro offers diners a visually appealing, distinctive, and modern dining space meticulously decorated with attention to every small and charming detail. As an elegant Thai restaurant, TukTuk Bistro brings diverse Thai dishes with the highest quality.
The cuisine at TukTuk draws inspiration from delicious Thai street food, using ingredients such as Kaffir lime leaves, Thai fish sauce, spicy and tangy green mango, fragrant lemongrass, and more. When dining at TukTuk, you will feel like you're taking a culinary journey on a TukTuk, experiencing the exquisite essence from the Land of Smiles.
With spacious and airy spaces, TukTuk Thai Bistro is an ideal place to gather with friends, family, and colleagues to enjoy delicious Thai cuisine. The dishes here guarantee no MSG, and they offer vegetarian options on the menu.
Some of the best-sellers at TukTuk Thai Bistro include sour and spicy blood cockles stir-fried with tamarind, green papaya salad with catfish, dried shrimp & salted egg, crispy fried snakehead fish with sweet and sour sauce, shrimp paste fried rice, braised pork, Chinese sausage, and salted fish, Tom Yum soup with shrimp and mushrooms, and durian seed dessert. Additionally, you cannot miss the fragrant and authentic Pad Thai and Tom Yum fried rice. With its spacious and modern setting, this is undoubtedly an ideal destination for those who love Thai cuisine.
Contact Information:
Address: 31 Trieu Viet Vuong, Hai Ba Trung District, Hanoi
Phone: 024 3984 3078
Opening hours: 10:00 AM – 10:00 PM
BEDENTAL - TOP STANDARD DENTISTRY SYSTEM
In HANOI
Address 1: 7B Thi Sach St, Ngo Thi Nham, Hai Ba Trung Dist, Ha Noi. - 0934.61.9090
Address 2: 343 Tay Son St, Nga Tu So Ward, Dong Da Dist, Ha Noi. (Nga Tu So Cross) - 0934.61.9090
Address 3: CC2 Tower  Nguyen Huu Tho St, Dinh Cong Ward, Hoang Mai Dist, Ha Noi. (Inside True Hope ) - 0934.61.9090
In HO CHI MINH
Address 1: 140 Nguyen Van Thu St, Da Kao, Dist. 1, Ho Chi Minh. - 0766.00.8080
Address2: 25, City Land urban area, Go Vap Dist, Ho Chi Minh - 0766.00.8080
Working: 9am - 9pm everyday
Tư vấn chuyên môn bài viết:
BÁC SĨ DƯƠNG THỊ THÙY NGA
Bác sĩ chỉnh nha tổng hợp
Ngôn ngữ giao tiếp: Tiếng Việt, Tiếng Anh, Tiếng Nga
Đặt Lịch Hẹn
Xem Hồ Sơ