Ho Chi Minh City, the vibrant and bustling metropolis of Vietnam, captivates visitors with its rich history, cultural landmarks, and bustling streets. As the city continues to flourish as a major tourist destination, it boasts an impressive array of accommodations that cater to the discerning tastes of travelers from around the world. In this article, we embark on a captivating journey to explore the top 10 hotels in Ho Chi Minh City, where luxury and comfort intertwine seamlessly.
These exceptional establishments not only provide a sanctuary amidst the urban landscape but also offer unparalleled hospitality, world-class amenities, and unforgettable experiences. Whether you seek a tranquil retreat, a business haven, or a lavish getaway, these iconic hotels are sure to redefine your stay in this enchanting city. Join us as we unveil the finest establishments – The top 10 hotels in Ho Chi Minh city that epitomize the true essence of hospitality in Ho Chi Minh City.
Top 10 Hotels in Ho Chi Minh City – Renaissance Riverside Hotel Saigon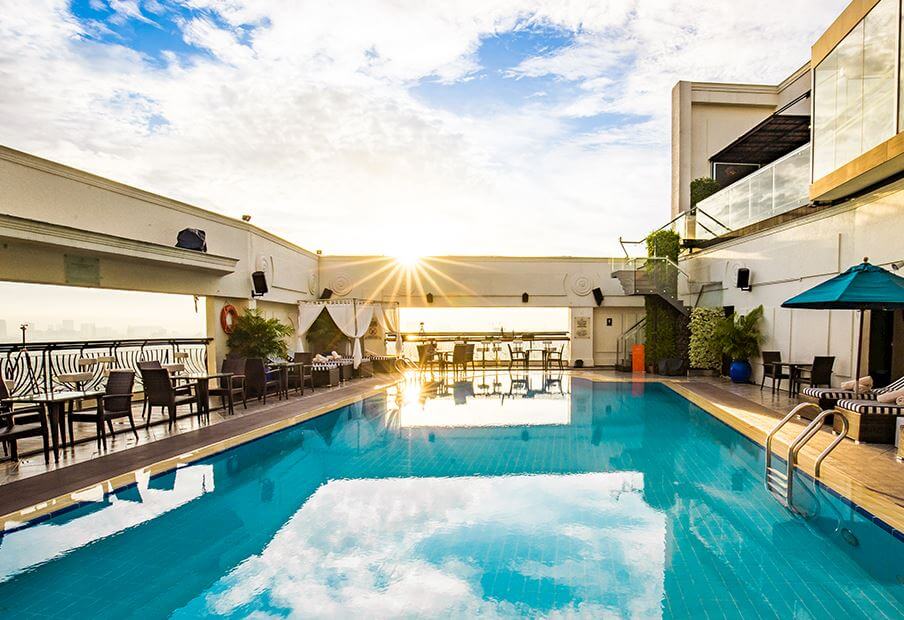 If you're someone who loves the vibrant nightlife and the enchanting lights that illuminate the city after sunset, then Renaissance Riverside Hotel Saigon is the perfect choice for you. Located on Ton Duc Thang Street, near the famous tourist destination of Bach Dang River, the financial center, and bustling shopping areas, Renaissance Riverside Hotel Saigon offers you a wonderful retreat and a new experience with its stunning riverside view.
This charming riverside hotel features two renowned restaurants, Viet Kitchen and Kabin. Viet Kitchen offers a modern dining space with a variety of Vietnamese and international cuisine, while Kabin serves authentic Cantonese dishes.
At Renaissance Riverside Hotel Saigon, you can also enjoy lively music at the Liquid Sky Bar on the rooftop or indulge in your favorite drinks at the Atrium Lounge. Moreover, if you feel tired after a long day of work or exploring the city's attractions, you can restore balance to your body with gentle massages, relax in the sauna or steam room, or take a dip in the outdoor pool on the 21st floor while enjoying panoramic views of Saigon.
Renaissance Riverside Hotel Saigon boasts 336 spacious and tastefully decorated guest rooms and suites, featuring a soothing color palette of soft cream with hints of gray and bright accents. The rooms are well-equipped with amenities, including large bay windows overlooking the city or river, a seating area with a sofa, flat-screen cable TV, and a safe. The en-suite bathrooms come with a bathtub, shower, and complimentary toiletries.
The hotel provides a tour desk and a 24-hour front desk where professional staff can assist guests with luggage storage, currency exchange, arranging day trips, and airport transfers. The elegant and sophisticated conference, event, and wedding venues are also among the highlights of Renaissance Riverside Hotel Saigon.
CONTACT INFORMATION:
Address: 15 Ton Duc Thang, District 1, Ho Chi Minh City
Phone: 0283 822 0033
Opening hours: Open all day.
Top 10 Hotels in Ho Chi Minh City – Sheraton Saigon Hotel & Towers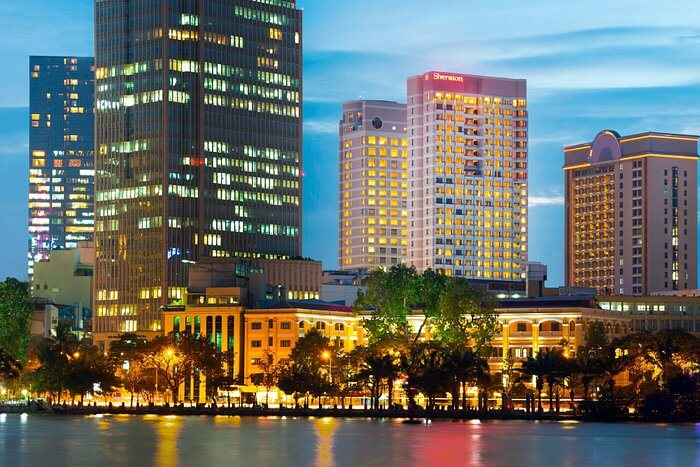 Located in a prime location on Dong Khoi Street, just minutes away from famous attractions, government offices, office buildings, and entertainment shopping areas, Sheraton Saigon Hotel & Towers is an ideal stop for travelers to immerse themselves in the vibrant life of the city with luxurious experiences, modern facilities, and professional services. Relax in 485 premium rooms and suites with full amenities and expansive views of the magnificent city and Saigon River. Each room is standardized with the signature Sheraton Sleep Experience. In particular, the newly upgraded 379 rooms in the Main Tower, inspired by the lotus flower of Vietnam, offer guests a close and inspiring experience.
Indulge in delicious cuisine at Sheraton Saigon's renowned restaurants, from the famous Saigon Café with its fresh seafood buffet and Western grilled dishes to the essence of Cantonese cuisine at Li Bai restaurant. Meet and work at The Lounge, a contemporary lobby area serving international and local culinary delights throughout the day. Pamper yourself at the exclusive Sheraton Club lounge and take care of your well-being at Aqua Day Spa, fitness center, and outdoor Lifestyle swimming pool. With over 2,200m2 of 14 advanced and modern function rooms, capable of accommodating up to 1,000 guests, Sheraton Saigon is the perfect choice for all conference and event needs in Ho Chi Minh City.
CONTACT INFORMATION:
Address: 88 Dong Khoi, District 1, Ho Chi Minh City
Phone: 0283 827 2828
Opening hours: Open all day
Read more >>  Top 14 restaurants in Hanoi voted by Michelin
Top 10 Hotels in Ho Chi Minh City – Sofitel Saigon Plaza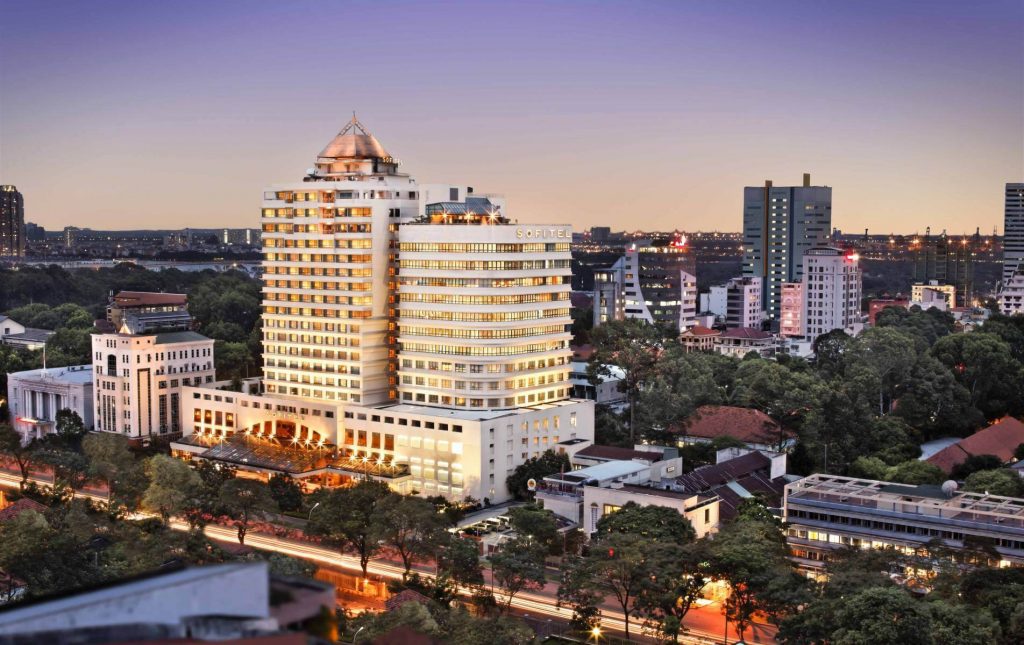 Sofitel Saigon Plaza is a 5-star hotel located in a quiet area on the tree-lined Le Duan Boulevard in the business, cultural, and shopping center of Ho Chi Minh City. The design of Sofitel Saigon Plaza seamlessly blends contemporary luxury and pure French style. The soaring columns, marble floors, and high ceilings of the lobby create a warm and joyful atmosphere for every guest who stops by. The rooms and suites are tastefully decorated, combining French design with Vietnamese architectural elements. The luxurious Sofitel MyBed ensures a restful night's sleep, while the lavish and well-appointed bathrooms and spacious work areas provide comfort during your stay. Large windows allow natural light to flood in and offer views of the vibrant cityscape.
Exploring the cuisine at Sofitel Saigon Plaza is a must-do experience. The restaurants and bars at Sofitel Saigon Plaza celebrate the fusion of Vietnamese and French culinary traditions. Mezz Restaurant offers enticing dishes with flavors from France, Asia, and around the world, prepared by talented chefs right at the food stations. If Mezz captivates diners with its Vietnamese-French culinary fusion, LE 17 Bistro entices with authentic flavors from the Provence region, making it the most upscale French restaurant in Ho Chi Minh City.
If you enjoy nutritious light bites and refreshing drinks, the Pool Bar & Dining on the rooftop is always ready to serve you. For those who maintain a daily fitness routine, even during business trips or travels, the Sofitel Fit fitness center at Sofitel Saigon Plaza ensures you can stay active without missing a workout.
CONTACT INFORMATION:
Address: 17 Le Duan Blvd, District 1, Ho Chi Minh City
Phone: +84 28 38241555
Opening hours: Open all day.
Top 10 Hotels in Ho Chi Minh City – Pullman Saigon Centre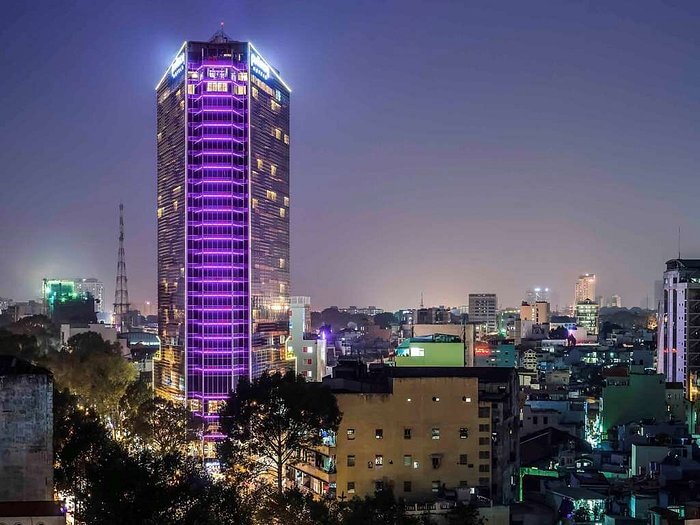 Pullman Saigon Centre is located in the heart of the city, where you can easily access the famous Ben Thanh Market in Ho Chi Minh City. The hotel offers 306 spacious rooms, elegantly decorated with seamless functionality and connectivity, providing the perfect space for work, rest, and relaxation. Pullman Saigon Centre features three integrated restaurants and bars, offering innovative contemporary cuisine and a variety of unique beverages. Mad Cow Wine & Grill is the perfect place to enjoy fine wines and premium grilled meats, while Food Connexion offers a taste of Saigon's distinctive and exciting breakfast dishes. Additionally, Urbane Lounge provides both indoor and outdoor seating, creating a limitless atmosphere.
Whether you want to entertain friends, business partners, or simply relax and enjoy the urban landscape, Pullman Saigon Centre caters to your needs. The poolside bar is ready to serve you throughout the day, offering an outdoor swimming pool, refreshing drinks, cocktails, and light snacks.
The Rooftop Bar is known as the vibrant gathering place of Pullman Saigon Centre, captivating you with one of the most beautiful views of Saigon. Guests can also stay fit in the hotel's fitness gym or unwind in the spa pool and dry sauna. Moreover, the dance hall, meeting rooms, and banquet halls are convenient facilities that earn Pullman Saigon Centre extra points with each guest. They provide opportunities for family gatherings, friendly get-togethers, or important business exchanges with clients.
CONTACT INFORMATION:
Address: 148 Tran Hung Dao Boulevard, District 1, Ho Chi Minh City
Phone: +84 (0)28 3838 8686
Opening hours: Open all day
Top 10 Hotels in Ho Chi Minh City – Lotte Legend Saigon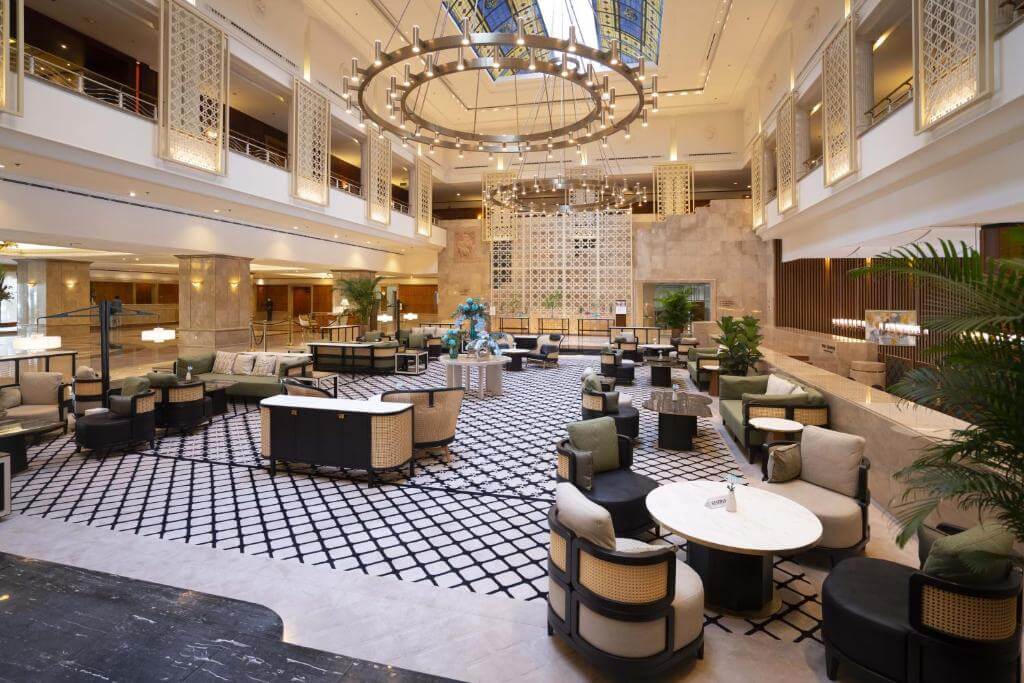 Located on the bustling Tôn Đức Thắng street and just a 5-minute walk to the City Theater, as well as close to shopping and entertainment destinations such as Đồng Khởi street and Lê Thánh Tôn street, is Lotte Legend Hotel Saigon. It is considered one of the first 5-star hotels in Ho Chi Minh City and continues to be beloved by customers to this day. Lotte Hotel Saigon offers 283 rooms with views of the Saigon River and the city center. The rooms are elegantly designed, classical, and luxurious, leaving a lasting impression on every visitor with their royal and exquisite details.
When staying here, guests don't have to worry about the question "What to eat today?" because Lotte Hotel Saigon provides a variety of high-quality dining options. From the upscale international buffet at Atrium Café to excellent Italian cuisine at Italian Trattoria Oggi and exquisite Japanese cuisine at Yoshino.
The hotel's crowning jewel is the renowned Crystal Jade Chinese restaurant, offering world-class Cantonese cuisine. At Lotte Hotel Saigon, guests can also relax and take care of themselves by immersing in the cool waters of the five-star outdoor swimming pool or working out in the modern fitness center. Additionally, the hotel features both dry and wet saunas. Lotte Hotel Saigon is undoubtedly the perfect choice for your stay in Ho Chi Minh City.
CONTACT INFORMATION:
Address: 2A – 4A Tôn Đức Thắng, District 1, Ho Chi Minh City
Phone: 0283 823 3333
Opening hours: Open all day.
Top 10 Hotels in Ho Chi Minh City – Caravelle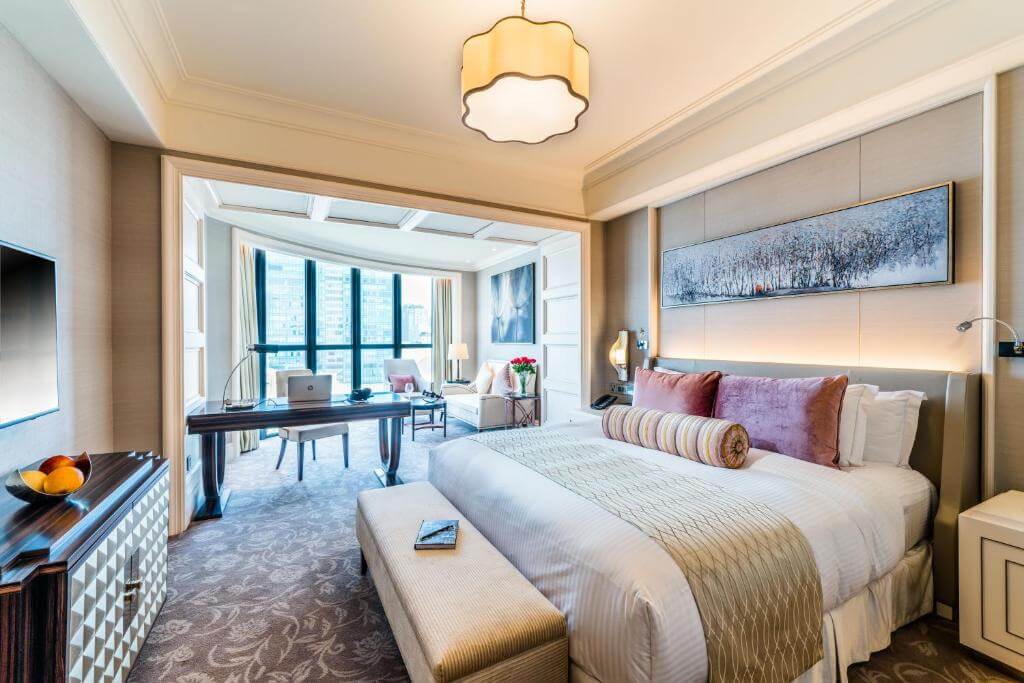 Caravelle is the city's most prestigious 5-star hotel, established in 1959, and has received numerous domestic and international awards. Caravelle is strategically located with spacious surroundings. The hotel is in close proximity to iconic landmarks and attractions of Saigon such as the Saigon Municipal Theatre, also known as the Opera House, Notre Dame Cathedral, historic Dong Khoi Street, Ben Thanh Market, and modern Nguyen Hue Walking Street.
In terms of architecture, Caravelle respects its historical significance while gradually incorporating changes in details and interior design to meet the evolving needs of its customers without compromising its inherent essence. When staying at Caravelle, guests have various choices for their accommodations, including different styles, designs, and prices such as Luxury, Opera, Signature, Signature Premium, Signature Studio, Web Apprehension, Opera View Suite, Heritage Suite, One-Bedroom, Two-Bedroom, Diplomatic Suite, and Web Privacy. All rooms are equipped with modern amenities to ensure a perfect retreat for guests.
Service quality at Caravelle is highly regarded and prioritized, providing 24/7 customer service. The swimming pool, fitness room, sauna, steam bath, outdoor pool, nightclubs, and more always aim to satisfy even the most discerning guests. Additionally, Caravelle Hotel offers various promotional policies to serve its customers, such as complimentary breakfast for children under 3 years old and for children from 1 to 5 years old sharing a bed with their parents (breakfast included). It is recommended to contact the hotel in advance to ensure availability upon arrival.
CONTACT INFORMATION:
Address: 19-23 Lam Son Square, District 1, Ho Chi Minh City
Phone: 0283 823 4999
Opening hours: Open all day.
Top 10 Hotels in Ho Chi Minh City – New World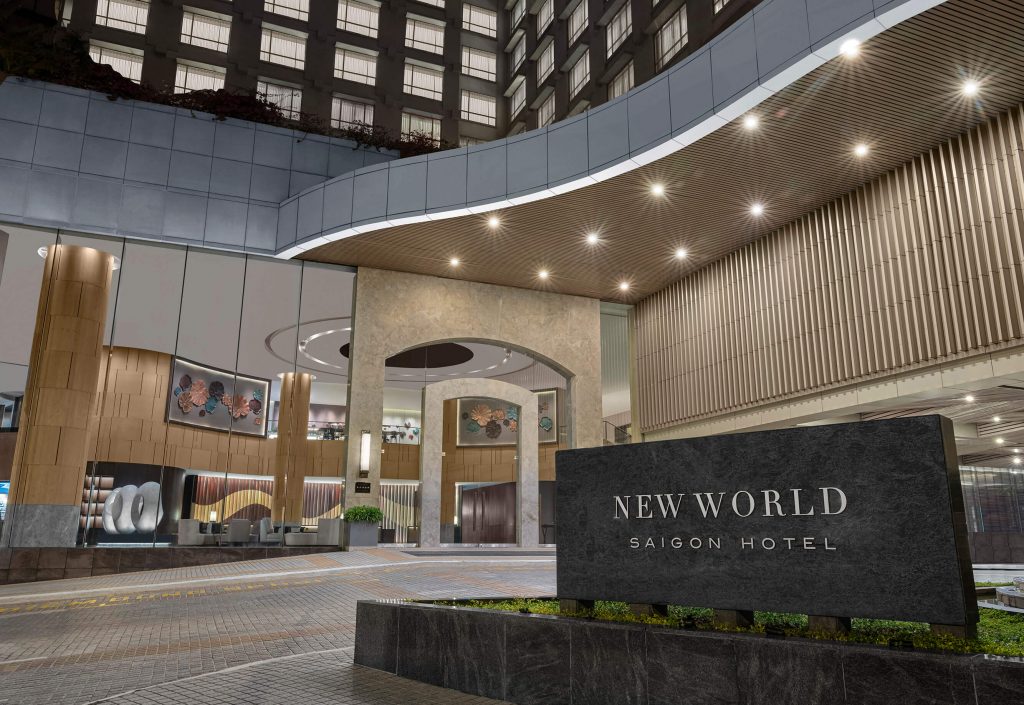 When it comes to the most beautiful hotels in Ho Chi Minh City, no one can forget the name New World Saigon. Located in a convenient transportation location, just a 20-minute drive from Tan Son Nhat Airport, a 5-minute walk from Ben Thanh Market, and an 11-minute walk from Independence Palace, New World Saigon is the number one choice for visitors. With 538 rooms, each room at New World is designed in a modern and luxurious style, with exquisite furnishings and marble bathrooms. 
The rooms are equipped with amenities such as free Wi-Fi, flat-screen TVs, tea and coffee-making facilities, and some rooms have a small kitchenette. Higher-tier rooms come with access to a lounge, complimentary breakfast, snacks, and cocktails. The luxurious suites also feature a separate living room.
When you arrive at New World, you will feel immersed in the vibrant life of Saigon while experiencing the distinctiveness of a prestigious hotel. Within the hotel, there are various interesting and useful facilities, including a bakery, an elegantly decorated Cantonese restaurant, and a sophisticated seafood restaurant. 
Especially, New World Hotel also features a bar/lounge with live jazz music performances, a lively poolside bar next to the outdoor swimming pool, a fitness center, tennis courts, and a spa area. When visiting Ho Chi Minh City, you can rest assured that New World's room service is available 24/7, and the restaurants and service quality are always prioritized.
CONTACT INFORMATION:
Address: 76 Le Lai Street, District 1, Ho Chi Minh City
Phone: +84 28 3822 8888
Top 10 Hotels in Ho Chi Minh City – Majestic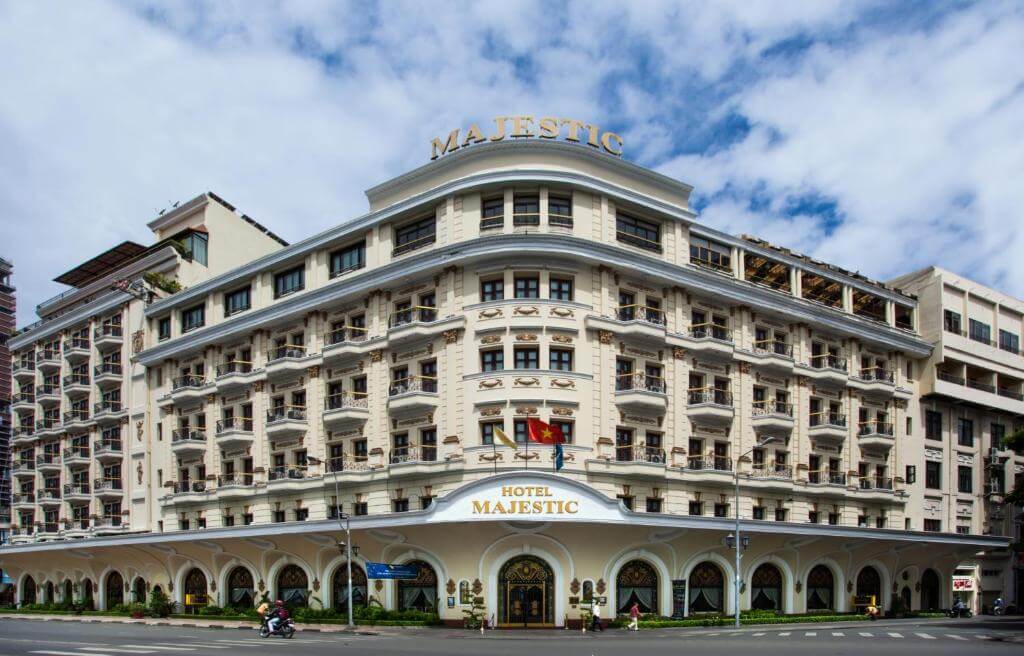 Built since 1925, Majestic Hotel, a 5-star establishment, is one of the most ideal and magnificent places to admire the picturesque Saigon River. With its convenient location, just over 500m from the city theater, about 1.5km from Ben Thanh Market and Notre-Dame Cathedral, Majestic is very convenient for sightseeing and transportation for visitors.
Featuring distinctive French colonial design with elegant arches and columns, Majestic Saigon always leaves a lasting impression on anyone who has been there. Majestic Saigon Hotel boasts 175 luxury rooms and spacious suites. All rooms are designed in classic French colonial style with private balconies and equipped with top-notch amenities for guests.
Majestic Saigon is almost the preferred choice for foreign tourists when visiting Vietnam due to its convenient facilities such as a fitness center, business center, airport shuttle service, ATM machines, medical services, all of which are fully provided. The staff is very enthusiastic and professional in serving guests.
CONTACT INFORMATION:
Address: 1 Dong Khoi, District 1, Ho Chi Minh City
Phone: 0283 829 5517
Opening Hours: Open all day
You may also want to check out >> Top Hotels in Hanoi – Discover the Finest Hospitality
Top 10 Hotels in Ho Chi Minh City – Rex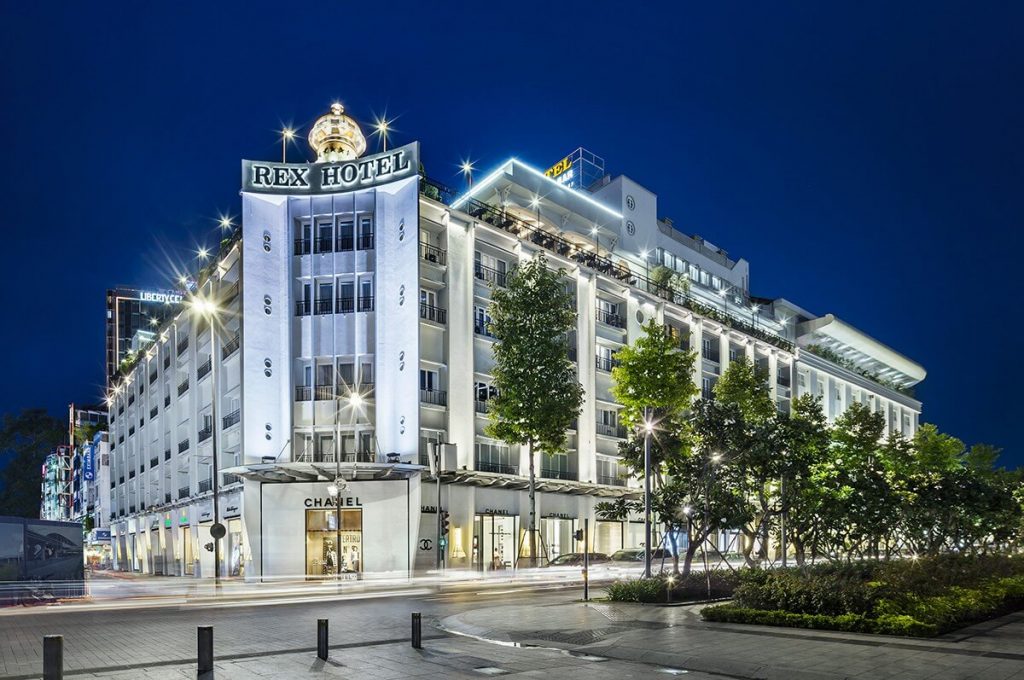 Ranked among the top 10 most famous hotels in Vietnam by the Tourism Department, Rex Hotel promises to provide guests with the most amazing moments of relaxation. Located in the bustling heart of the city, it is conveniently close to the People's Committee, the city theater, Ben Thanh Market, Independence Palace, Notre Dame Cathedral, making it ideal for tourists to explore and enjoy.
With 230 internationally standardized rooms, including 159 deluxe rooms, 4 premium restaurants serving Asian and European cuisines, 9 meeting rooms, 1 game club, and 1 spa, all meticulously invested in terms of facilities. The staff is highly professional and welcoming to customers. Rex Hotel regularly receives prestigious awards both domestically and internationally, ranking among the most popular hotels in Southeast Asia and being one of the best hotels in Ho Chi Minh City. Rex Hotel is an excellent choice for all customers.
CONTACT INFORMATION:
Address: 141 Nguyen Hue, District 1, Ho Chi Minh City
Phone: +84 838 292 185
Opening hours: Open all day.
Top 10 Hotels in Ho Chi Minh City – Saigon Prince Hotel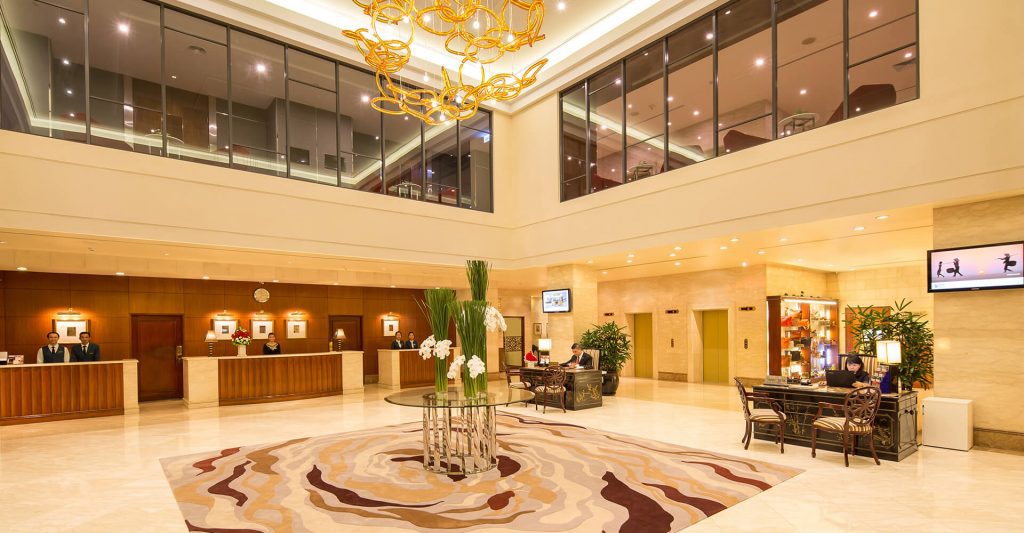 Located in the heart of Ho Chi Minh City, on the picturesque Nguyen Hue Boulevard, Saigon Prince Hotel is a well-equipped 4-star hotel that offers a refined and comfortable environment for both business and leisure travelers. The hotel features a unique range of room types, including Deluxe, Premier Deluxe, Premier Grand View, Club, Club Suite, and Apartments. It also offers amenities such as the Ocean Queen Restaurant, Lobby Bar, modern Gymnasium, Swimming Pool, Spa, Club Lounge, and Business Center. Additionally, Saigon Prince Hotel serves as a Meetings and Events center with 16 multi-functional banquet and meeting rooms.
Saigon Prince Hotel is conveniently within walking distance to many of the city's famous attractions, including Ben Thanh Market, Opera House, Museum, Notre Dame Cathedral, and the Saigon River. It is located 7 km from Tan Son Nhat International Airport and less than 5 km from the HCMC International Exhibition Centre (SECC), making it easily accessible. The hotel's Grill Restaurant serves authentic Vietnamese cuisine, and guests can also enjoy renowned dishes from Singapore, Malaysia, Indonesia, and the West, along with a selection of fine wines from around the world.
CONTACT INFORMATION:
Address: 63 Nguyen Hue, District 1, Ho Chi Minh City
Phone: +84 283 822 2999
Opening hours: Open all day.
Read more >> Introducing the Top 10 Restaurants in Ho Chi Minh City
Tư vấn chuyên môn bài viết:
BÁC SĨ DƯƠNG THỊ THÙY NGA
Bác sĩ chỉnh nha tổng hợp
Ngôn ngữ giao tiếp: Tiếng Việt, Tiếng Anh, Tiếng Nga
Đặt Lịch Hẹn
Xem Hồ Sơ
BEDENTAL - TOP STANDARD DENTISTRY SYSTEM
In HANOI
Address 1: 7B Thi Sach St, Ngo Thi Nham, Hai Ba Trung Dist, Ha Noi. - 0934.61.9090
Address 2: 343 Tay Son St, Nga Tu So Ward, Dong Da Dist, Ha Noi. (Nga Tu So Cross) - 0934.61.9090
Address 3: CC2 Tower  Nguyen Huu Tho St, Dinh Cong Ward, Hoang Mai Dist, Ha Noi. (Inside True Hope ) - 0934.61.9090
In HO CHI MINH
Address 1: 140 Nguyen Van Thu St, Da Kao, Dist. 1, Ho Chi Minh. - 0766.00.8080
Address2: 25, City Land urban area, Go Vap Dist, Ho Chi Minh - 0766.00.8080
Working: 9am - 9pm everyday