I. Introduction
1.1 Discovering the Market Culture of Vietnam
Market Culture of Vietnam takes you to the heart and spirit of this dynamic Southeast Asian country. It goes deep into the busy marketplaces that are the heartbeat of Vietnamese society, providing a glimpse into the colorful tapestry of the country's culture. 
This book covers the sights, sounds, and smells that make Vietnam's markets a must-visit destination for tourists seeking unique experiences, from the scented street food stalls of Hanoi's Old Quarter to the colorful tribal marketplaces of Sapa. Join us as we uncover the tales, customs, and hidden jewels that define Vietnam's vibrant market culture.
1.2 Why Vietnamese Markets are a Must-Visit
Vietnamese marketplaces are a must-see for each visitor since they embody the spirit of Vietnam in a single, busy venue. From the bright street food vendors serving real Vietnamese cuisine to the colorful stalls offering traditional handicrafts and clothes, these marketplaces are where you'll find the heart and soul of the country's culture. 
Aside from shopping, these markets provide a one-of-a-kind opportunity to engage with friendly people, observe daily life in action, and immerse yourself in the enthralling chaos that defines Vietnam's market culture. It's an experience that will not only improve your travel, but will also leave you with lasting memories of this beautiful country.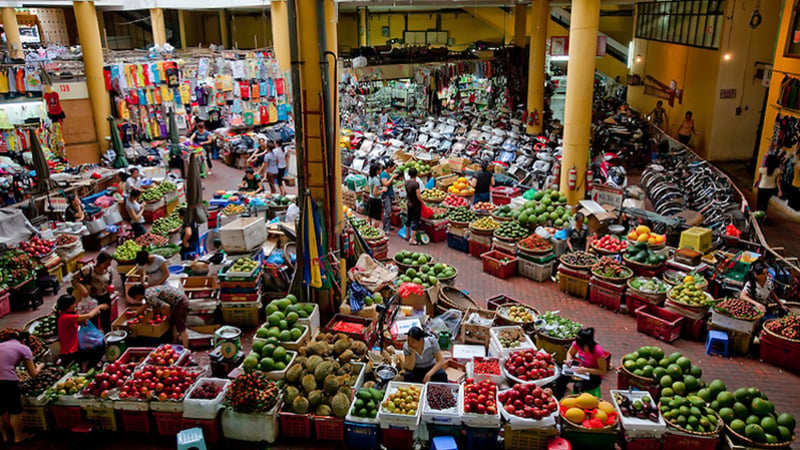 II. Hanoi's Hidden Treasures
2.1 The Enchanting Old Quarter Markets
The charming markets in Hanoi's Old Quarter provide a fascinating window into daily life and business in Vietnam. These markets, which are located in the city's historic core, transport you to a different time period with their meandering, narrow alleyways and beautiful buildings. 
You may discover a veritable treasure trove of products here, from rare herbs and spices to deftly made silk clothing. The lively audience and the continual hum of activities create a tumultuous environment that is electrifying. 
Whether you're an avid shopper or just a curious visitor, these marketplaces provide an unparalleled window into Hanoi and the country as a whole.
2.2 Dong Xuan Market: A Glimpse into Hanoi's History
Dong Xuan Market is a genuine time capsule that offers tourists an enthralling look into Hanoi's colorful past. One of the city's largest and oldest marketplaces, it has seen Hanoi change from a colonial past to a contemporary present. 
With its recognizable red façade and winding lanes lined with vendors offering everything from fresh food to traditional crafts, entering Dong Xuan Market is like going back in time. It is more than simply a market; it is a tangible illustration of Hanoi and its people's tenacity and fortitude.
2.3 Night Markets and Street Food Delights
The sensory delights of Vietnam's night markets are perfect for tourists looking for an authentic adventure. These markets come to life as dusk falls and provide a tempting selection of street food treats. 
An electrifying and mouthwatering ambiance is created by the smoky scent of sizzling meats, the colorful displays of unusual foods, and the sizzle of grills. These markets are a gastronomic adventure ready to be enjoyed, offering everything from flavorful pho to crispy banh mi and delicious sweets. 
Vietnam's night markets provide visitors and residents alike a unique glimpse of the country's culinary and cultural richness as they mingle in the glow of lanterns and neon signs.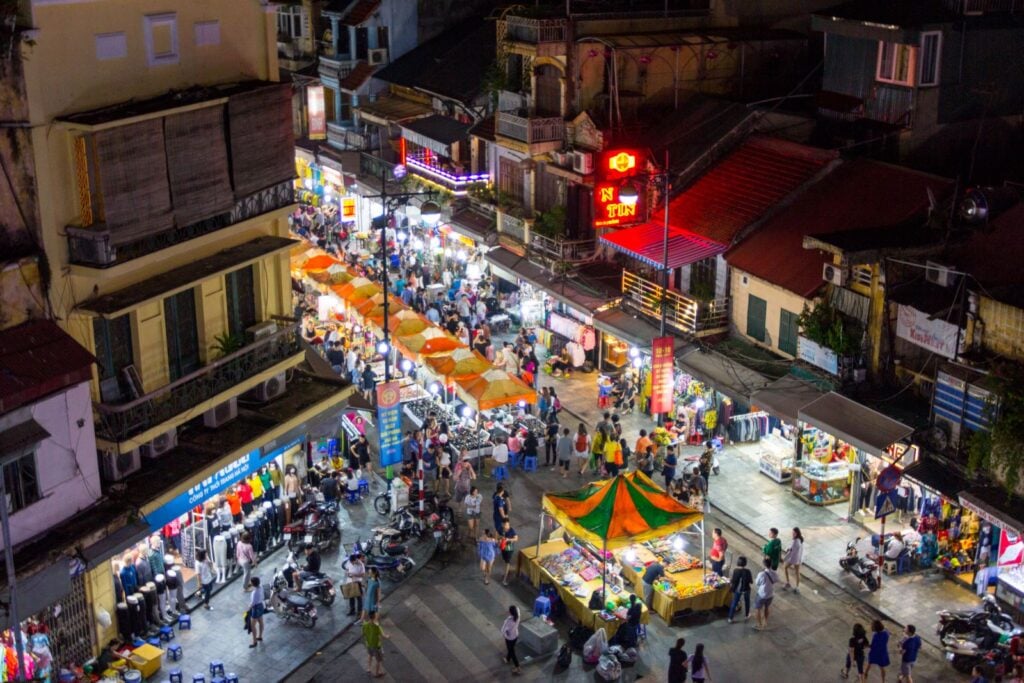 III. Ho Chi Minh's Market Madness
3.1 Ben Thanh Market: A Shopper's Heaven
Ben Thanh Market is a well-known shopping haven in Ho Chi Minh City. This vibrant market offers a wide range of products, from apparel and handicrafts to fresh vegetables and street food, and is a mesmerizing fusion of culture and business. 
It's not only a place to buy; it's a cultural experience in and of itself as one of the most well-known monuments in the city. The journey includes haggling with amiable merchants, enjoying regional cuisine, and navigating the maze of kiosks. 
Ben Thanh Market should not be missed by any visitor to Ho Chi Minh City, whether they are looking for trinkets, authentic foods, or a glimpse into Saigon's everyday life.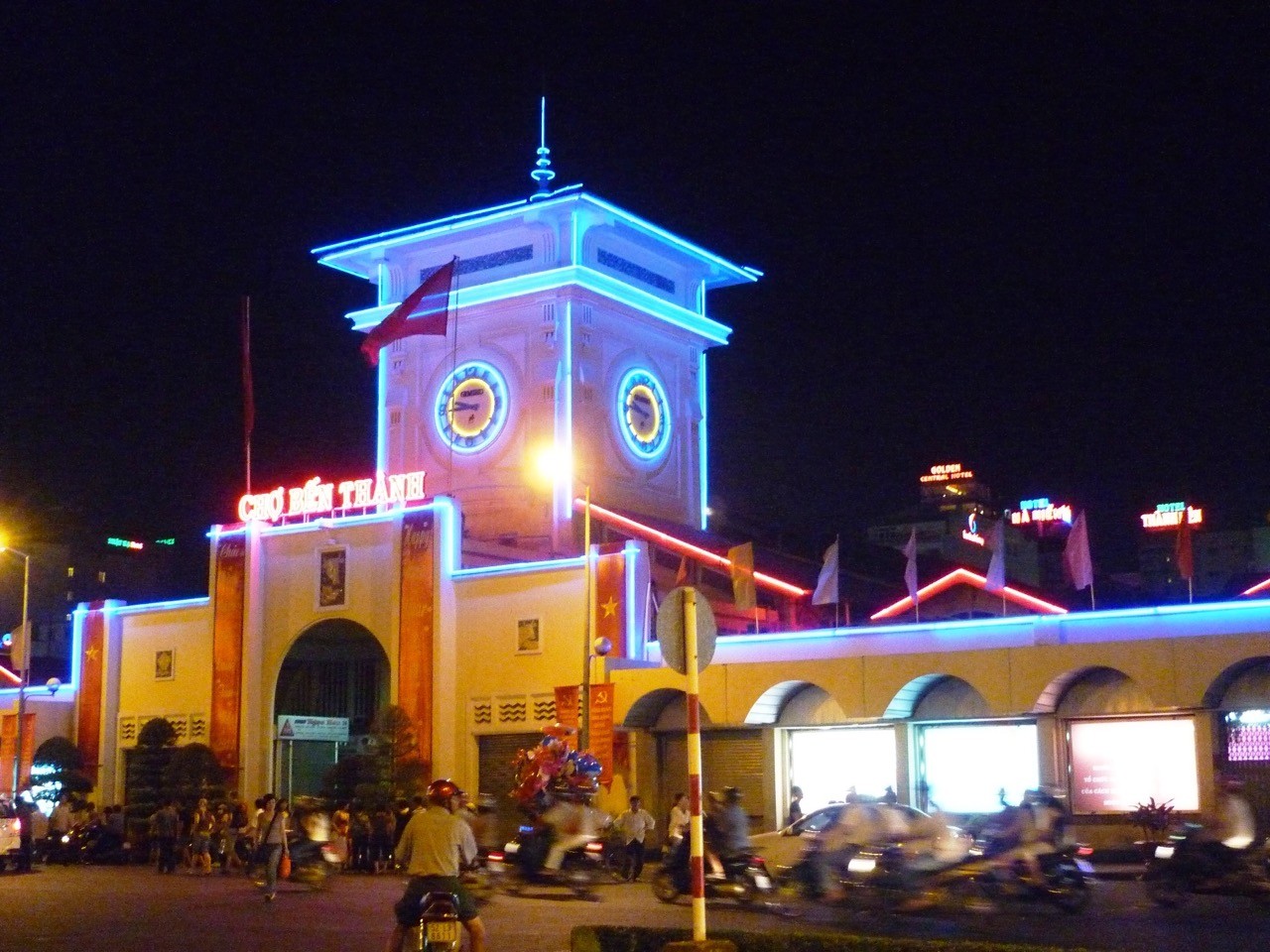 3.2 Binh Tay Market: Saigon's Hidden Gem
Binh Tay Market, located in the center of Ho Chi Minh City's busy Chinatown, is frequently referred to as Saigon's best-kept secret. It may not be as well-known as Ben Thanh Market, but it provides a more genuine shopping experience that is less congested. 
Ornate Chinese architecture adorns the market, and its winding lanes are lined with vendors offering a wide variety of items, from fabrics and spices to fresh fruit and traditional herbs. In addition to being a site for shopping, Cholon, the city's ancient Chinatown, offers visitors the chance to fully immerse themselves in its rich cultural tapestry at Binh Tay Market. 
For tourists looking for an experience in Ho Chi Minh City that is somewhat off the beaten road, it is a must-visit location.
3.3 Night Markets and Entertainment in the South
The nighttime in Southern Vietnam is alive with lively night markets and fun entertainment alternatives. These marketplaces, like the crowded Ben Thanh Night Market in Ho Chi Minh City, provide an overabundance of sights, noises, and tastes. 
Here, you may eat delicious street cuisine while shopping for souvenirs, clothing, and regional goods. The South provides a wide variety of entertainment options in addition to shopping, including bustling rooftop pubs with live music and traditional water puppet displays. 
People seeking to experience the vibrant atmosphere of Southern Vietnam after sundown will find it to be an exciting destination in towns like Ho Chi Minh City, where the nightlife scene is a dynamic combination of modernity and culture.
IV. Coastal Charms and Local Markets
4.1 Hoi An's Ancient Town Markets
The Old Town Markets in Hoi An are a fascinating illustration of the town's illustrious past and dynamic present. These markets, which are hidden within the UNESCO-listed Ancient Town, are a charming tangle of booths and stores that take tourists back in time. 
The marketplaces are also known for their tailor shops, where trained workers quickly create unique garments. A wonderful wealth of handicrafts, lanterns, art, and locally produced souvenirs may be found in addition to tailoring. The captivating environment, complete with attractive buildings, winding alleyways, and vibrant lanterns, adds to the magic. 
Hoi An's Ancient Town marketplaces are a must-visit for everyone seeing this stunning Vietnamese jewel when day gives way to night and the marketplaces come alive with a warm, friendly atmosphere.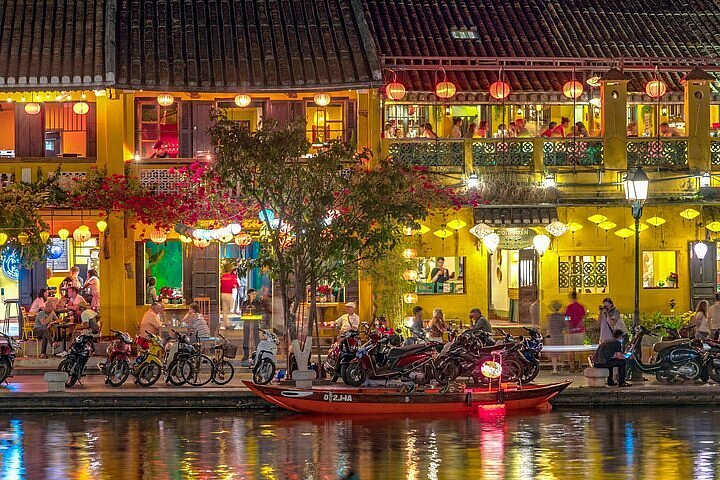 4.2 Da Nang's Street Markets: From Souvenirs to Seafood
The street markets in Da Nang provide a vibrant and varied dining and shopping experience that perfectly portrays coastal Vietnam.
 The colorful An Thuong Night Market, where visitors can enjoy a variety of street food delights, to the busy Han Market, where sellers sell anything from local handicrafts to fresh fruit, Da Nang's markets appeal to a wide range of interests. 
The fish markets by the Han River are a seafood lover's delight, where you may choose the day's catch and have it prepared to perfection at surrounding restaurants. 
These markets are a highlight of every trip to this seaside city since they have something to offer everyone, whether they are looking for souvenirs, delectable local cuisine, or a window into daily life in Da Nang.
4.3 Exploring Local Markets in Phu Quoc
A lovely voyage into Phu Quoc's genuine charm and cuisines is taking a look at the local markets. The island's markets provide a window into the relaxed but active way of life of its people. 
Dinh Cau Night Market is a lively place where you can sample fresh seafood, local delicacies, and purchase trinkets like fish sauce and pearls. The markets on Phu Quoc Island are a veritable treasure trove of fresh vegetables, handcrafted goods, and exotic fruits during the day. 
As you stroll around these scenic marketplaces in the center of Phu Quoc, don't pass up the opportunity to chat with welcoming people, eat traditional Vietnamese cuisine, and learn about the island's distinctive culture and flavors.
V. Northern Adventures and Ethnic Markets
5.1 Sapa's Colorful Tribal Markets
The vibrant tribal marketplaces of Sapa are a striking representation of the area's diverse cultural heritage. These marketplaces, which are located in the gorgeous highlands of Northern Vietnam, serve as a gathering place for several ethnic minority groups, each of which has its own particular attire, traditions, and goods. 
As customers browse handwoven fabrics, exquisite handicrafts, and fresh fruit, they may fully immerse themselves in the energetic ambiance. The engaging conversations between inquiring tourists and the upland populations of Vietnam's tribes, who are dressed in their traditional garb, produce a remarkable and authentic encounter that highlights their uniqueness and heritage.
5.2 Bac Ha Market: A Unique Highland Experience
A really unique highland experience is available at Bac Ha Market in the heart of Northern Vietnam. The Flower H'mong, Tay, and Dao are among the local hill tribes who find refuge in this bustling market, which is tucked away in the gorgeous highlands. 
When it's market day, the town comes to life in a kaleidoscope of hues as local tribespeople dress in their distinctive, painstakingly embroidered traditional garb to sell their products. Visitors may immerse themselves in the region's cultural tapestry while discovering a world of handcrafted goods, artisanal crafts, and fresh local vegetables. 
Bac Ha Market is a must-visit location for tourists looking for a genuine look at the lives and customs of Vietnam's highland villages because of the vibrant interactions and cultural exchanges there.
5.3 Ha Giang's Remote Markets and Scenic Beauty
The isolated marketplaces of Ha Giang are undiscovered treasures in Northern Vietnam, providing a singular fusion of traditional culture and spectacular natural beauty. These marketplaces, tucked away in the breathtaking scenery of the Ha Giang province, are where ethnic minority people congregate to exchange goods. 
Its attractiveness is enhanced by the surroundings, which include soaring limestone karsts, beautiful rice terraces, and meandering mountain roads. You may experience the rich traditions of the H'mong, Tay, and other indigenous tribes while seeing these marketplaces and taking in some of Vietnam's most breathtaking countryside. 
Remote markets in Ha Giang provide a unique encounter that rewards visitors with a strong connection to the area's culture and environment.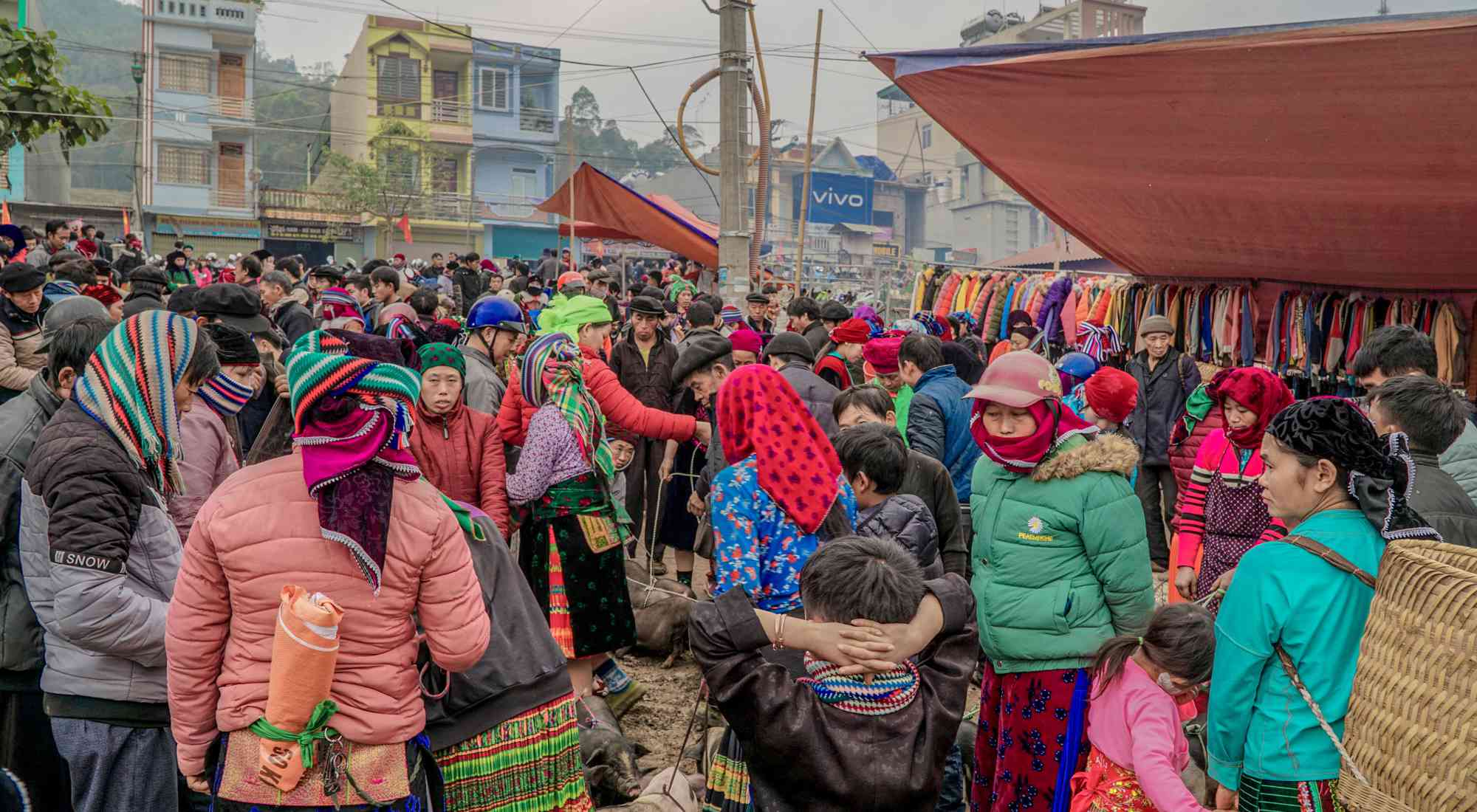 VI. Insider Tips for Market Shopping
6.1 Bargaining Like a Pro
Vietnamese market haggling is an art form that may improve your shopping experience and get you fantastic prices. Learn the art of respectfully negotiating while maintaining a polite approach and being aware of the common price ranges in the area. 
Begin with a smile, engage in light conversation, and be ready to leave if the price isn't what you're expecting. Keep in mind that it's a cultural exchange, therefore everybody should be happy. 
Negotiating may be a fun and gratifying aspect of your excursions in the Vietnamese markets if you have patience, a sense of humor, and the willingness to make concessions.
6.2 Authentic Souvenirs and Keepsakes
Look beyond the standard trinkets while looking for genuine mementos and keepsakes in Vietnam and discover the rich tapestry of traditional crafts and cultural treasures. Think of complex silk scarves, colorful embroidery, and batik-dyed fabrics that are all examples of handwoven textiles that individually convey a tale of regional tradition. 
Explore ceramics, pottery, and lacquerware, which are frequently decorated with complex patterns and motifs. Vietnamese culture is reflected in unusual products like conical hats (non la), water puppets, and bamboo instruments. Don't forget to browse neighborhood markets and artisan studios; these are the finest places to get one-of-a-kind trinkets that perfectly capture Vietnam's authenticity and skill.
VII. Beyond the Markets: Exploring Local Culture
7.1 Traditional Festivals and Cultural Experiences
These holidays provide fascinating insights into Vietnamese traditions, from the exuberant Tet (Lunar New Year) celebrations, when the streets are filled with dragon dances and fireworks, to the tranquil Mid-Autumn Festival, marked by gatherings lighted by lanterns. 
Visit cultural centers like Duong Lam, where centuries-old customs are still alive, or take in a water puppet play, a centuries-old style of entertainment that portrays rural life. Learn the secrets of Vietnamese food by taking culinary lessons, or work with locals to make traditional crafts. 
You may increase your awareness of Vietnam's cultural richness and the friendliness of its people by partaking in these events.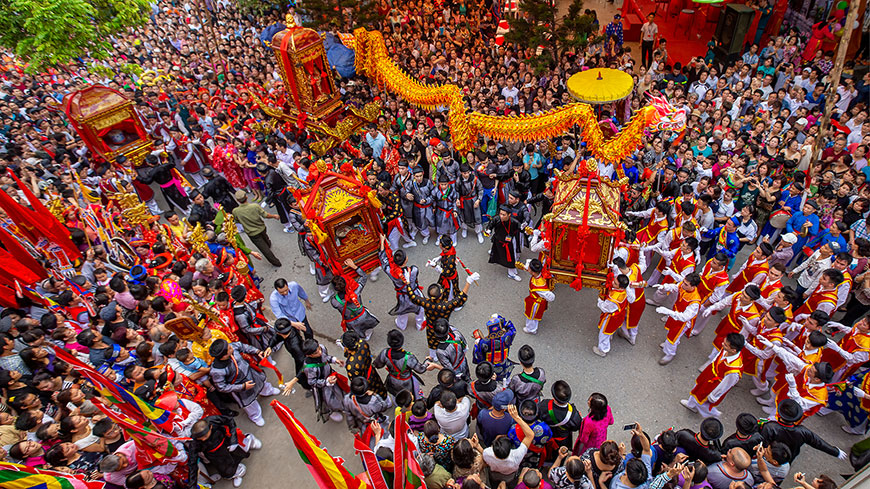 7.2 Connecting with Local Artisans and Craftsmen
Vietnam's rich creative heritage may be understood and local communities can be supported through interacting with local craftsmen and artisans. 
Visit the shops where talented artisans produce exquisite lacquerware, pottery, silk fabrics, and more, frequently using age-old methods that have been handed down through the years. Have a discussion with them to find out more about their craft and the cultural importance of their works. To fully understand the artistry needed, engage in practical activities like silk weaving or pottery manufacturing. 
Directly supporting local livelihoods and maintaining Vietnam's handmade legacy through purchases made from these craftsmen not only assures the authenticity of your souvenirs but also gives a direct way of doing so.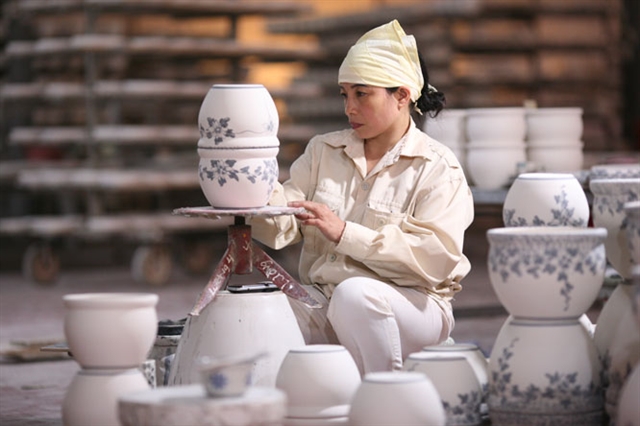 BEDENTAL - TOP STANDARD DENTISTRY SYSTEM
In HANOI
Address 1: 7B Thi Sach St, Ngo Thi Nham, Hai Ba Trung Dist, Ha Noi. - 0934.61.9090
Address 2: 343 Tay Son St, Nga Tu So Ward, Dong Da Dist, Ha Noi. (Nga Tu So Cross) - 0934.61.9090
Address 3: CC2 Tower  Nguyen Huu Tho St, Dinh Cong Ward, Hoang Mai Dist, Ha Noi. (Inside True Hope ) - 0934.61.9090
In HO CHI MINH
Address 1: 140 Nguyen Van Thu St, Da Kao, Dist. 1, Ho Chi Minh. - 0766.00.8080
Address2: 25, City Land urban area, Go Vap Dist, Ho Chi Minh - 0766.00.8080
Working: 9am - 9pm everyday
Tư vấn chuyên môn bài viết:
BÁC SĨ DƯƠNG THỊ THÙY NGA
Bác sĩ chỉnh nha tổng hợp
Ngôn ngữ giao tiếp: Tiếng Việt, Tiếng Anh, Tiếng Nga
Đặt Lịch Hẹn
Xem Hồ Sơ