Hanoi, the vibrant capital of Vietnam, transforms into a captivating spectacle as night falls, with its lively night markets offering a sensory feast for visitors. In this article, we explore the top 7 night markets in Hanoi, each with its own unique charm and bustling atmosphere. Join us as we uncover the hidden treasures, popular items, and mouthwatering street food that await you in these vibrant hubs of commerce and culture. Get ready for an unforgettable adventure through Hanoi's captivating night markets, where tradition meets modernity in a dazzling display of sights, sounds, and flavors.
Top 7 night markets in Hanoi – Pho co Night market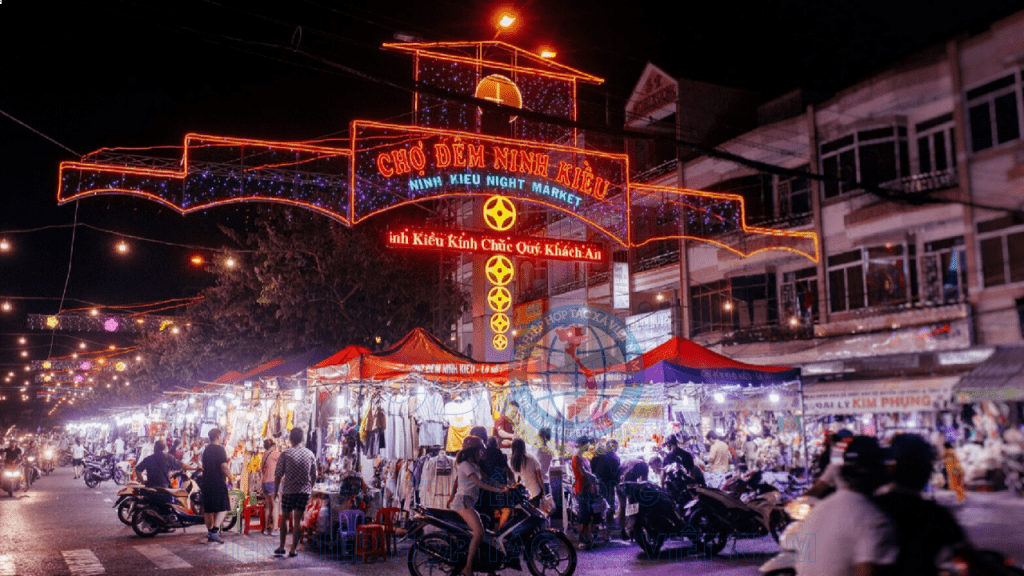 The Night Market in the Old Quarter is the most famous night market in Hanoi. It is not only a shopping area but also a tourist destination for both locals and foreigners. The special feature of this market is that it only operates on Friday, Saturday, and Sunday evenings. 
The market stretches for about 3km from Hang Dao Street to Dong Xuan Market, extending to Hang Khoai and Hang Giay Streets. What makes it unique is that you can find goods from all over the world here at very affordable prices, ranging from a few tens of thousands to a few hundred thousand Vietnamese dong.
It is rare to find items labeled 'Made in Vietnam' here. The prices of clothing, jewelry, decorations, and handicrafts are also very reasonable. With just 10,000 VND, you can buy a small traditional wallet or even get three pairs of socks. 
Clothing prices range from 70,000 to 300,000 VND. With over 4,000 small and large stalls, the Night Market in the Old Quarter has become a popular spot for strolling and relaxation for both Hanoi locals and foreign visitors.
When you visit, you will rarely find pushy vendors or bargaining at the stalls. You can leisurely browse, ask for prices, and negotiate at the stalls. However, due to the wide variety of products, it is advisable to carefully check and inquire about prices, as the market can get crowded with customers, making it convenient for both buyers and sellers. Additionally, there are other activities such as folk art performances like ca tru singing, sculpture areas, and traditional games.
Contact information:
Address: Hang Dao Street, Hoan Kiem District, Hanoi
Opening hours: 6:00 PM – 11:00 PM on Fridays, Saturdays, and Sundays.
Top 7 night markets in Hanoi – Lĩnh Nam Night market – Hoàng Mai
Linh Nam Night Market – Hoang Mai is a market area specifically catering to low-income residents located on Linh Nam Street. During the day, it is a place where various types of vegetables and fruits are sold. From around 8 PM to 1 AM, it becomes bustling with buyers and sellers offering clothing, footwear, and cosmetics at prices ranging from around 50,000 to 500,000 VND.
The merchandise available here comes in beautiful designs and a wide variety of styles, providing ample choices for the residents. However, many vendors tend to quote higher prices than the actual value of the items. Therefore, whenever you make a purchase here, the first thing to remember is to negotiate for the lowest possible price. For example, if you want to buy a T-shirt, it would cost around 50,000 to 100,000 VND, while a pair of shoes would range from 100,000 to 150,000 VND.
This might be the latest opening night market among the night markets in Hanoi, operating until the early morning of the next day. It serves customers with average incomes, offering a wide range of products starting from 50,000 VND in various styles and categories.
Contact information:
Address: Linh Nam, Vinh Hung, Hoang Mai, Hanoi.
Opening hours: From 8 PM to 1 AM the next day.
Top 7 night markets in Hanoi – Phung Khoang Night Market – Thanh Xuan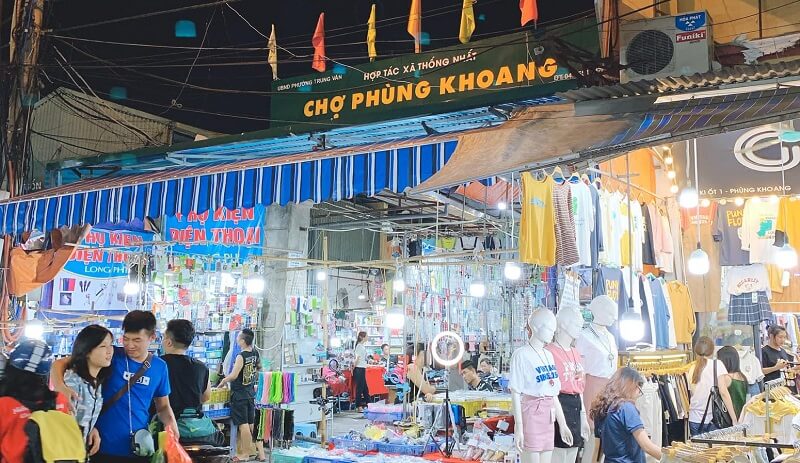 Phung Khoang Night Market is primarily aimed at meeting the needs of students, especially those studying nearby, such as students from the University of Natural Sciences, the University of Transport and Communications, and the People's Police Academy. During the day, the market also sells fresh produce and meat and fish to serve the local residents.
This place gathers students from different provinces. During the day, it operates as a market for fresh produce, and at night, the street comes alive with various shopping stalls.
The most popular items for sale are clothing, footwear, accessories, primarily targeting local residents and students. With just 50,000 to 100,000 VND, you can buy a wide variety of shirts in different shapes and colors. Female jeans range from 120,000 to 180,000 VND, while male jeans are priced between 200,000 and 250,000 VND. The market is open every day of the week, with the busiest days usually being weekends. Phung Khoang Night Market has stalls that offer fair prices as well as ones where bargaining and significant discounts are possible.
Contact information:
Address: 380 Nguyen Trai, Trung Van Ward, Nam Tu Liem District, Hanoi.
Opening hours: From 5:30 PM to 10:30 PM on weekdays.
Top 7 night markets in Hanoi – Dich Vong Night Market – Cau Giay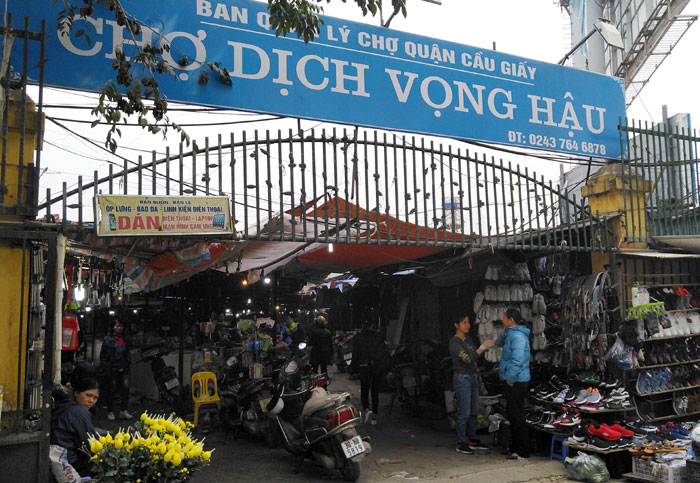 This is also a night market where the main customers are students. The most popular items sold here are clothing, shoes, and bags. Since it is a market for students, the prices are very affordable, even cheap. The market operates every evening of the week. Like other markets, during the day, the Dich Vong Market also sells various types of vegetables, meat, and fish to serve the local residents. The market area is large and filled with goods imported from China. The stalls display specific prices for each item, and you will be surprised to find that all the stalls have the same prices.
However, besides the items with fixed prices, most of them can be negotiated, so bargaining and getting discounts are always the top rules when shopping here. Please pay attention to this. For example, if you want to buy a bag, the price ranges from 70,000 to 150,000 VND, and a stylish watch costs just under 100,000 VND, and so on. 
In particular, the Dich Vong Night Market also offers free hair cutting services for students, which has attracted many enthusiastic participants.
Contact information:
Address: 12 Xuan Thuy, Dich Vong Ha Ward, Cau Giay District, Hanoi.
Opening hours: 5:30 PM – 10:30 PM on weekdays.
Top 7 night markets in Hanoi – Nha Xanh Night Market – Cau Giay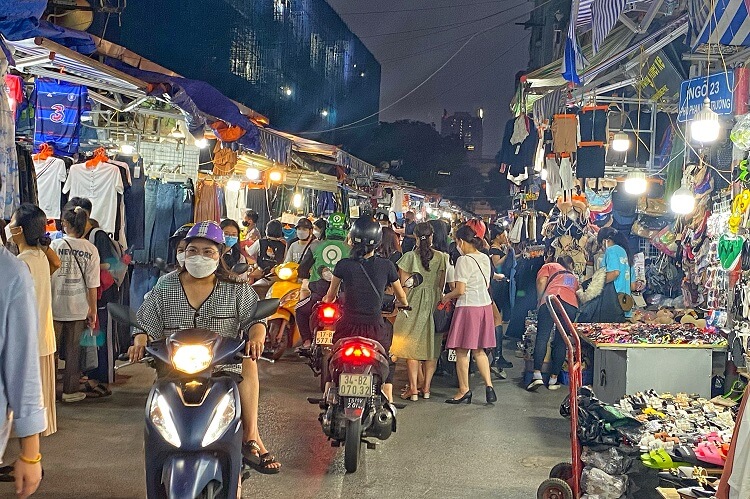 Known as a shopping destination for students, this market is located near major universities such as the Academy of Journalism and Communication, Hanoi National University, and the University of Commerce. Therefore, the products in the market are youthful and suitable for young people.
Here, the prices of different goods can be negotiated, allowing you to choose items that fit your budget. There are also clothes, shoes, bags, and cosmetics available. However, the Nha Xanh Market operates from early morning until late at night. 
With prices ranging from tens to hundreds of thousands of VND, the majority of the items here are from China. They have attractive designs and various styles, but the quality is often low or defective. When making purchases, pay close attention and inspect the items carefully. Especially for T-shirts priced at 50,000 – 70,000 VND, check if there are any tears. For jeans, make sure to check the correct size and the length of the legs.
Due to the large number of students visiting the Nha Xanh Night Market, the quantity of goods bought and sold is constantly updated and renewed on a daily basis. Note that all products at the Nha Xanh Night Market are non-returnable and cannot be tried on. Visitors can easily find snack stalls within the market, offering items such as Chè (a Vietnamese sweet beverage), bánh xèo (Vietnamese savory pancake), bánh bèo (steamed rice cakes), ice cream, mít sữa chua (yogurt with jackfruit), nem rán (fried spring rolls), and more.
Contact information:
Address: Phan Van Truong, Dich Vong Ha, Cau Giay, Hanoi.
Opening hours: 8:00 AM – 10:30 PM on weekdays.
Top 7 Night markets in Hanoi – DHA Agricultural Market – Gia Lam
Located quite far from the city center of Hanoi, the DHA Agricultural Market in Trau Quy town, Gia Lam district, Hanoi, is a market specifically catering to the agricultural university students. This market is open all day for the vibrant student community.
Similar to other markets for students, this market near the Agricultural University primarily sells clothing and fashionable footwear for student customers. There is a wide variety of beautiful and high-quality designs available. The shop owners always stay updated with the latest fashion trends and frequently update their stock, ensuring that customers have access to trendy and fresh items.
Moreover, this market is famous for its affordable and student-friendly food options. Here, you can find delicious and satisfying dishes such as "banh mi chao" (stir-fried bread) priced at 30,000 VND per portion, or purple sweet potato cakes – a unique treat exclusive to this agricultural student market – priced at only 5,000 VND per piece, which are not only visually appealing but also deliciously fragrant. Additionally, there are other tasty options like grilled meat skewers, Vietnamese savory pancakes, snails with tamarind sauce, Korean cuisine, rice noodle soup with fish, and more, all priced from a few thousand to a few tens of thousands of VND.
Contact information:
Address: Trau Quy, Gia Lam, Hanoi.
Opening hours: 8:00 AM to 11:00 PM daily.
Top 7 night markets in Hanoi – Minh Khai Night Market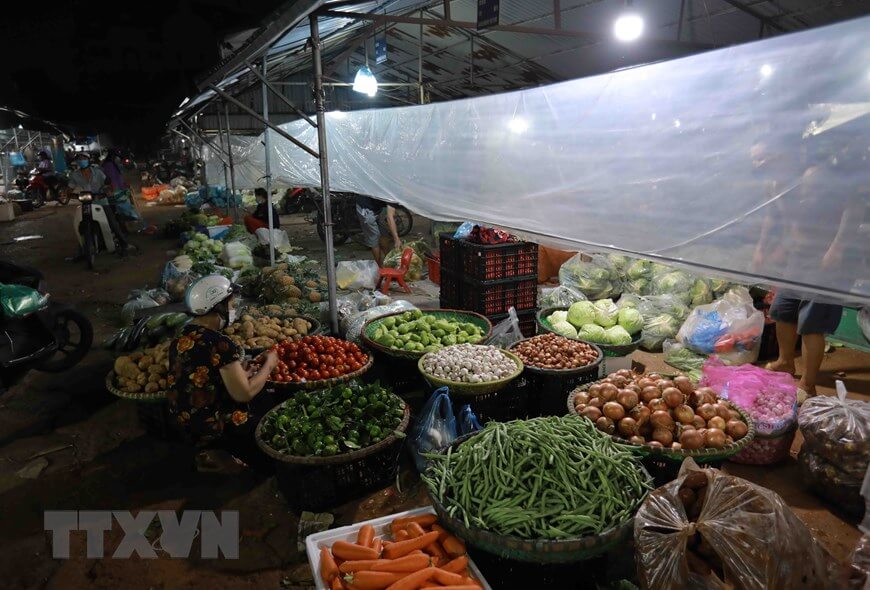 Minh Khai Night Market is situated at the bus transfer point of Nhon – Tu Liem – Hanoi, and it is primarily a student market. However, it operates only in the evening from 5:30 PM to 10:30 PM. While it may not be as crowded as the central markets, it still attracts a good number of visitors during the season. The market offers diverse and up-to-date fashion styles at affordable prices, suitable for students' budgets. Compared to other student markets, Minh Khai Market has fewer student shoppers due to its location away from the city center.
During the season, the market becomes busier, and the prices remain student-friendly. Minh Khai Market also provides a wide range of agricultural products such as various vegetables, tubers, bamboo shoots, and dried goods like peanuts, beans, vermicelli, and rice crackers. The market also offers a variety of meat products including pork, beef, poultry, and seafood such as squid, shrimp, and various fish. Additionally, you can find distinctive fruits like oranges, watermelons, durians, pomelos, longans, dragon fruits, and mangosteens. Fresh flowers such as chrysanthemums, roses, and lilies are also available.
Contact information:
Address: 136 Cau Dien Street, Bac Tu Liem District, Hanoi.
Opening hours: 5:30 PM to 11:00 PM.
Best time to visit Vietnam – What you should know before visiting Vietnam
Conclusion
In conclusion, Hanoi offers a vibrant nightlife scene that is best experienced through its captivating night markets. These bustling hubs of activity not only provide a delightful shopping experience but also offer a glimpse into the city's rich cultural heritage.
From the enchanting atmosphere of the Old Quarter Night Market to the lively ambiance of the Hanoi Weekend Night Market, there are numerous options to explore. Each night market has its own unique charm, showcasing a variety of local delicacies, traditional crafts, and live entertainment. With so many options to choose from, the question arises: "Which night market is worth visiting?" The answer lies in personal preferences and interests.
Whether you seek a more authentic experience at the bustling Hang Dao Night Market or wish to immerse yourself in the vibrant atmosphere of the Dong Xuan Night Market, Hanoi's night markets are sure to leave you with lasting memories and an unforgettable taste of the city's vibrant nightlife. So, set out on an adventure and discover the night market that resonates with your desires – Hanoi awaits with open arms.
BEDENTAL - TOP STANDARD DENTISTRY SYSTEM
In HANOI
Address 1: 7B Thi Sach St, Ngo Thi Nham, Hai Ba Trung Dist, Ha Noi. - 0934.61.9090
Address 2: 343 Tay Son St, Nga Tu So Ward, Dong Da Dist, Ha Noi. (Nga Tu So Cross) - 0934.61.9090
Address 3: CC2 Tower  Nguyen Huu Tho St, Dinh Cong Ward, Hoang Mai Dist, Ha Noi. (Inside True Hope ) - 0934.61.9090
In HO CHI MINH
Address 1: 140 Nguyen Van Thu St, Da Kao, Dist. 1, Ho Chi Minh. - 0766.00.8080
Address2: 25, City Land urban area, Go Vap Dist, Ho Chi Minh - 0766.00.8080
Working: 9am - 9pm everyday
Tư vấn chuyên môn bài viết:
BÁC SĨ DƯƠNG THỊ THÙY NGA
Bác sĩ chỉnh nha tổng hợp
Ngôn ngữ giao tiếp: Tiếng Việt, Tiếng Anh, Tiếng Nga
Đặt Lịch Hẹn
Xem Hồ Sơ