Vietnam is a captivating destination that entices numerous tourists to explore its impressive offerings, spanning from the northern regions to the southern reaches. Majestic mountains, stunning beaches, bustling cities, picturesque rivers, delectable cuisine, and more await you on your journey. This article will provide detailed insights into these attractions and when is the best time to visit Vietnam along with what you should know before visiting Vietnam.
1) What you should know before visiting Vietnam – Vietnam Travel in 2022: Essential Preparations/Guide
A well-planned trip is the foundation of a perfect travel experience. Take note of the following useful information to ensure a smooth and enjoyable visit to Vietnam:
1.1. Best Time to Visit Vietnam
The ideal time to travel to Vietnam depends on your destination and the type of vacation you desire, as the weather varies significantly from north to south. Here are some weather highlights to help you prepare for your Vietnam travel:
– North Vietnam: The northern region experiences four distinct seasons: spring, summer, autumn, and winter. From May to October, areas like Hanoi have a hot and humid climate with significant rainfall. From November to April, the weather becomes colder and drier. Regardless of the season, you can enjoy activities such as trekking, mountain exploration, beach visits, and city exploration.
– Central Vietnam: The central region is known for its tropical wet climate. From January to August, this area experiences hot and dry weather with temperatures reaching up to 30 degrees Celsius. September, October, and November often bring heavy rainfall. Before packing, it is advisable to check the weather forecast for a well-prepared trip.
– South Vietnam: The southern region has two main seasons: dry and rainy. From November to April, it is typically dry and hot, while May to October is characterized by damp and hot weather. The period from June to August sees the highest precipitation. Beaches are accessible year-round, and you can explore floating markets during the dry season and fruit orchards during the wet season.
By considering these weather patterns, you can plan your activities and pack accordingly, ensuring a delightful and comfortable experience throughout your Vietnam travel.
1.2. Transportation Options for Getting Around Vietnam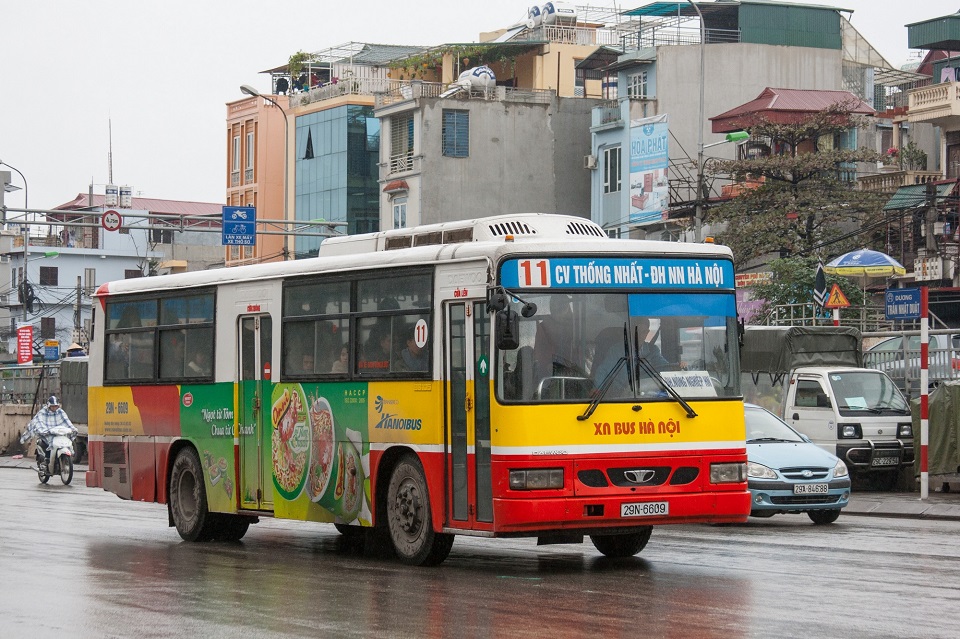 When traveling in Vietnam, you have several affordable transportation options to explore the country:
By Motorbike: Motorbikes are the preferred mode of transportation for both locals and tourists in Vietnam's cities and rural areas. Many people use motorbikes for their daily commutes or to navigate local areas. Travelers can rent a motorbike to independently explore the captivating destinations in Vietnam.
By Taxi: Taxis are a popular choice, especially on sunny days. Currently, Grab is the most well-known taxi brand in Vietnam. To use their services during your Vietnam travel, simply download the app from the App Store, sign up, and select your desired location for booking.
By Train: Vietnam's railway system is considered safe and meets international quality standards. The railway network spans the entire length of the country, with a focus on the Central Coast. Traveling by train allows passengers to enjoy the country's natural beauty through the train's windows.
By Bus: Local buses are convenient and budget-friendly, making them a popular transportation option in Vietnam. You can divide your entire journey into separate itineraries for each leg of your Vietnam travel and take sleeping buses for longer distances.
These transportation options provide flexibility and accessibility to explore various regions of Vietnam during your trip. Choose the mode of transportation that suits your preferences and enjoy the diverse landscapes and experiences the country has to offer.
1.3. Estimated Cost of Traveling in Vietnam
The cost of traveling in Vietnam varies depending on your country of origin, the destinations you visit, and the duration of your trip. On average, a one-week holiday in Vietnam costs around VND8,500,000 (US$363.8) per person. When traveling as a family of three or four, expenses can often be reduced as children's tickets are typically cheaper and hotel rooms can be shared.
2) Exploring Natural Wonders on your Vietnam Travel
For nature enthusiasts, make sure to include the following destinations on your bucket list and take note of some essential Vietnam travel tips to prepare for your trip!
2.1. Phu Quoc – The Pearl Island in Kien Giang Province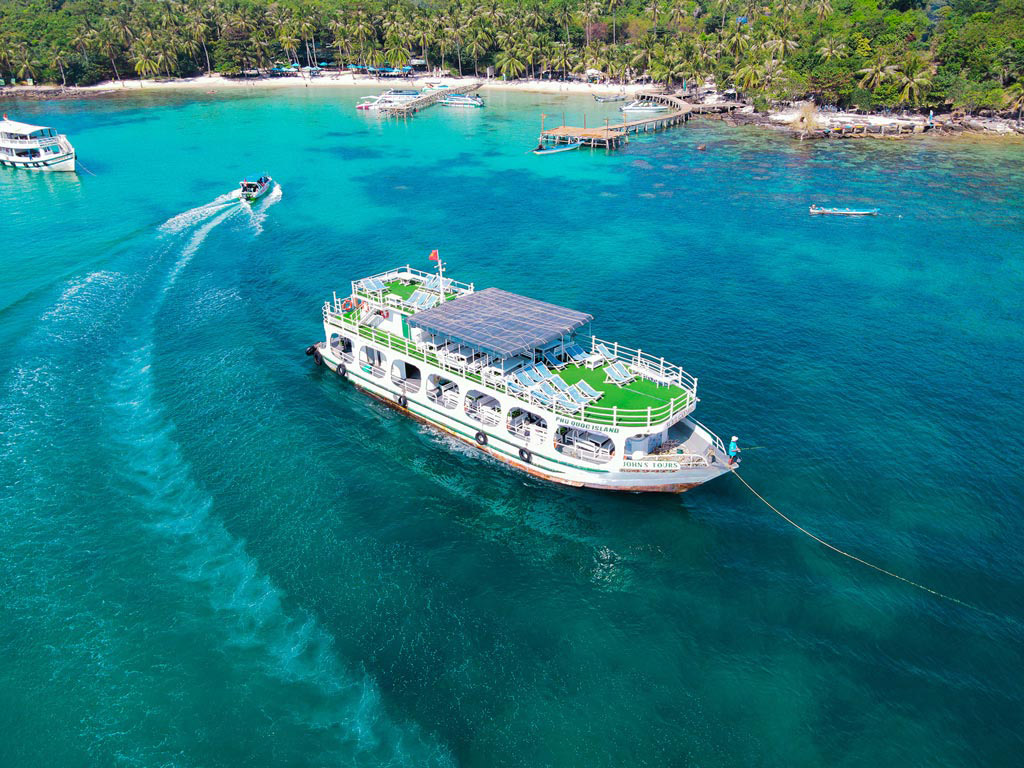 Phu Quoc is renowned as Vietnam's largest island and is aptly named the Pearl Island due to its unspoiled natural beauty. With its 150-kilometer coastline, diverse forest ecosystems, and abundant marine resources, Phu Quoc has become one of Vietnam's top beach vacation spots. It is also a fascinating destination for those interested in Vietnam's history.
Phu Quoc's reputation as a tourist paradise is well-deserved. The island is famous for its pristine beaches such as Starfish Beach, Long Beach, Ganh Dau, and more. Additionally, there are many attractions to explore, including VinWonders Phu Quoc, Vinpearl Safari Phu Quoc, Phu Quoc Night Market, Phu Quoc Pepper Garden, Phu Quoc Bee Farm, Phu Quoc Prison, and others.
One standout attraction is VinWonders Phu Quoc, an entertainment paradise that should not be missed. Covering an area of 46.7 hectares, it features six subdivisions inspired by 12 civilizations from around the world. This enchanting place offers captivating stories, thrilling adventures, and exhilarating activities that promise an unforgettable experience.
Phu Quoc attracts numerous local and international tourists with its delectable cuisine and unique flavors. During your Vietnam travel, you'll have the opportunity to indulge in a variety of regional specialties, particularly mouthwatering seafood dishes. To truly savor the flavors of the sea on Phu Quoc Island, be sure to try seafood delicacies such as herring salad, Ham Ninh steamed sentinel-crab, sea cucumber soup, and more.
2.2. Quang Binh – The Kingdom of Caves in Vietnam
Situated in the Central coastal region, Quang Binh is a captivating destination boasting pristine beaches, unique caves, majestic mountains, and impressive rivers. When visiting Quang Binh during your Vietnam travel, you'll have the opportunity to explore the Phong Nha-Ke Bang Cave Complex, which is recognized as one of the world's natural heritages. Additionally, this region is home to other attractions such as Quang Phu Sand Dunes, Bau Tro Lake, Than Dinh Mountain, and more.
Quang Binh is also known for its wide array of delightful local specialties. The cuisine of this province is renowned for its use of fresh ingredients and rich flavors. When in Quang Binh, make sure to indulge in dishes like Quang Hoa pancakes, snakehead fish gruel, oyster soup, grilled chickens with cheo salt, and more.
2.3. Ha Long – The Paradise Bay in Northern Vietnam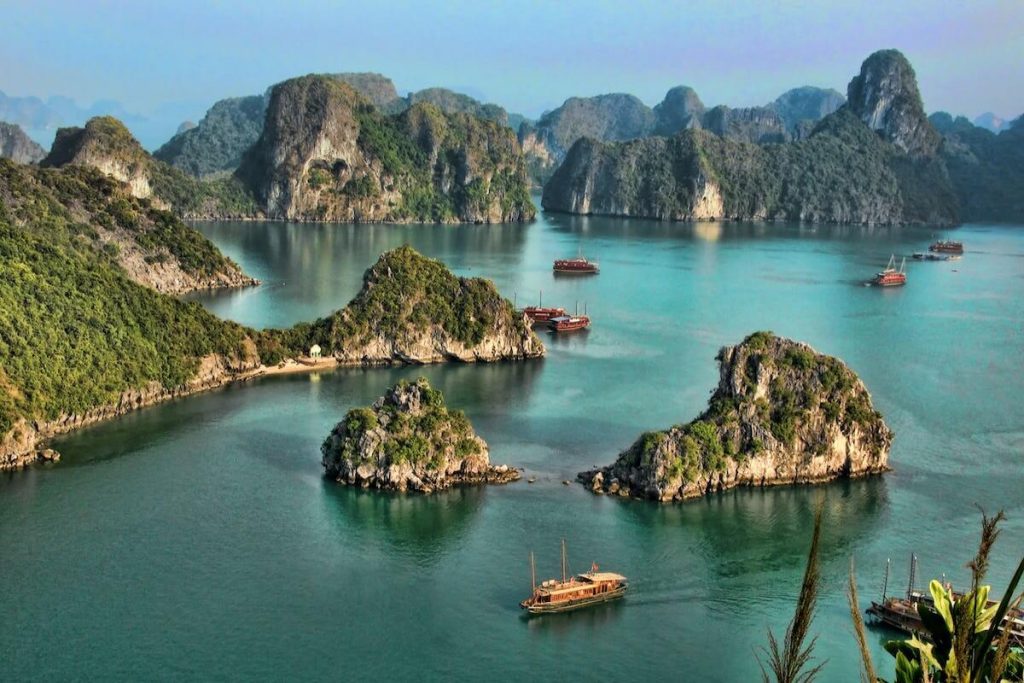 Located in the Northeast of Vietnam, Ha Long Bay is a must-visit destination during your Vietnam travel. The majority of the islands in Ha Long Bay are composed of limestone and schist. This paradise bay is home to a diverse range of ecosystems, including coral reefs, tropical forests, and mangrove forests. Exploring Ha Long Bay, you'll encounter thousands of plant and animal species, including squid, fish, shrimp, and some exceptionally rare species.
An enticing aspect for tourists is the delightful cuisine of Ha Long, which combines fresh seafood with skillful preparation methods. When in Ha Long during your Vietnam travel, be sure not to miss out on renowned dishes like Gat Gu cakes, mantis shrimp vermicelli, grilled chopped squids, oysters, and more.
Halong Bay: A Majestic Tapestry of Limestone Karsts and Serene Waters
2.4. Sapa – Getting Lost in the Mists in Vietnam
Sapa is located in the Northwest mountainous region of Vietnam and is famous for its majestic mountains and poetic beauty. It attracts tourists with its winding terraced fields and mountains that seem to touch the clouds, such as Fansipan Peak or Ham Rong Mountain. The romantic charm of ethnic villages like Cau May, Cat Cat, Ta Phin, and others, along with the unique cultural features of the Northwestern people, are highlights of your Vietnam travel to Sapa.
Moreover, Sapa offers a variety of delicious specialties, including seven-colored steamed sticky rice, bamboo sticky rice, Thang Co (horse meat soup), dried buffalo meat, and more. While enjoying the local cuisine, don't forget to sample some of the local wines, such as docynia Indica wine, Shan Lung wine, Bac Ha corn wine, and others.
2.5. Ninh Binh – The Ancient Capital of Vietnam
Ninh Binh, located in the northern part of Vietnam, is a popular destination for travelers. With its impressive limestone karsts, stunning temples and pagodas, and vast rice paddies, Ninh Binh captivates both domestic and international tourists. When Ninh Binh is mentioned, many visitors immediately think of the picturesque Trang An complex, Tam Coc – Bich Dong, Hoa Lu Ancient Capital, Mua Cave, Bai Dinh Pagoda, Am Tien Cave, and more.
Apart from its breathtaking scenery, Ninh Binh also entices people from around the world with its delicious local specialties. Some must-try dishes in this region include burnt rice, mountainous edible snails, raw goat meat with lemon, eel vermicelli, sticky rice with ant's eggs, and more.
3) Vietnam Travel Guide: Indulge in Delicious Cuisine in Famous Destinations
Embarking on a food tour through some renowned cities during your Vietnam travel promises a delightful culinary experience with a wide array of unique and mouthwatering dishes. Discover these destinations now!
3.1. Nha Trang – The Beautiful Coastal City in the Central Region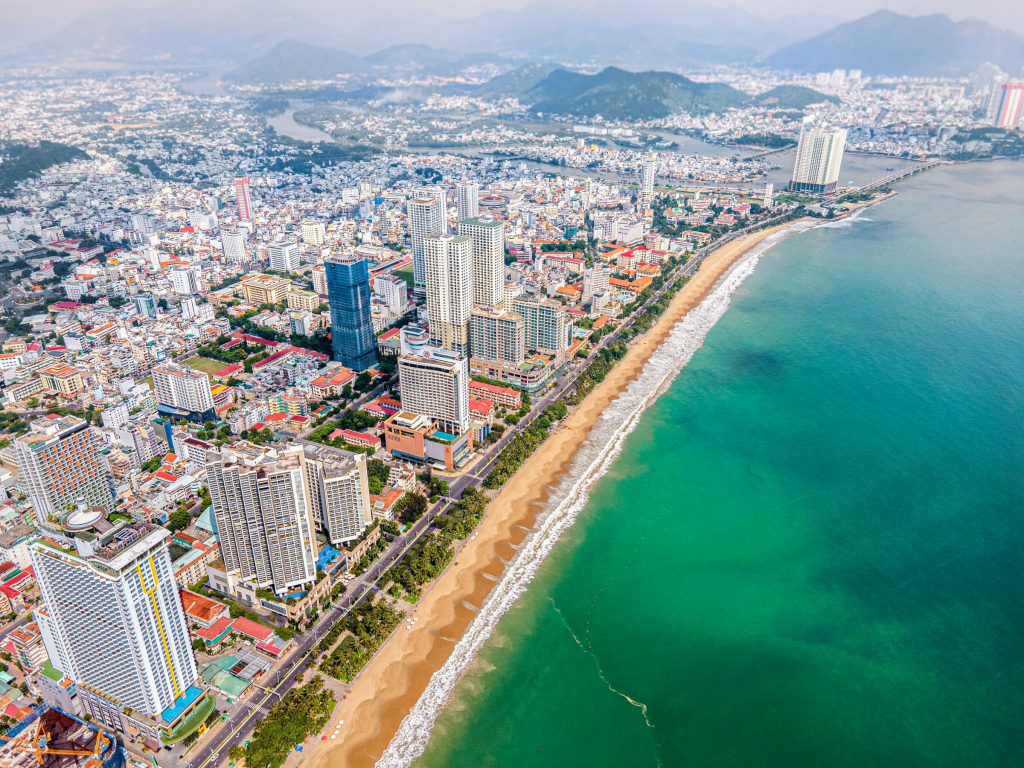 Nha Trang, located at the crossroads of the South Central Coast and the Central Highlands, possesses an ideal geographical setting, climate, and natural scenery, making it one of Vietnam's top tourist destinations. The city is home to a diverse range of large and small islands, boasting breathtaking coastal and underwater landscapes.
The picturesque beauty of Nha Trang leaves a lasting impression on every visitor. When visiting this stunning coastal city, take the time to admire the natural landscapes of Van Phong Bay, Ninh Van Bay, Diep Son Island, Long Beach, Doc Let Beach, and more. Additionally, exploring the architecture of Ponagar Tower, the Institute of Oceanography, or Nha Trang Cathedral is a worthwhile endeavor during your Vietnam travel.
For those seeking adventure, VinWonders Nha Trang is an ideal destination. With its expansive 50-hectare area and six magnificent subdivisions, it offers countless thrilling amusement activities that promise to create unforgettable memories for visitors of all ages and nationalities. A visit to VinWonders Nha Trang will undoubtedly provide a fantastic opportunity to let loose and capture numerous memorable moments during your Vietnam travel.
No journey to Nha Trang is complete without savoring the delectable and renowned local specialties. With a wide variety of seafood available, the locals prepare an abundance of delicious dishes to satisfy tourists. When in Nha Trang, be sure to try the deep-fried herring salad, jellyfish noodles, squid pancakes, grilled chopped fish, grilled pork rolls, and more.
3.2. Da Nang – The Most Livable City in Vietnam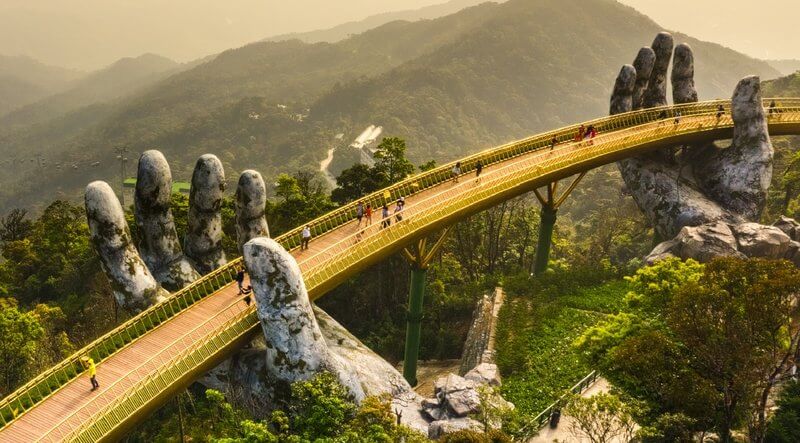 When exploring the central region during your Vietnam travel, Da Nang should not be overlooked. This coastal city in South Central Vietnam is famous for its expansive and picturesque coastlines. It serves as a connecting point between two well-known tourist destinations: Hue City and Hoi An Ancient Town.
Da Nang boasts many beautiful bridges such as Han River Bridge, Dragon Bridge, Thuan Phuoc Bridge, and Love Bridge. It is also home to enchanting and serene beaches like My Khe Beach, Non Nuoc Beach, Xuan Thieu Beach, and numerous other stunning landscapes such as Ngu Hanh Son Mountain, Son Tra Peninsula, and Ghenh Bang.
As the most livable city in Vietnam, Da Nang, along with its cuisine, entices many tourists to explore its culinary delights. When visiting this city, you'll have the opportunity to savor a variety of delicacies, including Quang noodles, sliced pork rolled with rice paper, pancakes, vermicelli salad with pork and anchovy sauce, grilled fish cake noodles, duck porridge, and more.
3.3. Saigon – The Pearl of the Far East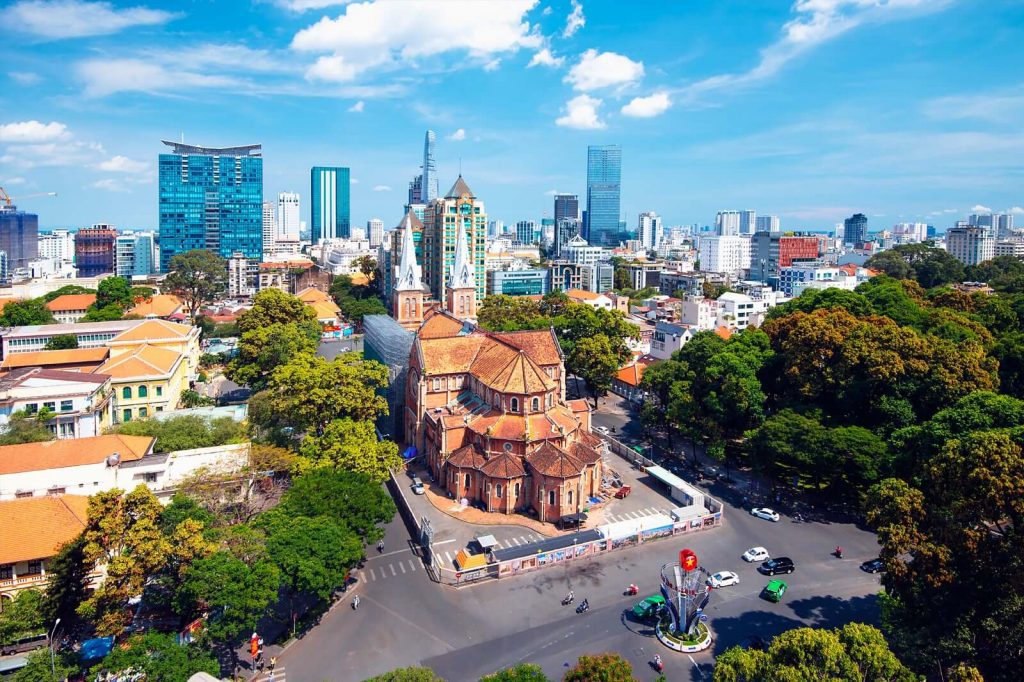 Saigon, also known as Ho Chi Minh City, is renowned as one of the most vibrant and bustling cities in Vietnam. When visiting Saigon, tourists can immerse themselves in the energetic atmosphere of its busy streets and explore numerous notable attractions such as Nha Rong Wharf, Ben Thanh Market, Central Post Office, Notre Dame Cathedral, Independence Palace, Art Museum, Landmark 81, and more.
In addition to its attractions, Saigon's unique cuisine is a highlight of any trip to this city. If you're wondering what to eat in Saigon during your Vietnam travel, the locals will introduce you to a diverse range of dishes, including steamed broken rice, grilled snails, Banh Mi (Vietnamese sandwich), fresh spring rolls, rice noodles, beef noodles, and more.
3.4. Can Tho – The Capital City of the Mekong Delta
Can Tho is a captivating destination located in the Southwest region of Vietnam. Its enchanting river scenery, distinctive cuisine, and friendly and hospitable people make Can Tho an unmissable stop for tourists during their Vietnam travel. Some renowned tourist attractions in Can Tho that you should visit include the Cai Rang Floating Market, Ninh Kieu Wharf, Binh Thuy Ancient House, Bang Lang Stork Garden, and more.
Moreover, there are many delectable dishes with rich flavors from the river that you should try at least once. Some notable examples include grilled spring rolls, Cong cakes (pancakes), duck hot pot, grilled snakehead fish, dried shrimp vermicelli, Sa Dec dry noodle soup, fried rice with braised fish sauce, and more.
4) Vietnam Travel Highlights: Top Cultural Tourist Attractions
To delve into the diverse culture of Vietnam, plan a trip to explore the following destinations during your upcoming holiday:
4.1. Hoi An – The Ancient Town in Central Vietnam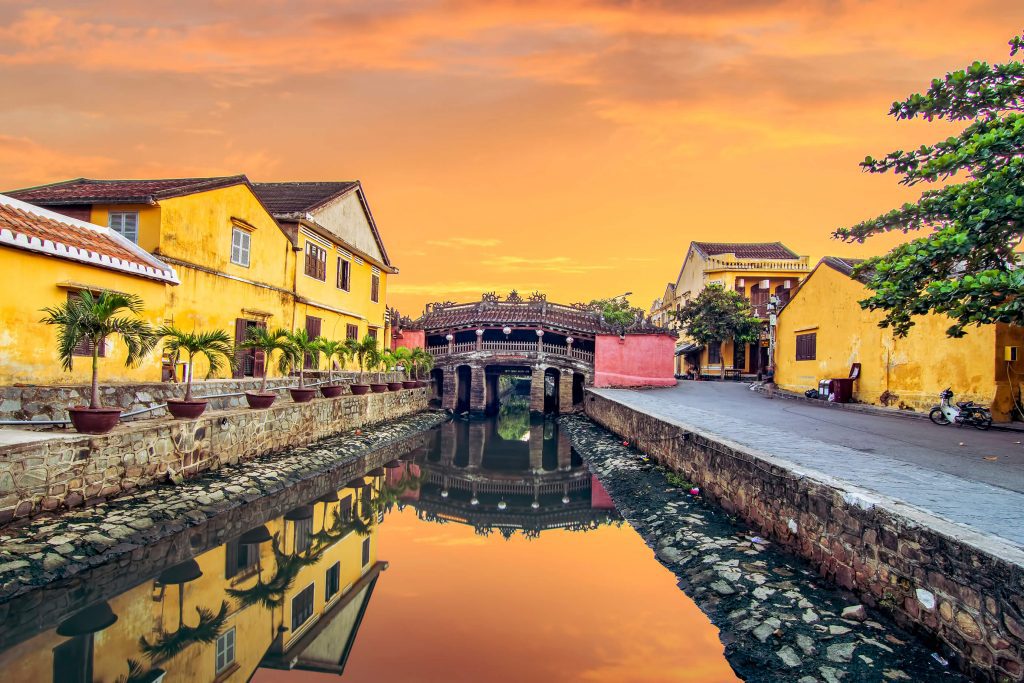 Hoi An is a must-visit destination for cultural enthusiasts during their Vietnam travel. This charming town offers beautiful landscapes and a chance to admire unique architectural heritage that dates back hundreds of years. Explore ancient houses, museums, and temples to get a glimpse of Hoi An's rich history. Additionally, don't miss the opportunity to visit Cu Lao Cham, Cua Dai Beach, My Son Sanctuary, Tra Que Vegetable Village, and other captivating attractions.
VinWonders Nam Hoi An is an entertainment area that should not be overlooked. Covering an expansive 50-hectare area with five distinct subdivisions, this park offers a splendid and modern experience for visitors of all ages.
Hoi An's cuisine is another highlight that attracts many travelers. Indulge in delicious dishes such as Cao Lau (noodles with pork and herbs), Quang noodles, wontons, white rose dumplings, chicken rice, and more. These culinary delights will surely satisfy your taste buds during your Vietnam travel in Hoi An.
4.2. Ha Giang – Home to 19 Ethnic Groups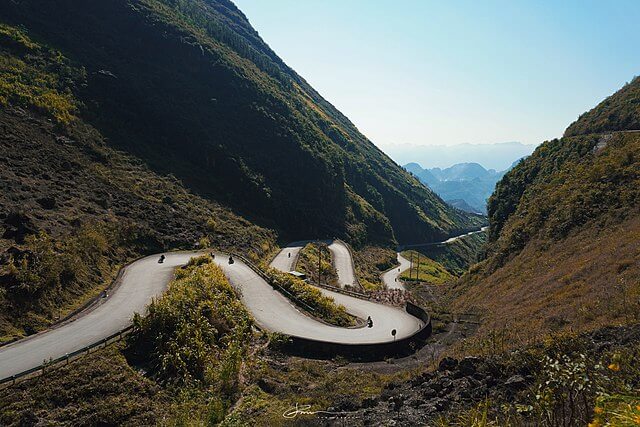 Ha Giang allures visitors with its untamed, idyllic, and serene natural beauty. Explore famous tourist attractions such as Hoang Su Phi, Ma Pi Leng Pass, Dong Van and Pho Bang Rock Plateau, Lung Cu Flagpole, Lung Khuy Cave, Sam Pun Border Gate, Noong Lake, Sung La Valley, Dong Van Old Town, and more when you visit Ha Giang.
Accompanying the stunning scenery are mouthwatering dishes with delightful mountain flavors. Don't miss the chance to try Au Tau porridge, bamboo sticky rice, armpit pork (grilled pork wrapped in leaves), grilled moss (fermented moss), egg rolls, La Chi rat meat, and other local delicacies. These flavors will create unforgettable memories during your Vietnam travel in Ha Giang.
4.3. Hue – Discover Tangible and Intangible Cultural Values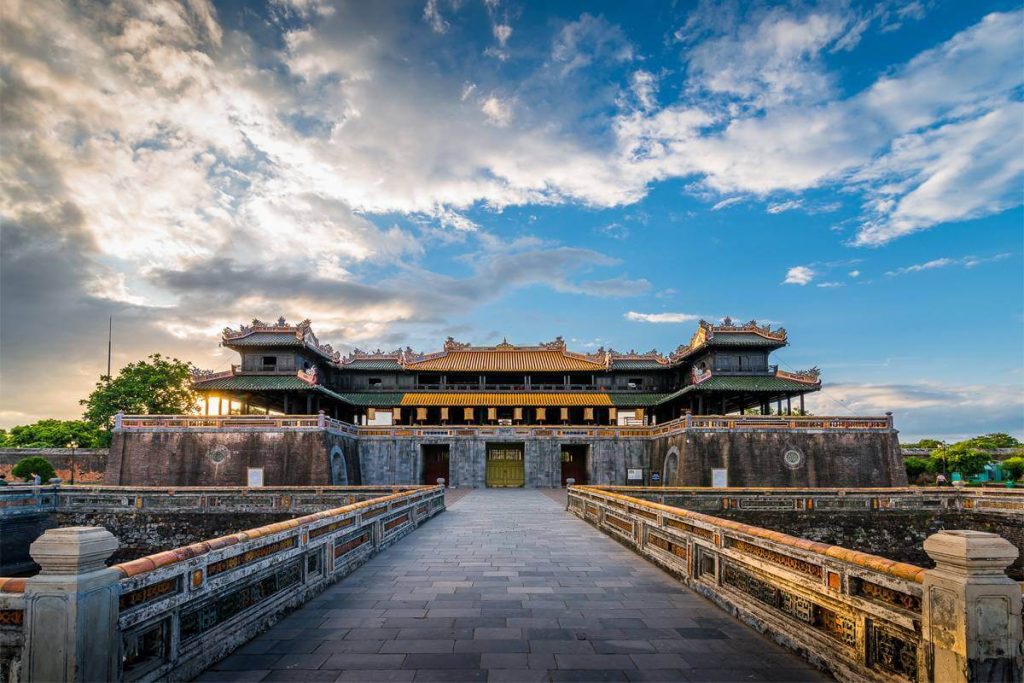 Hue exudes a quiet and romantic beauty, enriched with numerous cultural and historical treasures. When visiting Hue during your Vietnam travel, you will have the opportunity to admire unique architectural marvels such as the mausoleums and the Hue Citadel. Explore famous tourist sites like Trang Tien Bridge, Ngu Binh Mountain, Vong Canh Hill, and more.
One not-to-be-missed experience in Hue is taking a boat ride along the Perfume River, savoring tea, and listening to the enchanting melodies of Hue royal music. Additionally, indulge in the delightful flavors of royal cuisine and Hue folk cuisine, including tea, banh bot loc (clear shrimp and pork dumplings), beef vermicelli, mussel rice, and other culinary delights.
4.4. Hanoi – The City of the Historic Old Quarter
Hanoi, the capital steeped in thousands of years of civilization, is a destination that every traveler dreams of visiting at least once in their lifetime during their Vietnam travel. Exploring the capital city, you will have the chance to visit renowned attractions such as Ba Dinh Square, Temple of Literature, Tran Quoc Pagoda, and marvel at the beauty of West Lake, Sword Lake, and the Imperial Citadel of Thang Long.
Like any other destination in Vietnam, Hanoi offers a wide array of authentic dishes for visitors to savor. Some noteworthy delicacies that deserve a spot on the top of your food list include La Vong village nuggets (grilled fish), grilled pork with noodles, Pho (Vietnamese noodle soup), crab spring rolls, steamed rice rolls, and more.
Vietnam captivates visitors throughout the year, whether they seek to explore majestic mountains and caves or relax on pristine sandy beaches. With its breathtaking natural scenery, Vietnam offers unforgettable experiences, complemented by its remarkable cuisine and friendly locals. We hope this Vietnam travel guide provided in this article will prove valuable for your journey, allowing you to explore the marvelous landscapes of this S-shaped country.
Read more >> Discover the heart of Vietnam –  Hanoi
Conclusion
In conclusion, Vietnam offers a myriad of experiences and breathtaking landscapes that captivate the hearts of travelers from all walks of life. By understanding the best time to visit Vietnam and being aware of the key factors that can influence your trip, you can ensure a memorable and rewarding adventure.
From the vibrant cities to the serene countryside, Vietnam has something to offer for everyone. So, whether you're planning to explore the bustling streets of Hanoi, cruise through the magnificent Halong Bay, or immerse yourself in the rich cultural heritage of Hoi An, knowing what you should know before visiting Vietnam will undoubtedly enhance your overall experience.
Remember to consider the weather patterns, festivals, and activities that align with your interests, and always be prepared for the unexpected. With proper planning and a sense of adventure, your journey through Vietnam will be filled with lifelong memories and unforgettable moments.
So, pack your bags, embrace the beauty of this enchanting country, and get ready to create your own story in the land of hidden gems and captivating traditions. What you should know before visiting Vietnam will undoubtedly set you on the path of an extraordinary travel experience. Happy travels!
BEDENTAL - TOP STANDARD DENTISTRY SYSTEM
In HANOI
Address 1: 7B Thi Sach St, Ngo Thi Nham, Hai Ba Trung Dist, Ha Noi. - 0934.61.9090
Address 2: 343 Tay Son St, Nga Tu So Ward, Dong Da Dist, Ha Noi. (Nga Tu So Cross) - 0934.61.9090
Address 3: CC2 Tower  Nguyen Huu Tho St, Dinh Cong Ward, Hoang Mai Dist, Ha Noi. (Inside True Hope ) - 0934.61.9090
In HO CHI MINH
Address 1: 140 Nguyen Van Thu St, Da Kao, Dist. 1, Ho Chi Minh. - 0766.00.8080
Address2: 25, City Land urban area, Go Vap Dist, Ho Chi Minh - 0766.00.8080
Working: 9am - 9pm everyday
Tư vấn chuyên môn bài viết:
BÁC SĨ DƯƠNG THỊ THÙY NGA
Bác sĩ chỉnh nha tổng hợp
Ngôn ngữ giao tiếp: Tiếng Việt, Tiếng Anh, Tiếng Nga
Đặt Lịch Hẹn
Xem Hồ Sơ