Welcome to the enchanting world of the Mekong Delta in Vietnam! Nestled in the southern part of the country, this captivating region is a treasure trove of natural wonders, cultural richness, and immersive experiences. 
As you embark on your journey through the Mekong Delta, be prepared to be mesmerized by sweeping rice fields, meandering waterways, lush orchards, and the vibrant river life that defines this unique destination. Whether you're seeking tranquility, adventure, or a deeper connection with local traditions, the Mekong Delta has it all. 
From exploring floating markets and cycling through picturesque landscapes to indulging in the warmth of homestay hospitality and discovering rare bird sanctuaries, every moment spent here is an invitation to embrace the beauty and authenticity of Vietnam's iconic Mekong Delta.
Get ready to create unforgettable memories and immerse yourself in the magic of this extraordinary tourist destination.
1. Introduction to Mekong Delta Vietnam
1.1. The Location of the Mekong Delta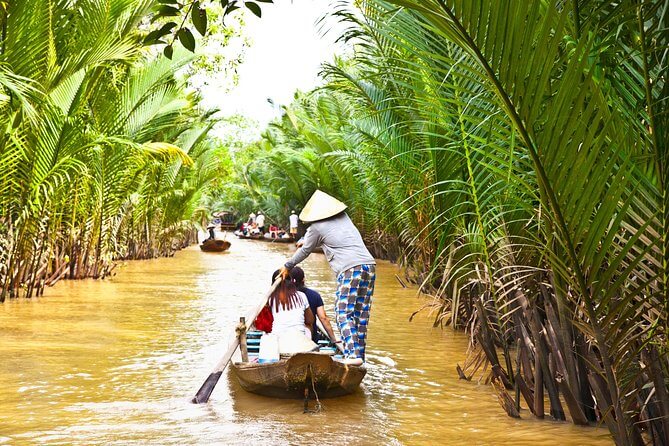 Situated in Vietnam, the Mekong Delta, also referred to as Mien Tay in Vietnamese, encompasses the expansive and fertile floodplains formed by the Mekong and Cuu Long rivers, creating a labyrinth of waterways. This captivating region comprises 13 provinces, including Can Tho, An Giang, Tien Giang, Kien Giang, Hau Giang, Long An, Tra Vinh, Soc Trang, Dong Thap, Vinh Long, Bac Lieu, Ca Mau, and Ben Tre. Spanning an area of approximately 40,547 square kilometers, the Mekong Delta holds immense agricultural significance, making it one of Vietnam's most vital agricultural regions.
1.2. Mekong Delta geography and weather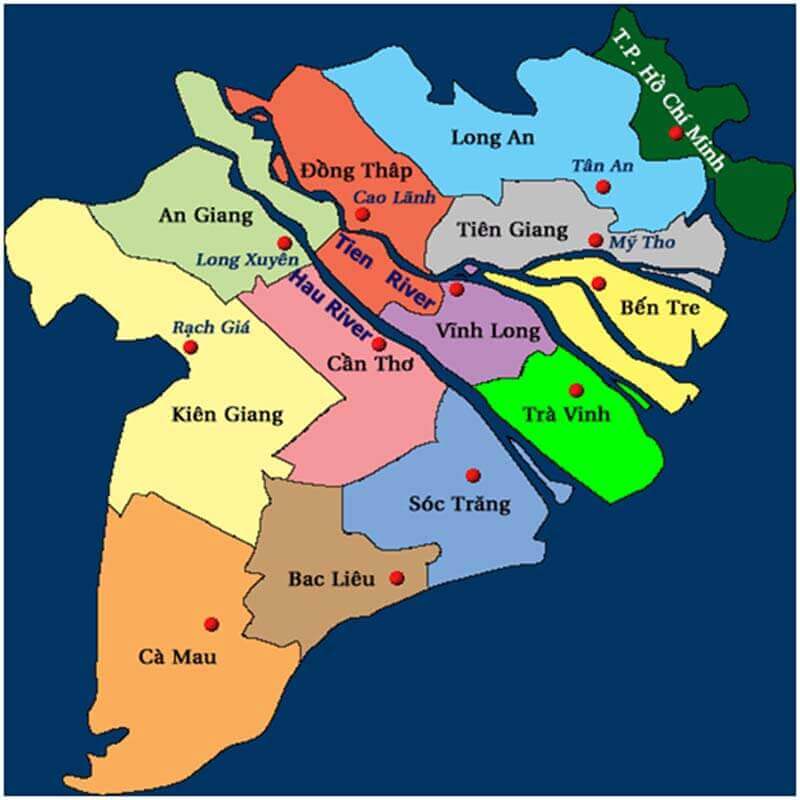 The Mekong Delta, a vast expanse of land, owes its formation to the interplay of alluvial sedimentation and fluctuations in sea levels. Over time, the combined forces of the river and sea have contributed to the creation of fertile alluvial soil as well as coastal saline soil. With an average elevation of approximately 3-5 meters above sea level, the delta area offers a favorable environment for agriculture, particularly rice cultivation, thanks to the abundant sediment brought by the river.
The tropical climate of the Mekong Delta ensures high humidity year-round, characterized by two distinct seasons: the wet season and the dry season. From May to October, the region experiences the wet season, while the dry season prevails from November to April. During the wet season, the delta is prone to severe storms and typhoons that can result in widespread damage and flooding. These natural occurrences pose challenges to the region's inhabitants and agriculture.
2. Is Mekong Delta worth visiting?
The people residing in the Mekong Delta Vietnam are renowned for their warm friendliness and hospitable nature, always ready to lend a helping hand to others. Their close-knit bond of brotherhood has been shaped by the rugged mountainous terrain that surrounds them.
The cultural fabric of the Mekong Delta is predominantly woven by its agricultural roots. With an abundance of rivers and waterways defining the landscape, water plays an integral role in every aspect of life. The Mekong Delta is celebrated for its distinct traditions of rice cultivation, vibrant floating markets, and unique farming practices.
The panoramic vista of the Mekong Delta is adorned by expansive rice paddies, enveloping the region in a vibrant green hue. Waterways form the lifeblood of this delta, where boats, floating houses, and the renowned floating markets traverse the rivers, canals, and streams. The delta harmoniously blends bustling towns brimming with commercial activities with serene countryside landscapes, where buffalo leisurely graze amidst the rice paddies.
The cuisine of the Mekong Delta boasts a distinctive flavor profile, influenced by the culinary styles of Cambodia and Thailand. Renowned for its bountiful freshwater fish, tropical fruits, and vegetables, the region offers a diverse array of dishes. Notably, the cuisine of the Western region is celebrated for its skillful use of fermented fish sauce, adding a depth of savory richness to many culinary creations.
3. TOP must-visit destinations for your Mekong Delta bucket list
3.1 Can Tho Mekong Delta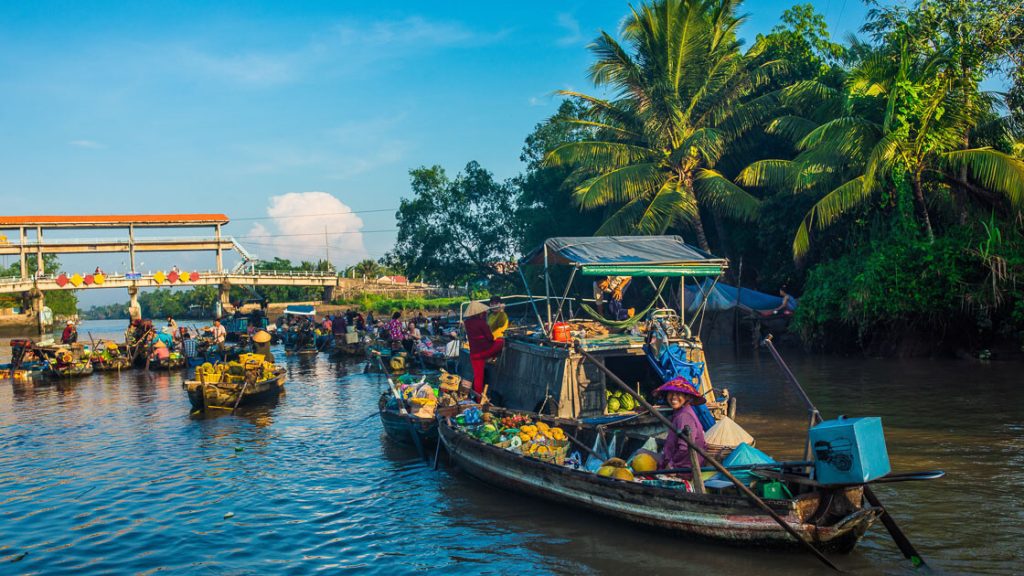 Can Tho serves as a bustling center for both commerce and tourism, offering visitors a multitude of captivating experiences. Tourists have the opportunity to delve into the vibrant atmosphere of the renowned floating markets, embark on boat excursions to fruit orchards, and explore numerous historic sites, including:
– Ninh Kieu Wharf: A revered symbol representing the remarkable progress and growth of the Mekong Delta region.
– Cai Rang floating market: A bustling hub of commercial activity, providing an ideal setting for shopping, dining, and capturing captivating photographs.
– Binh Thuy ancient house: A fascinating architectural marvel that harmoniously blends Eastern and Western design elements, resulting in a truly unique aesthetic.
3.2 Soc Trang: A Tapestry of Ethnic Diversity and Spiritual Harmony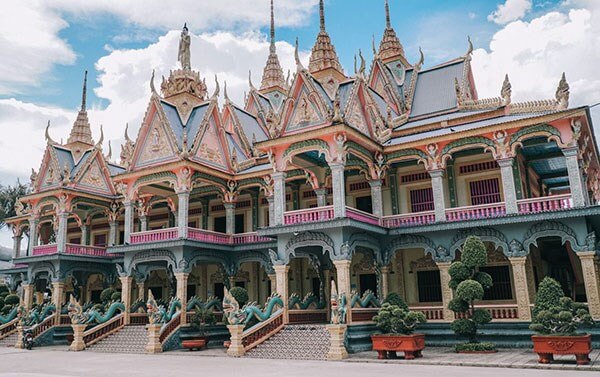 Soc Trang is renowned for its vibrant tapestry of ethnic groups and religious traditions that coexist harmoniously. The ancient temples found here serve as vibrant melting pots, blending the cultures and customs of the Kinh, Khmer, and Hoa ethnic groups. Notable attractions include the Chau Doc Floating Market, Khmer pagodas, Bat Pagoda, Kh'leang Pagoda, and more.
3.3 Kien Giang: A Diverse Province of Natural Splendor
Situated in the Southwestern region of Vietnam, Kien Giang province boasts a vast expanse, occupying the largest area within the Mekong Delta. This province offers a diverse range of landscapes, from sprawling plains to pristine primeval forests, hills, mountains, rivers, streams, and islands. Visitors to Kien Giang can explore a plethora of renowned tourist attractions, including Tranh Stream, Cau Palace, Sao Beach, and more.
Moreover, Kien Giang is synonymous with the enchanting allure of Phu Quoc Island. This island is celebrated for its pleasant year-round weather and stunning beaches. A visit to Phu Quoc is incomplete without experiencing the luxurious hospitality services offered at Vinpearl Phu Quoc.
3.4 Ca Mau: Nature's Haven in the Southernmost Region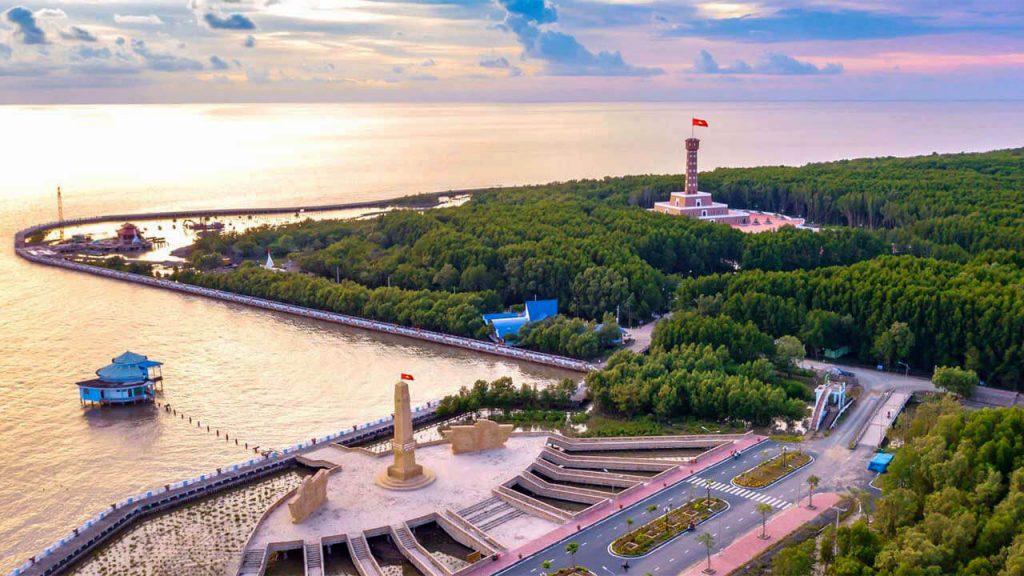 Ca Mau, situated in the southernmost part of Vietnam, is a province enveloped by the sea on three sides. Renowned for its untouched natural landscapes and ancient cultural heritage, Ca Mau offers visitors a unique experience. The iconic Dat Mui Landmark stands as a must-visit location, granting visitors the opportunity to witness the vast sea and captivating sunset vistas. Additionally, Ca Mau is home to other renowned tourist attractions, such as U Minh Ha Forest, Ca Mau bird gardens, and Hon Khoai Island.
3.5 Ben Tre: The Enchanting Kingdom of Coconuts
Nicknamed the "kingdom of coconut," Ben Tre is celebrated for its abundant coconut trees and an array of coconut-based products, including coconut candy and coconut oil. This province is famous for its ecotourism, agricultural tourism, and experiential tourism opportunities. Some of the notable tourist attractions in Ben Tre include Quy Islet, Phung Islet, Dao Dua Relic Site, and more.
3.6 An Giang: Natural Beauty and Historical Significance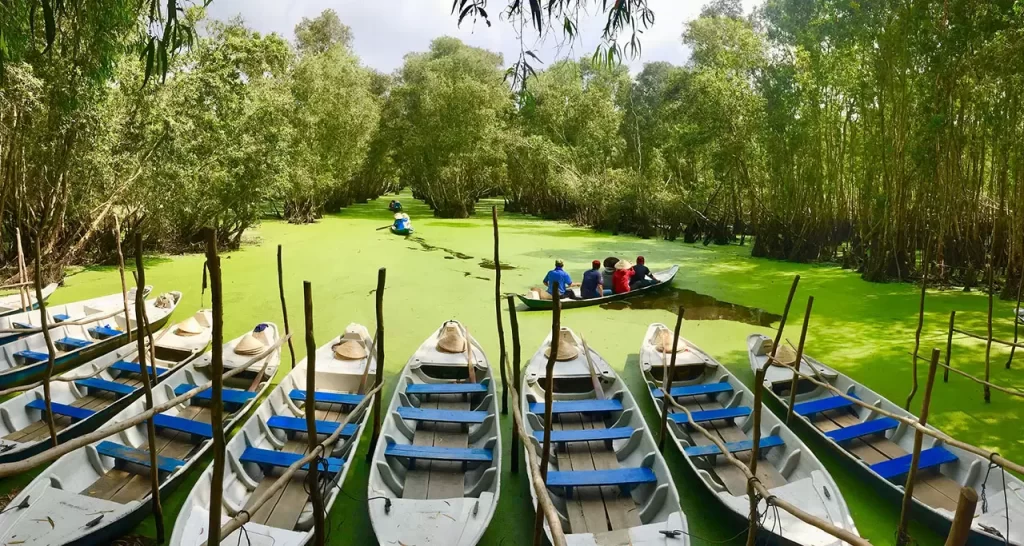 An Giang, another captivating province within the Mekong Delta, boasts a harmonious blend of natural splendor and historical significance. Visitors have the opportunity to immerse themselves in the enchanting Tra Su Cajuput Forest and leisurely navigate the tranquil canals during the floating season, which spans from September to November. The region's serene and poetic scenery is truly awe-inspiring. Noteworthy attractions in An Giang include the majestic Sam Mountain, Cam Mountain, That Son Range, and the captivating Chau Doc City.
3.7 Dong Thap: A Haven of Storks, Lotus Ponds, and Colorful Blooms
Dong Thap province is renowned for its exquisite landscapes adorned with fields teeming with storks and enchanting lotus ponds. The vibrant Sa Dec Flower Village showcases a kaleidoscope of colorful blooms, while Tram Chim National Park serves as a sanctuary for countless bird species. During the floating season, a serene boat ride through the streams in the early morning is the perfect escape from the weariness of daily life.
3.8 Bac Lieu: Tales of Wealth, Melodies, and Ancient Gardens
Bac Lieu is synonymous with the captivating tale of a wealthy yet extravagant man whose home has now transformed into a popular tourist attraction. Here, your itinerary should include indulging in the melodious tunes of Don Ca Tai Tu, witnessing Vietnam's largest wind farm, and exploring the ancient longan gardens and bird gardens. Moreover, don't miss the opportunity to visit Cu Lao Temple, one of the most splendid Khmer temples in the Mekong Delta.
You may also want to see >> Discovering the ancient town of Hoi An
4. Best Time To Visit Mekong Delta
The Mekong Delta experiences two distinct seasons: the dry season and the wet season. Both seasons have their own merits, and personal preferences may vary.
Dry Season: November to April
During the dry season, which extends from November to April, the region receives no rainfall. The period between December and January is particularly favorable, as humidity levels are at their lowest. Clear skies ensure delightful outings, and although the Mekong River reaches its lowest level, it remains impressively vast.
This is the peak tourist season, and you may encounter a significant number of visitors vying for the perfect photo at popular tourist spots. When we visited in the last week of December, it was not particularly cool, as the heat persists throughout. Be prepared for the ongoing heat during this time.
Wet Season: May to October
The wet season begins in May, bringing relief from the April heat as rains commence. From May to August, heavy rainfall occurs in the delta. However, most days still offer ample clear weather with intermittent episodes of downpours. It is important to manage the mud and humidity during this period.
Occasional flooding may render certain areas inaccessible to tourists. On the bright side, fewer tourists visit during this time, and the lush foliage displays vibrant shades of green, teeming with life.
5. 10 best things to do in Mekong Delta
Tourists are drawn to the Mekong Delta not only for its picturesque rice fields and the majestic Mekong River but also for the vibrant river life that defines the region. The local residents are known for their warm and welcoming nature. Alongside admiring the rice fields, visitors can savor a variety of colorful fruits, explore orchards and fish farms, visit floating markets and villages, participate in cooking sessions with the locals, or opt for a homestay experience in one of the many traditional villages.
Boat Trips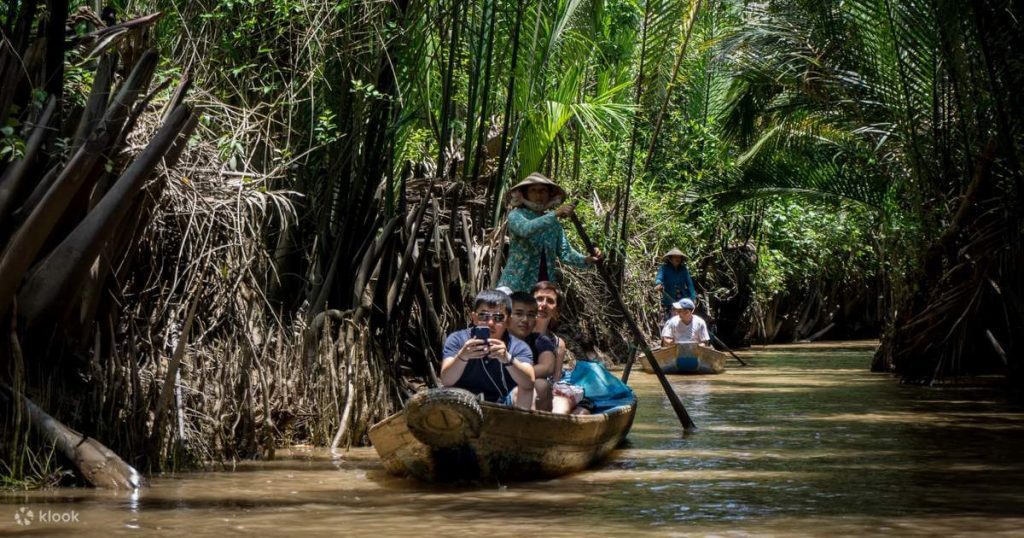 Embarking on a boat trip is the ultimate way to discover the wonders of the Mekong Delta. As you navigate through the intricate network of canals, shaded by coconut trees, you'll be treated to breathtaking views of lush orchards, rice fields, and local houses. Along the journey, you can visit floating markets or make stops at different spots to explore local factories, villages, or fruit orchards. There are various options for boat trips available. Motorized sloops are used on larger rivers to cover greater distances, while the smaller side canals offer the opportunity to enjoy a traditional sampan rowing boat, propelled by local experts.
Floating Markets
While the floating markets in the Mekong Delta may be a tourist attraction for us, they serve as the lifeblood of commerce and entrepreneurship for the local residents. These markets are bustling hubs where vendors utilize the river as a means to distribute and sell their goods.
With an abundance of rivers and fertile land in the delta, farmers and growers load their produce onto boats, selling and shipping them to urban centers. Witnessing a floating market, where dozens or even hundreds of boats converge, is an impressive sight and one of the must-see experiences in the Mekong Delta. The renowned Cai Rang floating market near Can Tho is the largest and most famous, while other notable floating markets to explore include Cai Be, Long Xuyen, Phong Dien, and Tra On.
Explore the Mekong Delta on Two Wheels
The Mekong Delta offers the perfect terrain for cycling enthusiasts, with its pancake-flat landscape and an extensive network of countryside roads that connect villages, local factories, rice fields, and fruit orchards. These rural roads are pleasantly devoid of traffic, making it an ideal destination for cycling in Vietnam.
Most accommodations in the countryside provide complimentary bicycles for guests to borrow. You can choose to venture out on your own or join a guided tour. Either way, you'll be treated to stunning landscapes, encounter friendly locals, and enjoy the tranquility of the quiet roads. Due to the abundance of rivers and canals, you may come across ferry crossings or locally constructed bridges along the way.
Tra Su Indigo Forest
Within the Mekong Delta, you'll encounter unique vegetation and natural wonders. One such place is the mesmerizing Tra Su Indigo Forest. This flooded forest is home to a plethora of rare fauna species, some of which are classified as endangered. Exploring this enchanting forest is made possible by motorized boats that glide through its waters. Along the journey, you'll have the opportunity to capture beautiful photographs and spot various bird species.
Experience Homestay Hospitality
Indulging in a homestay experience is the ultimate way to unwind, immerse yourself in the serene life of the Mekong Delta, and gain deeper insights into the local culture.
One of the key advantages of a homestay is the personal touch it offers. You'll have the opportunity to stay with a local family, allowing you to learn more about their culture and way of life. Rest assured, comfort is not compromised, as some homestays offer luxurious amenities, and you may even find accommodations with swimming pools, ensuring a delightful and relaxing stay.
     6. Tram Chim National Park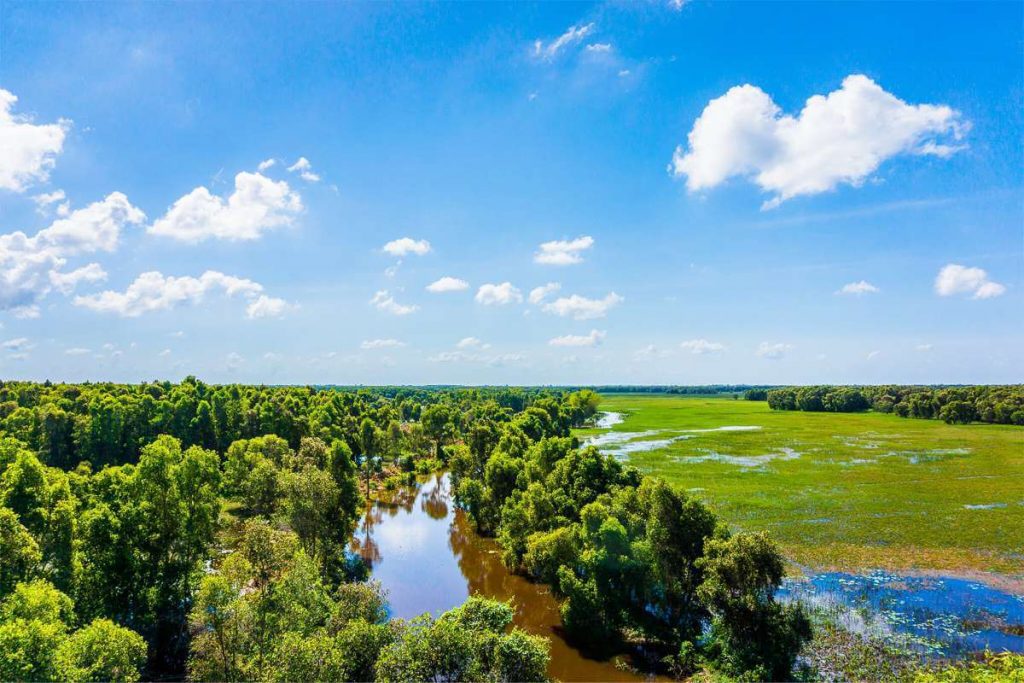 Tram Chim National Park is a remarkable reservoir of biodiversity, hosting an impressive quarter of Vietnam's bird population. This distinction positions it among the finest national parks in the country.
Birdwatching, in general, ranks high among the top activities to partake in when exploring the Mekong Delta. The region offers abundant opportunities to encounter rare bird species, with vast expanses of protected reserves dedicated to their preservation. Tram Chim National Park, located in Dong Thap province near the cities of Chau Doc and Long Xuyen, presents a unique submerged in-land ecosystem that can be explored by boat.
Fruit Picking Delight
With the Mekong Delta contributing 70% of Vietnam's fruit production, the region is dotted with numerous fruit orchards across its provinces. While biking or boating through the area, you can make delightful stops at these orchards, allowing you to handpick and savor the fruits of your choice.
Ascend Sam Mountain
Sam Mountain, more akin to a hill than a mountain, boasts a multitude of pagodas, tombs, and even a temple along its ascent. The hill offers picturesque vistas of rice fields, stilt villages, and lush greenery. Situated in An Giang province near Chau Doc and the Cambodian border, this pilgrimage site offers a serene and scenic experience.
Bang Lang Stork Garden: A Haven for Storks
Nestled amidst vast rice fields and the Can Tho canals, the Bang Lang Stork Garden stands as one of the premier sanctuaries for storks in the Mekong Delta. To fully appreciate the avian wonders and explore the reserve, embarking on a boat trip through the nature reserve remains the optimal choice.
Vinh Trang Pagoda: A Cultural Gem
Exploring the multitude of temples and pagodas is an essential part of any Mekong Delta experience. Among the region's notable landmarks, the Vinh Trang Pagoda takes center stage. Established in 1849, this renowned pagoda showcases a harmonious blend of Chinese, Vietnamese, Khmer, and European architectural influences. Adorned with various Buddha statues, this cultural gem is located a mere 5 km from My Tho, in Tien Giang province.
BEDENTAL - TOP STANDARD DENTISTRY SYSTEM
In HANOI
Address 1: 7B Thi Sach St, Ngo Thi Nham, Hai Ba Trung Dist, Ha Noi. - 0934.61.9090
Address 2: 343 Tay Son St, Nga Tu So Ward, Dong Da Dist, Ha Noi. (Nga Tu So Cross) - 0934.61.9090
Address 3: CC2 Tower  Nguyen Huu Tho St, Dinh Cong Ward, Hoang Mai Dist, Ha Noi. (Inside True Hope ) - 0934.61.9090
In HO CHI MINH
Address 1: 140 Nguyen Van Thu St, Da Kao, Dist. 1, Ho Chi Minh. - 0766.00.8080
Address2: 25, City Land urban area, Go Vap Dist, Ho Chi Minh - 0766.00.8080
Working: 9am - 9pm everyday
Tư vấn chuyên môn bài viết:
BÁC SĨ DƯƠNG THỊ THÙY NGA
Bác sĩ chỉnh nha tổng hợp
Ngôn ngữ giao tiếp: Tiếng Việt, Tiếng Anh, Tiếng Nga
Đặt Lịch Hẹn
Xem Hồ Sơ