Top 10 unusual foods to try in Vietnam
Vietnam boasts a rich and diverse culinary heritage, offering a wide array of delightful dishes. However, there are certain Vietnamese delicacies that might require a bit of courage for adventurous eaters. In this post, we'll introduce you to a list of ten of the most unusual and unconventional dishes in Vietnam, guaranteed to leave a lasting impression on any curious traveler.
Top 10 unusual foods to try in Vietnam: The blood pudding (Tiet Canh)
Tiet Canh, also known as blood pudding, is a unique Vietnamese dish made primarily from animal blood. To prevent premature coagulation, the blood is typically mixed with fish sauce or diluted salt water. Afterward, chopped animal innards or meat are added to facilitate the coagulation of the blood.
When enjoying this dish, diners often enhance its flavors by adding roasted peanuts and a variety of chopped herbs like lemon and mint.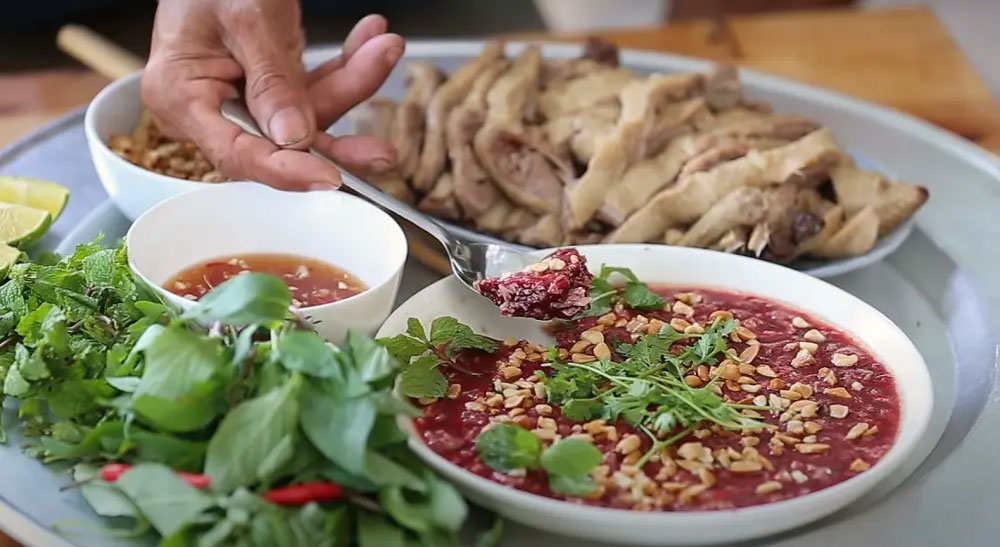 Vietnamese cuisine features two popular types of blood pudding: pig blood pudding and duck blood pudding. However, this dish can also be prepared using the blood of other animals, including goose, goat, snake, and even seafood like crab or lobster.
Tiet Canh holds a special place in Vietnamese culinary culture, enjoyed from the northern to the southern regions of the country. Its unique preparation and somewhat intimidating appearance have earned it a reputation as one of the world's most unusual and unconventional dishes.
Top 10 unusual foods to try in Vietnam: Nem Chua (Vietnamese Fermented Pork Roll)
Nem Chua, a beloved dish for many, is renowned for its unique and distinctive flavor. This dish is crafted from fresh pork, mixed with "thính," a Vietnamese spice derived from rice, along with garlic and chili. After a three-day fermentation process, Nem Chua is ready to be served.
In recent times, especially in certain areas of Hanoi, Nem Chua has become a popular accompaniment for alcoholic beverages. To make it more suitable for pairing with drinks, Nem Chua is often grilled and fried. This preparation enhances its allure, as the dish exudes an enticing aroma that can be smelled from quite a distance.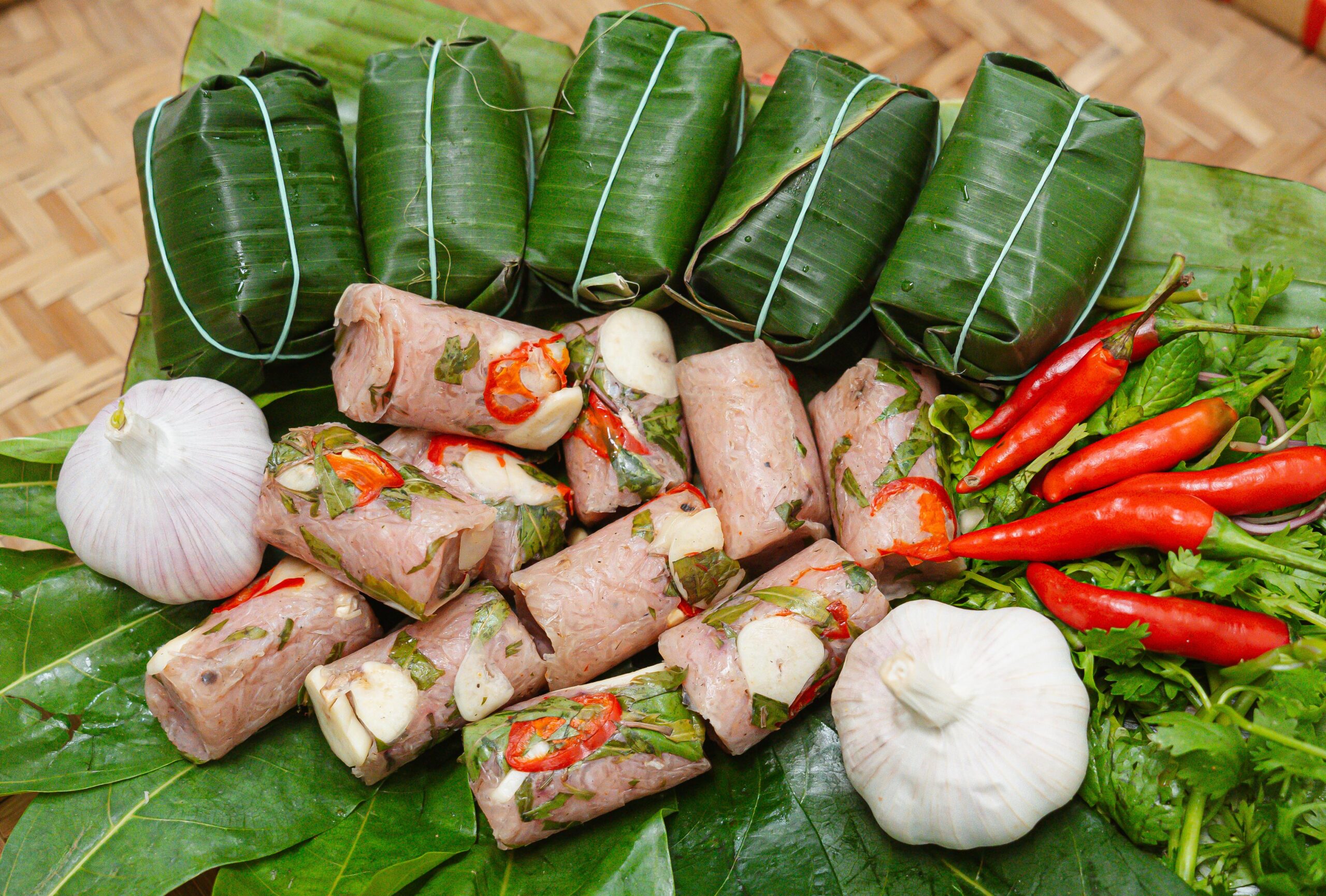 It's worth noting that some Southeast Asian countries have their own versions of this dish, sharing the same tantalizing taste and fragrance. In Laos, it's known as "Som mou," while in Thailand, it goes by the name "naem" (nham). These variations reflect the culinary diversity and shared appreciation for this unique and flavorful dish across the region.
Top 10 unusual foods to try in Vietnam: Balut (Duck embryo)
Balut is used to call a developing duck embryo. This dish is quite common in Southeast Asian countries. The balut will be boiled and served with some kinds of vegetables. In Vietnam, boiled balut is a popular dish, which is mainly sold by the street vendors or served in common food stalls.
Each region of this country has its own unique way of enjoying the balut.
One of the easier entries to 'strange' food in Vietnam. Fertilized duck eggs are eggs in which the bird embryo is already partly formed, although it is not always visible as an actual bird (depending on the stage of development). It is appreciated as a rich source of protein and Vietnamese children are served them for breakfast. They can be enjoyed with basil leaves and salted lime chili sauces.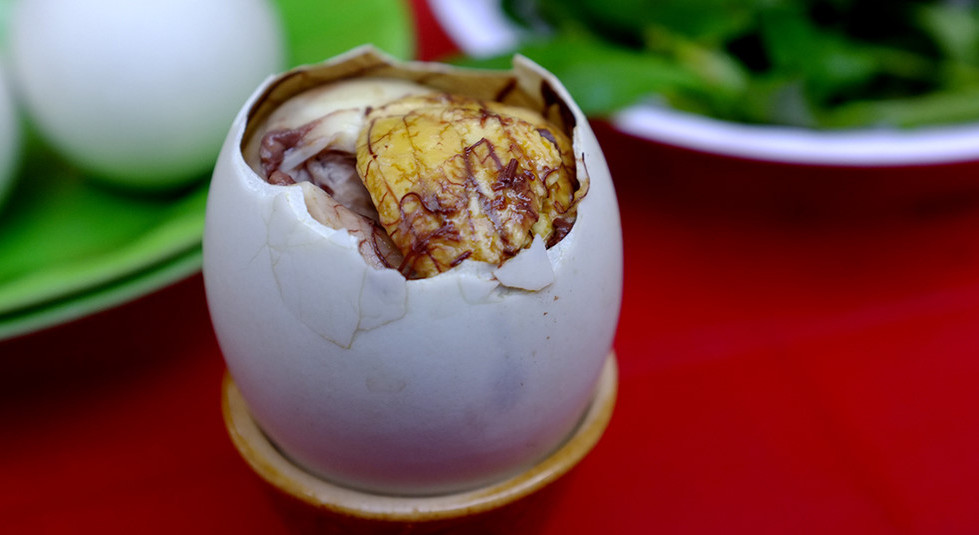 If you're too intimidated by the big duck egg, another variant is Trung Cut Lon: fertilized quail eggs, these are smaller, so easier to eat. A very popular way to serve is warmed up in tamarind and lemongrass sauce (Trung Cut Lon Xao Me) – a dish commonly served in the afternoon.
The foreigners may find this dish quite weird and refuse to try it. The reason for this may be the full development of the duck embryo. This dish may be so terrifying that it usually appears in the show Fear Factor.
Top 10 unusual foods to try in Vietnam: Sa Sung (peanut worms)
The peanut worm may initially alarm many due to its unsettling appearance, but the culinary delight derived from this creature is simply irresistible.
Despite resembling other types of worms, peanut worms are notably larger and primarily consist of sand within their innards. These creatures typically inhabit deep underground caves.
In Vietnam, peanut worms find their way to the dining table. They are commonly grilled and served with a tantalizing combination of salt, chili, and zesty lemon juice. Alternatively, they can be marinated with salt and chili before hitting the grill. Many restaurants consider this dish an enticing snack, often pairing it with a refreshing beer. When prepared, peanut worms offer a unique culinary experience. They are crunchy, tender yet surprisingly resilient, and possess a distinct and captivating flavor profile.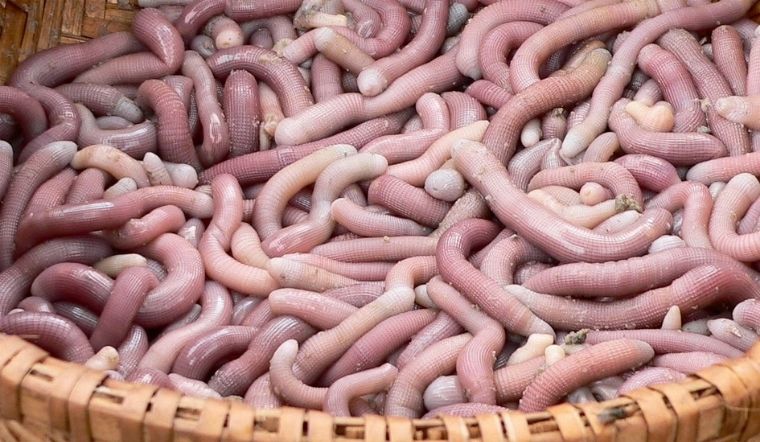 While the peanut worm's appearance may be unsettling at first glance, its potential to delight the palate is a testament to the diverse and adventurous nature of Vietnamese cuisine.
Top 10 unusual foods to try in Vietnam: The coconut beetle-larva
In the southern region of Vietnam, coconut beetle larvae are a unique culinary delicacy often consumed live, accompanied by fish sauce. Additionally, they are prepared in various ways, including drying, grilling, boiling, or cooking with steamed glutinous rice.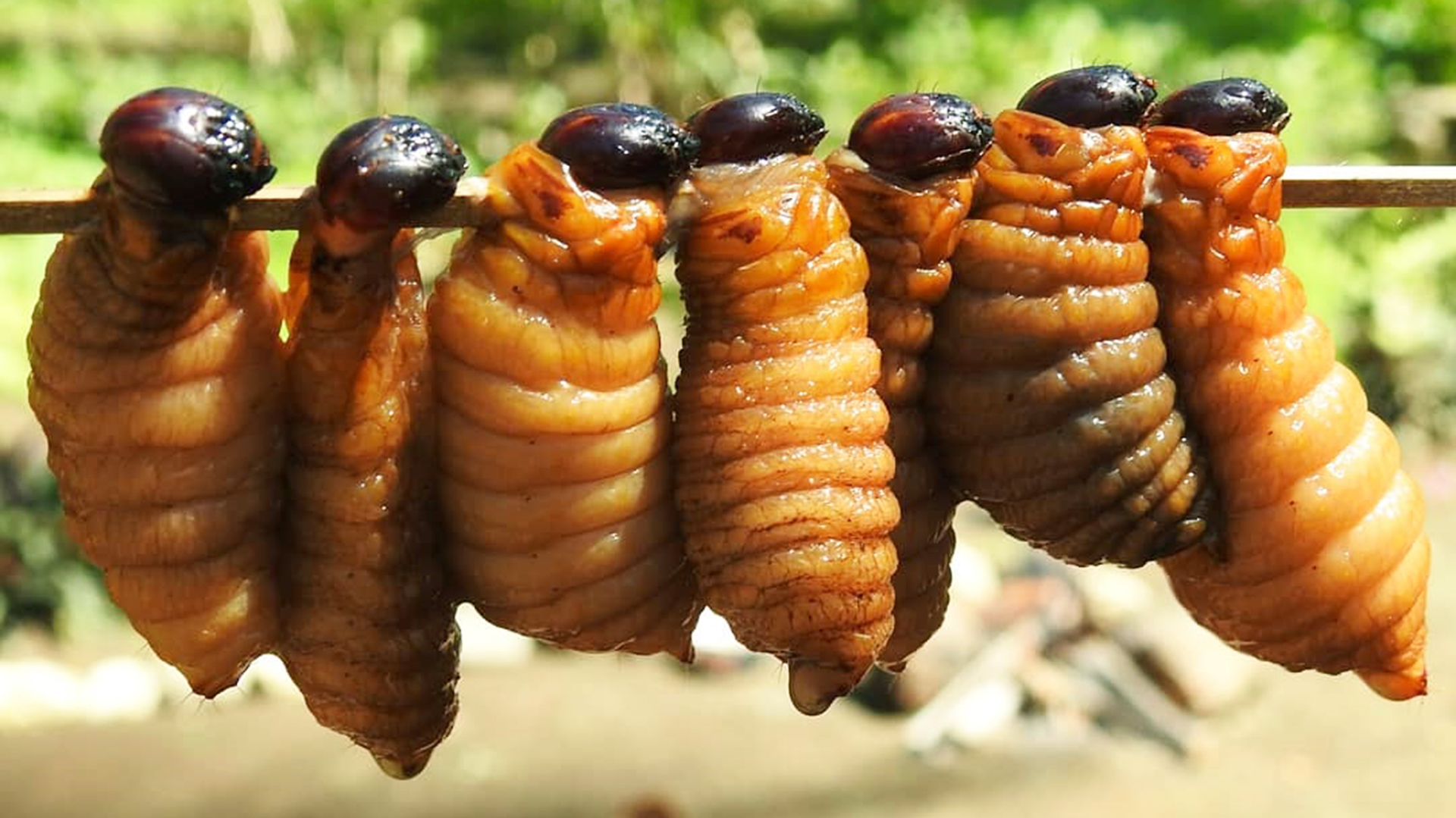 These larvae typically inhabit coconut stems, making them relatively clean and rich in nutritious proteins. Their size is comparable to an adult's thumb, measuring approximately 3 to 5 centimeters in length.
While the appearance of coconut beetle larvae may be unsettling to some, dishes featuring these larvae are surprisingly common and can be found in both luxurious restaurants and humble street food stalls in both Ho Chi Minh City and Hanoi. The bold and adventurous flavors of Vietnamese cuisine encompass a wide range of ingredients, and the coconut beetle larvae are a testament to the country's culinary diversity and creativity.
Top 10 unusual foods to try in Vietnam: Fried white cricket
Fried white cricket is a beloved delicacy among the Vietnamese, often enjoyed as a delightful accompaniment to beer or wine.
The flavor of the cricket is remarkably delicious, often drawing comparisons to the taste of shrimp and crab. Additionally, white crickets are believed to possess medicinal properties, with the ability to alleviate aches, combat obesity, and address rheumatism.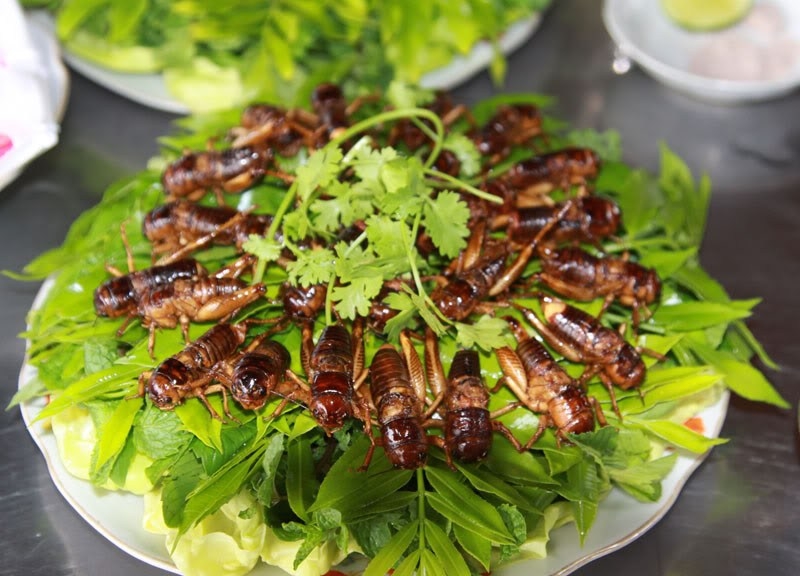 These crickets are distinguished by their white legs, which are considered even more delectable than those of other cricket species. When served, this dish is complemented with aromatic lemon leaves and finely chopped pork, enhancing the overall culinary experience.
Top 10 unusual foods to try in Vietnam: Chan Ga (Chicken feet)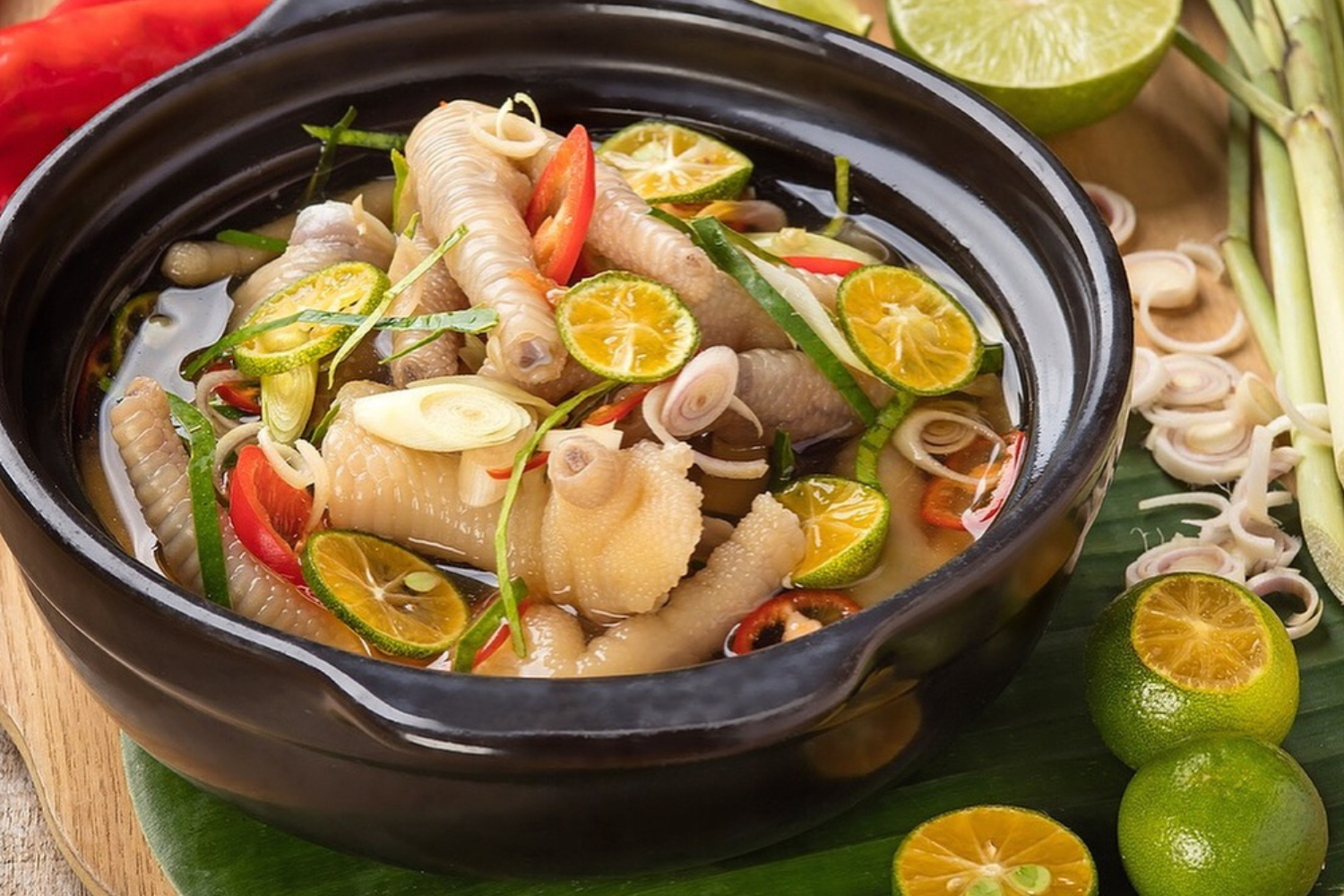 Chicken feet, often served with a side bowl of chili sauce, are a prevalent and readily available dish throughout Vietnam. Despite their affordability, they are regarded as a delicacy in Vietnamese cuisine.
These chicken feet can be prepared in various ways. One popular method involves frying them with a tantalizing blend of chili and honey sauce, creating a sweet and spicy flavor profile. Alternatively, they can be boiled and served with a fragrant mixture of ginger and lemongrass, prepared in a traditional seasoning style. Typically, chicken feet are ordered as a side dish to accompany hot-pot meals.
Interestingly, some Vietnamese villages specialize in raising chickens with exceptionally large feet, catering to the demand for this particular delicacy. Whether fried, boiled, or enjoyed in a hot-pot, chicken feet continue to be a cherished and unique culinary offering in Vietnamese dining.
Top 10 unusual foods to try in Vietnam: Mouse
Certainly, mice have found their place in Vietnamese cuisine, particularly in the northern regions, where mouse-based dishes hold a special significance during important occasions.
What's intriguing is that certain mouse dishes are elevated to the status of luxurious culinary offerings in various localities. It's not uncommon for some of these dishes to command relatively high prices, with a single plate costing more than 100,000 VND, approximately equivalent to 5 USD. The culinary repertoire featuring mouse meat is remarkably diverse, encompassing over 30 distinct dishes. These include preparations like grilled mouse, steamed mouse with fragrant lemon leaves, stir-fried mouse with aromatic garlic and onions, and crispy fried mouse seasoned with salt, among others.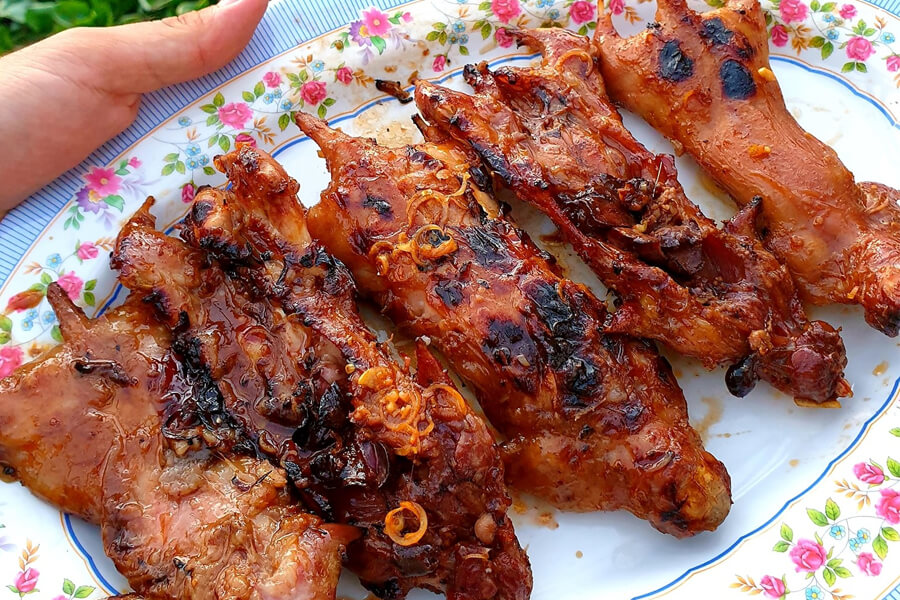 Despite its unconventional nature, mouse meat has secured a distinctive place within Vietnamese cuisine. Its presence highlights the country's culinary diversity and showcases the ingenuity of Vietnamese chefs and cooks who have crafted a variety of delightful dishes from this unique ingredient.
Top 10 unusual foods to try in Vietnam: Fermented Shrimp paste
Fermented shrimp paste is a Vietnamese culinary staple, created by combining shrimp and salt and relying on the unique enzymatic process inherent to shrimp to develop its distinct and flavorful profile. This paste plays a pivotal role in Vietnamese cuisine and is a prominent ingredient in various dishes, such as Bun dau mam tom, which pairs fermented shrimp paste with fried tofu and rice vermicelli.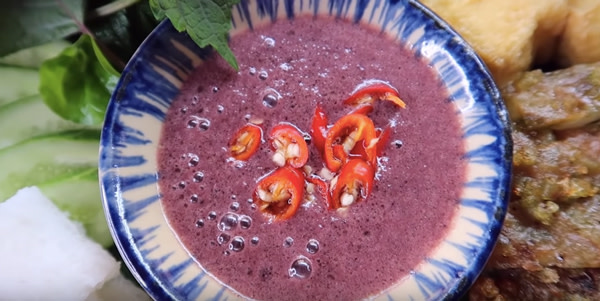 For foreigners, this dish can often appear unfamiliar, and its aroma may present a challenge to some palates. However, with a bit of culinary exploration and an open-minded approach, many discover that after trying the dish a few times, they develop an appreciation for its unique and enticing flavors. It's a testament to the diversity and complexity of Vietnamese cuisine, which offers a wide range of flavors and experiences waiting to be discovered.
Top 10 unusual foods to try in Vietnam: Snake dish
Vietnam's tropical climate indeed fosters a diverse range of reptiles, including several snake species. However, in Vietnamese cuisine, only specific snake species are commonly used as ingredients. These include the Chinese cobra, Banded krait, and Chinese rat snake. These snakes are sometimes used in traditional dishes and preparations, particularly in certain regions of Vietnam where snake dishes are considered a delicacy. Snake dishes are often believed to have health benefits and are enjoyed on special occasions or as a part of traditional festivities.
The process of a chef using a knife to kill a snake can indeed be unsettling for many foreigners, as it is a vivid and dramatic aspect of preparing snake dishes in some Vietnamese culinary traditions. Additionally, the scent of snake blood and the taste of snake wine can create an intense and somewhat challenging sensory experience that may not be to everyone's liking.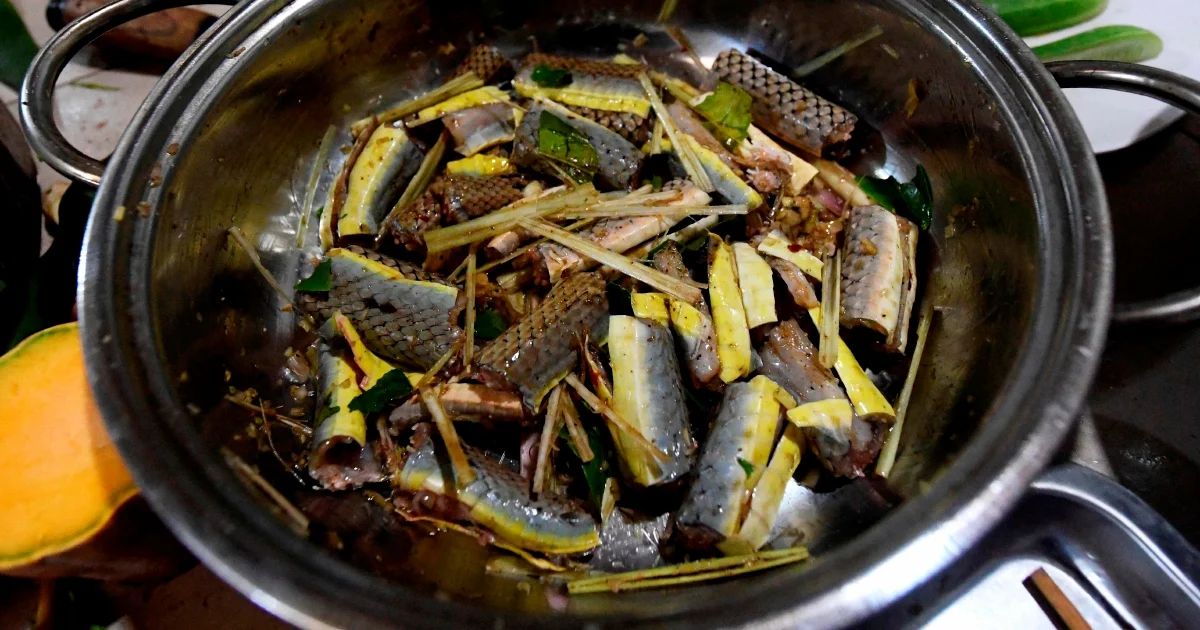 These factors can be significant barriers for foreigners who are trying snake dishes for the first time. However, it's worth noting that such culinary experiences are an integral part of certain Vietnamese cultural practices and traditions, and while they may not appeal to everyone, they contribute to the rich tapestry of Vietnamese cuisine.
Indeed, Vietnam's culinary landscape is characterized by its originality, intrigue, enchantment, and even an element of danger. The unusual treats found throughout the country offer a unique and thrilling dining experience.
When venturing into the realm of these unconventional delicacies, it's essential to approach them with a sense of adventure and an open mind. Overthinking or dwelling too much on the unfamiliar aspects of these dishes can diminish the enjoyment of the experience. Instead, the key is to relax and take that bold bite. Once you push past the initial hesitations, you may find these unusual dishes unexpectedly captivating and truly mind-blowing. It's all part of the adventure of exploring the diverse and exciting world of Vietnamese cuisine.
Tư vấn chuyên môn bài viết:
BÁC SĨ DƯƠNG THỊ THÙY NGA
Bác sĩ chỉnh nha tổng hợp
Ngôn ngữ giao tiếp: Tiếng Việt, Tiếng Anh, Tiếng Nga
Đặt Lịch Hẹn
Xem Hồ Sơ
BEDENTAL – HỆ THỐNG NHA KHOA TIÊU CHUẨN HÀNG ĐẦU
CHI NHÁNH HÀ NỘI
CS1: 7B Thi Sách, Ngô Thì Nhậm, Hai Bà Trưng, Hà Nội - 0934.61.9090
CS2: 343 Tây Sơn, Ngã Tư Sở, Đống Đa, Hà nội ( nút giao ngã tư sở) - 0934.61.9090
CS3: Tòa nhà CC2, Nguyễn Hữu Thọ, Hoàng Mai, Hà Nội (Bên trong Truehope) - 0934.61.9090
CHI NHÁNH TP.HỒ CHÍ MINH (HCM)
CS1: 140 Nguyễn Văn Thủ, Đa Kao, Quận 1, Tp.Hồ Chí Minh - 0766.00.8080
CS2 :Số 25, đường số 7 khu đô thị Cityland Gò Vấp (Ngõ 672A Phan Văn Trị), Gò Vấp, TP Hồ Chí Minh, Việt Nam -  093 181 0680
GIỜ HOẠT ĐỘNG:
09h00 – 21h00. Tất cả các ngày trong tuần
Website
:
https://bedental.vn/