Food guide: Top 12 Must-try Dishes in Hanoi. Hanoi 36 streets with long-standing culinary culture has never disappointed diners near and far. With the combination of ingredients and meticulous processing, Ha Thanh delicacies are always the focus of anyone's attention.
Delving into Hanoi's dynamic food scene is a captivating adventure that guarantees to excite your taste senses with a diverse range of tastes and mouthfeel experiences. As the heart of Vietnamese cuisine, the capital city beckons food lovers with an abundant selection of essential dishes that embody the very soul of the country's culinary tradition. From lively street vendors to charming local cafes, we present the finest 12 dishes you simply can't miss in Hanoi, all of which will undoubtedly create lasting impressions on your culinary memories.
Pho
Referring to Hanoi, it is impossible not to mention pho; From noodle soup, stir-fried pho to pho roll, from chicken noodle soup to beef noodle soup, from rare, encrusted to cooked. As if eating pho for a whole month won't make you bored because there are so many options.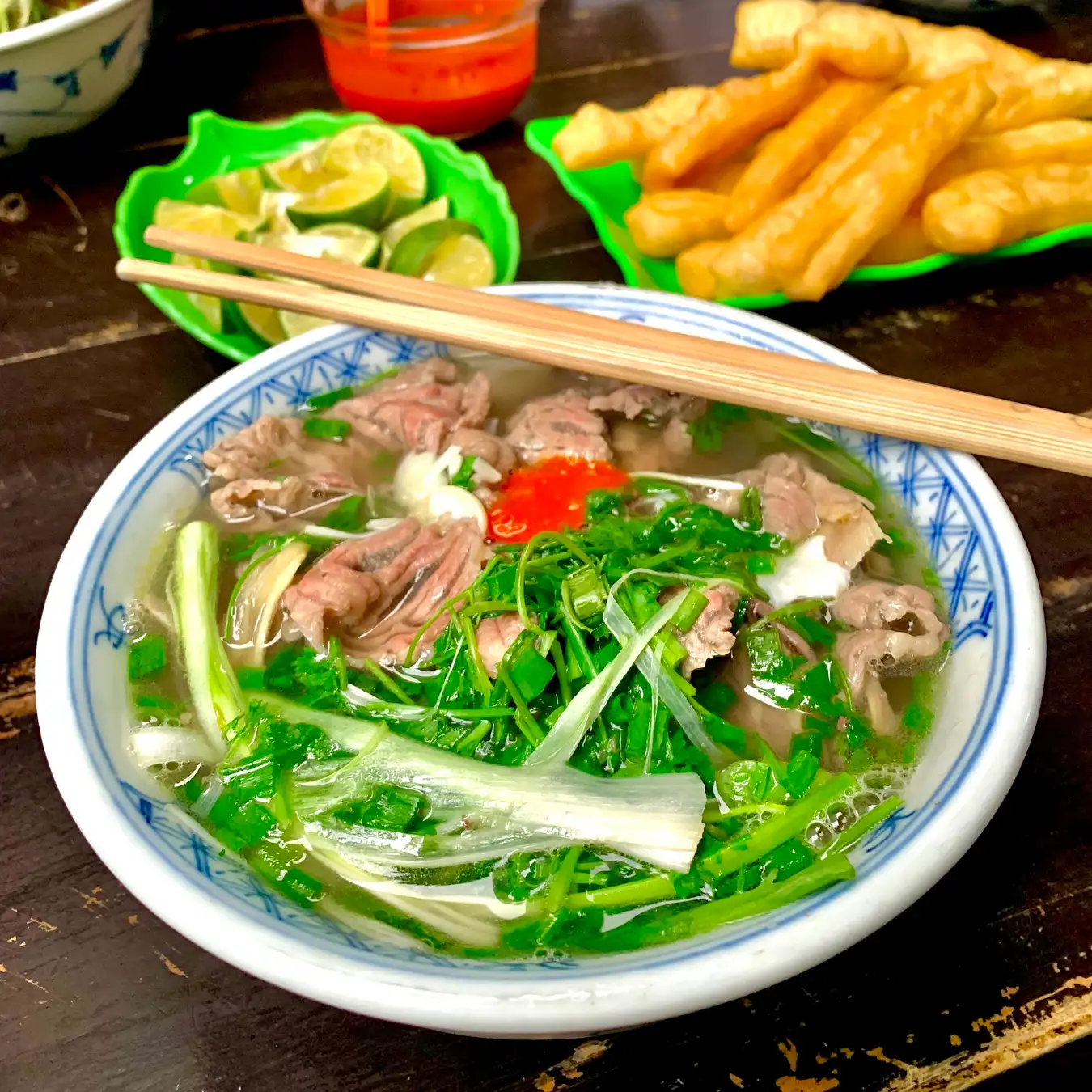 Some places to eat delicious pho that you can check out:
Pho Bat Dan: address at 49 Bat Dan, the shop opens in the morning from 6:30 to 8:30, price is about 30,000 VND – 55,000 VND / bowl.

Pho Thin: 13 Lo Duc Street, open from 5 am to 9 pm, price is about 40,000 VND – 60,000 VND / bowl.

Pho Ly Quoc Su: priced at about 50,000 VND – 77,000 VND / bowl, opening hours 6am to 2pm and 17:30 to 10pm. You can find it at 3 addresses: Address 1: No. 10 Ly Quoc Su – Address 2: 42 Hang Voi – Address 3: N2A Hoang Minh Giam

Pho Sung: has 2 addresses, Trung Yen Alley, Dinh Liet Street (Old Quarter) OR Nguyen Hong, the price is about 40,000 VND – 55,000 VND / bowl.

Huong Mai Pho roll: 25 Ngu Xa, price about 20,000 VND – 55,000 VND / dish
Bun thang
For me, bun thang is a dish that fully converges the meticulous "personality" of Hanoi people.This dish is a perfect blend of color, flavor, as well as presentation, yellow color. of sliced fried eggs, the white of the ham, the green of the sliced onions in harmony with the brown color of mushrooms, all have created a delicate and flavorful dish of Ha Thanh. Need to see the bowl of bun thang also want to pick up chopsticks to try a piece to see how it tastes.
Some bun thang addresses that you can visit when coming to Hanoi:
Cau Go vermicelli: there is no specific address because along Cau Go street are dozens of busy bun thang shops, the best ones are 32 and 48 Cau Go. The price of a bowl of vermicelli varies from 30,000 VND to 55,000 VND.

Bun thang Hang Hom: 11 Hang Hom, quite cheap price about 20,000 VND – 35,000 VND / bowl.

Bun thang Giang Vo: This noodle shop is a bit hard to find, located modestly at the beginning of D2 Giang Vo house, priced at about 40,000 VND / bowl.
Bun oc chuoi dau
Banana bean vermicelli is a typical dish of Hanoians; This dish becomes special because of the sophisticated sophistication in its processing as well as its unmistakable wonderful taste. You can feel the greasy taste of each snail, the crispy taste of the golden fried beans, the sour and spicy taste of the chili and the broth when you try the first piece of vermicelli. The taste of the dish is more rich and round when served with green bananas, few raw vegetables or split water spinach.
Bun dau mam tom
Shrimp noodle soup with shrimp paste from the beginning was just a street food for poor workers, but gradually this dish conquered even the most luxurious diners with its own bold and unique taste.
Referring to the noodle with shrimp paste and shrimp, Hanoi people will immediately remember the restaurant of Bun Dau with shrimp paste and shrimp in Hang Khay or Phat Loc alley – a familiar address for gourmets who have escaped from Hanoi.
Bun Dau Hang Khay: Lane 31 Hang Khay, this alley is super small but can't stop the footsteps of curious diners coming here to enjoy the food. Open from 10:30 to 21:00 daily, a serving is about 45,000 VND.

Trung Huong bean vermicelli: Phat Loc lane, price from 20,000 VND – 50,000 VND / serving.
In addition, you can also go to some other addresses such as:
Cay Bang shrimp paste vermicelli: Dai La, open from 10am to 2pm, price 30,000 VND / full bowl, free parking.

Original Ngo Gach bean vermicelli: 50,000 VND / serving, full of vermicelli, beans, fried rice, boiled meat; Shop from 10am.

Grilled bean vermicelli noodles in Hoang Cau area: lane 16 Hoang Cau, price 60,000 VND / plate, open for sale from 10am to 2pm.
Bun Cha Hanoi is so famous, what else is there, this is a popular dish that made US President Obama fascinated during his visit to Vietnam this year. So I guess I don't need to introduce much to you about this dish anymore, let's go straight to the famous delicious bun cha restaurants in Hanoi.
Bun Cha Huong Lien: Le Van Huu – Bun Cha restaurant that President Obama visited to eat, priced at about 40,000 VND / serving.

Bun Cha Dac Kim: No. 1 Hang Manh, Hang Gai, Hoan Kiem Hang Gai Hoan Kiem Hanoi, the price here is a bit expensive 50,000 VND – 60,000 VND / serving but in return a lot of meat is tired.
Best Things To Do At Night In Hanoi – 10 Activities To Do For Unforgettable Nights
Sticky rice
Like pho, Hanoi has a lot of different sticky rice dishes, usually salty sticky rice, sweet sticky rice like Saigon has very few. These are sticky rice, corn sticky rice, sticky rice, sticky rice, all creating a diverse and unique color for the rich "sticky cuisine" of Hanoi.
Hanoi has a lot of sticky rice regardless of day and night, find a roadside sticky rice shop or from a lady selling sticky rice roaming on a bicycle. But to be sure to have delicious sticky rice, please visit one of the following addresses:
Xoi Yen: The most famous sticky rice restaurant in Hanoi is at 35B Nguyen Huu Huan, Ly Thai To, Hoan Kiem, Hanoi. This sticky rice shop is open from early morning until late at night (1pm), so you can come and eat anytime on an empty stomach. The price is about 35,000 VND to 44,000 VND / serving.

Truong Chinh sticky rice: near the intersection with Nga Tu So, open from 18:00 to midnight, selling price is 25,000 VND – 35,000 VND / serving.
Banh cuon
Hanoi-style banh cuon can be said to be a combination of wet cake and Saigon's banh cuon. Going to Hanoi without enjoying a plate of delicious hot spring rolls is a waste! You will hardly be able to refuse this dish, I promise to eat a second plate.
Some banh cuon shops that you can visit are:
Thanh Tri roll cake – Thanh Tri ward, Hoang Mai – the most famous place to sell this cake, priced at about 30,000 VND / plate.

Hang Ga roll cake – 14 Hang Ga, Hoan Kiem, Hanoi, price about 20,000 VND – 45,000 VND.

Ba Hoanh roll cake – 66 To Hien Thanh, Hai Ba Trung district, price for 1 plate is 30,000 VND

Gia An roll cake – 25 Thai Phien, Hai Ba Trung district, price about 29,000 VND – 54,000 VND / plate, the space here is suitable for families or large groups of friends.
Wonton noodles 
Wonton noodles is a dish that can be found anywhere in Hanoi, from small streets to luxury restaurants. This dish is quite nutritious, the sweet broth blends with the fresh taste of the noodles and the hot aroma of the dumplings, creating a roundness that is hard to resist.
The famous wonton noodle shops of Hanoi you can visit when you have the opportunity are:
Dinh Liet wonton noodles at 9 Dinh Liet, Hoan Kiem district, price is 40,000 VND / bowl, this restaurant is quite spacious and airy, suitable for mobile.

Van Than and Cao Thang Huyen Noodles, 125 Mai Hac De, District Hai Ba Trung, price 40,000 VND / bowl, open from early morning to 22h.

Hoang Map wonton noodles at 107 Thai Thinh, Dong Da, price about 30,000 VND – 40,000 VND / bowl depending on the shrimp you order more.

Noodles Van Than 4c Lo Duc, Hai Ba Trung District, Hanoi, this is a roadside restaurant but always crowded, priced at 40,000 VND / bowl.
Chicken noodles
I have also known about chicken noodle soup about 4 years ago but have been fascinated by this dish. When it's cold and cold, I want to invite my husband to eat to warm my stomach. The package of noodles becomes more delicious than ever with the broth from chicken with traditional Chinese medicine.
I have tried this dish in many shops and one of my favorites is the intersection of Hang Bo – Luong Van Can. This shop is small, but it has more than 20 years of sales. The fried chicken here is quite delicious and not boring. 1 bowl costs 50,000 VND, you have to pay 10,000 VND more for parking.
In addition, you can go to other famous shops such as:
Cay Si, Tong Duy Tan, open from 9am to 23h30, price from 65,000 VND – 100,000 VND.

Hang Cot Chicken Noodles, the shop is open from 6 am to 11 pm, the price of each type of chicken is from 50,000 VND – 80,000 VND / bowl.
Cha ca La Vong
La Vong grilled fish  in Hanoi easily captivates diners by its crispy golden appearance, fragrant aroma and greasy, greasy taste. The highlight that creates a special flavor for this Hanoi delicacy lies in the dipping sauce. It must be a bowl of shrimp paste that is squeezed with lemon, mixed with a little sugar and then beaten until frothy.
La Vong grilled fish is eaten by Ha Thanh people with fresh vermicelli and raw vegetables.
Suggested good places to eat:
Thang Long grilled fish: 21 Duong Thanh, Hoan Kiem

Lao Ngu grilled fish: 171 Thai Ha, Dong Da
Bun rieu cua
Hanoi's delicious crab vermicelli is a true dish for those who love vermicelli. To create a standard pot of broth, the chef must carefully select the ingredients, especially the crab. Ha Thanh's standard broth must be a blend between the sour taste of vinegar and the sweet and fragrant taste of copper crab bricks.
Hanoians often add shrimp paste to vermicelli crab noodles to increase the flavor. If you are someone who can't eat shrimp paste, remind the seller not to put it in the bowl when ordering!
Suggested good places to eat:
Bun rieu Co Hoan: 9 Tue Tinh, Hai Ba Trung

Co Hoa Bun rieu: Hoang Tich Tri, Dong Da
Banh da cua
Not only in Hai Phong have delicious banh da cua, Hanoi also "owns" this dish with unmatched quality. What could be more wonderful than enjoying a bowl of hot crab cakes with soft chewy rice noodles, fragrant with the scent of field crab, served with morning glory, spinach and rich broth in the cold early days of Hanoi's winter? Interior. What are you waiting for without "taking note" of the delicious crab cake places below to "visit" when you arrive in the capital.
Hang Dong banh da cua: 8 Hang Dong, Hoan Kiem District

Banh da cua on Trung Liet Street: 143 Trung Liet Street, Dong Da District

Huynh Thuc Khang mixed rice noodles and banh da cua: 16 Huynh Thuc Khang, Dong Da District
BEDENTAL - TOP STANDARD DENTISTRY SYSTEM
In HANOI
Address 1: 7B Thi Sach St, Ngo Thi Nham, Hai Ba Trung Dist, Ha Noi. - 0934.61.9090
Address 2: 343 Tay Son St, Nga Tu So Ward, Dong Da Dist, Ha Noi. (Nga Tu So Cross) - 0934.61.9090
Address 3: CC2 Tower  Nguyen Huu Tho St, Dinh Cong Ward, Hoang Mai Dist, Ha Noi. (Inside True Hope ) - 0934.61.9090
In HO CHI MINH
Address 1: 140 Nguyen Van Thu St, Da Kao, Dist. 1, Ho Chi Minh. - 0766.00.8080
Address2: 25, City Land urban area, Go Vap Dist, Ho Chi Minh - 0766.00.8080
Working: 9am - 9pm everyday
Tư vấn chuyên môn bài viết:
BÁC SĨ DƯƠNG THỊ THÙY NGA
Bác sĩ chỉnh nha tổng hợp
Ngôn ngữ giao tiếp: Tiếng Việt, Tiếng Anh, Tiếng Nga
Đặt Lịch Hẹn
Xem Hồ Sơ