Top 15 must-try foods in Hanoi
Embark on a gastronomic adventure through the bustling streets of Hanoi as we present to you our meticulously curated list of the top 15 must-try foods. Immerse yourself in the rich tapestry of flavors that define this vibrant city's culinary landscape, from beloved street food vendors to hidden culinary treasures. Discover Hanoi's culinary soul through iconic dishes that capture its essence, showcasing the city's heritage and innovation on every plate
Top 15 must-try foods in Hanoi – Pho – Hanoi's typical traditional dish
When traveling to Hanoi, surely many visitors will not forget to enjoy pho – a long-standing typical dish with the flavor of the North.
Perhaps thanks to the skillful processing, the typical seasoning of Hanoi people has created such a wonderful dish. A bowl of Hanoi pho includes broth, white noodle soup, beef, herbs, scallions, onions,…
The most special feature of Pho is the clear, fragrant and sweet broth made from beef bones. Pho must be cleverly chosen so that the noodles are not crushed, nor are they too tough.
A bowl of pho will be extremely perfect if you add spices such as garlic vinegar, chili, lemon, pepper… depending on your preferences. I don't know since when, pho is not only an attractive dish in Hanoi but also a culinary symbol of Vietnam.
Reference address:
Pho Thin: No. 13 Lo Duc Street. Open from 5:00 to 21:00, price: 40,000 – 60,000 VND/bowl.

Pho Ly Quoc Su: The price is about 50,000 – 77,000 VND / bowl. Open 6:00 – 14:00 and 17:30 – 22:00.

Pho Ly Quoc Su: No. 10 Ly Quoc Su, Hang Trong, Hoan Kiem, Hanoi

Pho Ly Quoc Su: No. 42 Hang Voi, Hoan Kiem, Hanoi

Pho Ly Quoc Su: No. N2A Hoang Minh Giam, Hoan Kiem, Hanoi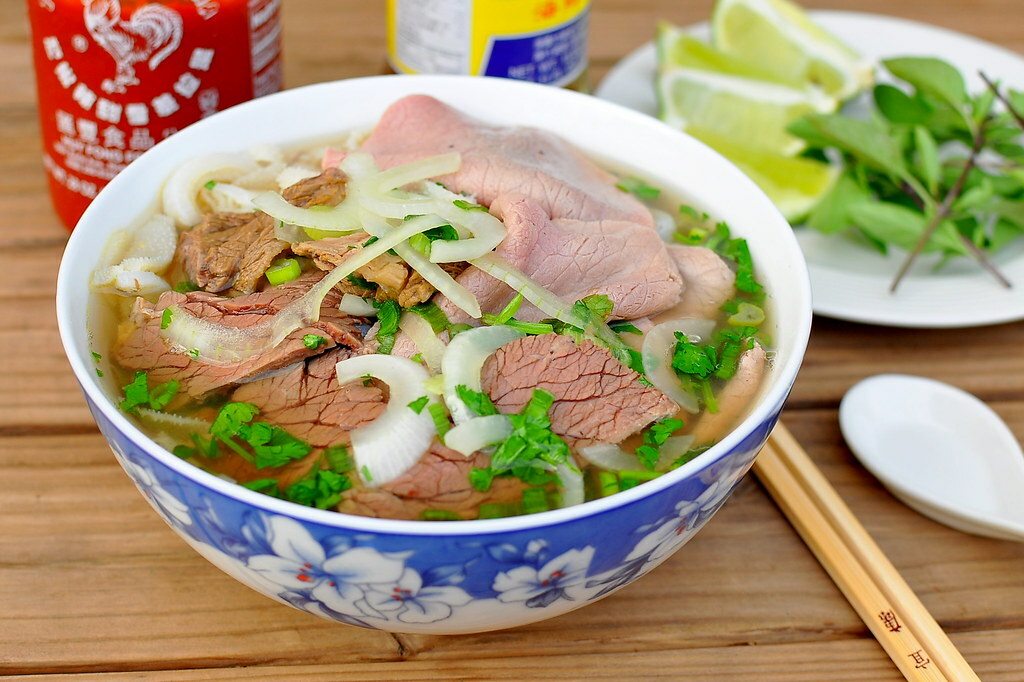 Top 15 must-try foods in Hanoi – West Lake Shrimp Cake – Famous Hanoi snack
Have you tried Ho Tay Shrimp Cake when joining Hanoi tour? This attractive, hot, crispy snack will be the ideal suggestion for your trip.
The shrimp are carefully selected by the cook, the shrimp must be clean and fresh. After preliminary processing, shrimp is rolled in the middle by a layer of flour and eggs, then put in a pan filled with oil, fried hot until fragrant, placed on 2 chopsticks on the pan to drain the fat.
The cake has the greasy taste of flour mixed with the sweet and crispy taste of shrimp that will surely make you nostalgic for the taste of this cake. In particular, the shrimp cake is always kept hot and served with a dipping sauce full of sour – sweet – spicy, adding a little papaya or chopped carrots.
Shrimp cake eaten with lettuce, drinking a glass of coke or a glass of beer is all gone. This is definitely a famous dish in Hanoi that you cannot miss.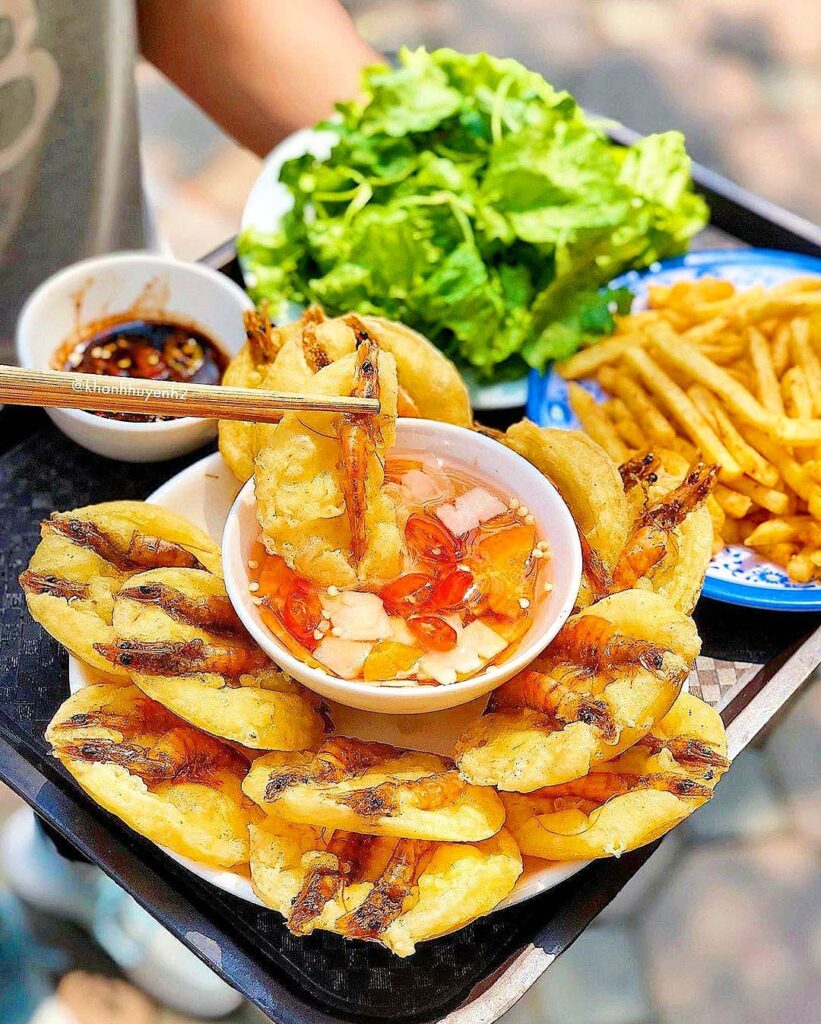 Reference address:
West Lake shrimp cake: No. 01 Thanh Nien, Tay Ho. Opening hours: 9am – 9pm. Price: 80,000 – 130,000 VND

Co Am Shrimp Cake: Dong Xuan Alley, Hang Chieu, Hoan Kiem. Opening hours: 10:30 – 13:00, 14:30 – 17:30. Price: 25,000 – 50,000 VND
Top 15 must-try foods in Hanoi – Bun Cha Hanoi – An attractive specialty of President Barack Obama
The delicious dish that is always chosen by many Hanoians for meals is bun cha. In particular, this dish was once visited by President Obama during his business trip to Vietnam.
On the list of top delicious Hanoi dishes, you will easily find a shop selling bun cha in every street, alley or market neighborhood.
Bun Cha attracts diners by the rich flavor of fully marinated grilled meat, grilled until served with vermicelli, raw vegetables and sweet and sour dipping sauce.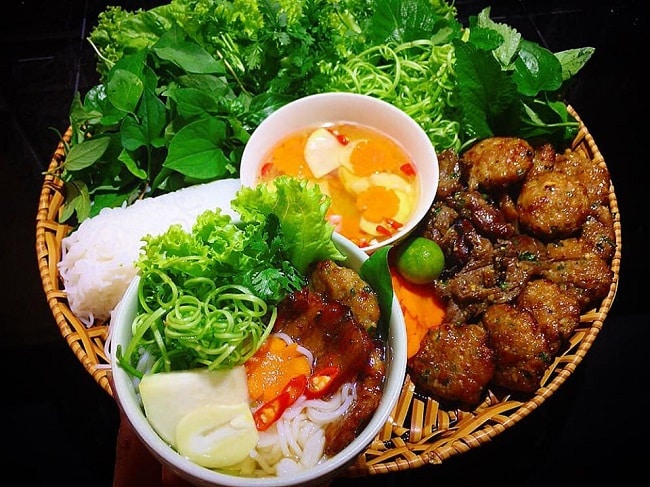 Reference address:
Bun Cha Obama (bun cha Huong Lien): No. 24 Le Van Huu, Hai Ba Trung. Opening hours: 10:00 – 21:00. Price: 45,000 VND/person.

Bun Cha Dac Kim: No. 1 Hang Manh, Hang Gai, Hoan Kiem. Opening hours: 09:00 – 21:00. Price: 50,000 – 60,000 VND/person.
Top 15 must-try foods in Hanoi – La Vong fish cake – Hanoi's great cuisine
You will not have to worry about what to eat in Hanoi during these days because the hot and nutritious La Vong fish cake will help you have great culinary experiences. This sophisticated dish is carefully selected by the cook from ingredients to processing.
Grilled fish is filtered from halibut or fruit fish – fish with firm, chewy and fleshy flesh. After being preliminarily processed, the fish will be cut into bite-sized pieces, fried until fragrant and left on the stove for guests, served with onions and dill.
All stir in a hot pan. In addition, the restaurant's service will prepare a little more vermicelli, roasted peanuts, herbs and shrimp paste to eat with.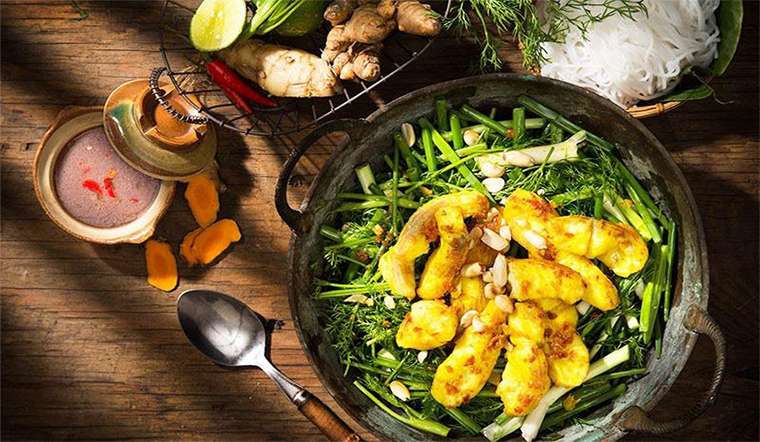 Reference address:
The famous La Vong grilled fish restaurant at 14 Cha Ca Street, Hang Bo, Hoan Kiem. Opening hours: 11h00 – 14h00, 17h00 – 21h00. Price: 30,000 – 66,000 VND

Anh Vu fish cake shop: No. 120 K1 Giang Vo, Ba Dinh District.

Thang Long fish cake: No. 21 Duong Thanh, Hoan Kiem.
Top 15 must-try foods in Hanoi – Pho Cuon – A novelty in Hanoi cuisine
The next delicious dish that BestPrice suggests to you when traveling to Hanoi is pho cuon. For Ha Thanh people, pho roll is a familiar and easy-to-eat dish that everyone who has tried it will surely love it.
The ingredients used to make this dish include noodle soup, herbs, salad, and stir-fried beef inside. With the skillful hands of the dish maker, pho rolls are neatly rolled up. When eaten with dipping sauce that is not too dark, it is very satisfying.
Here are some delicious places to eat in Hanoi that sell Pho cuon:
Pho cuon Huong Mai: No. 25 Ngu Xa, Ba Dinh. Opening hours: 09:30 – 21:30. Price: 55,000 VND/10 pieces.

Pho cuon Ngu Xa – To Hieu: 233 To Hieu, Cau Giay. Opening hours: 7:00 a.m. – 10:00 p.m. Price: 25,000 – 55,000 VND.
Top 15 must-try foods in Hanoi – Vermicelli with shrimp paste – Bun dau mam tom – a rustic dish of the Ha Thanh people
What are the famous dishes in Hanoi that you should try when traveling here? The way to prepare vermicelli is very simple, including the ingredients are vermicelli, crispy fried tofu,  prepared shrimp paste and herbs.
Currently, when eating, people also use boiled meat, fried spring rolls, … a variety of toppings to avoid feeling bored.
You can enjoy vermicelli with shrimp paste at some famous spots such as:
Noodles with shrimp paste with shrimps Ngo Tram: 1B Alley Tram, Hoan Kiem. The price for a full meal here is 50,000 VND.

Noodles with shrimp paste and shrimp Trung Huong: No. 49 Phat Loc lane, Hang Bac, Hoan Kiem. Price: 20,000 – 80,000 VND/person.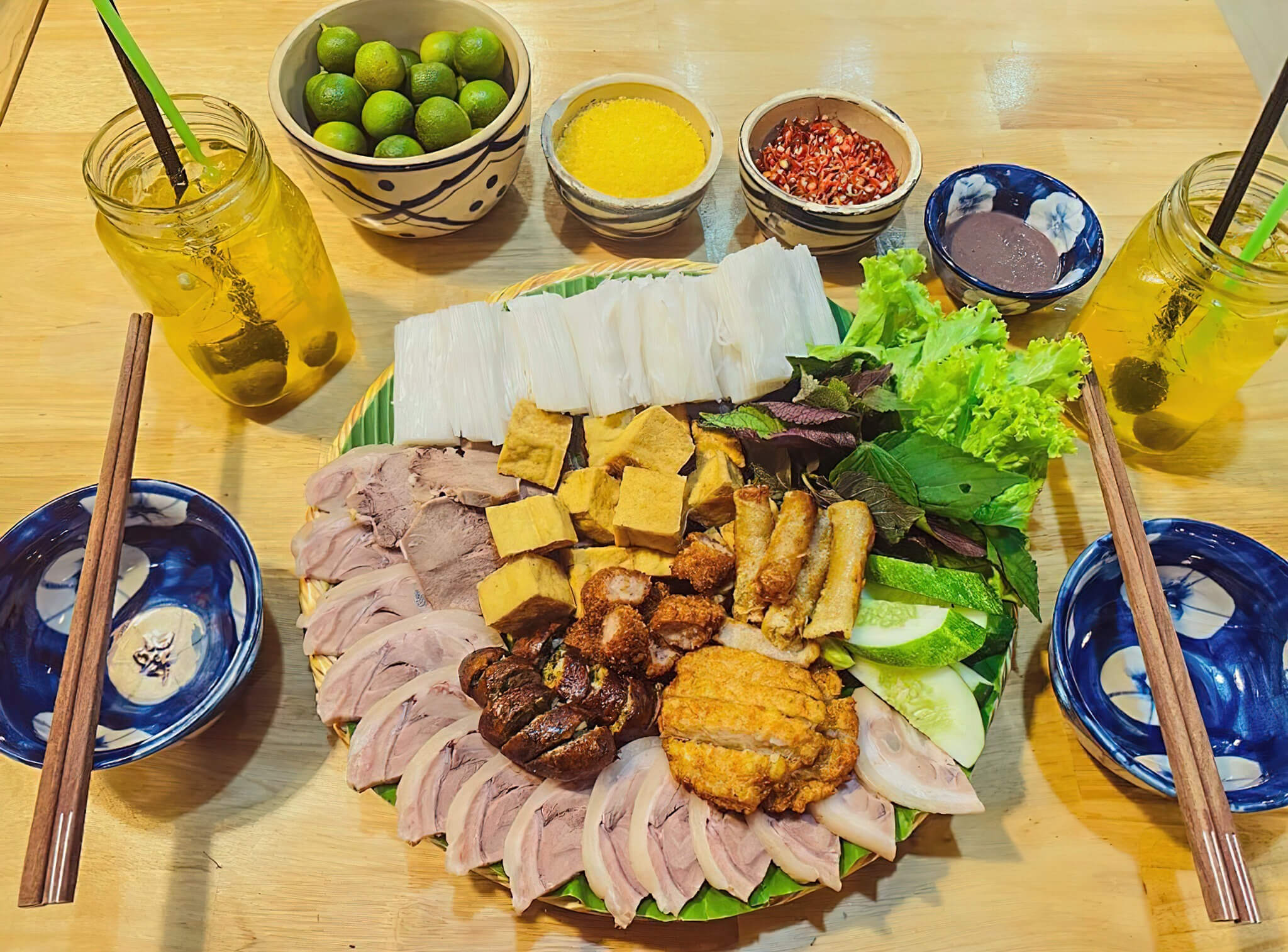 Top 15 must-try foods in Hanoi – Cha ruoi – A rare and strange dish in Hanoi
Cha ruoi is also known by another name, egg-casting rue. This dish is classified as rare in Hanoi because each year it only appears in the late autumn and early winter months from September to November of the lunar calendar.
The molluscs used to make the sea spring rolls are selected very carefully. The turtles must be fat, green, if red or brown, the taste will not be as delicious and fresh.
The main ingredients to make a dish include ground bacon, guise leaves, eggs, scallion, dill, ginger leaf, pepper… After being fried on a hot fat pan, you will feel it. The taste is soft, greasy, and the tangerine peel is extremely crunchy. Cha ruoi is served with raw vegetables, vermicelli, dipped with spicy and sour fish sauce.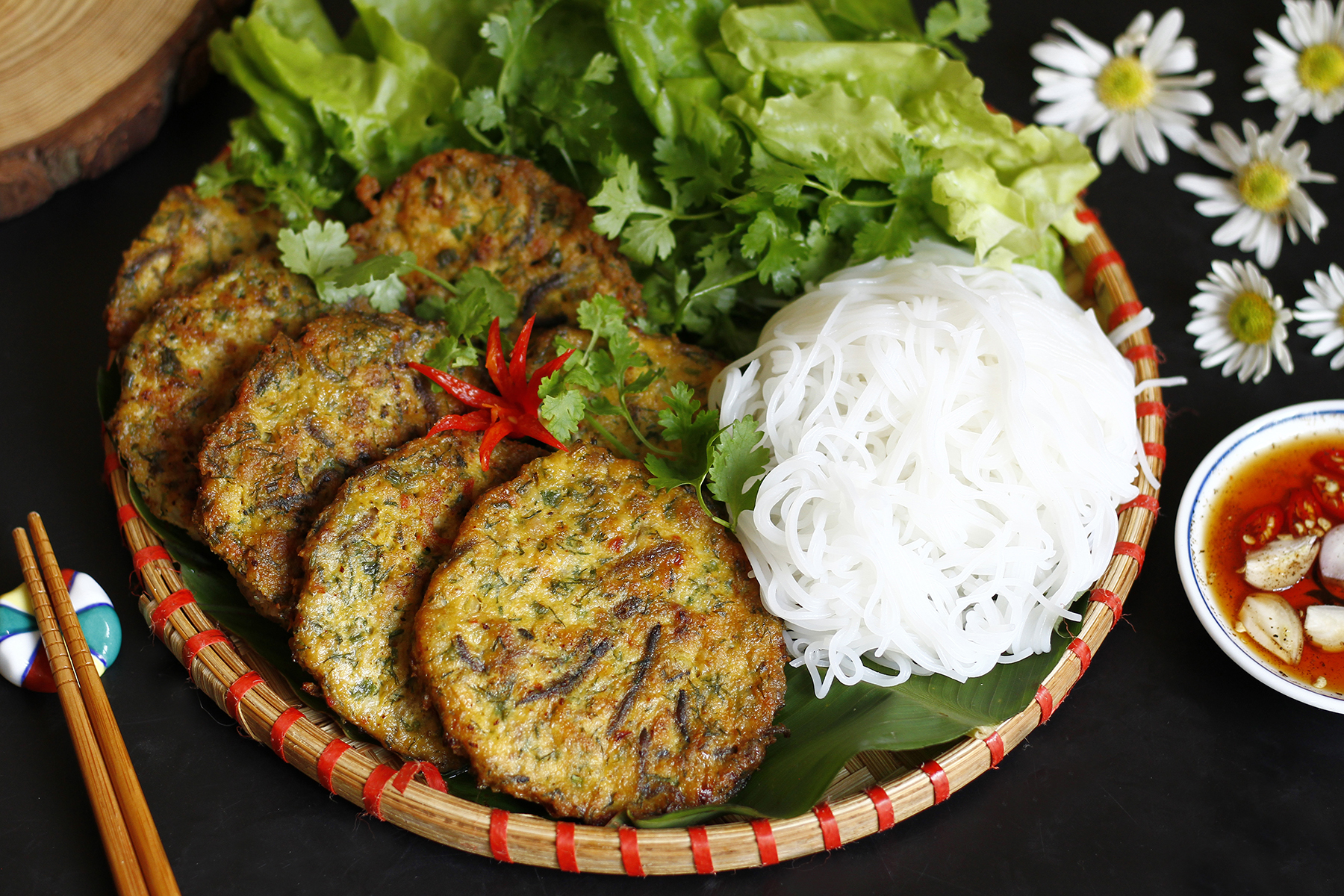 Some addresses selling fried rolls in Hanoi:
Hung Thinh: No. 1 Hang Chieu, Hoan Kiem. The price of a bacon from 35,000 VND/piece, depending on the type.
Gia Ngu: 25 Gia Ngu, Hoan Kiem. Each meal costs from 60,000 VND, if purchased individually, it is 10,000 VND / piece.
Top 15 must-try foods in Hanoi – Bun thang – an elegant feature in Ha Thanh cuisine
It will be a mistake if you come to Hanoi without eating bun thang – delicious Hanoi food not to be missed.The ingredients for processing and presentation of bun thang are quite sophisticated. In addition to vermicelli and broth, people will add thin omelet, sausage, chicken, mushrooms, dried radish and herbs…
All are cut into small pieces. When put in the mouth, visitors will hardly forget the sweetness of the broth mixed with the spicy taste of chili, and the richness of the ingredients. When you are hungry and enjoy a hot bowl of bun thang in Hanoi, there is nothing like it.
Immediately save a few delicious bun thang addresses in Hanoi:
Cau Go vermicelli: 48 Cau Go, Hoan Kiem. Price from: 30,000 – 70,000 VND / bowl

Bun Thang Ha Hoi: 11 Ha Hoi, Hoan Kiem. Price: 25,000 – 55,000 VND / bowl.

Bun thang Hang Hom: 11 Hang Hom, Hoan Kiem. Prices range from 40,000 – 70,000 VND / bowl.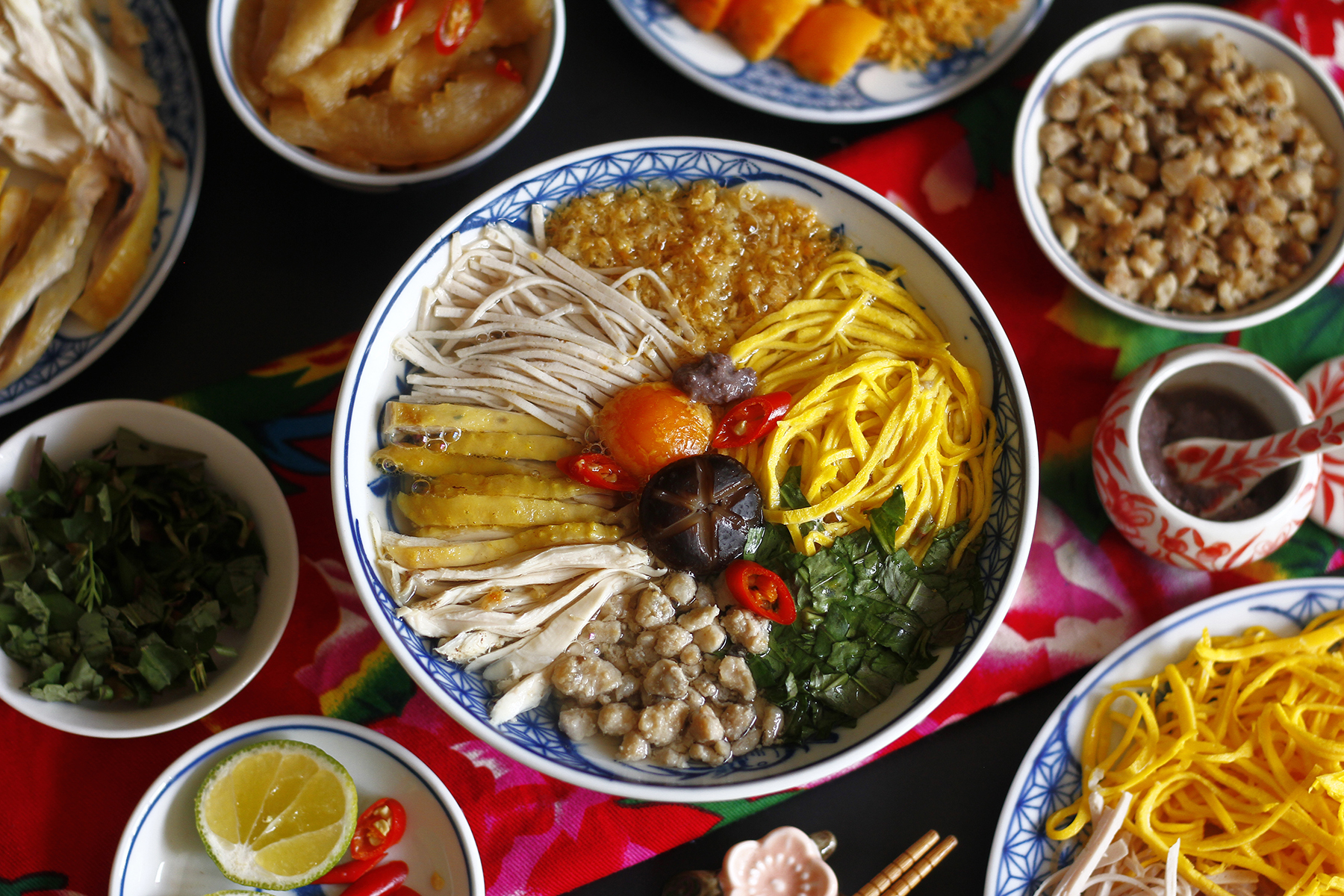 Top 15 must-try foods in Hanoi – Rib porridge – a familiar dish of Hanoi people
Rib porridge is a familiar dish of the people of the capital, especially on cold days. Porridge will be cooked with sweet bone broth, add cartilage ribs and meat served with quart, fried rice. You can eat ribs porridge in the morning, to fill the stomach or eat at night.
Dong Xuan market rib porridge: 14 Dong Xuan, Hoan Kiem. Price: 35,000 – 40,000 VND

Ngo Huyen ribs porridge: 61A Ngo Huyen, Hoan Kiem. Price: 15,000 – 30,000 VND

Bach Khoa ribs porridge: Alley 17 Ta Quang Buu, Hai Ba Trung. Price: 15,000 – 25,000 VND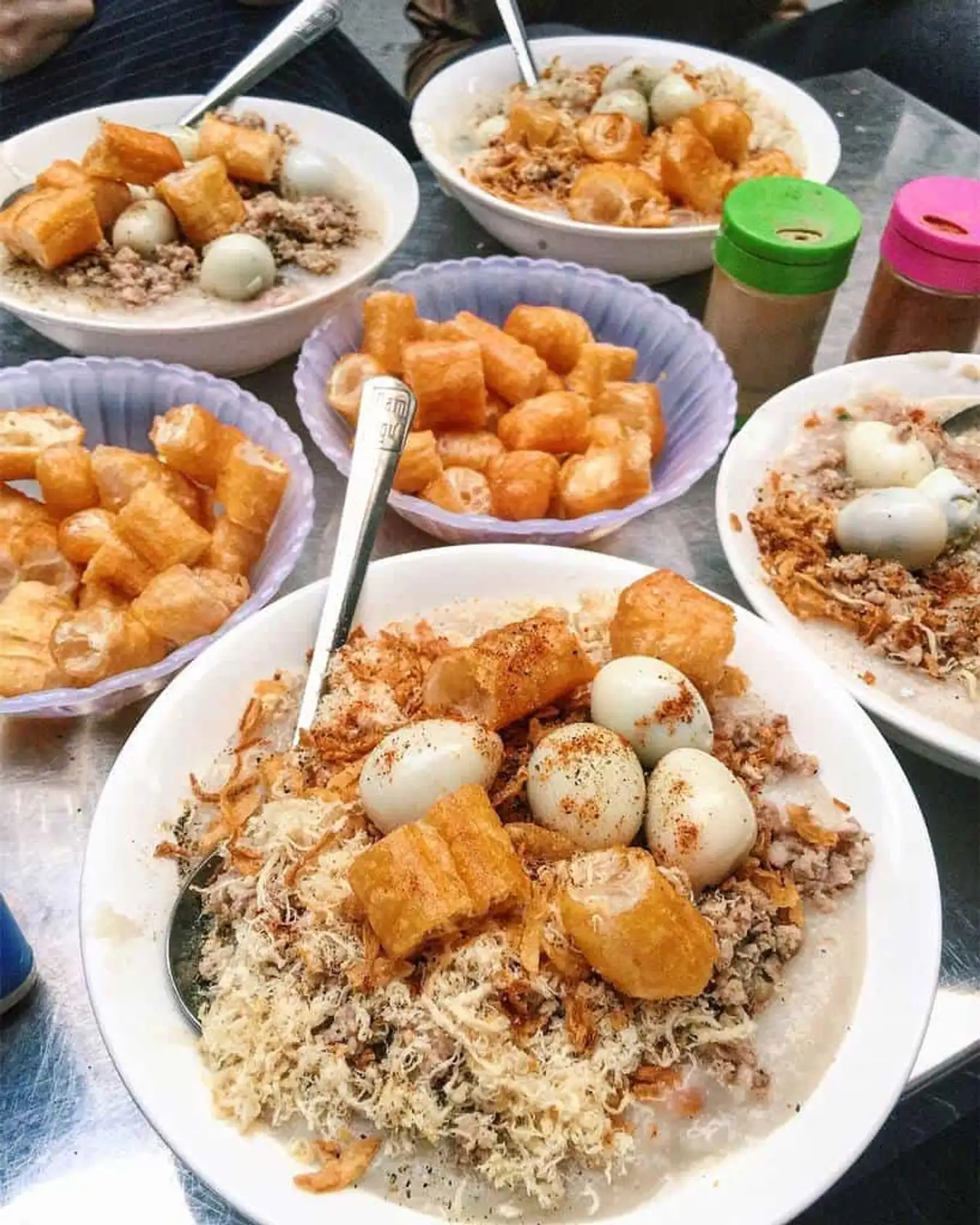 Top 15 must-try foods in Hanoi – Banh cuon Thanh Tri
Speaking of banh cuon in Hanoi, you can't ignore the attractive Banh cuon Thanh Tri with its thinness and softness mixed with a bit of chewiness. Standard rolls must be made from plain rice soaked for 3 hours and then pureed.
The filling is wrapped with minced meat, eggs can be added and sprinkled with fried onions. The dipping sauce is prepared very well, it is wonderful to eat with the sausage.
Famous places to enjoy Thanh Tri rolls:
Ba Hoanh rolls: 66 To Hien Thanh, Hai Ba Trung. Price: 30,000 – 60,000 VND

Hang Bo rolls: 57A Hang Bo, Hoan Kiem. Price: From 15,000 VND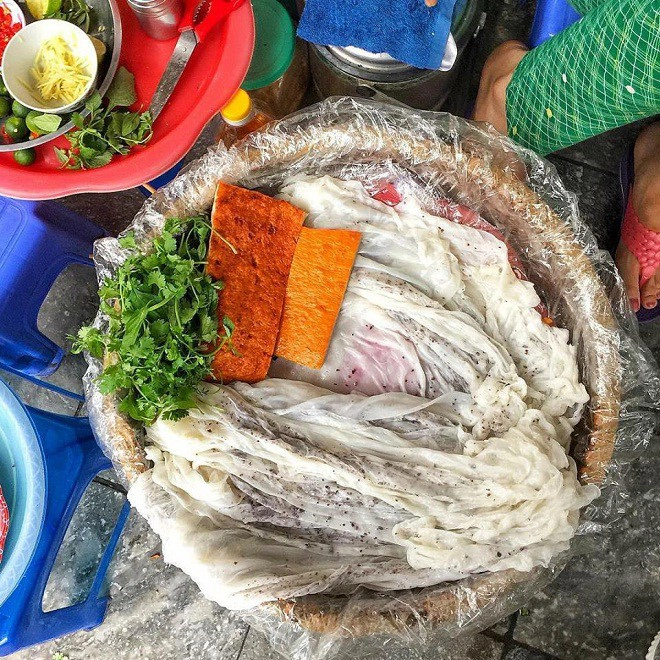 Top 15 must-try foods in Hanoi – Xoi xeo with lotus leaves – Hanoi's favorite breakfast gift
This dish is created by a combination of the plasticity of yellow-flowered glutinous rice, the fleshy taste of green beans, the fat of crispy fried onions sprinkled with a little fat and the stickiness of lotus leaves.
To cook lotus leaf sticky rice, rice will be soaked with turmeric water and sticky rice with lotus leaf juice. This is a very simple and familiar morning gift wrapped in banana leaves or lotus leaves, familiar to many people in Hanoi's Old Quarter.
Delicious sticky rice address:
Mrs. May's sticky rice, Hang Bai: 35 Ly Thuong Kiet, Hang Bai, Hoan Kiem. Price: 10,000 – 20,000 VND

Xoi xeo Ms. Tuyet: Cu Loc Alley, Thanh Xuan District. Price: 10,000 – 20,000 VND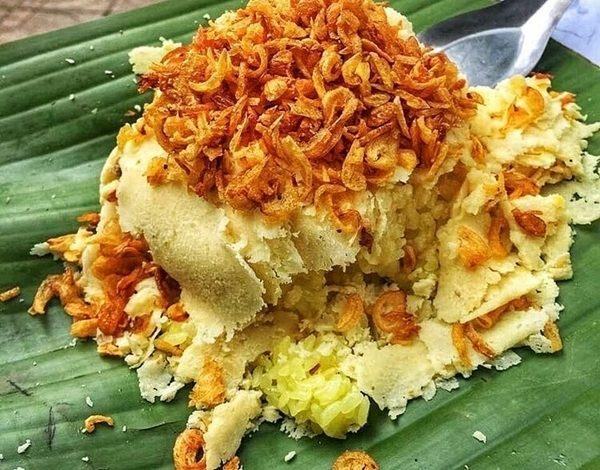 Top 15 must-try foods in Hanoi – Trang Tien ice cream – a long-standing specialty of Hanoi
As a long-standing ice cream brand that has been around since 1958, Trang Tien ice cream is Hanoi's own specialty that anyone who comes to Sword Lake must definitely enjoy. Some popular ice cream flavors here such as nuggets, green beans, coconut milk, vanilla, strawberry,…
Trang Tien ice cream as a dish to return to childhood. That is why, from babies to old people, when it comes to this famous ice cream, there is a strange love.
You just need to go to the address 35 Trang Tien, Hoan Kiem, you can choose to buy a lot of ice cream. The price ranges from 10,000/piece, if you buy a box it is 50,000 VND.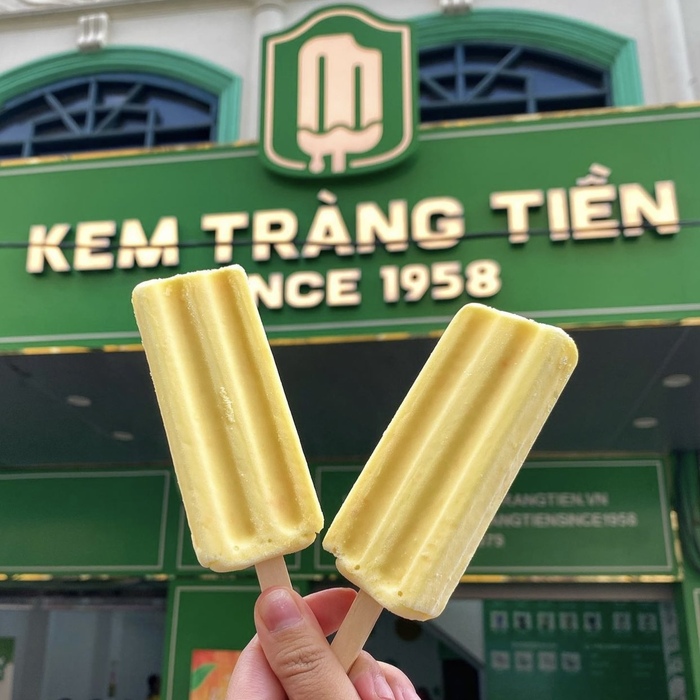 Top 15 must-try foods in Hanoi – Com Vong village – Hanoi's autumn delicacies
Talking about culinary specialties every autumn in Hanoi, it is impossible not to mention Com Vong village. The nuggets here have a flexible, soft taste and add the taste of young sticky rice, making it difficult for you to miss this rustic dish of the Trang An people. The process of creating delicious green nuggets wrapped in lotus leaves is quite elaborate.
To enjoy this dish, you do not have to use chopsticks or spoons, but use your hands to pinch a little in your mouth to feel the taste slowly. Vong village com can be eaten directly or processed into com cakes, com nuggets, fried com, fried com or a cool ice cream com.
Fresh nuggets usually cost 280,000VND/kg, dried nuggets are 260,000VND/kg, banh com is about 5,000VND/piece,…
Visitors can buy at a few reputable addresses below:
Com Vong village collective: No. 36 lane 63 Xuan Thuy, Cau Giay, Hanoi.

Com Huy Linh: Tran Thai Tong Street, Dich Vong Hau, Cau Giay, Hanoi.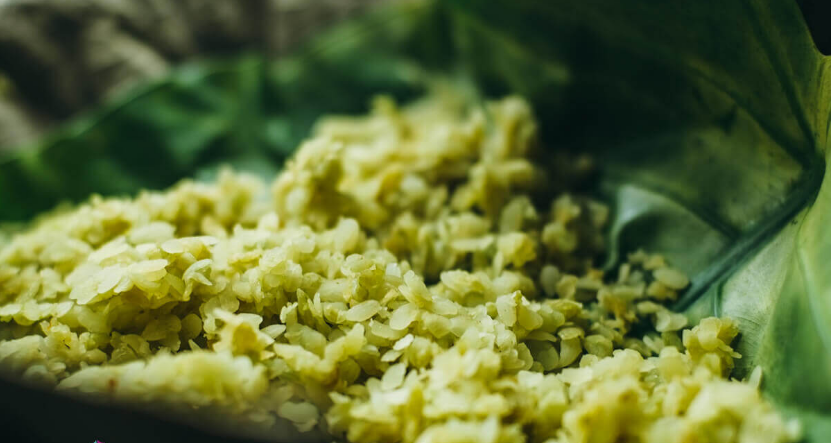 Top 15 must-try foods in Hanoi – Dried beef salad – Hanoi's favorite snack
Dried beef salad is a favorite snack of Hanoians, especially young people. This dish is made from marinated pieces of dry beef with moderate toughness, mixed with green papaya, shredded carrots, roasted peanuts, herbs combined with a very attractive sweet and sour sauce. .
Here is a few addresses of delicious dried beef mannequin restaurant in Hanoi:
Nga Mai salad: 25 Ham Long, Hoan Kiem, Hanoi. Price: about 40,000 VND.

Godfather dried beef salad: No. 1 Nguyen Trung Truc, Ba Dinh district, Hanoi. Price from 25,000VND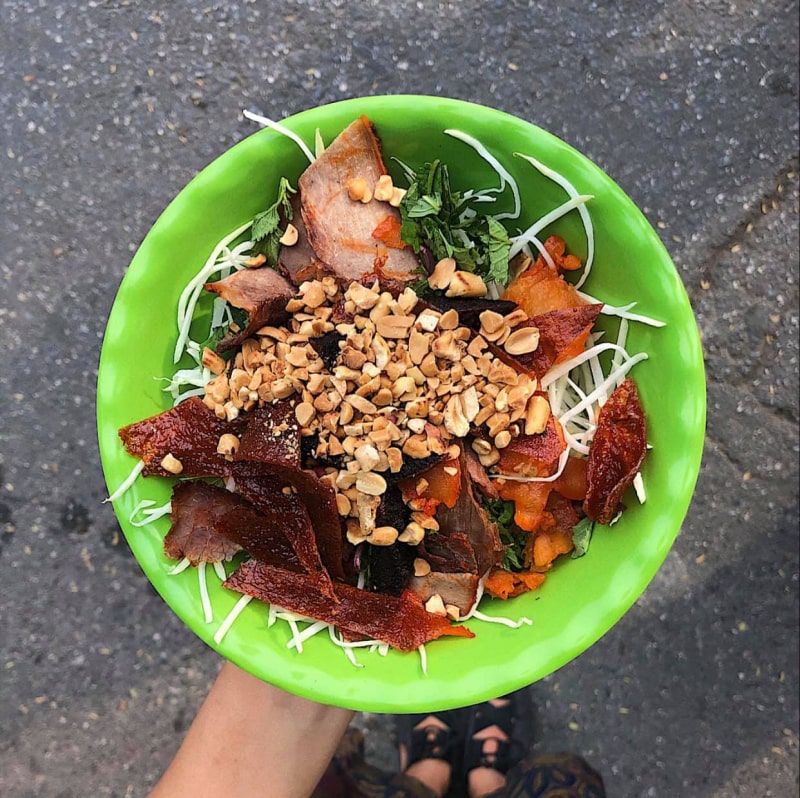 Top 15 must-try foods in Hanoi – Hanoi snail noodle soup
Hanoi snail noodle soup is a delicious Hanoi dish made from very simple ingredients: snails such as screws, stuffed snails, vermicelli, tomatoes, tofu, herbs. The broth is carefully stewed from pork bones. The rich flavor and eye-catching colors promise this will be a dish that is very popular with tourists.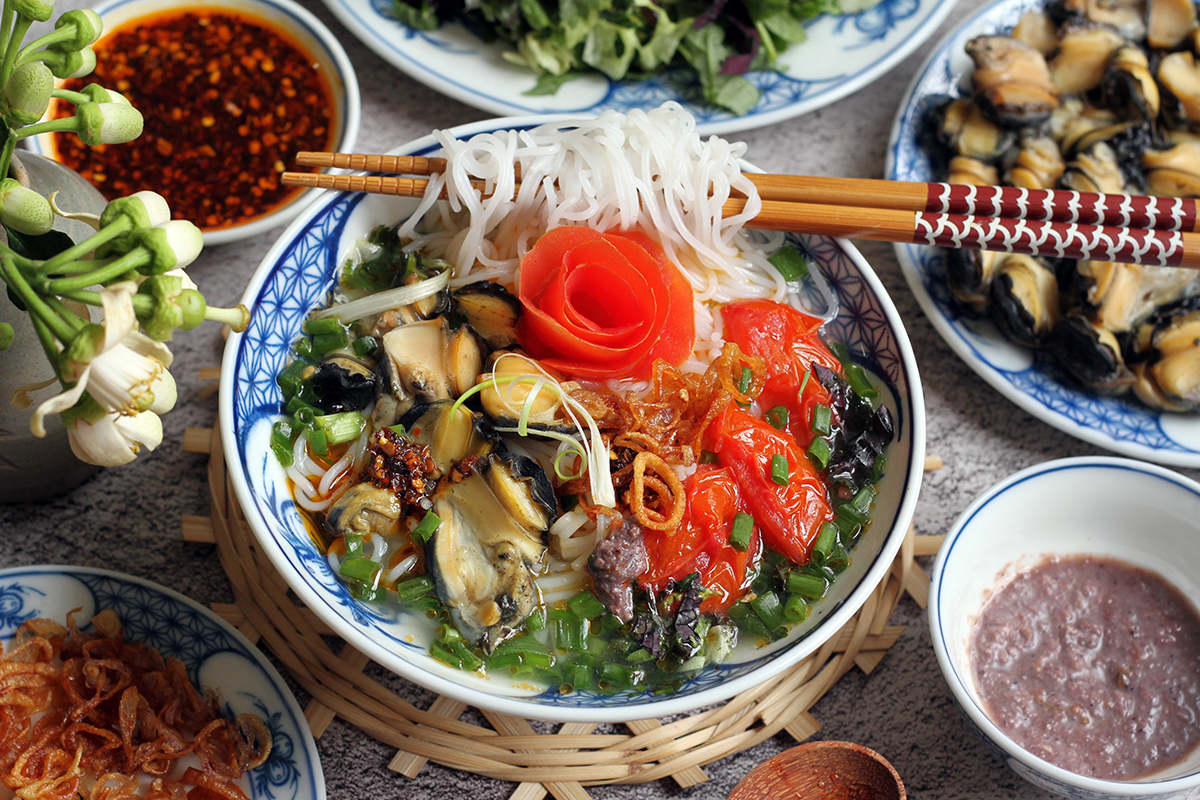 Delicious snail noodle shop in Hanoi you can refer to:
Noodles with snails Co Add: 6 Hang Chai, Hoan Kiem. Price: 25,000 – 50,000 VND

Co Lan snail vermicelli: 26 lane 139 Khuong Thuong, Dong Da. Price: 35,000 – 60,000 VND

Ba Giao snail vermicelli: No. 18, lane 433 Bach Mai, Hai Ba Trung. Price: 30,000 – 50,000 VND
Hopefully, the top 15 delicious Hanoi dishes to eat once, remember for a lifetime, the suggestions above will help make your trip to the capital more complete.
BEDENTAL - TOP STANDARD DENTISTRY SYSTEM
In HANOI
Address 1: 7B Thi Sach St, Ngo Thi Nham, Hai Ba Trung Dist, Ha Noi. - 0934.61.9090
Address 2: 343 Tay Son St, Nga Tu So Ward, Dong Da Dist, Ha Noi. (Nga Tu So Cross) - 0934.61.9090
Address 3: CC2 Tower  Nguyen Huu Tho St, Dinh Cong Ward, Hoang Mai Dist, Ha Noi. (Inside True Hope ) - 0934.61.9090
In HO CHI MINH
Address 1: 140 Nguyen Van Thu St, Da Kao, Dist. 1, Ho Chi Minh. - 0766.00.8080
Address2: 25, City Land urban area, Go Vap Dist, Ho Chi Minh - 0766.00.8080
Working: 9am - 9pm everyday
Tư vấn chuyên môn bài viết:
BÁC SĨ DƯƠNG THỊ THÙY NGA
Bác sĩ chỉnh nha tổng hợp
Ngôn ngữ giao tiếp: Tiếng Việt, Tiếng Anh, Tiếng Nga
Đặt Lịch Hẹn
Xem Hồ Sơ