Hanoi, the captivating capital of Vietnam, offers a sanctuary of relaxation amidst its bustling streets. Discover a range of exceptional foot massage places that promise to revitalize your body and soothe your senses. From traditional spas to modern wellness centers, Hanoi caters to every preference and budget.
Join us as we unveil the secrets of these hidden gems, where skilled therapists and therapeutic treatments await. Immerse yourself in relaxation, unwind from daily demands, and emerge with a renewed sense of well-being. Experience the healing power of foot massages in Hanoi and indulge in ultimate relaxation.
Top Foot massages in Hanoi – Hoa Mộc Tâm An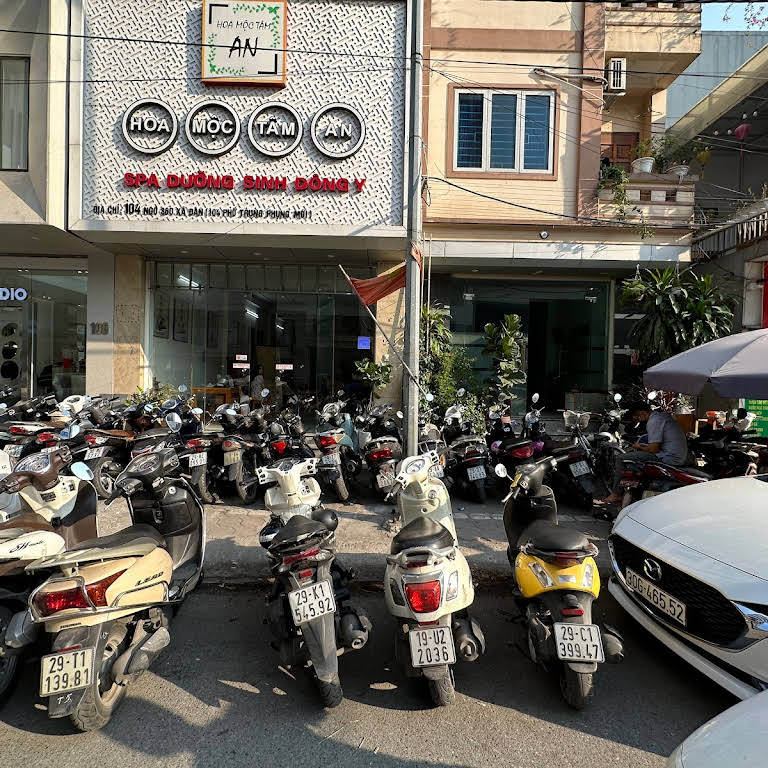 Hoa Mộc Tâm An Spa is a beauty and wellness system that focuses on the traditional Eastern medicine approach of nurturing the body. It is carried out by a team of experienced traditional Eastern medicine experts and doctors. The spa aims to provide customers with exceptional and beneficial experiences when they come here for services.
At Hoa Mộc Tâm An Spa, every customer seems to experience a sense of comfort and relaxation. Both their mental and physical well-being show significant improvements with each treatment and over time. As a large-scale Eastern medicine wellness facility, it is well-equipped with professional systems and ample resources in terms of personnel and infrastructure. It meets the increasing demand for services and is truly one of the most outstanding and perfect choices for customers.
When choosing foot massage services at Hoa Mộc Tâm An, you will experience gentle stimulation on the nerve pathways and acupuncture points on the soles of your feet. This not only eliminates fatigue but also restores the flow of energy and strengthens overall health.
Benefits of foot massage include:
– Relieving headaches and nervous exhaustion
– Improving blood circulation and reducing numbness in the feet
– Reducing foot odor and excessive sweating
– Relaxing and relieving fatigue
– Promoting deeper sleep
By combining rare herbal remedies and gentle foot salt stone massage, you can alleviate your fatigue. Foot massage brings balance, stimulates the body's self-healing and wound healing abilities, and enhances endurance and resilience.
CONTACT INFORMATION:
Address: 104 Phố Trung Phụng, Đống Đa, Hà Nội
Phone: 0855 162 555
Opening hours: 09:00 – 20:00
Top Foot massages in Hanoi – Bảo Minh Viên Foot & Body Massage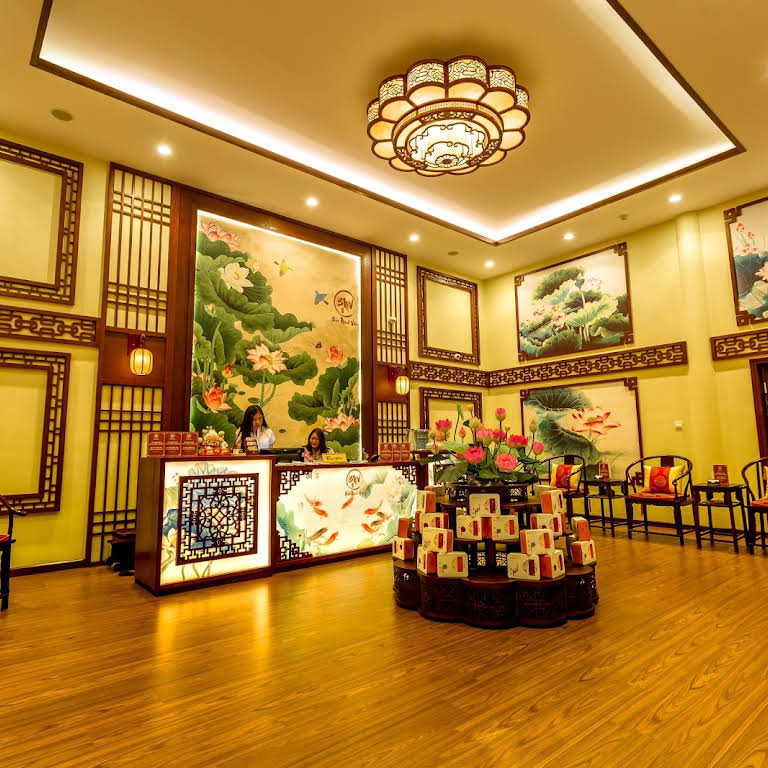 At Bảo Minh Viên Foot & Body Massage, you will experience a therapeutic massage method combined with herbal compresses and foot soaking using premium, exclusive Eastern herbs. It brings better health therapy results to customers through deep and significantly different massage techniques compared to conventional massage methods.
The feet are an important part of the body, containing numerous nerve endings connected to various vital organs. It is often referred to as the "second heart" of the body. There are too many benefits to overlook foot massage for health care.
Therefore, you can schedule a detoxifying foot massage at Bảo Minh Viên to improve your health, with "miraculous" benefits such as:
– Enhancing and improving sleep quality
– Boosting blood circulation
– Facilitating body detoxification, aiding in weight loss and slimming
– Alleviating overall fatigue
– Preventing the onset of illnesses
– Nourishing the kidneys and promoting vital energy
– Increasing flexibility in the feet
– Reducing premenopausal symptoms
CONTACT INFORMATION:
Address: B24 ngõ 60 Nguyễn Thị Định, Thanh Xuân, Hanoi
Phone: 0868 818 899
Opening hours: 11:00 – 23:30
You may also want to check out >> Top 10 hair removal spa in Hanoi
Top Foot massages in Hanoi – Thiền Tĩnh Massage & Wellness Center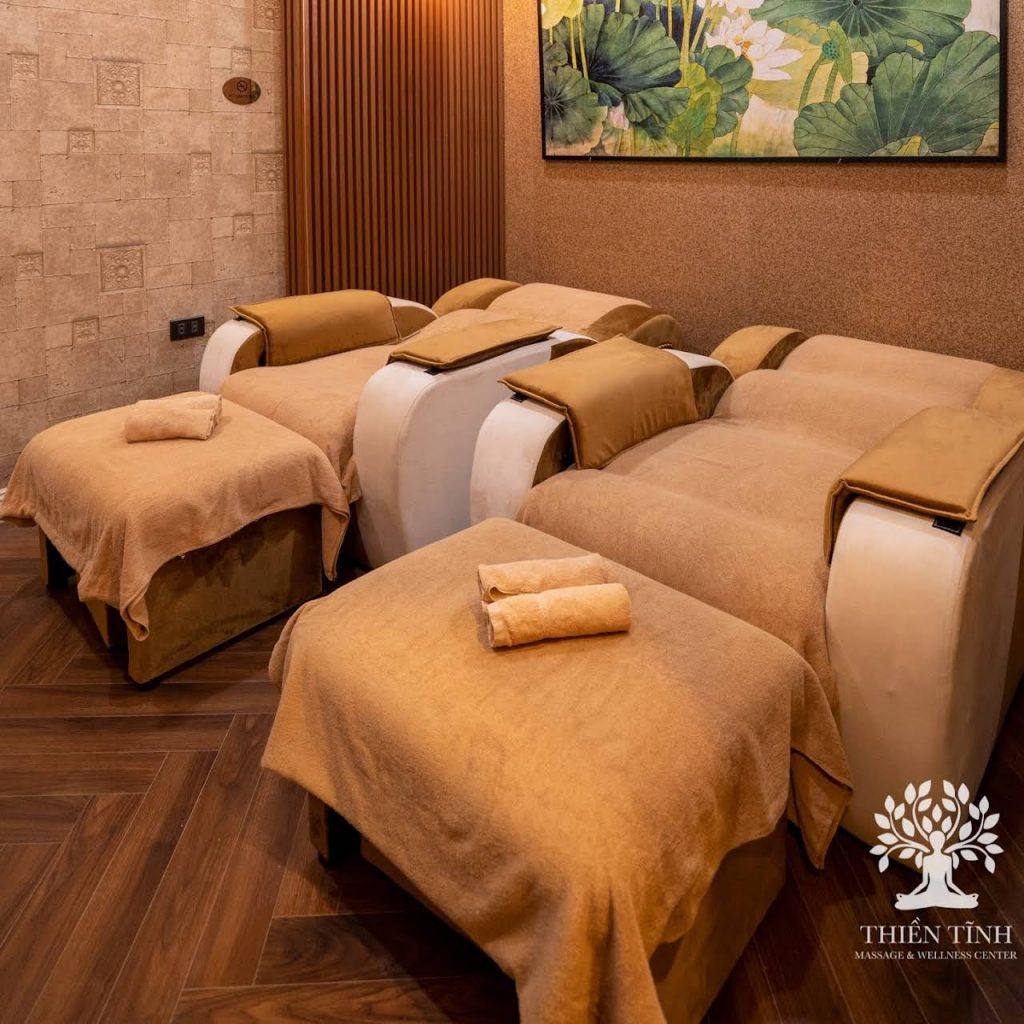 According to traditional Eastern medicine, the feet have many meridians representing yin and yang energies, along with pulse and conduit channels responsible for regulating the balance of yin and yang in the whole body. The feet are at the lowest part of the circulation system, farthest from the heart, making it more challenging for nutrients to reach them compared to other body parts. In the unpredictable hot and cold conditions of the northern region, the feet are more prone to "injury."
Therefore, besides keeping the body warm, special attention should be given to foot care and warmth. Keeping the feet healthy is crucial for protecting overall health during the winter season. Regular foot soaking combined with various herbs and essential oils can help alleviate symptoms of weak kidney function. Foot soaking and a 60-minute foot massage at Thiền Tĩnh can provide relaxation for the feet.
How does foot massage at Thiền Tĩnh work its wonders?
– Improves blood circulation and metabolism in the body
– Enhances nutrient supply to tissues, resulting in healthier and more beautiful skin
– Stimulates sweat gland secretion, reducing body fat
– Relaxes the body and mind, improves sleep quality
– Alleviates muscle pain, beneficial for diabetes patients
– Lowers blood pressure, reduces stress for those with hypertension
– Increases endurance and resilience of the feet
Contact Thiền Tĩnh now for the quickest consultation and appointment booking.
CONTACT INFORMATION:
Address: 3rd Floor, 73B Lý Nam Đế, Hoàn Kiếm, Hanoi
Phone: 0995 633 333
Opening hours: 09:00 – 22:00
Read more >> Top 10 reputable Pharmacies in Hanoi 
Top Foot massages in Hanoi – Vạn Xuân Foot Massage
Vạn Xuân Foot Massage is a specialized spa that focuses on foot massage. It not only helps improve the health of your feet but also provides effective relaxation for your body through massage and acupressure techniques. With over 10 years of experience in foot health care, you can be assured that you will be completely satisfied when you visit for the first time. The rich experience and enthusiastic approach of the staff, combined with affordable prices, make it a favorite among customers.
The foot massage techniques at Vạn Xuân have been passed down from Chinese masters, and to this day, Vạn Xuân Foot Massage maintains its unique secrets and style. The key to their success lies in the careful selection and recruitment of staff. Rather than hiring experienced individuals, they choose to recruit and professionally train new employees. This approach ensures that each staff member is skilled and avoids the issue of inconsistency in techniques that can inconvenience customers.
Vạn Xuân Foot Massage has relocated from 18 Lý Quốc Sư to their new premises at 24C Lý Quốc Sư, featuring new and luxurious rooms. It is the leading foot and body massage venue in Hanoi. With three conveniently located branches, they attract a loyal customer base who appreciate their services.
CONTACT INFORMATION:
Addresses:
– 125 Triệu Việt Vương, Hai Bà Trưng, Hanoi – 024 6278 0767
– 24C Lý Quốc Sư, Hoàn Kiếm, Hanoi – 024 2218 8833
Phone: 0982 945 628
Top Foot massages in Hanoi – Old Quarter at Lotus Spa
Address: 36 Ma May Street, Hang Buom, Hoan Kiem, Hanoi

Reference price: From 150,000 VND
Located in the heart of Hanois bustling old quarter on Ma May Street, Lotus Spa is a popular destination for locals and tourists alike after a long day of exploring the Sword Lake area and the old town. Offering skilled foot massage technicians to help alleviate aches and pains and muscle tension, Lotus Spa is the perfect place to revive tired feet.
Hanoi Lotus Spa foot massage address right on the pedestrian street is very convenient for tourists
Highlights
"The location is right on the pedestrian street, easy to find and convenient for tourists"

Skilled staff, strong hand massage but no pain, helping to relieve muscle fatigue

Lotus Spa combines massage with herbal foot bath, relieve stress and stress
Notes
To avoid wasting time and ensure that the spa can arrange a suitable schedule, it is recommended that you make an appointment in advance as the spa in the central area is especially busy on weekends. Even though it is open until 10 pm, customers may still have to wait in line.
It is customary to tip in Spa, as it caters to foreign tourists. Therefore, it is recommended to bring at least 50,000 VND for tipping.
At Hanoi Lotus Spa, a foot massage not only relieves muscle pain, but also provides numerous health benefits like reducing pain, improving sleep, controlling blood pressure, keeping limbs warm, and boosting blood circulation by incorporating the use of herbs to soak feet.
Herbal foot bath at Lotus Spa Hanoi. Source: Internet
At Lotus Spa, located conveniently on a Hanoi street, tourists can go to relax and unwind after a long day of sightseeing. The spa offers foot massages to help ease any fatigue.
Read more >>  9 Acne Treatment Places You Might Need When Travelling in Hanoi
Top Foot massages in Hanoi – Nhật Nguyệt Lầu Massage Foot & Body
Nhật Nguyệt Lầu Massage Foot & Body is one of the reputable and high-quality massage and beauty addresses that women often visit for health and skincare. Their professional foot massage services are highly favored. With extensive experience in beauty care, Nhật Nguyệt Lầu always leaves a good impression on customers, from the quality of their services to the dedicated staff. Everything is excellent.
Foot massage at Nhật Nguyệt Lầu Massage Foot & Body can help you:
– Alleviate pain and fatigue
– Improve blood circulation to the limbs
– Minimize feelings of tiredness and sluggishness
– Promote a relaxed state of mind
Nhật Nguyệt Lầu Massage Foot & Body is a place where you can find comfort and relaxation through well-structured massage treatments that bring noticeable effectiveness, relieving the stress and fatigue of everyday life. Nhật Nguyệt Lầu Massage values natural beauty and offers a serene, elegant, and peaceful environment.
CONTACT INFORMATION:
Addresses:
– 4 Dương Đình Nghệ, Yên Hòa, Cầu Giấy, Hà Nội – 024 3834 4999
– B41-B42 Nguyễn Thị Định, Nhân Chính, Thanh Xuân, Hà Nội – 024 6281 1108
Opening hours: 11:00 AM – 11:30 PM
Top Foot massages in Hanoi – Foot Massager Hương Bình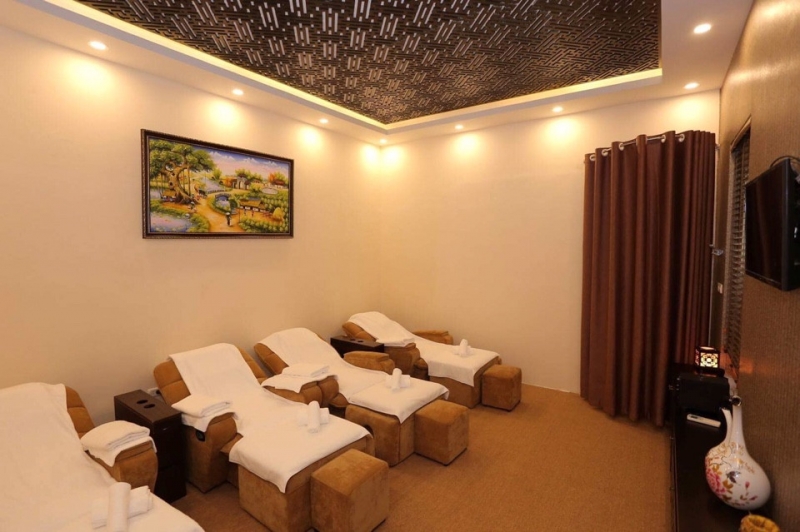 Foot Massager Hương Bình is a highly trusted foot massage spa in Hanoi, providing a comfortable and relaxing experience for your tired feet after a long day of work. Foot care at Hương Bình does not require much time but offers excellent results.
By enjoying the foot massage services at Hương Bình, your feet will receive the best care using natural herbal remedies. The attentive and experienced staff will help relieve all the stress from your busy life. 
The foot massage treatment at Hương Bình consists of four steps within 90 minutes:
Soaking the feet with herbal medicine and using herbal neck pillows.

Foot acupressure.

Back acupressure massage and full-body hot stone therapy.

Relaxing head massage accompanied by soothing music to cleanse the soul.
Regularly using the foot massage services at Hương Bình ensures that your feet receive the best possible care. Hương Bình utilizes natural herbal remedies and provides attentive and dedicated service. Each visit to Hương Bình creates a harmonious blend that helps you easily relieve tension.
CONTACT INFORMATION:
Address: 12B Thể Giao, Lê Đại Hành, Hai Bà Trưng, Hanoi
Phone: 0943 283 568
Bao Ha Spa – One of the top foot massages for pregnant women in Hanoi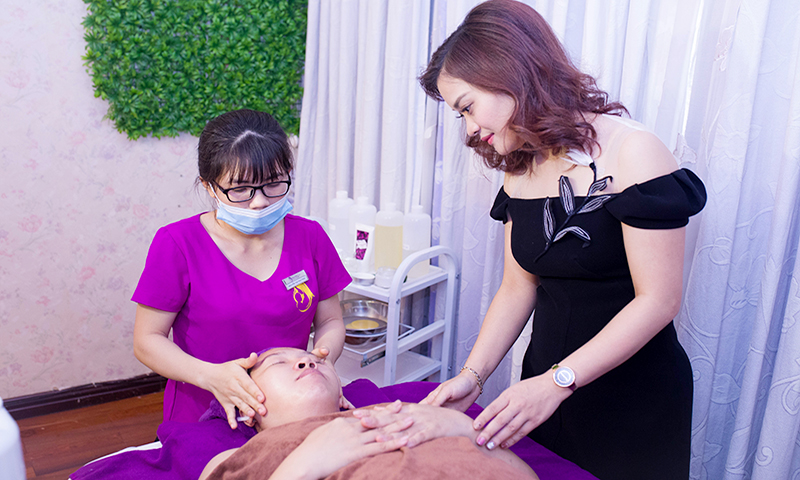 Address: 452 Xa Dan, Nam Dong, Dong Da, Hanoi

Reference price: From 199,000 VND
At Bao Ha Spa in Hanoi, pregnant women can find a specialized spa system specifically tailored to their needs. With an understanding of the difficulties that pregnant women often face, such as weight gain, body aches, numbness in the hands and feet, cramps, and fatigue, Bao Ha Spa offers a safe and effective foot and body massage technique from Japan. This method helps to improve blood circulation, reduce leg edema, enhance oxygen supply to the fetus, and ultimately help the fetus to develop more comprehensively.
Bao Ha Spa with specialized services for pregnant women, is a safe and quality Hanoi foot massage address
Tired pregnant, tired after giving birth, let Bao Ha Spa take care of mother
Highlights
The team of experts are all nurses, nurses, and midwives who have experience in hospitals with high expertise

At Bao Ha Spa, mothers can rest assured that the pregnancy massage is a safe and quality Japanese method, all at an affordable cost.

Guests receive free health advice and suggestions before choosing the right pregnancy massage service
Notes
It is recommended that you seek advice from a professional at the spa before using the health care service for pregnant and postpartum women, as this is a sensitive period.

Most postpartum mothers opt for home-based services, resulting in a higher cost than if they were to go to the spa directly.
At Bao Ha Spa, pregnant women can enjoy a modern Japanese massage method, which combines massage techniques and folk acupressure. This massage care can help reduce pain in the neck, shoulders, back, hips, numbness of hands and feet, and stress. Moreover, the spa provides safe and effective supporting products such as Bao Ha liquefied essence and Bao Ha Organic Coconut Oil, allowing pregnant mothers to be completely assured and worry-free about their health status or signs of stretch marks and skin pigmentation during pregnancy and postpartum.
Located in Hanoi, Bao Ha Spa offers a safe and modern foot massage experience from Japan, making it an ideal spot for pregnant women.
At Bao Ha Spa, mothers have the option to choose from individual service sessions and intensive care packages that best suit their needs. There are currently two branches of Bao Ha Spa located in Hanoi.
CS1: 452 Xa Dan, Nam Dong, Dong Da, Hanoi
Tư vấn chuyên môn bài viết:
BÁC SĨ DƯƠNG THỊ THÙY NGA
Bác sĩ chỉnh nha tổng hợp
Ngôn ngữ giao tiếp: Tiếng Việt, Tiếng Anh, Tiếng Nga
Đặt Lịch Hẹn
Xem Hồ Sơ
BEDENTAL - TOP STANDARD DENTISTRY SYSTEM
In HANOI
Address 1: 7B Thi Sach St, Ngo Thi Nham, Hai Ba Trung Dist, Ha Noi. - 0934.61.9090
Address 2: 343 Tay Son St, Nga Tu So Ward, Dong Da Dist, Ha Noi. (Nga Tu So Cross) - 0934.61.9090
Address 3: CC2 Tower  Nguyen Huu Tho St, Dinh Cong Ward, Hoang Mai Dist, Ha Noi. (Inside True Hope ) - 0934.61.9090
In HO CHI MINH
Address 1: 140 Nguyen Van Thu St, Da Kao, Dist. 1, Ho Chi Minh. - 0766.00.8080
Address2: 25, City Land urban area, Go Vap Dist, Ho Chi Minh - 0766.00.8080
Working: 9am - 9pm everyday