9 Acne Treatment Places You Might Need When Travelling in Hanoi
9 Acne Treatment Places You Might Need When Travelling in Hanoi.
Acne, a prevalent skin issue affecting people worldwide, can significantly affect self-esteem and overall well-being. However, there's no need to worry! There are numerous acne treatment options available, giving individuals the tools to effectively manage and reduce the occurrence of these bothersome breakouts.
Successfully addressing acne involves targeting the underlying causes, which may include excessive oil production, clogged pores, bacterial growth, or inflammation. The ultimate goal is to alleviate current acne problems, prevent new breakouts, and improve the skin's overall health and radiance.
The progress of acne treatment can be take a lot of time and need consistency. If yoi likely to continue this progress when you travelling, so here, BeDental introduce to you 9 Acne Treatment Places that you might need while you visiting Hanoi.
Top Hair Salons near me: Elevate Your Look with Professional Care
Sorella Beauty Spas
In 2016, a visionary named Sorella was born with a mission to revolutionize the way Vietnamese women understand and care for their skin. Sorella is not just another company chasing fleeting trends; we have a profound belief in providing products and services that truly cater to each person's unique skin and body type.
At Sorella, we embrace a business philosophy that puts our customers at the forefront of everything we do. We consider our customers as sisters, as part of our extended family. Our dedicated team of highly skilled professionals is always ready to provide unparalleled support and assistance, ensuring that every customer receives the best possible experience.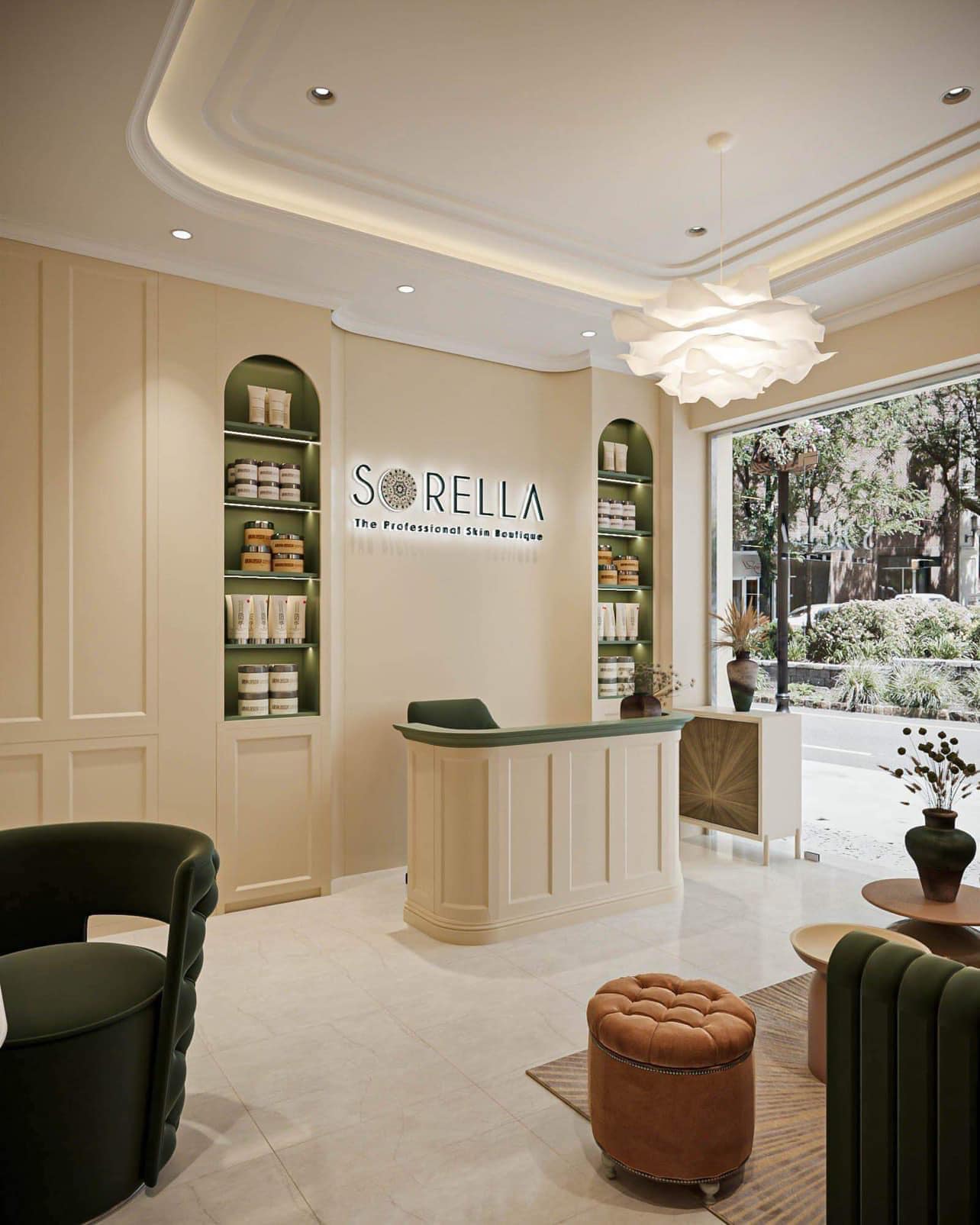 Our range of services at Sorella covers a comprehensive set of solutions geared towards addressing various skincare concerns. Whether it's skincare, acne treatment, combating dark spots, achieving a brighter complexion, or slowing down the process of skin aging, our methods are meticulously tailored to suit your specific skin type.
We firmly believe in approaching skincare smartly and scientifically. Through our expertise and innovative practices, we aim to empower millions of Vietnamese women to truly understand, appreciate, and care for their skin. With Sorella by your side, together, we can embark on a journey towards healthier, radiant skin.
Hanoi National Hospital of Dermatology and Venereology 
The Central Dermatology Hospital, Hanoi, officially known as the National Hospital of Dermatology, stands as one of Vietnam's premier specialized medical institutions catering to dermatology. Founded in 1902 in the vibrant city of Hanoi, it has committed itself to the provision of comprehensive care, cutting-edge treatments, and groundbreaking research in the field of dermatology and its related ailments.
Featuring a team of seasoned physicians, skilled nurses, and accomplished experts, the hospital prides itself on its unmatched proficiency. Complementing their expertise are state-of-the-art equipment and advanced technologies, ensuring the full spectrum of care for patients and their community's needs.
At the Hanoi Central Dermatology Hospital, the cost of services provided by Associate Professors to Professors is not only remarkably reasonable but also incredibly affordable:
With Associate Professors:
During the working hours: 250.000VND
Outside the working hours: 300.000VND
With Professors:
During the working hours: 300.000VND
Outside the working hours: 500.000VND
Working hours: From Monday to Saturday
Morning: 6h30-11h30
Afternoon: 13h30-16h30
Address: 15a Phuong Mai, Phuong Mai, Dong Da District, Hanoi
Phone number: 024.3222.2944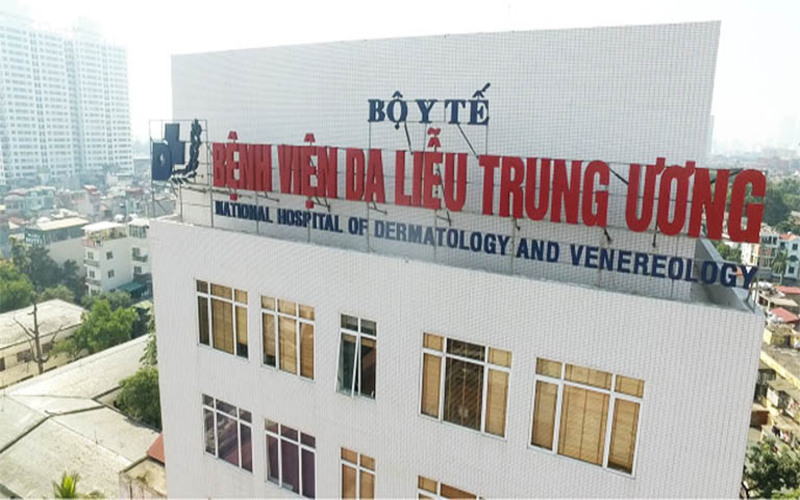 Hanoi Saigon Dermatology Institute
If you want to treat acne with natural herbs combined with modern technology, don't miss Hanoi Saigon Dermatology Institute. With 20 years of research and treatment of skin problems, the Vietnam Oriental Medicine Center is always proud of the results it brings to patients.
You can be confident that you will be treated by leading dermatologists, no matter what your skin concerns are – acne, melasma, freckles, cystic acne, acne, post-acne dark spots, or anything else. And support the treatment of skin problems with the support of natural herbs combined with modern methods.
Hanoi Saigon Dermatology Institute is known for its team of Oriental medicine doctors who have worked at leading hospitals in the industry and have decades of experience in treating skin problems. The center's doctors use a combination of traditional and contemporary treatment methods, such as herbal medicine, acupuncture, and cupping.
They also offer advice on lifestyle and dietary changes that can help maintain healthy skin. In addition, the center provides cosmetic treatments such as facials, peels, and laser treatments. The center offers a holistic approach to treatment, combining traditional and modern techniques. In addition, the center provides personalized treatment plans tailored to each patient's unique needs.
When using the center's acne treatment services, customers will enjoy motivation and commitment to ensuring customer satisfaction. Service prices of Hanoi Saigon Dermatology Institute range from 150,000 – 1,500,000 VND depending on the service. Customers will receive free support for the skin scanning service.
Address: 123 Hoang Ngan, Nhan Chinh, Thanh Xuan District, Hanoi
Phone number: 0983.058.939 – 0462.605.666
Bach Mai Hospital – Dermatology Department.
Bach Mai Hospital is one of the largest and most prominent hospitals in Hanoi, Vietnam. Bach Mai Hospital was founded in 1911 and now has over 40 specialties, and over 2,000 beds, and provides a wide range of high-quality medical examination and treatment services.
In addition, Bach Mai Hospital has medical research and training initiatives and is one of the most reputable medical examination and treatment facilities in Vietnam, according to clients.
Using current therapeutic procedures such as stem cell therapy, specific testing, plasma, and so on.

Acne, acne spots, dark spots, skin rejuvenation,… You have examined your skin and determined the best treatment options.

Assist with the diagnosis and treatment of inpatients and outpatients.
Opening hours: The medical examination department is open during office hours every day of the week. As a result, you can take the time to go for an evaluation and therapy.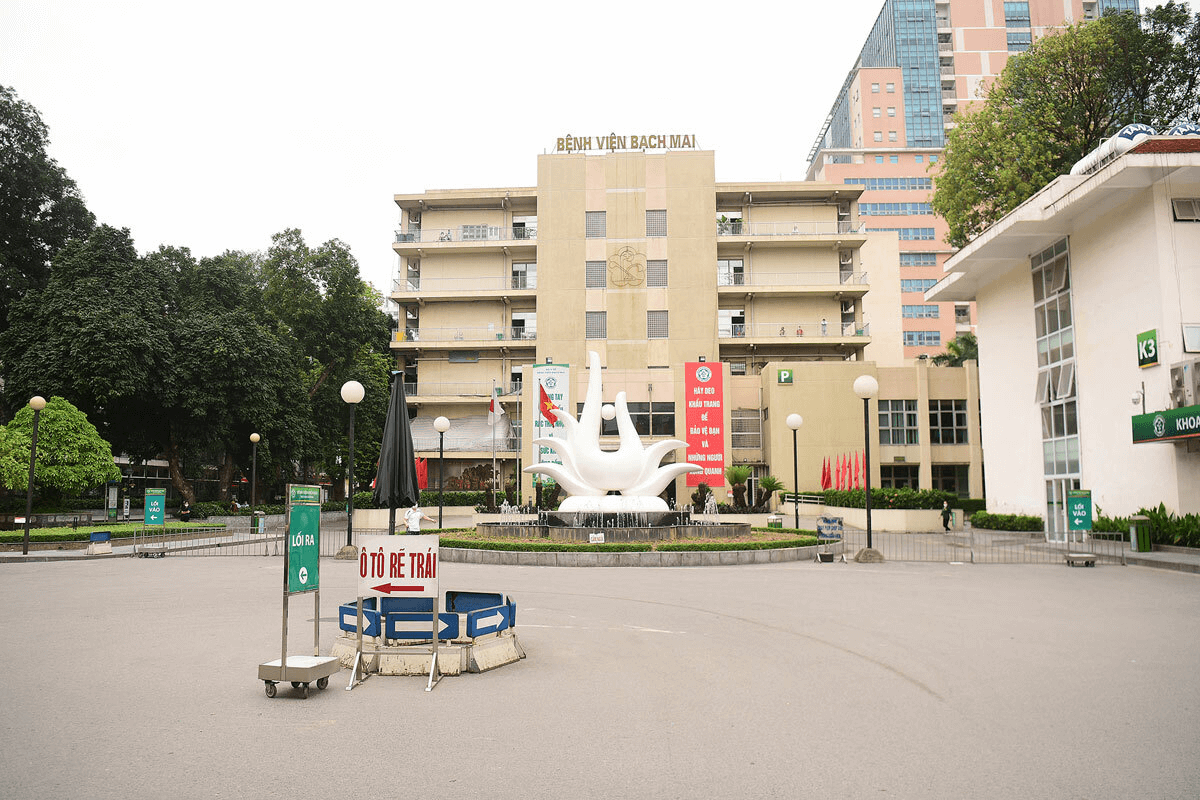 Address: Department of Dermatology, Bach Mai Hospital, 78 Giai Phong, Phuong Mai Ward, Dong Da District, Hanoi
Phone: 0243.869.6668 – 0243.869.3731 – 0243.8689.443
Seoul Center Beauty Clinic
Currently, Seoul Center Beauty Clinic is the premier destination in Vietnam for beauty treatments, including acne treatment. It is one of the country's oldest beauty businesses, dedicated to providing consumers with the greatest and safest cosmetic services. Seoul Center Beauty Clinic operates over 45 locations and facilities both inside and outside of Vietnam.
Millions of consumers trust Seoul Center Beauty Clinic to cure many types of acne, such as hidden acne, blackheads, pustules, cystic acne, and whiteheads, as a respected establishment with moderate costs appropriate for students. 
At the Seoul Center Beauty Clinic, over 90% of acne sufferers only require a single treatment to have flawless skin. The clinic promises that adhering to the precise treatment regimens suggested by their specialists will result in achievement beyond your wildest dreams and help you restore confidence.
The physicians at Seoul Center Beauty Clinic closely evaluate the skin using a variety of acne treatment technologies and offer suitable treatment regimens.
To totally eradicate acne, boost brightness, and improve skin elasticity, the appropriate technologies are applied based on the skin type and acne condition. Seoul Center Beauty Clinic will assist you with removing any type of acne swiftly, including pus-filled acne, acne scars, blackheads, and whiteheads.
Best Things To Do At Night In Hanoi – 10 Activities To Do For Unforgettable Nights
The Seoul Center Beauty Clinic's medical acne treatment procedure entails:
Step 1: Skin inspection, 4D analysis, and treatment plan to precisely evaluate the skin condition.
Step 2: Remove your makeup.
Step 3: Exfoliation to eliminate dead skin cells.
Step 4: Cleansing your face.
Step 5: Steaming.
Step 6: Extract the oil.
Step 7: Remove the pimple.
Step 8: Medication-based bacteria prevention.
Step 9: Enhanced antibacterial treatment with an ION cam electric current to get rid of bacteria clusters, encourage healing in the area where the pimple was excised, tighten pores, and stop scarring.
Step 10: Apply a mint mask for antimicrobial and calming properties.
Step 11: Cool steaming.
Step 12: Apply a high-quality Korean acne treatment cream to boost the effectiveness of the acne treatment.
Step 13: Let your shoulders and back relax.
Step 14: Post-treatment skincare advice.
Scarring and pigmentation are reduced with medical acne treatment at Seoul Center Beauty Clinic. It assures an improvement in acne condition of up to 80% following the first treatment session. It does not cause post-treatment irritation or swelling (your skin may appear somewhat pink or red after acne treatment). 
It aids in the reduction of pores and the cleansing of the skin, resulting in a smoother complexion. Following pimple extraction, the skin recovers swiftly. It efficiently heals cystic acne, inflammatory acne, concealed acne, blackheads, and whiteheads, among others. Medical acne treatment addresses the underlying cause of acne, reduces recurrence, and prevents scarring.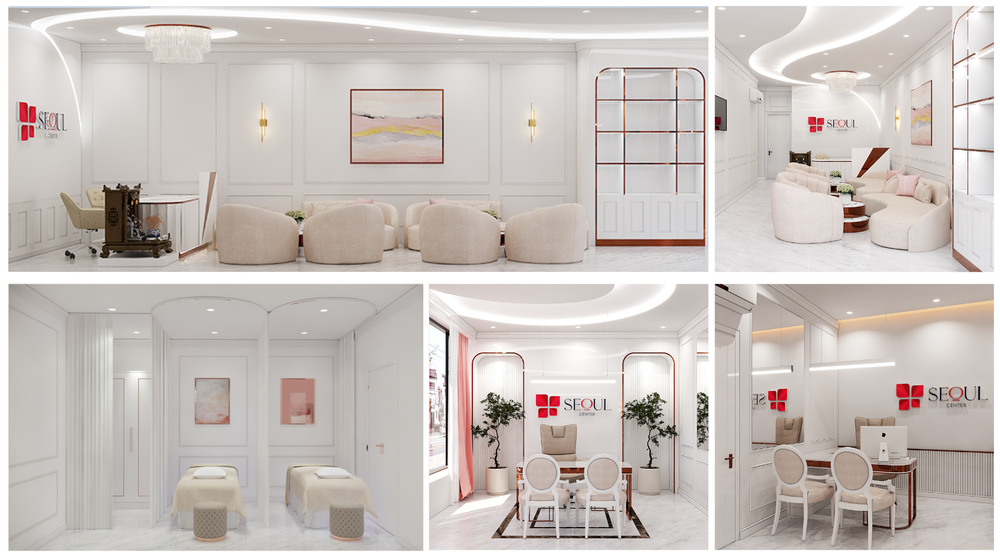 Seoul Center Beauty Clinic provides a variety of services to fulfill customers' different beauty demands. In addition to reliable acne treatment, they also offer procedures for pigmentation, skin whitening, cosmetic tattooing, teeth whitening, and innovative fat reduction techniques.
If you are concerned about obstinate acne on your face, contact Seoul Center Beauty Clinic for safe acne treatment and to obtain a bright and vibrant complexion. They are prepared to provide dedicated guidance and help for any of your beauty-related queries.
Address: 38 Pho Thai Thinh, Nga Tu So, Dong Da, Hanoi
Hotline: 1800 3333
Opening hours: 08:30 AM – 07:30 PM"
Military Hospital 103 – Dermatology Department.
Military Hospital 103, like Bach Mai Hospital, features a dermatology section that specializes in treating dermatological illnesses, including acne treatment, using innovative and modern treatments. Military Hospital 103 is constantly available for patients in general, and dermatology in particular. 
When you come for an examination at the Dermatology Department at Military Hospital 103, you will be examined and treated in compliance with Ministry of Health laws, including social insurance and health insurance regimes.
Treatment is available at the following locations:
The CO2 laser approach can be used to treat acne, acne scars, cancers, and so on.

Cosmetic devices can rejuvenate skin and increase skin firmness.

Utilize Solitone 2500 technology to lighten skin and combat aging.
You can also arrange an appointment in advance by calling the hospital hotline at 096.781.1616 or coming in person; business hours are 7:00 a.m. to 8:00 p.m., Monday through Sunday.
Address: 261 Phung Hung, Phuc La Ward, Ha Dong District, Hanoi.
Sviet Beauty Spa
When new mothers in Hanoi think about Sviet Beauty Spa, they immediately think of the hydrotherapy service – baby float for babies. 
Today, though, we'd like to discuss another popular service at Sviet: ACNE TREATMENT.
Sviet conducted research and successfully introduced a Medical Standard Acne Treatment Protocol using Pharmaceutical Cosmetics for various types of acne, including: 
– Treating acne during adolescence and hormonal acne in general. 
– Treating acne for pregnant women beginning in the third month.
– Treating postpartum acne and blemishes caused by hormonal changes during pregnancy, particularly chronic chin acne that recurs and is difficult to treat.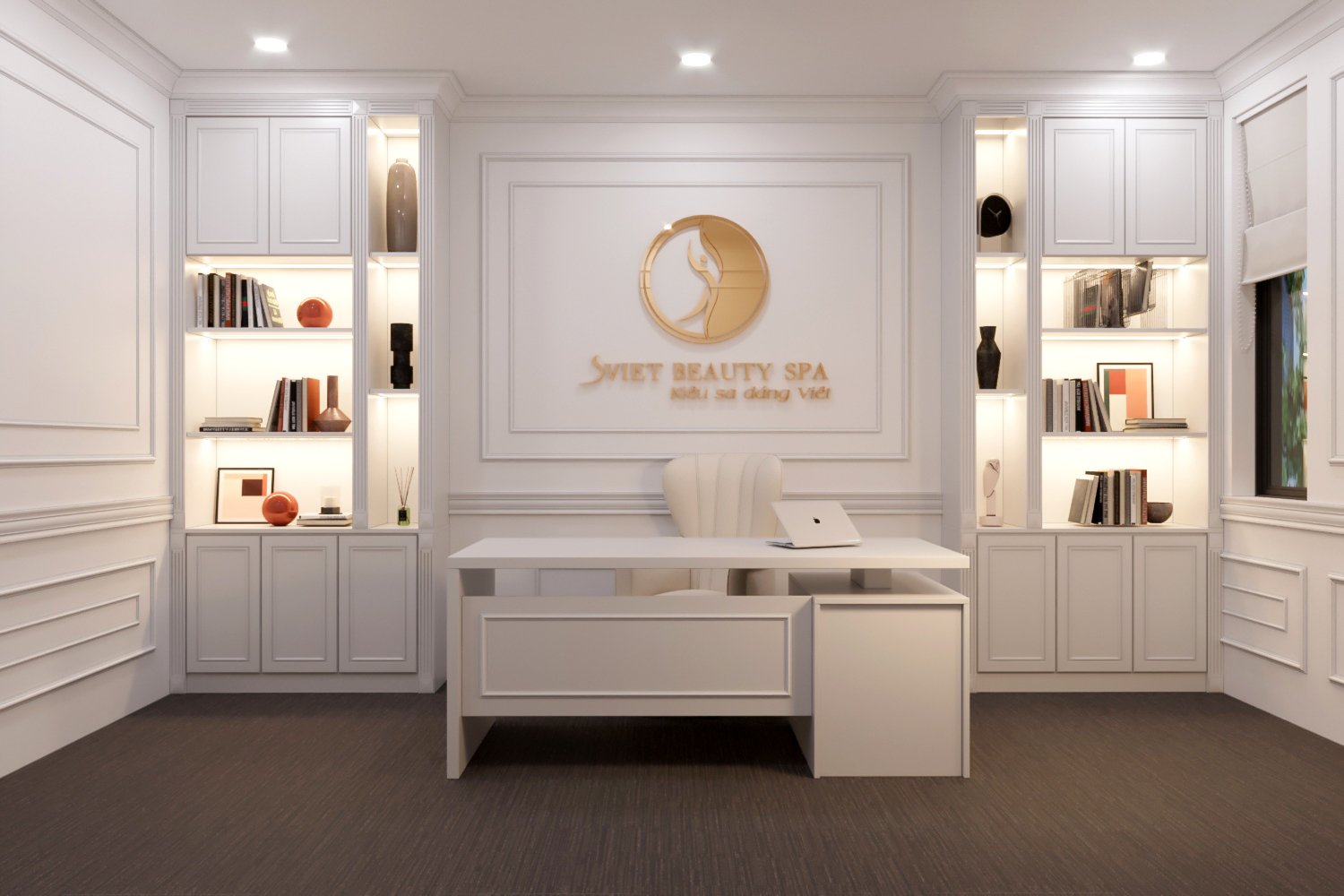 The therapy regimens have been highly optimized in terms of time, effectiveness, and treatment costs:
– Medical Standard Acne Extraction – 10 steps: 199k VND/90 minutes.
– UNLIMITED Acne Extraction Package: 2.800k VND.
– Acne Treatment: From 600k to 2.000k VND per session.
– Even severe acne can be treated in only 7-8 sessions.
Sviet guarantees 5 Noes:
– No Swelling.
– No Redness.
– No Pain.
– No Peeling.
– No Recurrence.
Aside from the aforementioned characteristics, you can have complete faith in Sviet because: 
– The rooms are neat and tidy, with white towels, white walls, and white mattresses, generating a sense of security 
– MEDICAL STANDARD. – Acne extraction is painless, non-swelling, and non-redness. – The experts, personnel, and owner are all professional, polite, and dedicated. 
– All cosmetics used are from recognized brands with clear origins.
If you have acne, it is recommended that you visit Sviet at least once and use their services.
Address: No. 38, Nguyen Hong Street, Lang Ha Ward, Dong Da District, Hanoi.
Kangnam Beauty Clinic Hanoi
Kangnam Beauty Clinic is a well-known destination for beauty and aesthetic treatments, regularly upgrading and implementing the latest cutting-edge cosmetic technology from around the world. Recognizing the importance of technology in beauty, Kangnam Beauty Clinic is dedicated to continual research, innovation, and the use of cutting-edge technologies to produce flawless beauty results.
Kangnam Beauty Clinic's machines and aesthetic equipment are directly imported from leading cosmetic giants around the world, such as the United States, South Korea, and Japan, and are directly transferred by top experts in the field, with quality assurance verified by the United States Food and Drug Administration (FDA).
Kangnam Beauty Clinic Hanoi is one of the most dependable options for customers concerned about the quality of acne treatment services. The clinic is constructed and developed in accordance with Korean standards, with a comfortable and modern ambiance. 
The clinic is outfitted with cutting-edge equipment, machines, and technologies from around the world. Kangnam Beauty Clinic's experts and doctors are highly qualified professionals from South Korea and Vietnam with years of experience and international training. 
The clinic also has a committed and attentive team that listens to and understands the desires of each customer. Kangnam Beauty Clinic Hanoi currently employs cutting-edge Oxy-Led acne treatment technology.
You can eradicate any concerns and self-consciousness about your formerly acne-scarred skin by attending Kangnam Beauty Clinic Hanoi, giving you the confidence to embrace new experiences in life.
Acne treatment costs 1,000,000 VND for severe acne and 800,000 VND for mild acne at Kangnam Beauty Clinic Hanoi. Depending on the severity of each individual's acne condition, the number of treatment sessions normally ranges from 3 to 5.
With this low price, you can have peace of mind knowing that it is the most cost-effective acne treatment solution on the market.
Address: 190 Truong Chinh, Dong Da district, Hanoi
Phone: 1900 6466
Opening hours: 08:00 AM – 06:00 PM
Loriskin
Loriskin is a popular acne treatment center located at 9 Alley 64 Le Trong Tan, Thanh Xuan, Hanoi that meets the three requirements of Safety, Effectiveness, and Medical Standards.
Loriskin's staff is made up of high-level dermatologists and experts with years of treatment expertise who always prioritize safety. They have a thorough understanding of acne jargon, can effectively diagnose each form of acne, and can pinpoint the underlying causes of acne. Based on this, they develop effective acne treatment procedures for each customer, assuring long-term skin health while saving time and money.
Furthermore, the products utilized on customers' skin at Loriskin are carefully chosen, ensuring that they are 100% renowned pharmaceutical cosmetics brands with clear origins. They are especially excellent for delicate acne-prone skin because of their soothing components.
The special thing about Loriskin is specializes in skin diagnosis and care, offering tailored treatment procedures both at home and in its facilities. They provide constant 1:1 support by trained specialists throughout the therapy procedure.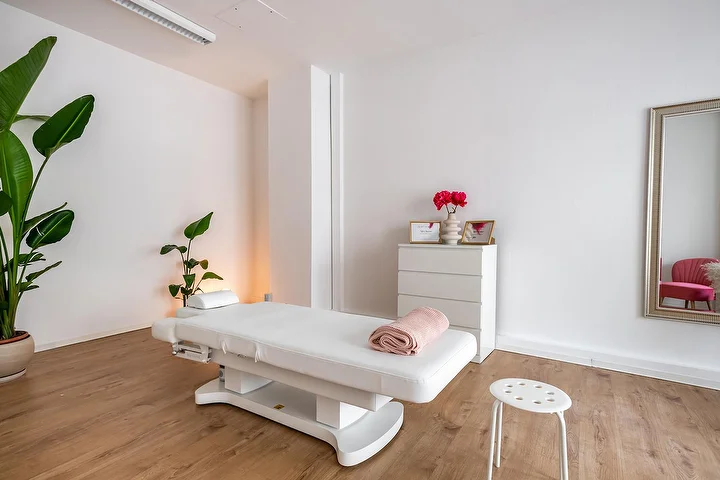 They mix expert Pharmaceutical Cosmetics with cutting-edge technology machines that are FDA and CE-certified, ensuring treatment safety, rationality, and effectiveness.
The therapy procedure is sterile and according to medical guidelines.
They offer high-quality services at a very reasonable price.
Following treatment, the care team will always contact the patient to monitor their condition and remind them of follow-up visits.
Acne therapy takes time, patience, and the supervision of a dermatologist. If you have acne, do not hesitate to contact Loriskin for a dermatologist consultation!
Address: 9 Alley 64 Le Trong Tan, Thanh Xuan district, Hanoi
Hotline: 0977 162 628 & 0967 389 693
Opening hours: 09:00-19:00
To sum it up, this guide has introduced you to a variety of spas in your vicinity, each presenting its own distinct and revitalizing offerings. Whether your goal is relaxation, skincare, or therapeutic healing, you'll find a spa ready to cater to your preferences. So, seize the opportunity to indulge in self-care and embark on a path to wellness right within your local area.
Tư vấn chuyên môn bài viết:
BÁC SĨ DƯƠNG THỊ THÙY NGA
Bác sĩ chỉnh nha tổng hợp
Ngôn ngữ giao tiếp: Tiếng Việt, Tiếng Anh, Tiếng Nga
Đặt Lịch Hẹn
Xem Hồ Sơ
BEDENTAL - TOP STANDARD DENTISTRY SYSTEM
In HANOI
Address 1: 7B Thi Sach St, Ngo Thi Nham, Hai Ba Trung Dist, Ha Noi. - 0934.61.9090
Address 2: 343 Tay Son St, Nga Tu So Ward, Dong Da Dist, Ha Noi. (Nga Tu So Cross) - 0934.61.9090
Address 3: CC2 Tower  Nguyen Huu Tho St, Dinh Cong Ward, Hoang Mai Dist, Ha Noi. (Inside True Hope ) - 0934.61.9090
In HO CHI MINH
Address 1: 140 Nguyen Van Thu St, Da Kao, Dist. 1, Ho Chi Minh. - 0766.00.8080
Address2: 25, City Land urban area, Go Vap Dist, Ho Chi Minh - 0766.00.8080
Working: 9am - 9pm everyday