From traditional Vietnamese therapies to internationally-inspired treatments, Hanoi's spas cater to a diverse range of preferences and offer an array of services designed to pamper and revitalize the body, mind, and soul. Each spa on our list has been carefully selected for its exceptional ambiance, skilled therapists, and commitment to providing an unforgettable spa experience.
Join us as we delve into the realm of Hanoi's top 7 relaxing spa in Hanoi, where ancient healing techniques, modern facilities, and the soothing power of touch combine to create an unparalleled sanctuary of bliss. Discover the perfect retreat to melt away stress, restore balance, and indulge in luxurious treatments that cater to your unique needs.
In the following article, we will explore each of these exceptional spas in detail, highlighting their unique features, signature treatments, and the tranquil ambiance they offer. Get ready to embark on a soothing adventure through Hanoi's top 10 relaxing spas and immerse yourself in a world of tranquility and well-being like no other.
Top 7 relaxing spa in Hanoi – Midori Spa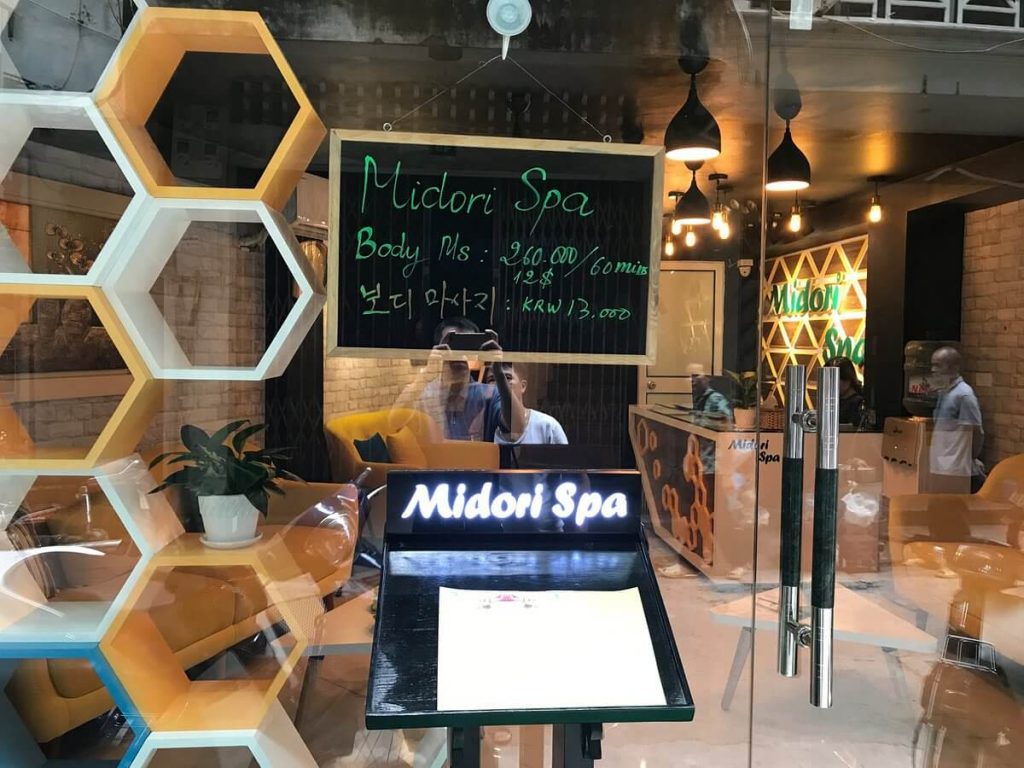 Midori Spa – A spa for the visually impaired, nurturing dreams and instilling hope. With the purpose of beautifying life and people, Midori Spa has found its mission. That is to help everyone take care of their physical and mental health and create employment opportunities for many visually impaired therapists across the provinces and cities of Vietnam.
Massage is a general term that refers to pressing acupoints, rubbing on the skin, muscles, tendons, and ligaments. With the skillful perception through the four senses of the visually impaired, the acupoints and painful areas throughout the body are effectively targeted. These impacts are highly beneficial in supporting the treatment of physical and mental issues. Despite having some visual impairments, the visually impaired individuals channel their souls and spirits into their hands, allowing them to excel in this field and thrive in their work.
Midori Spa has received excellent reviews from both foreign tourists and local residents!
When you visit Midori Spa, you can choose from various services:
– Facial care
– Body care and relaxing massages; acupuncture therapy to alleviate neck, shoulder, back, and lower back pain
– Foot care with foot massages and foot exfoliation
– Body cleansing with various body scrubs made from rice bran, coffee, green tea, fruits, etc.
– Choose beautiful nail sets
– If you want waxing, Midori has it too!
CONTACT INFORMATION:
Addresses:
– 60 Ngõ Huyện, Hàng Trống, Hoàn Kiếm, Hanoi
– 29 Ngõ Huyện, Hàng Trống, Hoàn Kiếm, Hanoi
Phone: 0363 948 369
Top 7 relaxing spa in Hanoi – Thiền Tĩnh Massage & Wellness Center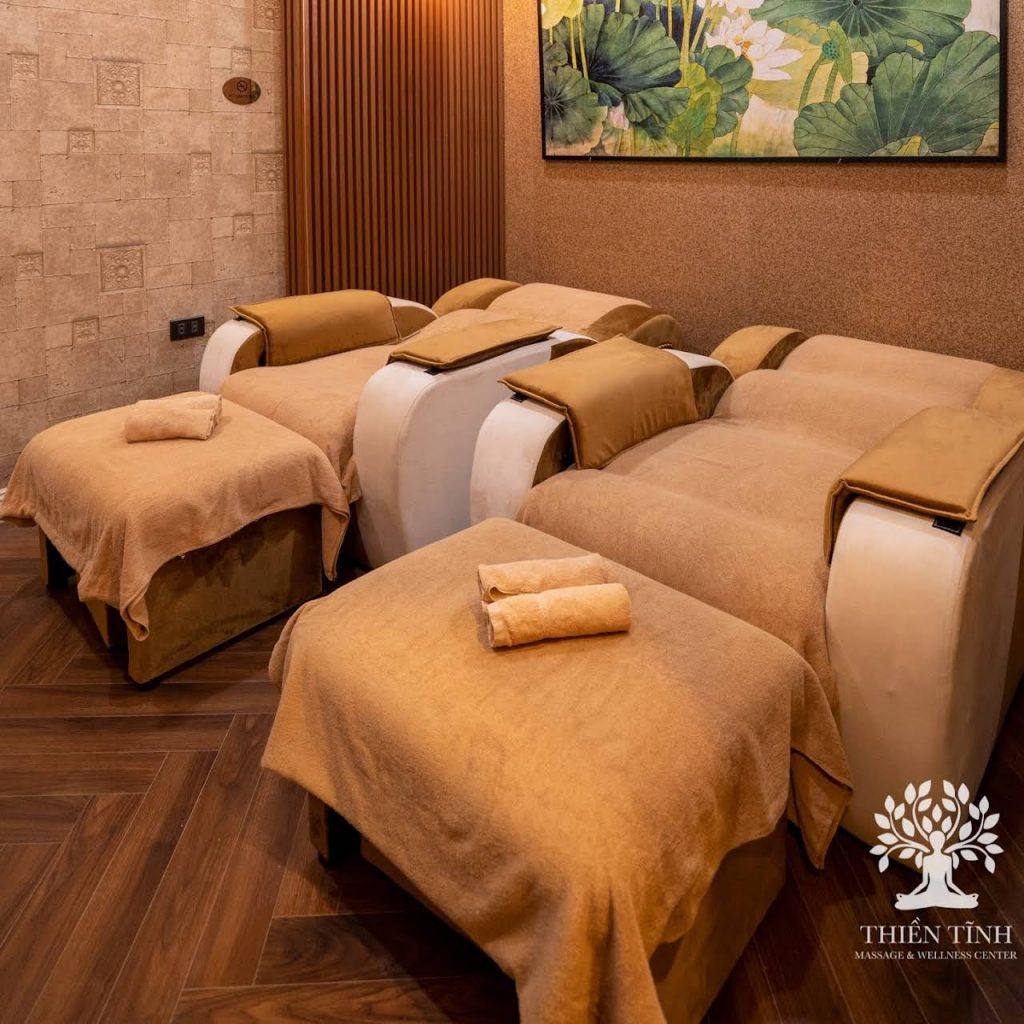 Thiền Tĩnh Massage & Wellness Center is a massage facility that applies Traditional Medicine methods for disease prevention, health care, therapy, and beauty, with a mission to contribute to improving Vietnamese health. With therapeutic methods researched from the ancient medical books of the imperial court's internal medicine, Thiền Tĩnh Massage offers you the relaxation experience of the ancient royal court. If you are stressed, tired, have poor sleep, joint and bone pain, poor blood circulation to the brain resulting in headaches and dizziness, after treatment, you will experience clear and immediate improvement.
At Thiền Tĩnh Massage & Wellness Center, you can enjoy a range of treatments including massages, acupuncture, and relaxation combined with nourishing hair and scalp care, which will help you dispel all fatigue and soreness. In addition, Thiền Tĩnh uses high-quality essential oils made from natural and skin-safe ingredients. These products ensure that the massage process is gentle and more effective, while also taking better care of your skin.
At THIỀN TĨNH – the most tranquil space in the heart of Hanoi's Old Quarter, you will enjoy the tranquility amidst the bustling city, experiencing techniques such as kneading, acupuncture, and overall head, shoulder, neck, and arm massage to affect the meridians, circulatory system, blood, and nerves with the skillful hands of the therapists. The service style at Thiền Tĩnh is highly praised. The dedicated and attentive staff members are friendly, always listening and meeting customers' needs. Every detail, from registration procedures to service consultation and the massage process, is carried out with dedication and professionalism.
Besides providing quality therapeutic massage services, the interior design at Thiền Tĩnh is also noteworthy. The combination of lighting, sound, plants, and aromatic essential oils affects all senses: smell, hearing, and touch. It makes you feel like you are immersed in a serene and peaceful space, forgetting the passage of time. The exterior design blends harmoniously with nature, while the interior is minimalist yet elegant, creating a warm, private, and discreet atmosphere.
Book an appointment today to experience the perfect tranquility at Thiền Tĩnh!
CONTACT INFORMATION:
Address: 3A Tràng Thi, Hàng Trống, Hoàn Kiếm, Hanoi
Phone: 024 3200 8148
Please note that the contact information provided is based on the information available up until September 2021. It's recommended to verify the contact details before making any appointments or visiting the spa.
Top 7 relaxing spa in Hanoi – Estheva Spa Hanoi 
Estheva Spa Hanoi – A Sanctuary for Health and Soul Nurturing. We offer a safe and natural approach to wellness and beauty, without the use of surgical procedures or harmful chemicals. Our signature method is the art of holistic nurturing at Estheva Spa Hanoi.
Holistic nurturing therapy is a method of caring for one's health, sustaining life, and promoting growth. It combines the use of precious herbs, medicinal plants, and various techniques, including massage and acupuncture, to improve blood circulation and balance energy flow. Our specialized equipment and devices provide additional vital energy and steam therapy.
When you visit Estheva Spa Hanoi, you can choose from a range of services:
– Detoxifying foot bath to release excess moisture and cold energy.
– Health improvement and pain relief through the holistic nurturing method, targeting the meridians and vital organs such as the neck, shoulders, kidneys, liver, spleen, heart, and more.
– Head care with our rejuvenating scalp treatment and gentle facial cupping using precious gemstones.
– Relaxation and stress relief from the demands of work and daily life with full-body and foot massages, as well as hot stone therapy.
– Beauty treatments to preserve youthfulness, including basic and deep facial care, gemstone facial massage, and full-body exfoliation.
Our Estheva Nail Room offers a luxurious space to enhance your life with beautiful, adorned nails. The elegant ambiance, combined with soothing music and aromatherapy, helps dissolve all tensions and anxieties.
CONTACT INFORMATION:
Address: 75 Lo Su, Hoan Kiem, Hanoi
Phone: 0392 086 109 & 024 3719 3999
Opening hours: 09:00 AM – 12:00 PM
Top 7 relaxing spa in Hanoi – Soleil Spa Hanoi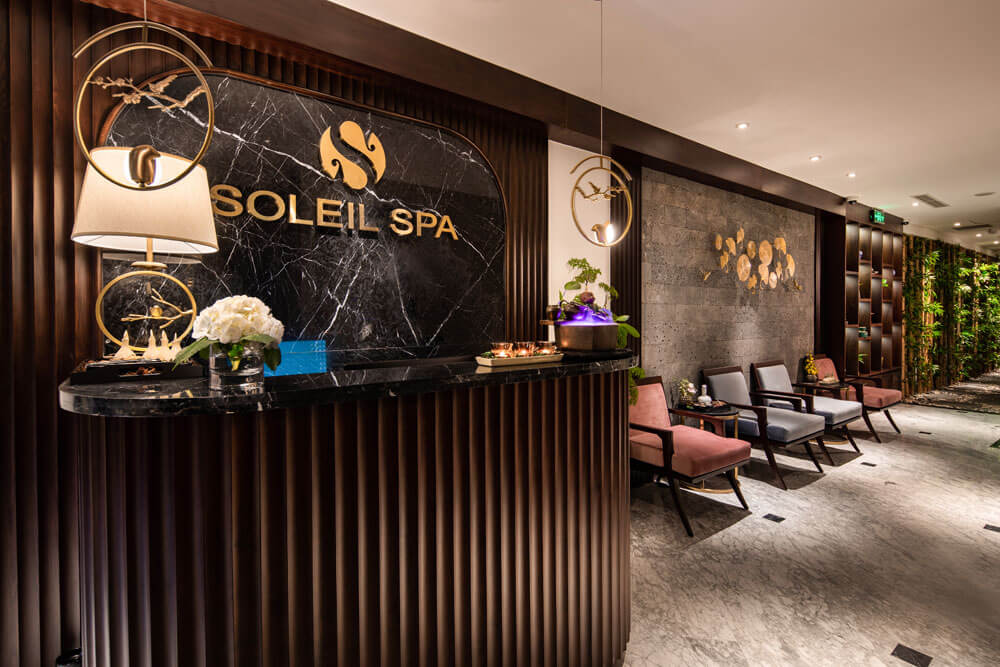 Soleil Spa Hanoi is one of the most luxurious and prestigious spas offering massage services in Hanoi. Located in the heart of the bustling capital city, Soleil Spa provides a tranquil escape from the busy life, allowing you to unwind and alleviate stress with natural therapies. Take the opportunity to love and care for yourself after long hours of exhausting work. Enjoy a therapeutic spa session with your loved ones, engaging in conversation and experiencing moments of relaxation at Soleil Spa.
The spa's atmosphere is thoughtfully designed, from the soothing scents to the gentle background music. The warm and cozy ambiance creates a welcoming environment, where both receptionists and massage therapists are friendly, cheerful, and eager to greet guests. Our well-trained massage therapists possess expert knowledge of massage techniques, ensuring that you truly indulge and feel comfortable during your visit. Soleil Spa Hanoi offers a peaceful and private experience for its guests.
We regularly provide amazing promotions and discounts for our customers, so be sure to follow our fan page to receive unexpected offers! Our services include:
– Aloe vera treatment
– Herbal steam bath
– Aromatherapy massage
– Head massage
– Facial detoxification
– Snack and smoothie menu
CONTACT INFORMATION:
Address: 211 Hang Bong, Hoan Kiem, Hanoi
Phone: 024 3719 1555
Top 7 relaxing spa in Hanoi – Zen Villas – Massage & Spa
Welcome to Zen Villas, a haven of relaxation and rejuvenation inspired by the serene beauty of meditation. We believe in unlocking the subconscious and inner strength within each individual, providing a space for tranquility in both body and mind. Let go of your worries and stresses of everyday life and embrace a renewed sense of health and optimism at Zen Villas.
At Zen Villas, we bring together the essence of nature, traditional Vietnamese massage techniques, and the healing power of folk remedies. Our goal is to address the root causes of any physical or emotional imbalances you may be facing. With almost 5,000 square meters of space and 100 massage rooms, we cater to solo guests, families, groups of friends, and even office teams. Our staff and technicians have extensive experience and are trained and certified by the Central Traditional Medicine Hospital.
During your visit, you will experience a 6-step treatment journey:
Hot and cold baths to invigorate your senses.

Soaking in the traditional herbal bath of the Dao people.

Immersion in a bubbling herbal bath with various precious medicinal ingredients.

Wet steam therapy to detoxify and improve blood circulation.

Refreshing shower to cleanse and relieve tension.

Traditional massage and acupuncture therapy performed by experienced technicians.
After your massage session, we invite you to indulge in our culinary space, offering nourishing soups, salads, seasonal fruits, and refreshing beverages to complete your experience.
CONTACT INFORMATION:
Address: 15A Tran Khanh Du, Hoan Kiem, Hanoi
Phone: 0943 153 232
Opening hours: 09:00 AM – 10:30 PM
Top 7 relaxing spa in Hanoi – Mộc Spa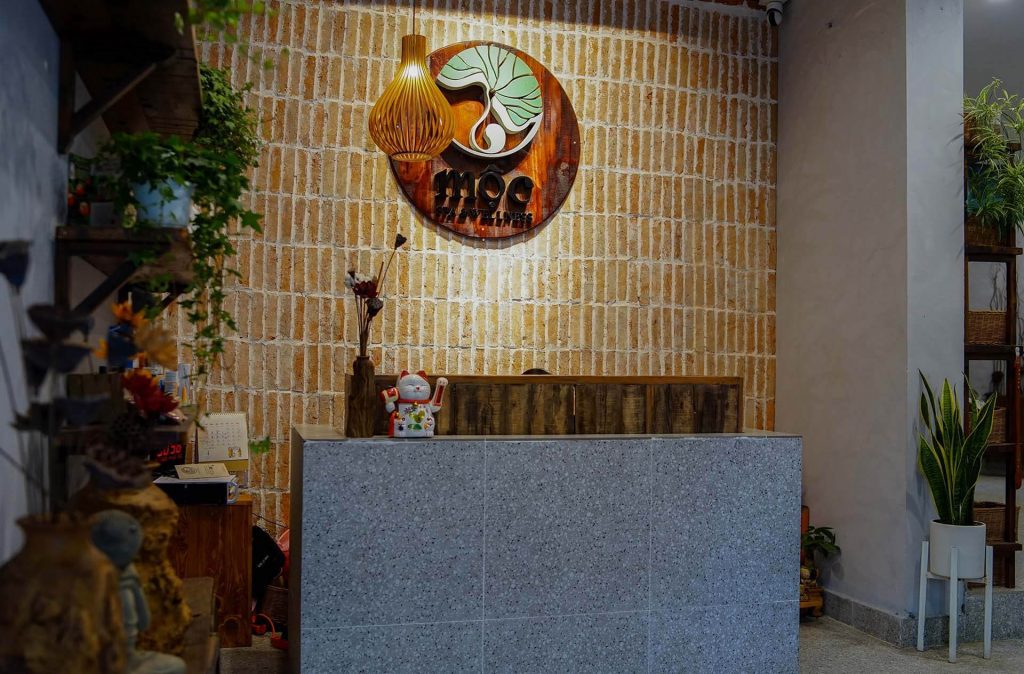 At Mộc Spa, we always prioritize the trust and satisfaction of our customers, striving to exceed expectations with our unwavering dedication. Our friendly and professional service leaves a lasting impression on each and every guest. We cherish the bond between our customers and Mộc Spa, constantly seeking improvement and growth. We value the feedback and experiences of our customers, as they drive us to continuously enhance our offerings.
To pamper your skin, we provide moisturizing massages using Japanese yogurt, oatmeal, and detoxifying seaweed to soothe your body and achieve a soft and elastic skin texture. Japanese yogurt will leave your skin radiant and flawless.
Mộc Spa is equipped with modern facilities and spacious rooms to cater to the diverse needs of our customers. Our prices are reasonable, and we serve both local and international guests. Additionally, we have separate rooms for couples and individuals, ensuring a personalized and tranquil experience without any additional charges.
CONTACT INFORMATION:
Address: 65A Tran Quoc Toan, Hoan Kiem, Hanoi
Phone: 024 3941 3901 & 0946 481 979
Opening hours: 09:00 AM – 09:00 PM
Top 7 relaxing spa in Hanoi – EM Spa
Welcome to EM Spa, where you can indulge in a relaxing body massage and experience a truly wonderful journey of health restoration. Our professional massage techniques target specific acupoints on your body, providing noticeable rejuvenation and deep relaxation. You'll feel the tension melt away, fatigue diminish, and enjoy improved sleep quality.
You might think that such effective results would require a long massage session. However, at EM Spa, just a 120-minute body massage, focusing on clearing the meridians, will make a remarkable difference in your body.
This approach promotes the smooth flow of vital energy, preventing blockages along the 12 meridians and blood vessels. It enhances the natural rosiness and smoothness of your skin by comprehensively stimulating the acupoints from within. Additionally, it improves blood and lymph circulation, aids in weight loss, and helps you regain a slim figure. For those suffering from fatigue, stress, poor sleep, shoulder and neck pain, or joint discomfort, clearing the meridians is an optimal method for improvement.
CONTACT INFORMATION:
Address: No. 3, Alley 21, Phan Chu Trinh, Hoan Kiem, Hanoi
Phone: 024 6292 7700 & 0963 937 700
Opening hours: 08:00 AM – 07:00 PM
Conclusion
In conclusion, Hanoi offers a myriad of options for those seeking a relaxing spa experience, with each establishment providing a unique and rejuvenating ambiance. Among the top spas in Hanoi, you will find a range of luxurious settings and traditional therapies designed to cater to diverse needs. Whether you desire a tranquil oasis in the heart of the city or a serene retreat on the outskirts, Hanoi has the perfect spa for your relaxation needs.
With establishments like the enchanting La Belle Spa and the therapeutic Tirta Spa, you will be spoiled for choice. So, "What's the right spa for relaxing in Hanoi ?" This question ultimately depends on your personal preferences, desired treatments, and the specific ambiance you seek.
Whether you are in search of holistic healing, ancient therapies, or simply a place to unwind and pamper yourself, Hanoi's top spas are poised to offer a tranquil escape from the hustle and bustle of city life. Indulge yourself and embark on a wellness journey to discover the spa that resonates with your desires – Hanoi eagerly awaits to provide you with a world of relaxation and serenity.
Tư vấn chuyên môn bài viết:
BÁC SĨ DƯƠNG THỊ THÙY NGA
Bác sĩ chỉnh nha tổng hợp
Ngôn ngữ giao tiếp: Tiếng Việt, Tiếng Anh, Tiếng Nga
Đặt Lịch Hẹn
Xem Hồ Sơ
BEDENTAL – HỆ THỐNG NHA KHOA TIÊU CHUẨN HÀNG ĐẦU
CHI NHÁNH HÀ NỘI
CS1: 7B Thi Sách, Ngô Thì Nhậm, Hai Bà Trưng, Hà Nội - 0934.61.9090
CS2: Tòa nhà CC2, Nguyễn Hữu Thọ, Hoàng Mai, Hà Nội (Bên trong Truehope) - 0934.61.9090
CHI NHÁNH TP.HỒ CHÍ MINH (HCM)
CS1: 140 Nguyễn Văn Thủ, Đa Kao, Quận 1, Tp.Hồ Chí Minh - 0766.00.8080
CS2 :Số 25, đường số 7 khu đô thị Cityland Gò Vấp (Ngõ 672A Phan Văn Trị), Gò Vấp, TP Hồ Chí Minh, Việt Nam -  093 181 0680
CHI NHÁNH THÀNH PHỐ VINH - NGHỆ AN
CS1: 39A Đ. Lê Hồng Phong, Hưng Bình, Thành phố Vinh, Nghệ An - 0934.61.9090
GIỜ HOẠT ĐỘNG:
09h00 – 21h00. Tất cả các ngày trong tuần
Website: https://bedental.vn/