Lingual braces and what you need to know ?
Lingual braces are better than traditional braces? Can I wear lingual brace? Orthodontics is a way to treat misaligned teeth, overbite, underbite,etc. It is becoming more and more popular, however, many people still hesitate because of aesthetics when wearing braces. To overcome this disadvantage, lingual braces were invented. Let's find out in this article!
What is lingual brace ?
When it comes to braces, most people think of an unsightly set of iron-filled teeth. Fortunately, the advancement of orthodontic technology has led to the emergence of lingual braces. Lingual braces have the same components as conventional braces, but they're fixed to the back of your teeth, on the tongue – or lingual – side of the teeth. Because they're behind your teeth, they're nearly invisible, help to increase the aesthetics and help people more confident when communicating.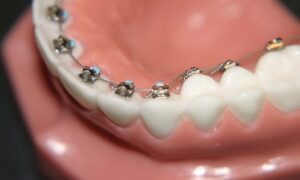 The method of brace in the side og the teeth can be used for everyone, from kids to adults. It also can be used for overbite, misaligned teeth,uneven teeth.
Overbite: Overbite or retrognathism is a popular malocclusion type. It is easy to be seen the upper jaw and teeth severely overlap the bottom jaw and teeth, lead to uneven face, less aesthtic. You can use lingual brace to solve the problem of protruding teeth, ensure the correct bite, and eat easier.
Underbite: Underbite or prognathis. With normal bite, the upper teeth fit slightly over lower teeth and the points of molars fit the grooves of the opposite molars but at people who have underbite, the lower jaw protrudes or juts forward, causing the lower jaw and teeth to overlap the upper jaw and teeth. Braces are attached to the inside of the teeth to help straighten the upper and lower jaw evenly, bite properly, improve the bad condition of the teeth.
Diastema: Diastema or gap-toothed, gaps can occur anywhere in your mouth, but they're most common between your two front teeth. This condition is usually a cosmetic concern, but sometimes, it's related to gum disease. Lingual braces facilitate intervention and approximate the distal teeth to ensure cosmetic, bite and chewing function.
Advantages: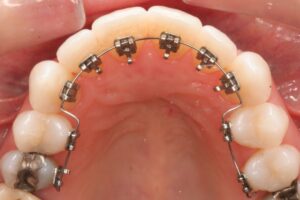 Lingual braces are an advanced method compared with traditional braces. There are some great advantages, such as:
Cosmetic: Archwire is attached behind the teeth so basically, lingual braces are virtually invisible, other people can't see them unless you open your mouth wide. It helps people in brace process feel more comfortable, confident when interact face-to-face. For people who have to appear in front of crowd or work in media industry, MC,etc, this is definitely appropriate method.
Possibly less pain: During the process of wearing braces, the outer surface of the brackets is scratched with the oral mucosa, which can cause inevitable canker sore in the mouth due to the friction of the objects. There are many cases of cheek wounds due to over exercise. When using braces on the outside, it is easy to hurt the lips and cheeks when they collide. So using an internal bracket can save you from this
Preventing dental diseases: when removing brace, you can face some issues like tooth decay, white spots appear on the surface of the teeth… If the braces are on the tongue, the outside of the teeth will be kept intact, you don't need to worry about it affect aesthetics
See more: Ceramic braces
Where can you get the service ?
Bedental is a pioneer in in-depth research on lingual braces. Our doctors focus on researching about braces, updating the latest methods of braces, helping to shorten treatment time and bring high efficiency to customers.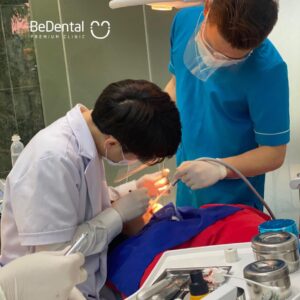 With the best dental professionals in Vietnam, BeDental is a popular address for providing dental services and a leader of dentistry field with the support of advanced technology. Bedental confidently commits to help you have a beautiful, bright smile.
Referring our prices of BeDental at here
BEDENTAL - TOP STANDARD DENTISTRY SYSTEM
In HANOI
Address 1: 7B Thi Sach St, Ngo Thi Nham, Hai Ba Trung Dist, Ha Noi. - 0934.61.9090
Address 2: 98C Chien Thang St, Van Quan, Ha Dong Dist, Ha Noi. - 0934.61.9090
In HO CHI MINH
Address 1: 56 Nguyen Dinh Chieu St, Da Kao, Dist. 1, Ho Chi Minh. - 0766.00.8080
Working: 9am - 9pm everyday