Are lingual braces more effective than regular braces? Can I put on a lingual brace? Orthodontics is a treatment method for misaligned teeth, overbite, underbite, and other dental issues. Although it is getting increasingly mainstream, many people are still hesitant to wear braces for cosmetic reasons. Lingual braces were created to compensate for this issue. Let us investigate in this article!
What is lingual brace ?
Braces are commonly associated with an unattractive set of iron-filled teeth. Lingual braces have been developed as a consequence of developments in orthodontic technology. Lingual braces, like traditional braces, are affixed to the back of your teeth, on the tongue – or lingual – side of the teeth. They are practically undetectable since they are buried behind your teeth, and they assist people in communicating more confidently.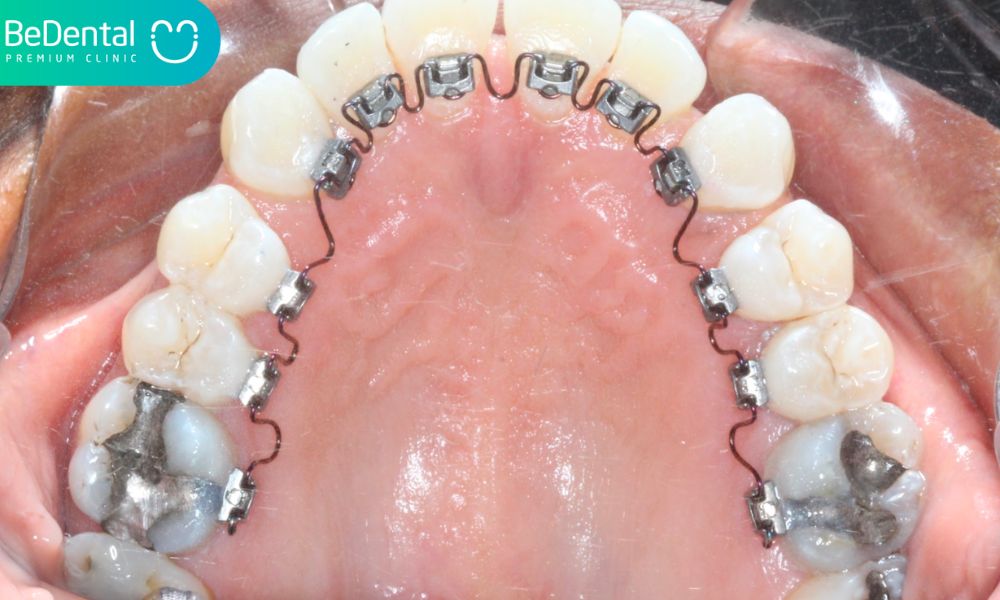 Braces on the side of the teeth can assist everyone, from youngsters to adults. It can also be used to address overbite, misaligned teeth, and uneven teeth.
Overbite: Overbite, also known as retrognathism, is a common kind of malocclusion. It is clear that the upper jaw and teeth substantially overlap the lower jaw and teeth, resulting in an uneven and less attractive face. Lingual braces can be used to straighten projecting teeth, guarantee proper bite, and make eating more comfortable.

Underbite: Underbite or prognathism. Underbite occurs when the lower jaw protrudes or juts forward, causing the lower jaw and teeth to overlap the upper jaw and teeth. Braces are fastened to the interior of the teeth to assist straighten the upper and lower jaws uniformly, bite properly, and enhance the health of the teeth.

Diastema: Diastema, often known as gap-toothed, gaps can appear anywhere in your mouth, but they are most frequent between your two front teeth. This ailment is generally a cosmetic issue, although it can also be caused by gum disease. Lingual braces make it easier to intervene and approximate the distal teeth for aesthetic, bite, and chewing function.
Advantages:
Lingual braces's advantages
Lingual braces are a more sophisticated approach than regular braces. There are several advantages, including:
Cosmetic: Lingual braces are almost undetectable to others since the archwire is connected behind the teeth. It makes those who are braced feel more at ease and confident when they engage with others. This is unquestionably a good strategy for those who must perform in front of a public or work in the media sector, such as MCs.

Possibly less pain: During the process of wearing braces, the exterior surface of the brackets is scraped with the oral mucosa, which can result in an unavoidable canker sore in the mouth owing to the friction of the items. Excessive activity has been linked to multiple complaints of cheek wounds. When braces are worn on the outside, the lips and cheeks are vulnerable to injury when they clash. You may avoid this by using an internal bracket.

Preventing dental diseases: You may notice tooth decay and white patches on the surface of your teeth after removing your braces… The exterior of the teeth will be kept if the braces are placed on the tongue, so you won't have to worry about looks.
Disadvantages:
Lingual braces, like other methods, have some drawbacks:
Price: Lingual braces are the most expensive brace option because of the cost of the brace itself, especially if the brackets are custom-made. Lingual orthodontics also demands expert physicians who have specific training to understand the method, and adjustment consultations take longer because they aren't as easily available as standard braces.

Eating habits: You must change your diet when wearing a lingual brace (as well as traditional metal braces) and prevent eating anything hard, chewy, or crusty that might dislodge one of your brackets. If a custom-made bracket falls off, we'll need to arrange for a replacement, which may lengthen the time of your treatment. You should also take extra care with your brushing and cleaning regimen.

Lisp: You may acquire a lisp after placing the brace. Again, this should only last a few days, and we can give you some ideas to help you adjust. The more you discuss, the sooner the situation should be handled. If you work in a profession that needs you to talk regularly, we normally recommend having your braces fitted on a day when you can take a few days off (such as a weekend or annual leave) to give yourself some time to get acclimated to speaking.
Who is the candidate for lingual braces?
The only way to know for sure if lingual braces are correct for you is to consult with your orthodontist. In general, lingual braces can treat the same types of alignment abnormalities as regular braces.
But, lingual braces are not for everyone. Individuals with very deep overbites, for example, may have brackets popping off more frequently.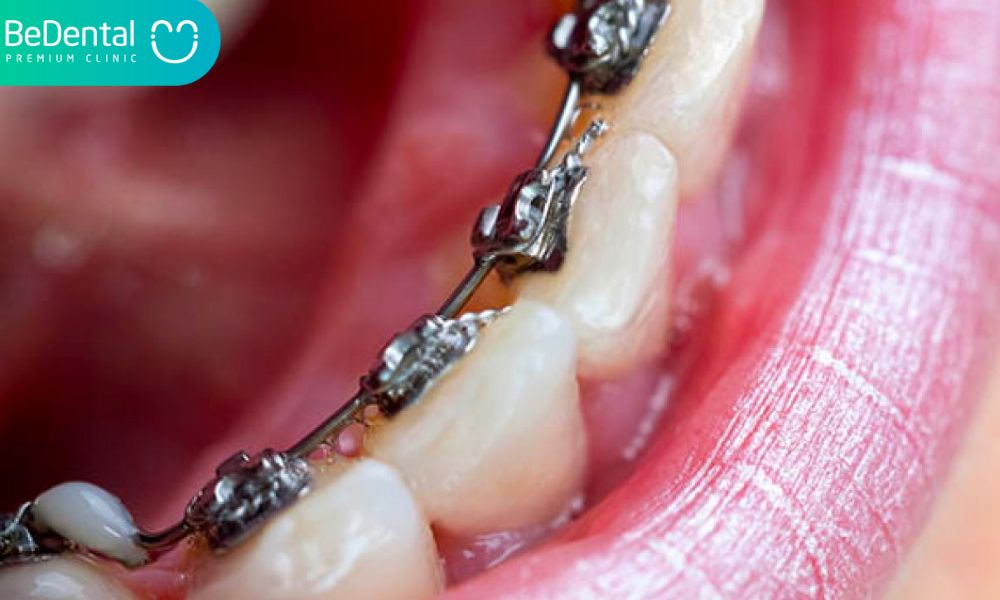 Your orthodontist will inspect your teeth and consult which treatment choices are most likely to work well for you at your initial consultation. If you're thinking about getting lingual braces, consult with your orthodontist early on because not all orthodontists are equipped to use them.
Lingual braces' cost
The cost of your braces will vary depending on:
the length of your treatment

where you live

your insurance coverage (if you have insurance)

which appliance type you choose.
Generally speaking, the American Association of Orthodontists reports that braces cost between $5,000 and $7,000.
Where can you get the service?
BeDental will be the best choice for those who want to experience the top-notch facilities and qualified dentist.
After a short period of operation, the center quickly established itself as a popular destination for dental treatments and a leader in the area of dentistry. BeDental is set to become the top dentistry facility in Vietnam, thanks to highly qualified dental specialists, cutting-edge technology, and cutting-edge equipment such as a 3D Scan CT scanner, Panorama and Cephalo X-rayq machines, a laser teeth whitening system, and so on. BeDental was established with the mission "Sow smile, spread success", and believe that everyone deserves to have a charming and confident smile. That's why Be tried their best to solve the dental problems or obstacles that hide your stunning smile.
In reality, expenses are variable and rely on a variety of factors in a dental office, such as region, facilities, staff, service quality, brand awareness, technology, and so on. BeDental has revised their price list as our facilities and technologies have improved over the last ten years of growth and development. They make certain that their fees are affordable and flexible to a variety of financial conditions.
Dental services Price list at BeDental
Here is dental services price list at BeDental
Over 10,000 patients from overseas chose Bedental last year because we provide premium quality dental care at affordable fees and prices.
We do not provide the cheapest dental works in Vietnam as premium dental works cannot be offered at cheap price.
However, compared to the prices of dentists in the US, UK, Australia and New Zealand….. you can expect to save up to 70% of the cost of dental treatments while getting the same level of quality. All products, materials and equipment are manufactured in the US, Japan or Europe. All of them are FDA and CE safety regulation compliant.
ORTHODONTICS PRICE LIST
SERVICE CODE
NAME
PRICE (VND)

CN01

1. Orthodontic Trainer

7.000.000

2. Orthodontic Brace

CN02

Japanese traditional

metal brace

 (See more…)

(2 jaws)

30.000.000

CN03

USD traditional metal brace

 (See more…)

(2 jaws)

35.000.000

CN04

Self-ligating metal brace

(See more…)

(2 jaws)

42.000.000

CN05

Traditional ceramic brace

(See more…)

(2 jaws)

35.000.000

CN06

Self-ligating ceramic brace

(2 jaws)

55.000.000

CN07

Traditional Sapphire brace

(2 jaws)

45.000.000

CN08

Miniscrew: 2.500.000/1 vis

(See more…)

2.500.000

3. INVISALIGN

CN09

Clincheck film

10.000.000

CN10

Invisalign Express Package (Simple)

(Each jaw)

35.000.000

(2 jaws)

45.000.000

CN11

Invisalign Lite Package (Mild)

(Each jaw)

60.000.000

(2 jaws)

75.000.000

CN12

Invisalign Moderate Package (Moderate)

(Each jaw)

85.000.000

(2 jaws)

110.000.000

CN13

Invisalign Comprehensive – level 1 (Unlimited)

Full/ Package

130.000.000

CN14

Invisalign Comprehensive – level 2 (Unlimited)

Full/ Package

150.000.000
FAQs:
Do lingual braces take longer?
Treatment period is comparable to that of traditional braces but longer than that of clear aligner trays.
Are lingual braces painful?
Lingual braces should not be any more uncomfortable than other types of braces. Of course, there will be some discomfort when your orthodontist first fits your lingual braces. It's natural to feel this sensation since your teeth have never had anything pushing on them before.
Which is faster: Invisalign or lingual braces?
When Invisalign is a good choice, patients generally see a visible change sooner than when lingual braces are used. Modifications might be noticeable in weeks rather than months, as with braces. The majority of Invisalign treatments take 12 to 18 months to complete. Braces are usually worn for one to three years.
Can you eat pizza with lingual braces?
Yes! You absolutely may, as long as you avoid rough and hard crusts and toppings, as well as those that are sticky or stringy, and consume in small, cautious bits. Of course, cleaning your teeth and metal wires after eating is also crucial for good oral health.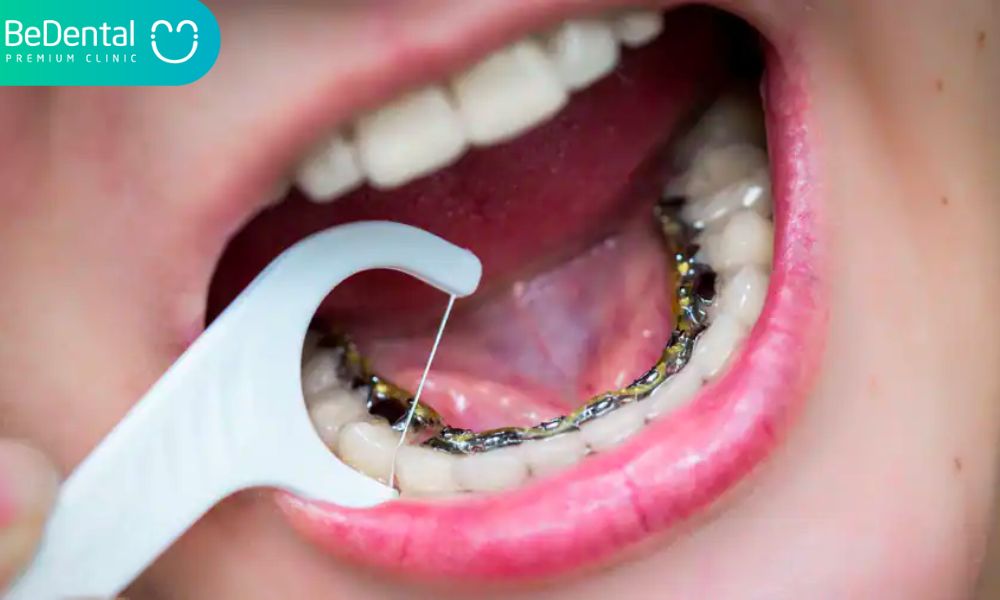 How long does it take to get used to lingual braces?
Most patients say it takes between a few days to one to two weeks to fully adjust. The good news is that Incognito hidden braces are fully customized, so Dr. Buddy is able to design them to be smoother and smaller than traditional braces, making the adjustment period even easier.
More
Dentium implants: 5-step procedure
Water flossers: The 8 best water flossers of 2023
Porcelain veneers: Where can you go for porcelain veneers in Hanoi and HCM city?
Root canal treatment: 5 things that you wonder about
Tư vấn chuyên môn bài viết:
BÁC SĨ DƯƠNG THỊ THÙY NGA
Bác sĩ chỉnh nha tổng hợp
Ngôn ngữ giao tiếp: Tiếng Việt, Tiếng Anh, Tiếng Nga
Đặt Lịch Hẹn
Xem Hồ Sơ
BEDENTAL - TOP STANDARD DENTISTRY SYSTEM
In HANOI
Address 1: 7B Thi Sach St, Ngo Thi Nham, Hai Ba Trung Dist, Ha Noi. - 0934.61.9090
Address 2: 343 Tay Son St, Nga Tu So Ward, Dong Da Dist, Ha Noi. (Nga Tu So Cross) - 0934.61.9090
Address 3: CC2 Tower  Nguyen Huu Tho St, Dinh Cong Ward, Hoang Mai Dist, Ha Noi. (Inside True Hope ) - 0934.61.9090
In HO CHI MINH
Address 1: 140 Nguyen Van Thu St, Da Kao, Dist. 1, Ho Chi Minh. - 0766.00.8080
Address2: 25, City Land urban area, Go Vap Dist, Ho Chi Minh - 0766.00.8080
Working: 9am - 9pm everyday