Hanoi, the bustling capital of Vietnam, is not only renowned for its rich cultural heritage and vibrant city life but also for its exceptional healthcare services. With a commitment to providing world-class medical care, Hanoi boasts a wide array of prestigious hospitals that cater to both local residents and international visitors. These healthcare institutions serve as beacons of excellence, offering state-of-the-art facilities, cutting-edge technology, and a compassionate approach to patient care.
In this article, we embark on a journey to explore the exceptional hospitals in Hanoi, delving into their key features, specialties, and commitment to delivering superior healthcare. Whether you seek renowned pediatric care, advanced surgical interventions, or holistic wellness services, Hanoi's hospitals stand ready to provide world-class medical treatment. Join us as we navigate through the city's medical landscape and discover the hospitals that define excellence in healthcare, elevating Hanoi's status as a hub for premium medical services.
1) Vietnam National Children's Hospital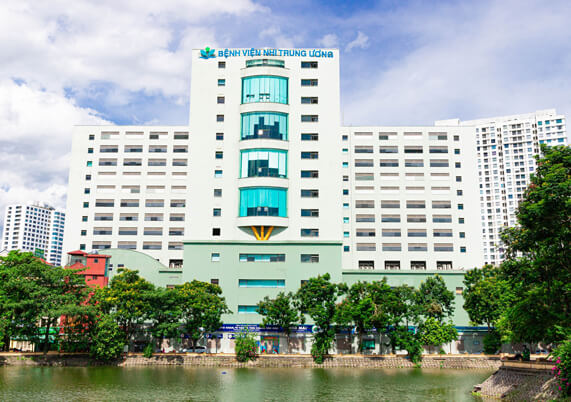 The Vietnam National Children's Hospital is a leading pediatric healthcare facility in the country and is considered on par with many major hospitals in the Southeast Asia region.
The hospital specializes in providing comprehensive healthcare services for children under 15 years old, utilizing advanced and modern technologies in treatment. It also focuses on developing a center for pediatric training, research, and guiding the development of pediatric healthcare services nationwide.
The hospital offers comprehensive examination, consultation, and treatment for children in various specialized departments, including:
– Ear, Nose, and Throat Department
– Pediatric Orthopedics and Craniofacial Department
– Infectious Diseases Department
– Immunology, Allergy, and Rheumatology Department
– Hepatology, Emergency, and Toxicology Department
– Nephrology and Hemodialysis Department
– Physical Therapy and Rehabilitation Department
– Neonatology Department
– Gastroenterology, Clinical Nutrition, Endoscopy Department
– Cardiology Department
– Pediatric Urology Department
– Endocrinology, Metabolism, and Genetics Department
– Neurology Department
– Respiratory Department
– Psychiatry Department
– Traditional Medicine Department
– Oncology Department
– Parents have two options when bringing their children for examination at the Vietnam National Children's Hospital:
Examination at the Outpatient Department: The cost of examination is lower, and children can enjoy health insurance benefits as regulated. However, the waiting time is usually long due to high patient volume.

Examination by appointment at specific departments: Parents can choose one of the three voluntary zones within the hospital. The cost will be higher, and children will not receive health insurance benefits. However, they will be treated by a team of skilled doctors, including department heads and deputy heads who work directly at the hospital. Additionally, there is no long waiting time for examination.
– Voluntary Zone A: Provides the best quality services and has higher costs. The infrastructure is equivalent to a 3-star hotel, including different room types for patients, convenient parking, modern operating rooms, on-site dining, and laundry services.
– Voluntary Zones B and C: These zones are not as modern as Voluntary Zone A, and the waiting time for examinations is longer. The costs are moderate and not significantly higher than regular examinations.
CONTACT INFORMATION:
Alternate Names: Nhi Hospital, Children's Health Protection Institute, Vietnam-Sweden Children's Hospital, Olof Palmer Children's Hospital
Addresses:
– Main Entrance: 18/879 La Thanh, Lang Thuong Ward, Dong Da District, Hanoi
– Side Entrance: 01 Alley 80, Chua Lang Street, Dong Da District, Hanoi
Phone: 024 6273 8574 & 0865 879 879
Email: hnkh-bvn@gmail.com
Opening Hours:
– Administrative Hours: 7:00 AM – 4:30 PM (Monday – Friday)
– Examination & Emergency Services: 24/7
Read more >> Top gym near me
2) Pediatric Department – Bach Mai Hospital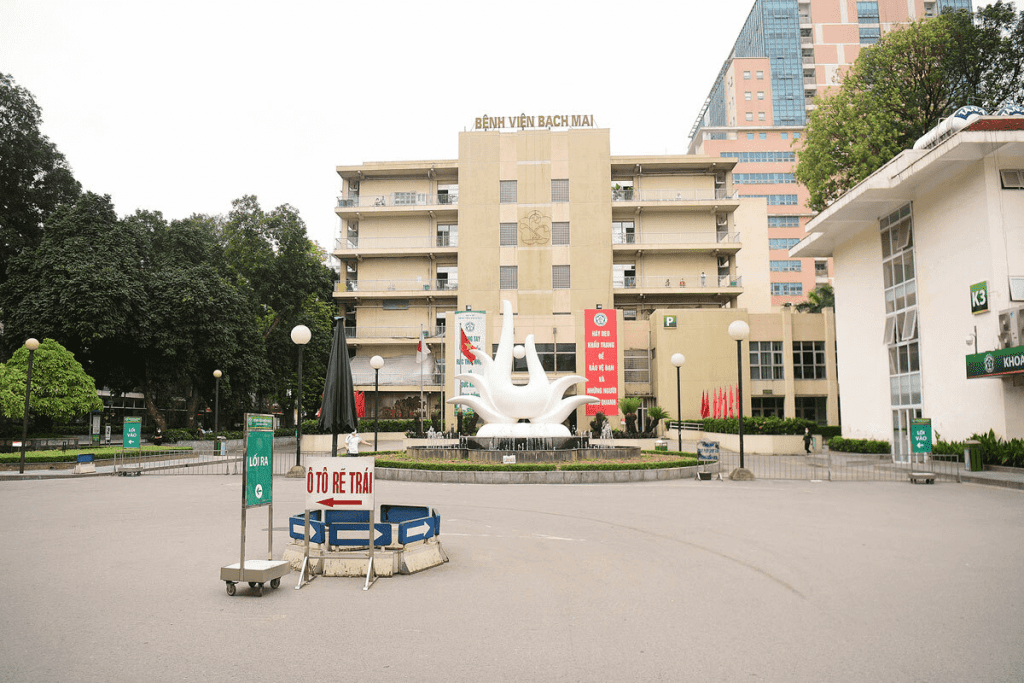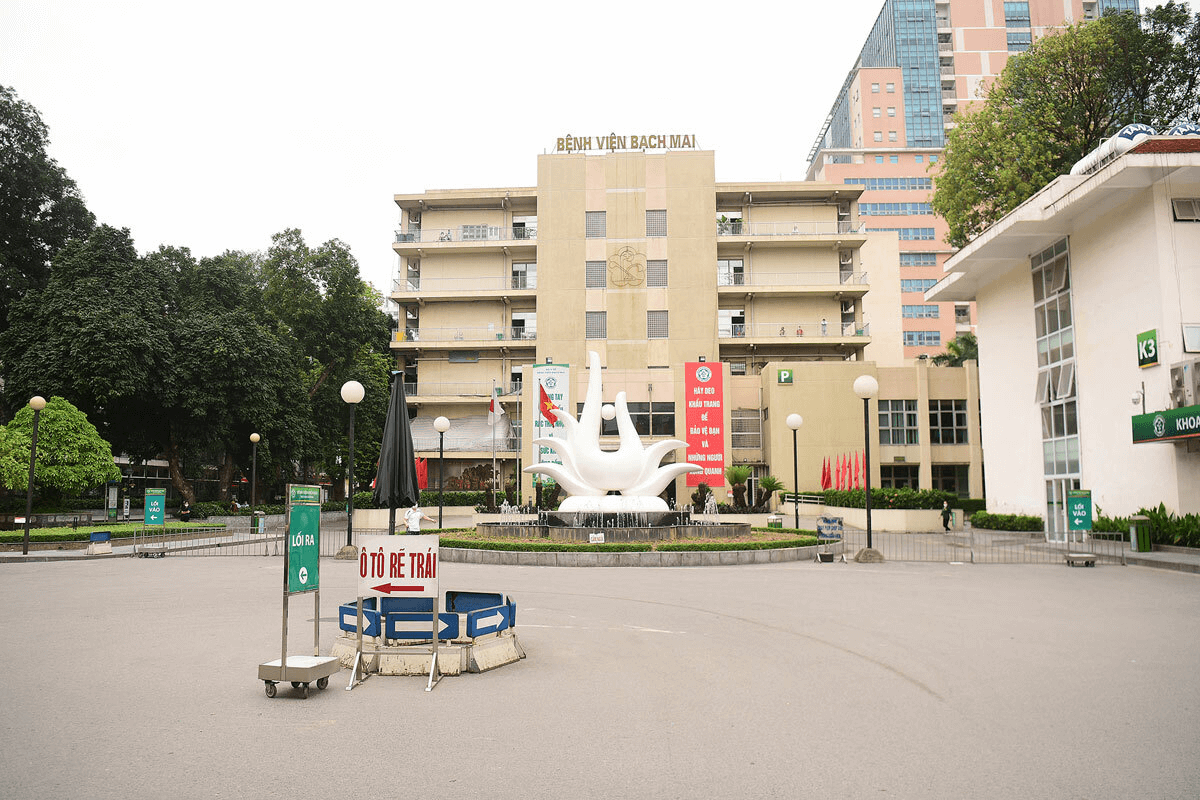 Bach Mai Hospital is one of the largest general hospitals in the country, specializing in treating complex cases with a team of skilled and highly trained doctors. As a result, it is considered a reputable and highly regarded healthcare institution trusted by the people.
With a history of 60 years of growth and development, the Pediatric Department has become the cradle that produces many excellent leaders for Bach Mai Hospital and is the development center of the National Pediatric Hospital. The department has performed well in its role of examination, treatment, guiding the healthcare system, and has a rich history of international cooperation with many hospitals and organizations worldwide.
The Pediatric Department provides services such as examination and treatment of major internal diseases in children under 15 years old, training of medical personnel, scientific research, and more. Additionally, the department has collaborated extensively with international hospitals and organizations, particularly the Japan International Cooperation Agency (JICA) and the Japan International Medical Center in Tokyo, for many years in training personnel and enhancing diagnostic and treatment capabilities, achieving significant accomplishments.
The department focuses on the diagnosis and treatment of various diseases, including respiratory conditions (bronchial asthma, bronchitis, pneumonia, chronic obstructive pulmonary disease, bronchiectasis, etc.), gastrointestinal disorders (diarrhea, constipation, gastroesophageal reflux, cyclic vomiting, etc.), urinary disorders (urination frequency, polyuria, dysuria, urinary retention, urinary tract infection, renal failure, etc.), blood disorders (anemia, sepsis, coagulation disorders, blood cancer, etc.), as well as other groups of diseases such as ear-nose-throat, cardiovascular, infectious diseases, etc.
Moreover, the Pediatric Department at Bach Mai Hospital has close collaboration with other leading departments and institutes such as the Cardiology Institute, Toxicology Center, Emergency Department, Intensive Care Unit, Obstetrics Department, and Imaging Diagnostic Department. 
This synergy allows the department to leverage its strengths within a comprehensive and specialized general hospital setting to develop advanced techniques in diagnosis and treatment. Consequently, many critically ill patients who seemed incurable have received successful treatment.
When visiting the Pediatric Department at Bach Mai Hospital, parents should bring their children directly to the department located on the first floor of the Vietnam-Japan Building. It is usually crowded, and there might be some waiting time. It is recommended for parents to arrive early to obtain an examination number and wait for their turn to bring their child for examination.
CONTACT INFORMATION:
Alternate Names: Cống Vọng Hospital (1911); René Robin Hospital (1935)
Address: 1st Floor, P Building (Vietnam-Japan Building), Bach Mai Hospital, 78 Giải Phóng, Đống Đa, Hanoi
Phone: 024 3869 3731 & 0248 686 988 (extension 3133)
Email: benhvienquandoi108@gmail.com
Opening Hours:
– Morning: 6:30 AM – 12:00 PM
– Afternoon: 1:30 PM – 6:00 PM
3) Vinmec Times City International General Hospital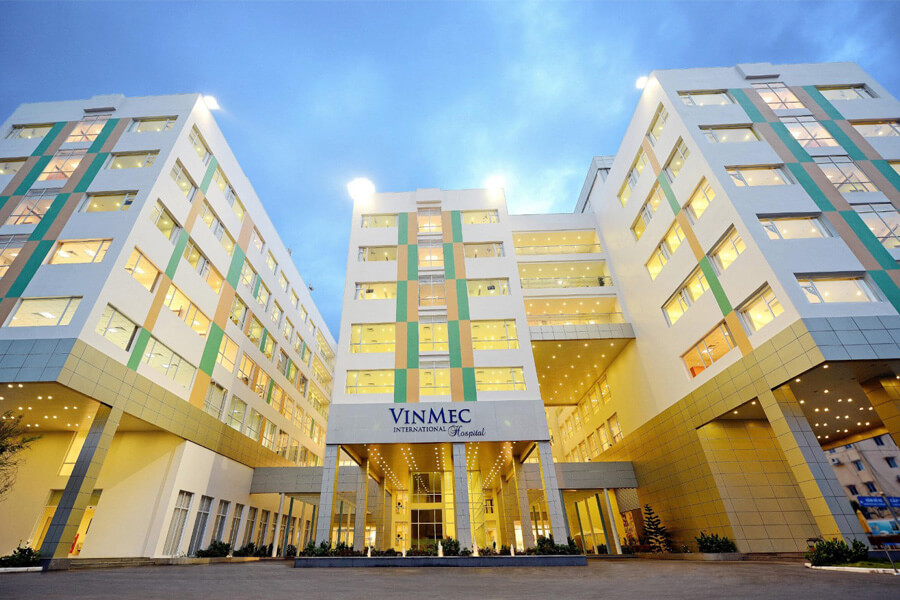 Vinmec Times City International General Hospital is the first hospital in the Vinmec Healthcare System, with 32 specialized departments and 03 specialized centers equipped with advanced technology and modern facilities. Vinmec is the first international general hospital in Vietnam to achieve the JCI (Joint Commission International) accreditation – an international standard for hospital management and patient safety.
Since its establishment, the Pediatric Center has been positioned as a leading specialty at Vinmec Times City International General Hospital, offering a full range of Pediatric Internal Medicine and Pediatric Surgery. Notably, Professor Dr. Nguyen Thanh Liem, a leading expert in Pediatric Surgery in Vietnam, has made significant contributions to the field with 9 new endoscopic surgical techniques for pediatric patients.
The department has invested extensively in standardized outpatient clinics and inpatient wards, including a dedicated play area for children, creating a cheerful environment for them during their visits. Every Monday and Saturday morning, there are entertaining art performances by circus clowns to bring laughter and joy to the children, helping them overcome fear and familiarize themselves with the hospital environment.
Services provided by the Pediatric Center:
– Emergency care: Whenever a child's life is at risk, parents can bring their child for immediate medical attention without an appointment.
– Daycare treatments: The daycare area provides services for pediatric patients undergoing simple procedures that require pre- and post-operative monitoring within 4-8 hours, as well as for patients receiving individual services such as injections and aerosol therapy.
– General pediatric and specialized consultations: The pediatric outpatient clinic is open every day of the week from Monday to Sunday, except on holidays and special occasions, which will be announced separately.
– Inpatient treatment: The Pediatric Department offers services for the diagnosis, consultation, and treatment of common pediatric diseases, as well as certain specialized conditions such as pediatric tumors, infectious diseases, gastroenterology, hematology, endocrinology, metabolism, and genetics, and nephrology and urology.
CONTACT INFORMATION:
Address: 458 Minh Khai, Vinh Tuy Ward, Hai Ba Trung District, Hanoi
Phone: 024 3975 6787
Email: info@vinmec.com
Hotline: 1900 232389
Opening hours: 8:30 AM – 10:00 PM
Read more >> Exploring the nail salons in Hanoi
4) Vietnam-France Hospital Hanoi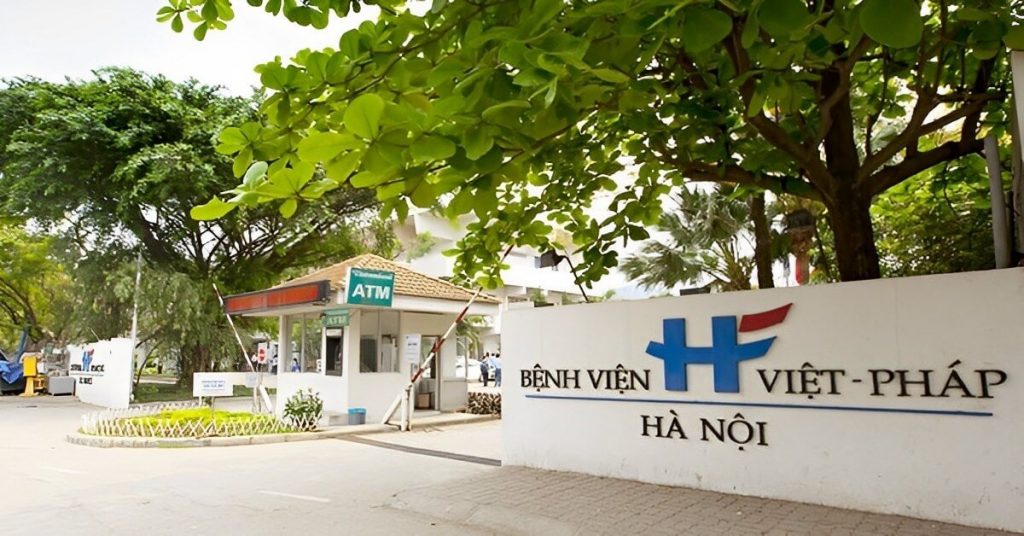 Vietnam-France Hospital Hanoi is the first private international standard hospital not only in Hanoi but also in the northern region of Vietnam. It consists of 20 specialized departments with a high-quality healthcare environment, supported by dedicated medical teams from Vietnam and France.
The Pediatric and Neonatology Department of the hospital provides comprehensive healthcare services for children from birth to adolescence (under 16 years old). With experienced pediatric doctors trained in Vietnam and other European countries, as well as collaborations with leading pediatric specialists from Vietnam and developed countries, the department offers comprehensive healthcare services for common pediatric conditions in various fields.
The hospital places special emphasis on this crucial stage and offers personalized healthcare programs such as the FULL PACKAGE MATERNITY/DELIVERY program and H PLUS BABYCARE membership, which aim to support parents in providing the best care for their child with attractive financial conditions. Additionally, the hospital has established the H PLUS 4KIDS program for children over two years old.
Outpatient services include:
– Pediatric healthcare
– Vaccinations
– Comprehensive health check-ups, disease prevention guidance, and child health care instructions
– Health examination and certification for adopted children
The department also provides specialized treatments for various pediatric conditions, including:
– Cardiology: Prenatal diagnosis of severe congenital heart diseases for high-risk pregnancies, arrhythmia disorders, low heart rate, Kawasaki disease, and collaboration with other cardiology centers.
– Pediatric multisystem disorders
– Infectious diseases and tropical medicine
– Gastroenterology: Acute gastrointestinal inflammation, diarrhea, cyclic vomiting syndrome, gastric ulcers, gastroesophageal reflux disease, colitis, chronic digestive disorders (constipation, colic syndrome, malabsorption syndrome, etc.)
– Allergy, Respiratory, and Otolaryngology: Upper and lower respiratory tract infections (rhinitis, pharyngitis, tonsillitis, laryngitis, tracheitis, otitis media, sinusitis, bronchitis, pneumonia, etc.), respiratory allergies, and bronchial asthma.
– Neurology: High fever with convulsions, epilepsy
– Dermatology: Atopic dermatitis, urticaria, diaper rash; infectious skin diseases (impetigo, scabies, chickenpox, molluscum contagiosum, etc.)
– Neonatal jaundice, infantile seborrheic dermatitis, infantile acne, milia, oily skin, umbilical infection, etc.
– Nephrology and urology: Urinary tract infections, urinary protein and/or hematuria, acute glomerulonephritis, renal impairment, etc.
– Hematology: Acute and chronic anemia, idiopathic thrombocytopenic purpura, thalassemia, etc.
– Endocrinology: Thyroid disorders, growth disorders, disorders of sexual development, precocious puberty, diabetes, obesity, dyslipidemia, hypocalcemia, Cushing syndrome, congenital adrenal hyperplasia, etc.
Inpatient services include:
– Pediatric inpatient treatment
– Neonatal care (care for healthy newborns and newborns with medical conditions)
The medical staff includes highly trained doctors, nurses, and other healthcare professionals who are capable of treating infectious diseases, acute and chronic illnesses in children. The department is equipped with state-of-the-art medical facilities to ensure comprehensive and optimal care for both healthy children and those with medical conditions.
CONTACT INFORMATION:
Address: 1 Phuong Mai Street, Dong Da District, Hanoi
Phone: +84-24-3577-1100
Email: contact@hfh.com.vn
5) Department of Pediatrics – Hong Ngoc General Hospital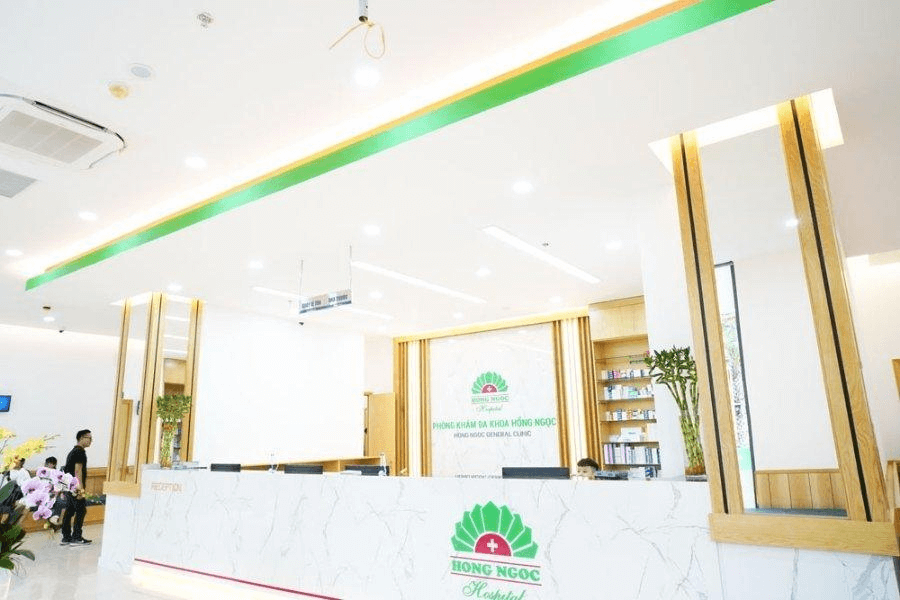 Hong Ngoc General Hospital was established in 2004 and is a hospital-hotel model that meets international standards, not only in Hanoi but also in northern Vietnam. The hospital has a team of experienced professors and doctors from both domestic and international backgrounds, equipped with the most modern medical equipment that meets international standards.
The Pediatrics Department is a specialized department of Hong Ngoc General Hospital, equipped with more than 20 inpatient beds in clean and modern rooms. The department is responsible for general and specialized examinations and treatments for children, pediatric surgeries, and nutritional counseling for children of all ages.
Here are the reasons why parents can trust bringing their children for examinations here:
The team of doctors and professors is highly skilled, dedicated, understanding the psychology of young children. A notable example is Dr. Phi Nga, a specialist with extensive experience working at the University Hospital of Medicine, Xanh Pon General Hospital, Vinmec General Hospital, and currently the Head of Pediatrics at Hong Ngoc General Hospital. The pediatric doctors not only receive extensive training domestically and internationally but also regularly organize consultations and enhance their professional experience to continuously improve their skills and ethics.

Investment in modern machinery and the application of advanced diagnostic technologies such as CT scanners, endoscopes for ENT examinations, hearing and auditory tests, ultrasound machines, EEG machines, laboratory testing and biochemistry equipment, etc., greatly support the doctors in the examination and treatment process for pediatric patients.

The outpatient clinics and inpatient rooms are designed to be modern, comfortable, and well-ventilated, with green spaces, cleanliness, and colorful toys, creating a joyful and comfortable atmosphere for children during each visit.

Attentive and professional services: The team of doctors and nurses are available 24/7, including weekends, ensuring thorough care for children at any time.

Appropriate use of antibiotics: Antibiotics are only used when necessary, in the correct dosage, type, and manner.
CONTACT INFORMATION:
Address:
55 Yen Ninh Street, Truc Bach Ward, Ba Dinh District, Hanoi
Hong Ngoc General Hospital – 55 Yen Ninh, Ba Dinh, Hanoi
Telephone: +84 24 3927 5568
Email: info@hongngochospital.vn
Hotline: +84 932 232 016 & +84 911 908 856
6) Pediatrics Department – Thu Cuc International General Hospital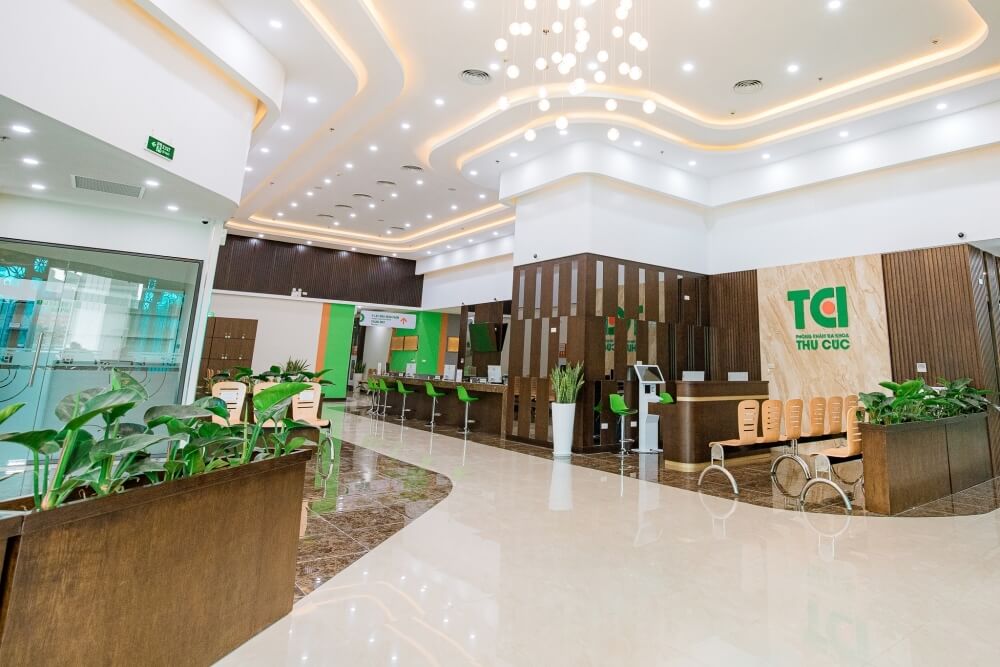 The Pediatrics Department at Thu Cuc International General Hospital is renowned as one of the reputable specialties within the Thu Cuc Healthcare System, gathering numerous top-notch doctors in the field of pediatrics. Highly skilled and experienced specialists directly examine and treat various pediatric conditions. With the top priority of providing thorough examinations and minimizing the use of antibiotics, Thu Cuc Pediatrics is a trusted destination for many parents when it comes to their children's healthcare.
The Pediatrics Department offers services for infants, young children, and adolescents (aged 0-15 years). Here are the key highlights of the Pediatrics Department:
– Leading-edge and modern equipment systems, including NBI flexible gastrointestinal endoscopy, MRI imaging, ISO-standard laboratory testing, tonsillectomy and adenoidectomy using Plasma Blade, and more. Collaborating with other specialties within the Thu Cuc Healthcare System, accurate diagnoses are made, and effective treatment protocols are established for children.
– The pediatric team consists of highly skilled doctors with over 30 years of experience who understand the psychology of children. They provide direct care and treatment for various health issues in children.
– The nursing staff and personnel at the Pediatrics Department are attentive, caring, and dedicated to children's health.
– Strict adherence to the appropriate use of antibiotics, ensuring they are only used when necessary based on test results and the doctors' extensive experience.
– The department is designed with a dedicated play area for children, providing a clean and comfortable environment that helps alleviate children's anxiety and stress during hospital visits.
– State-of-the-art endoscopy systems are available.
– The Pediatrics Department operates from 6:30 am to 8:00 pm, seven days a week, including holidays and festivals. This allows parents to proactively schedule visits for their children without disrupting their own work or their child's education.
– Quick and efficient procedures, minimizing waiting time for parents when bringing their children for examinations.
– Acceptance of health insurance and guarantee insurance payment methods, maximizing cost savings for parents.
In addition to the outpatient services mentioned above, the hospital's Branch 1 also provides inpatient treatment for cases requiring hospitalization. The patient rooms are child-friendly, equipped with amenities such as wardrobes, refrigerators, TVs, ensuring a comfortable and pleasant experience for both parents and children. Moreover, the 24/7 care service at the Pediatrics Department brings peace of mind to parents, alleviating the challenges of caring for a hospitalized child. With just a press of the call button, the medical team and nurses will be there to provide immediate assistance when needed.
The Pediatrics Department at Thu Cuc International General Hospital specializes in the examination and treatment of various pediatric conditions, including:
– Respiratory disorders
– Gastrointestinal disorders
– Consultation on treatment and prevention of infectious diseases
– Endocrine and metabolic disorders
– Cardiovascular disorders
– Kidney and urinary tract disorders
– Neurological and psychiatric disorders
– General health check-ups for children
– Nutritional counseling for children
CONTACT INFORMATION:
Addresses:
– 286 Thuy Khue, Tay Ho, Hanoi
– 216 Tran Duy Hung, Cau Giay, Hanoi
– 32 Dai Tu, Hoang Mai, Hanoi
Phone: 0904 970 909
Hotline: 1900 558 896
Email: contact@thucuchospital.vn
You may also want to check out >> Banks in Vietnam: Discover the Best Foreigner Banks
Tư vấn chuyên môn bài viết:
BÁC SĨ DƯƠNG THỊ THÙY NGA
Bác sĩ chỉnh nha tổng hợp
Ngôn ngữ giao tiếp: Tiếng Việt, Tiếng Anh, Tiếng Nga
Đặt Lịch Hẹn
Xem Hồ Sơ
BEDENTAL - TOP STANDARD DENTISTRY SYSTEM
In HANOI
Address 1: 7B Thi Sach St, Ngo Thi Nham, Hai Ba Trung Dist, Ha Noi. - 0934.61.9090
Address 2: 343 Tay Son St, Nga Tu So Ward, Dong Da Dist, Ha Noi. (Nga Tu So Cross) - 0934.61.9090
Address 3: CC2 Tower  Nguyen Huu Tho St, Dinh Cong Ward, Hoang Mai Dist, Ha Noi. (Inside True Hope ) - 0934.61.9090
In HO CHI MINH
Address 1: 140 Nguyen Van Thu St, Da Kao, Dist. 1, Ho Chi Minh. - 0766.00.8080
Address2: 25, City Land urban area, Go Vap Dist, Ho Chi Minh - 0766.00.8080
Working: 9am - 9pm everyday