Embark on a journey through the vibrant nail salon scene of Hanoi, where artistry and self-expression merge to create stunning handcrafted beauty. From the historic Old Quarter to the trendy districts, Hanoi offers a diverse array of nail salons, each with its own charm and expertise.
In this article, we will explore the hidden gems of Hanoi's nail salon landscape, unveiling the exceptional services, talented technicians, and exquisite nail artistry that make these establishments stand out. Whether you're seeking a simple manicure or an elaborate design, Hanoi's nail salons are dedicated to exceeding your expectations and providing a memorable experience.
Join us as we discover the latest trends, innovative techniques, and the passion that drives Hanoi's nail salons to create exceptional nail care experiences. Get ready to indulge your hands in the artistry, ambiance, and meticulous attention to detail that define the nail salon culture in this dynamic city.
1) Euphorea Salon and Spa – A Nail Salon you should definitely check out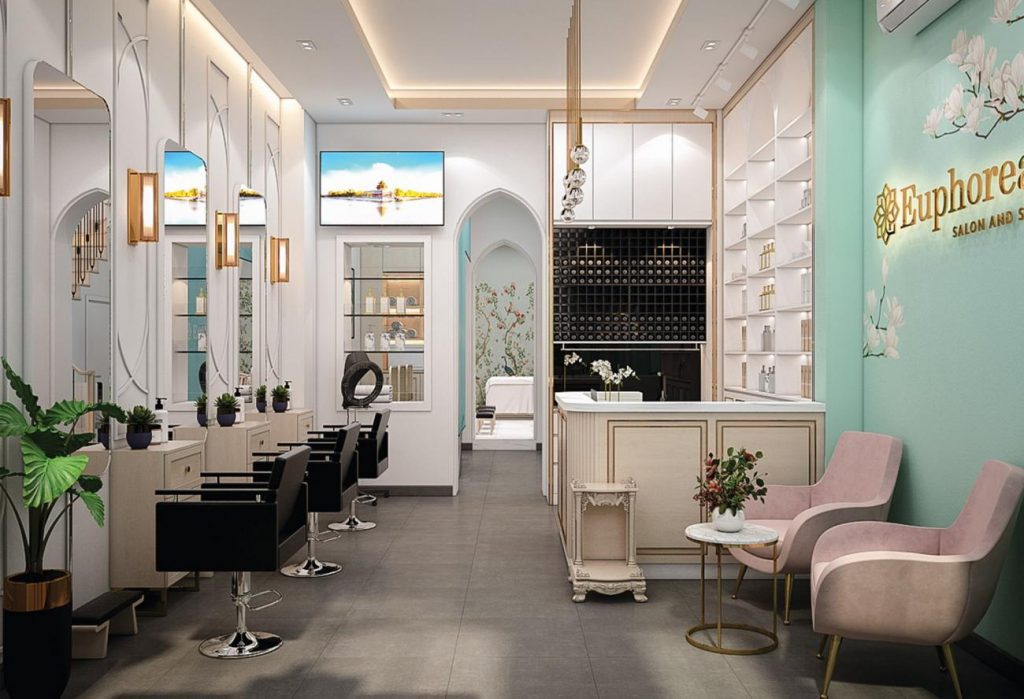 Located in a prime spot that is easily accessible, Euphorea Salon and Spa in Hanoi has become a favored destination for both local customers and tourists visiting the city. Within its cozy and charming space, Euphorea Salon and Spa offers professional hair and nail care services, aiming to provide the best experience for its customers.
For the ladies in Hanoi, there is no need to worry about the quality of nail products at this salon. Euphorea is committed to using only genuine nail polish products from leading brands such as CND and OPI.
Moreover, they diligently keep up with the latest nail colors and designs to ensure they meet the beauty preferences of their customers. As a result, the experience of receiving services at Euphorea leaves a lasting impression on customers.
So, take a break from your busy schedule and give Euphorea Salon and Spa a try to experience their nail services. You will understand why the reviews mentioned above are absolutely spot on!
CONTACT INFORMATION
Addresses:
– 9A – 9B Ba Trieu, Hoan Kiem, Hanoi
– 23 Nha Chung, Hoan Kiem, Hanoi
Phone: 1800 9467 (press 2)
Email: mkt@eforeaspa.vn
Opening hours: 09:00 AM – 08:00 PM
2) Oh My Nails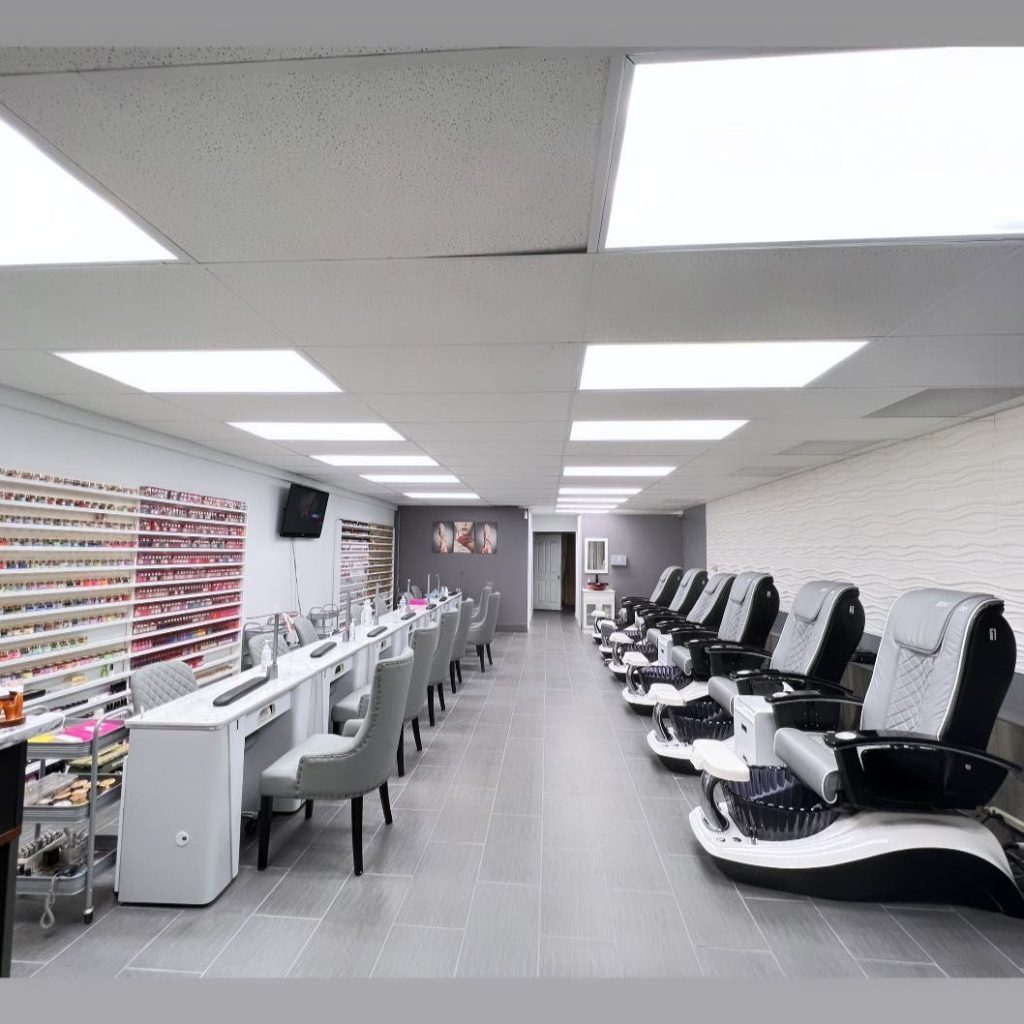 There are numerous nail salons in Hanoi, and among them, Oh My Nails is one of the must-visit destinations when you want to "embellish" your hands. At Oh My Nails, you can find a wide range of nail services, such as cutting, shaping, cuticle care, gel polish, cat-eye manicure, ombre nails, nail extensions, and nail embellishments.
The salon always keeps its nail designs updated and fresh to ensure customer satisfaction and comfort during their visits. The staff members are attentive, skilled, and dedicated to taking care of each customer's hands. Oh My Nails guarantees the use of 100% genuine products, transparent and competitive pricing, and offers free repairs within one week. They take responsibility for their products and provide a full refund if customers are not satisfied with the services.
CONTACT INFORMATION:
Addresses:
– House No. 3, Alley 12 Pham Tuan Tai, Dich Vong Hau, Cau Giay, Hanoi
– No. 14 Alley 8 Lieu Giai, Ba Dinh, Hanoi
Phone: 0334 239 599
Read more >> 9 acne treatment places in Hanoi
3) Milagros Beauty Room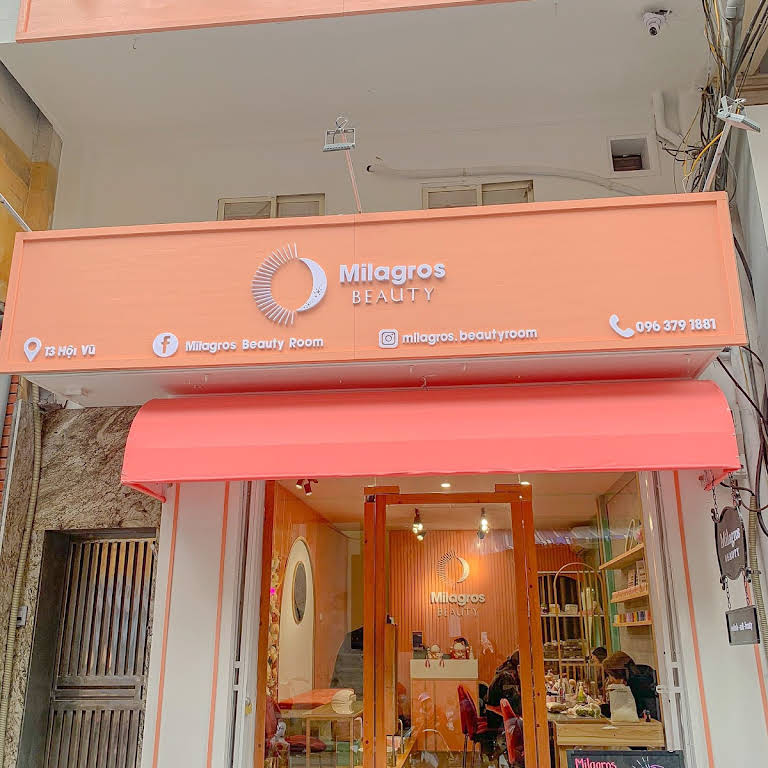 Milagros Beauty Room in Hanoi offers a range of services including nail care and eyelash extensions, creating a tranquil and sparkling space dedicated to the beauty needs of women, both local and international.
With a talented and friendly team of professionals, along with equipment imported from Korea and organic products from Korea, England, France, and the United States, Milagros Beauty Room ensures to bring the latest beauty trends to its customers. 
Upon arrival, customers will receive an assessment of their nail health, followed by personalized service recommendations. One significant advantage of their nail services is the meticulous and careful approach in every step. Moreover, all products used are of high quality and guaranteed to be safe.
At Milagros, you will be amazed by the stunning designs featuring beautiful gemstone embellishments. They also offer delicate 3D nail art, matte and shimmering nail finishes, bling bling designs, and sparkling patterns. Additionally, the salon provides a wide range of modern and trendy styles, from soft and subtle nail colors to vibrant shades complemented by Korean charms, gemstones, acrylic, and glass crystals, adding an elegant and sophisticated touch to your beautiful hands. Besides nail services, Milagros Beauty Room also offers eyelash extensions, catering to both "beautiful nails" and "gorgeous lashes."
CONTACT INFORMATION:
Addresses:
– 13 Hoi Vu, Hoan Kiem, Hanoi
– 2nd Floor, 252 Thai Ha, Dong Da, Hanoi
Phone: 0386 623 223 (appointment booking) & 0963 791 881 (service feedback)
Email: milagros.beautyroom@gmail.com
Opening hours: 09:00 AM – 09:00 PM
4) DiDan Nail Art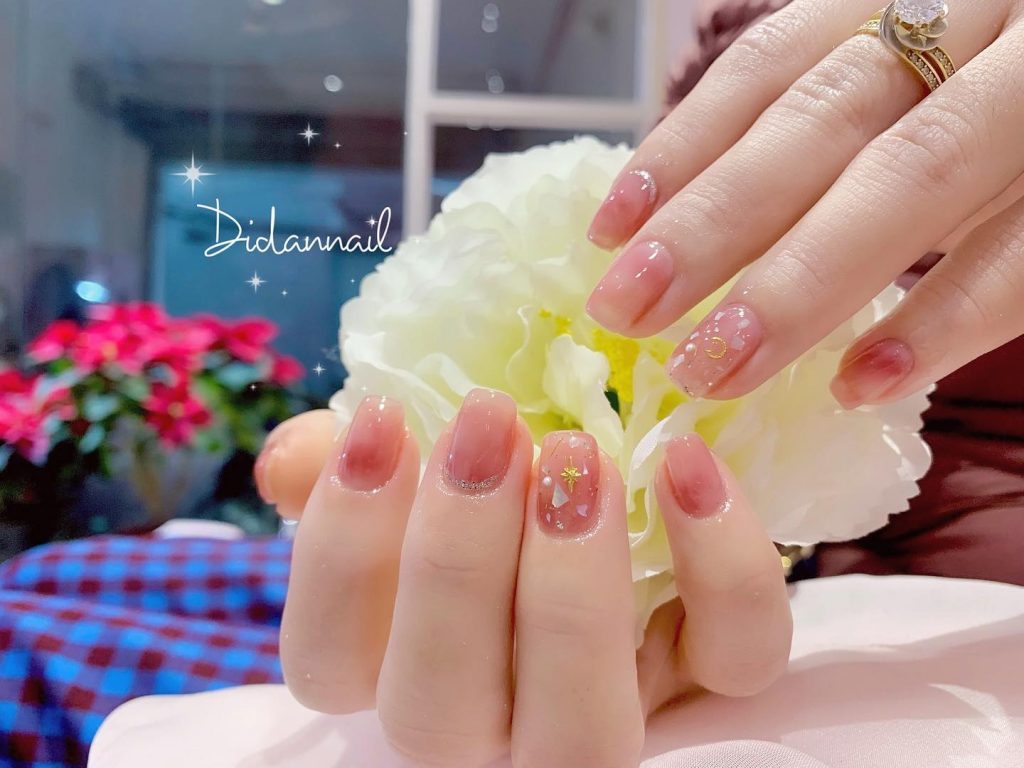 DiDan Nail Art always leads in trends and quality, making it the first name on this list. It's not hard to understand why this place is favored by many girls in Hanoi, as they offer a diverse collection of nail designs that are truly "beautiful, unique, and extraordinary." From simple and gentle styles to bold and distinctive looks, DiDan Nail Art has the ability to transform your nails according to your desired style.
One of the strengths of DiDan Nail Art lies in their designs with gemstone embellishments and intricate patterns. When you visit, you will undoubtedly be amazed by the nail art that resembles a work of art. Meticulousness and precision are always emphasized in every step of the process. With a team of skilled and professionally trained technicians in the field of nail beauty, who continuously learn and create unique nail designs, DiDan Nail Art promises to bring impressive beauty to your hands and feet.
For DiDan Nail Art, the beauty process always goes hand in hand with safety, as it is a prerequisite for any field or service before serving customers. This is especially important in the nail industry, where the risk of infection is always high if hygiene is not taken seriously. Therefore, the nail care process at DiDan Nail Art is always carried out in a safe manner. All tools such as clippers, files, etc., are sterilized. Moreover, all nail products used by DiDan Nail Art are from reputable and leading brands, ensuring long-lasting and beautiful nails over time. Concerns about nail damage or chipped polish will no longer be an issue when you get your nails done here.
CONTACT INFORMATION:
Address: Alley 515, House No. 12, Hoang Hoa Tham, Ba Dinh, Hanoi
Phone: 0965 484 248
Opening hours: 08:00 AM – 07:30 PM
You may also want to check out >> Top 10 saunas in Hanoi 
5) Halei Shop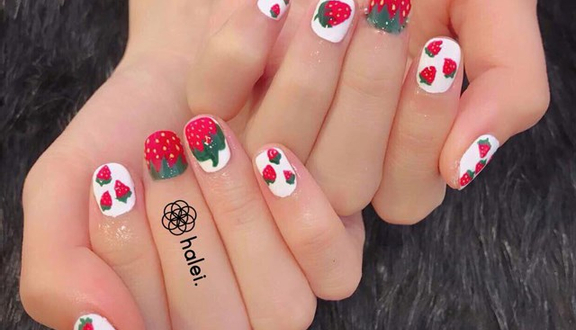 Halei Shop was established in 2014 and, after more than 6 years of operation, has quickly become one of the largest chains of spas specializing in facial care, eyelash extensions, and nail art in Hanoi up to this point. Currently, Halei owns a chain of 11 branches in central districts and is a reputable beauty care destination favored and trusted by many young people in Hanoi. Therefore, if you are looking to revamp your nails, Halei Shop is a good suggestion.
With the desire to help their customers feel confident and stand out with beautiful, fashionable, and trendy nails, Halei Shop continuously strives to improve the quality of their services. From nail art techniques to nail care and keeping up with the latest nail trends, Halei does it all with the goal of ensuring customer satisfaction.
The artistic nail designs performed by skilled employees at Halei Shop will undoubtedly bring you a fresh and impressive beauty. Imagine yourself wearing an elegant dress with eye-catching shoes and accessories, but your nails are plain and unpainted. It wouldn't look complete. Therefore, don't let your hands appear dull and lackluster. Visit Halei Shop to give your style a refreshing makeover.
CONTACT INFORMATION:
Address:
– 8G Alley 121 Chua Lang, Lang Thuong, Dong Da, Hanoi – 024 6655 6296
– 7 Alley 9 Nguyen Tri Phuong, Dien Ba, Ba Dinh, Hanoi – 024 6253 3930
Email: halei@camellia-jsc.com
6) Nail Room – Mit's House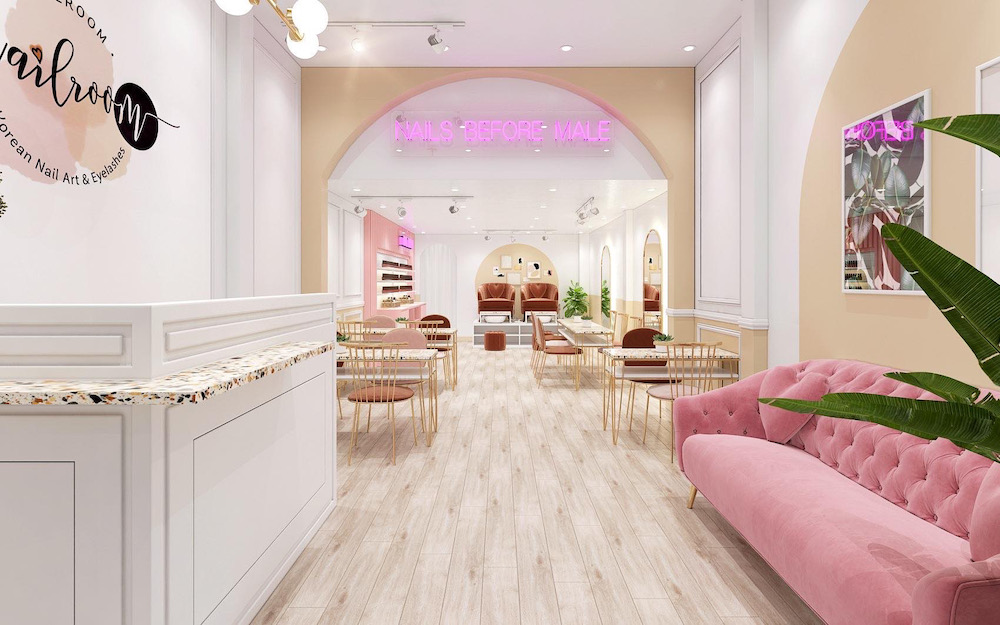 Nail Room is definitely a name that should not be overlooked when it comes to the most beautiful and high-quality nail salons in Hanoi. After a long period of operation, Nail Room has established its reputation and gained a certain position in the beauty market of the capital city, thanks to its top-quality services ranging from nail care, eyelash extensions to spa and skincare.
In terms of nail care and beauty services, Nail Room impresses customers with the diversity and richness of artistic nail designs. The artistry here is not inclined towards complexity, but rather it lies in simplicity yet incredibly enticing. Every stroke, every pattern on the nails is executed with meticulous attention to detail. Particularly, Nail Room offers a wide range of unique gel colors and trendy nail art designs, something that not every nail salon is willing to explore and learn. This has helped Nail Room attract a large number of customers, and this number continues to grow each year.
With a team of skilled and aesthetically talented nail technicians, at Nail Room, you can request any nail art design, and the staff can easily bring it to life. If you don't have a specific design in mind, you can simply choose from the diverse range of nail designs available and easily find the one that suits you best.
CONTACT INFORMATION:
Addresses:
– 20 Quang Trung, Hoan Kiem, Hanoi – 0965 695 055
– 26N7B Trung Hoa Nhan Chinh Urban Area (turn into Alley 7 Hoang Minh Giam), Hanoi – 0368 389 839
Phone: 19000 66811
Email: nailroom20@gmail.com
Opening hours: 09:00 – 21:00
7) Lyn Nails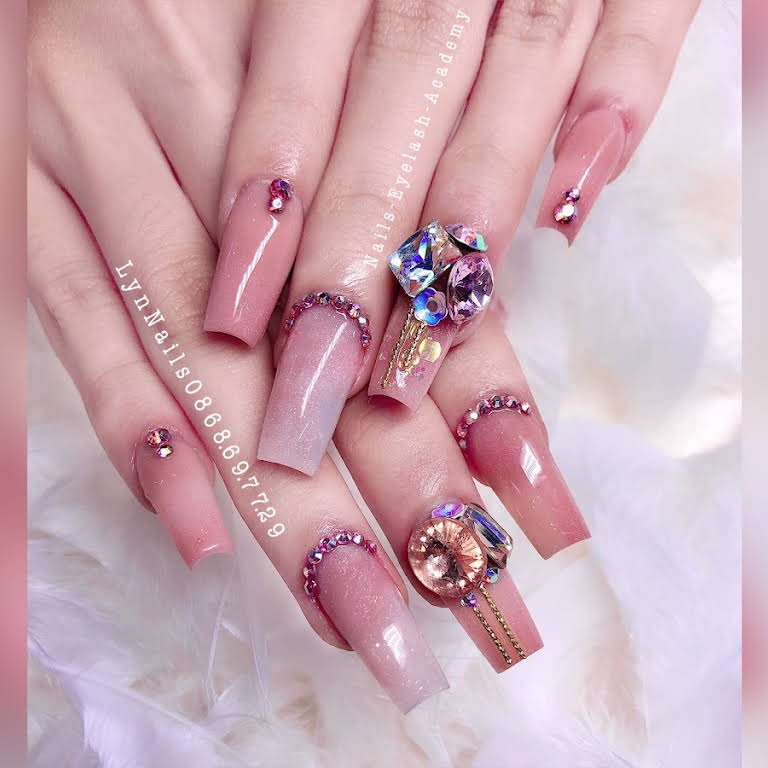 Nowadays, nail art has become a familiar demand for women. It not only enhances their beauty and makes them more attractive compared to others but also boosts their confidence in communication. Keeping up with this trend, numerous nail salons and beauty centers have sprung up all over Hanoi, and Lyn Nails is one of them. Proudly being a reputable nail salon with durable and beautiful nail designs, Lyn Nails has never been excluded from the list of the most beautiful nail salons in the capital city.
Lyn Nails offers a 5-day warranty for nails to its customers. The salon provides nail design consultations based on the preferences and requests of the customers. Lyn Nails guarantees the use of 100% genuine and long-lasting nail polish. The professional and dedicated team of technicians ensures customer satisfaction. The salon's space is decorated attractively, cute, and cool, creating the most comfortable feeling for customers.
CONTACT INFORMATION:
Address: 303 Hoang Mai, Hoang Van Thu, Hoang Mai, Hanoi
Phone: 0398 288 322
Opening hours: 09:00 – 21:00
Read more >> Top hair salons near me 
8) LaLa Nail Studio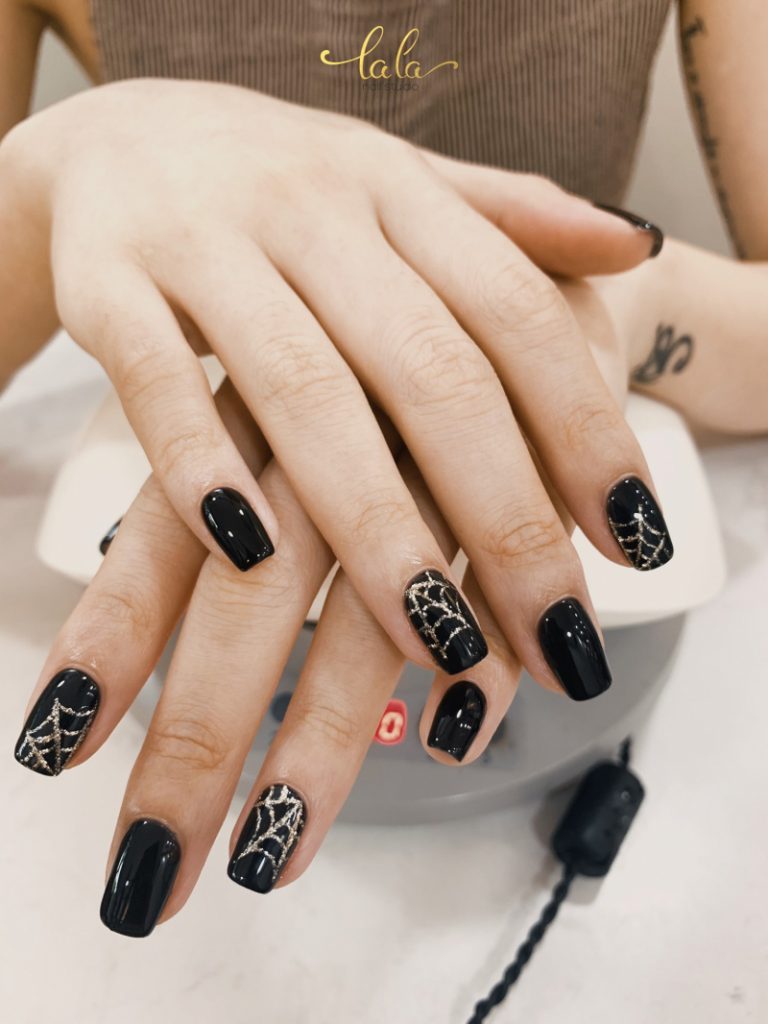 Are you feeling bored with your plain hands and want to create something outstanding? Are you looking for a reputable nail salon in Hanoi to make a difference with your nails? In addition to the mentioned options, LaLa Nail Studio will be an excellent choice for you.
Always believing that "beautiful nails must first be healthy nails," LaLa Nail Studio uses CND brand products that do not harm the nails, ensuring long-lasting and beautiful nails. Especially, the nail designs with floral patterns, geometric shapes, horizontal stripes, dots, etc., are the strengths of LaLa Nail. Each stroke reflects the refinement and meticulousness of the technicians, providing customers with a truly fresh experience.
Moreover, in a luxurious and cozy space, fully equipped with amenities, LaLa Nail Studio will undoubtedly bring you moments of great relaxation after long and tiring working hours, erasing worries in life and the sadness caused by the harshness of time that has passed.
CONTACT INFORMATION:
Address: 3rd Floor, 5 Hang Manh, Hanoi (1st floor is Nhữ Quốc Hải salon)
Phone: 024 3710 0108
Instagram: @lala_nailstudio
Opening hours: 09:00 – 20:00
You may also want to check out >> Top 10 cafe shops near me in Hanoi
BEDENTAL - TOP STANDARD DENTISTRY SYSTEM
In HANOI
Address 1: 7B Thi Sach St, Ngo Thi Nham, Hai Ba Trung Dist, Ha Noi. - 0934.61.9090
Address 2: 343 Tay Son St, Nga Tu So Ward, Dong Da Dist, Ha Noi. (Nga Tu So Cross) - 0934.61.9090
Address 3: CC2 Tower  Nguyen Huu Tho St, Dinh Cong Ward, Hoang Mai Dist, Ha Noi. (Inside True Hope ) - 0934.61.9090
In HO CHI MINH
Address 1: 140 Nguyen Van Thu St, Da Kao, Dist. 1, Ho Chi Minh. - 0766.00.8080
Address2: 25, City Land urban area, Go Vap Dist, Ho Chi Minh - 0766.00.8080
Working: 9am - 9pm everyday
Tư vấn chuyên môn bài viết:
BÁC SĨ DƯƠNG THỊ THÙY NGA
Bác sĩ chỉnh nha tổng hợp
Ngôn ngữ giao tiếp: Tiếng Việt, Tiếng Anh, Tiếng Nga
Đặt Lịch Hẹn
Xem Hồ Sơ