ALL YOU NEED TO KNOW ABOUT LISI PRESS PORCELAIN DENTAL CROWNS
What is Lisi Press porcelain dental crowns? Porcelain dental crown is a top trend to make you have a beautiful smile. Customers likely want a porcelain type to protect their real teeth, has natural color, clear and glazed as the real one. So, what kind of porcelain teeth can meet that demand? Is Lisi a wonderful solution? Let's find out with BeDental !
WHAT IS LISI PORCELAIN TEETH ? 
Lisi porcelain teeth is a brand from GC enterprise (Japan). It is fired 8 times, has 0.3mm thickness, glazed, natural colour,…, everything make it perfect.
In the process of dental crowns by veneer porcelain Lisi, dentist doesn't need to grind down too much, lingual stays still, so this line meet the aesthetic demand of most clients
EXCEPTIONAL FEATURES OF LISI PRESS
High precision: Manufactured by the latest technology, ensure high precision to fit with particular customers so Lisi porcelain teeth have real structure as the real one
Beauty: Lisi porcelain teeth have natural color, as clear as real teeth. Besides, it also has different tone for any client's needs
High biocompatibility: This is a safe porcelain so it is totally resistant to erosion and does not cause any reaction with the oral environment. Moreover, using Lisi porcelain dental crowns can help bad breath, gingivitis, darken gum. Compatibility has proven biologicially with medical products for over 20 years
Good strength: Its strength can reach to 1400 Mpa. Hence, after restoration process, you can use your chewing function normally without worry about chipped, broken teeth, food sensor is also the same as real teeth.
Thinner: Manufactured by modern technology, Lisi porcelain teeth thinner than normal porcelain teeth so when using this line, your teeth don't have to be grind down too much tooth's enamel.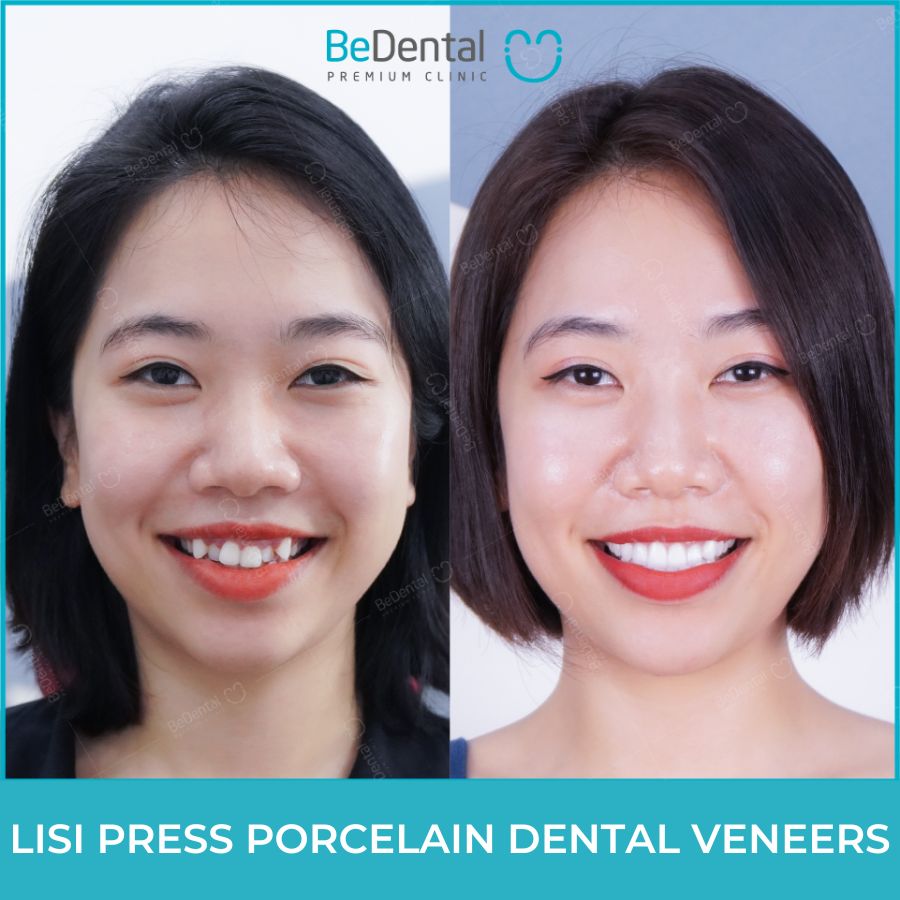 WHO CAN DO LISI PRESS VENEERS ?
See more: Roland porcelain dental crowns
When release products, each brand must have some distinct advantages aim to target customers. With Lisi Press, this is a line for who want a pure, cheerful smile.
Lisi press has 2 types: 3-5 ceramic shells type and 7-9 ceramic shells type, all layer by hand. Two types of Lisi Press are used GC imported products, the only difference between them is technique
Whilst 3-5 ceramic shells type is produced by CAD/CAM technology for 3 days, 7-9 ceramic shells type is taken craftly by the best dental artisans for 5 days.
A huge advantage of 7-9 ceramic shells type is the ability to create delicate effect. The difference is seen with the transition effect when entering the dark areas due to the nature of the fluorescent bands – the outstanding aesthetic feature of real teeth. The properties of real teeth such as light transmission, reflection, and refraction are fully demonstrated on each porcelain layer.
CLIENTS'S FEEDBACK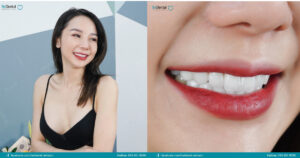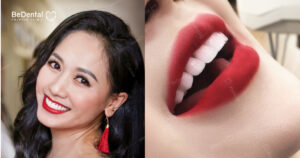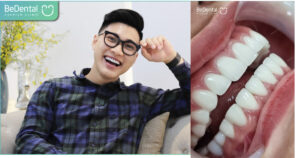 HOW MUCH TO VENEER LISI PRESS ?
BeDental is the leading premium dental clinic with branches in Ha Noi and Ho Chi Minh city. We have coordinated to quality-control laboratory and bring for clients reasonable prices with long-term warranty policy
A Lisi press porcelain tooth costs 11.000.000 vnd at BeDental. Register or call us at Hotline 0934.61.9090 so we can support you
Besides, Emax – this is a porcelain teeth line but with lower prcie in comparison with Lisi Press
More promotion: https://bedental.vn/uu-dai-boc-rang-su/
BE DENTAL – PREMIUM CLINIC
      IN HA NOI
Address 1: 7B Thi Sach St, Ngo Thi Nham, Hai Ba Trung Dist, Ha Noi. – 0934.61.9090
Address 2: 98C Chien Thang St, Van Quan, Ha Dong Dist, Ha Noi. – 0934.61.9090
      IN HO CHI MINH CITY
Address 1: 56 Nguyen Dinh Chieu St, Da Kao, Dist. 1, Ho Chi Minh. – 0766.00.8080
BEDENTAL - TOP STANDARD DENTISTRY SYSTEM
In HANOI
Address 1: 7B Thi Sach St, Ngo Thi Nham, Hai Ba Trung Dist, Ha Noi. - 0934.61.9090
Address 2: 98C Chien Thang St, Van Quan, Ha Dong Dist, Ha Noi. - 0934.61.9090
In HO CHI MINH
Address 1: 56 Nguyen Dinh Chieu St, Da Kao, Dist. 1, Ho Chi Minh. - 0766.00.8080
Working: 9am - 9pm everyday