Acne is a common skin condition that affects millions of people worldwide. It can have a significant impact on one's self-esteem and overall well-being. Fortunately, there are various acne treatment options available to help individuals effectively manage and reduce the occurrence of acne breakouts.
Acne treatment involves targeting the underlying causes of acne, such as excess oil production, clogged pores, bacteria, and inflammation. The goal is to alleviate existing acne, prevent new breakouts, and improve the overall appearance and health of the skin.
1) Seoul center Beauty clinic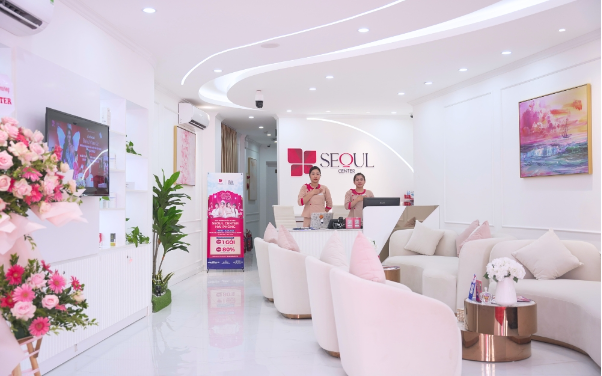 Currently, the name Seoul Center Beauty Clinic remains the leading destination for beauty services in Vietnam, including acne treatment. It is one of the long-established beauty brands in the country, committed to providing the best and safest beauty services to customers. Seoul Center Beauty Clinic has over 45 branches and facilities within and outside Vietnam.
As a reputable establishment with affordable prices suitable for students, millions of customers trust Seoul Center Beauty Clinic to treat various types of acne, such as hidden acne, blackheads, pustules, cystic acne, and whiteheads. 
Over 90% of acne patients treated at Seoul Center Beauty Clinic achieve beautiful skin after a single treatment. The clinic guarantees that following the accurate treatment protocols advised by their specialists will lead to successful results beyond expectations, helping you regain confidence.
With various acne treatment technologies, the dermatologists at Seoul Center Beauty Clinic directly examine the skin and provide appropriate treatment plans. 
Depending on the skin type and acne condition, corresponding technologies are applied to completely eliminate acne, enhance brightness, and improve skin elasticity. Whether it's pus-filled acne, acne scars, blackheads, or whiteheads, Seoul Center Beauty Clinic can help you remove them quickly.
The medical acne treatment process at Seoul Center Beauty Clinic includes:
Step 1: Skin examination, 4D analysis, and treatment plan to accurately determine the skin condition.

Step 2: Makeup removal.

Step 3: Exfoliation to remove dead skin cells.

Step 4: Facial cleansing.

Step 5: Steaming.

Step 6: Oil extraction.

Step 7: Pimple extraction.

Step 8: Bacteria prevention through medication.

Step 9: Enhanced antibacterial treatment using ION cam electric current to eliminate bacteria clusters, promote healing in the extracted pimple area, tighten pores, and prevent scarring.

Step 10: Application of mint mask for antibacterial and soothing effects.

Step 11: Cold steaming.

Step 12: Application of premium Korean acne treatment cream to enhance the effectiveness of acne treatment.

Step 13: Relaxation of the back and shoulders.

Step 14: Guidance on post-treatment skincare.
Medical acne treatment at Seoul Center Beauty Clinic minimizes the risk of scarring and pigmentation. It guarantees an improvement of up to 80% in acne condition after the first treatment session. It does not cause inflammation or swelling after treatment (your skin may appear slightly pink or red after acne treatment). 
It helps shrink pores and cleanse the skin for a smoother complexion. The skin recovers quickly after pimple extraction. It effectively treats various types of acne, including cystic acne, inflammatory acne, hidden acne, blackheads, and whiteheads. The medical acne treatment method targets the root cause of acne, limits recurrence, and prevents scarring.
To meet the diverse beauty needs of customers, Seoul Center Beauty Clinic offers a range of services. In addition to trusted acne treatment, they also provide services for treating pigmentation, skin whitening, cosmetic tattooing, teeth whitening, and advanced fat reduction techniques.
If you are concerned about stubborn acne on your face, contact Seoul Center Beauty Clinic for safe acne treatment and achieve a bright and radiant complexion. They are ready to provide dedicated advice and support for all your beauty-related inquiries.
CONTACT INFORMATION:
Address: 38 Pho Thai Thinh, Nga Tu So, Dong Da, Hanoi
Hotline: 1800 3333
Opening hours: 08:30 AM – 07:30 PM"
2) Thiên Hà Beauty Clinic (Thiên Hà Spa)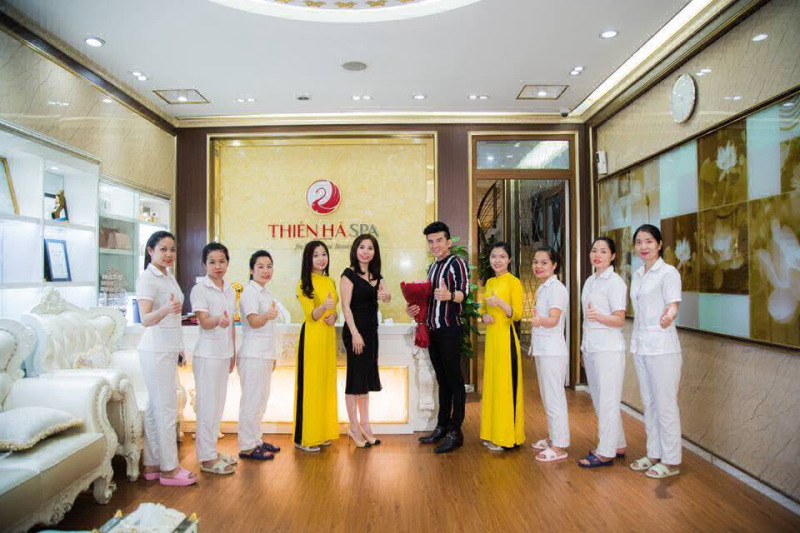 There is a universal truth that we all HATE ACNE. It brings about too many troubles from the moment it appears, and even leaves consequences after it's gone: swollen and painful pimples, hidden acne causing rough and uneven skin, and post-acne scars that take months to treat… Therefore, treating acne and post-acne scars is the top concern for those who unfortunately suffer from acne, becoming a constant obsession because no one wants their skin to be rough and lacking radiance.
If you are still haunted by acne, be ready to fight alongside Thiên Hà Beauty Clinic (Thiên Hà Spa), one of the best acne treatment spas in Hanoi, which is the first name that we want to mention in this list. With cutting-edge beauty technologies in Vietnam, you will no longer have to worry about your acne condition once you come to Thiên Hà Beauty Clinic (Thiên Hà Spa).
At Thiên Hà Beauty Clinic (Thiên Hà Spa), ACURE technology challenges all types of acne: cystic acne, blackheads, whiteheads, papules, pustules, etc. This technology is recommended by leading Korean aesthetic experts and is exclusively available at Thiên Hà Spa.
The ideal laser mechanism directly targets the acne lesions, preventing their recurrence. It supports the treatment of various skin issues, resulting in a bright and smooth complexion. The treatment process is concise, saving time and costs.
Thiên Hà Spa is known as one of the top spas in Vietnam, a trusted destination for numerous A-list celebrities such as Mr.Đàm, Quang Hà, Dương Triệu Vũ, Đan Trường… It is at the forefront of applying the most advanced aesthetic technologies in Vietnam, satisfying all your beauty needs and giving you the most confident and beautiful appearance. With standardized treatment protocols developed by foreign experts, the therapy achieves remarkable results after just one session.
With relentless efforts, continuous improvement, and staying ahead in the application of modern aesthetic technologies, Thiên Hà Spa has achieved remarkable accomplishments. The number of loyal customers is increasing every day, and it seems that this trend shows no signs of stopping.
Moreover, with a refreshing and tastefully designed space, Thiên Hà Spa always delivers utmost comfort and relaxation to every guest who sets foot here. In addition, with a well-trained team of professionals who have a strong learning spirit and excellent customer care skills, you will undoubtedly be served like a true deity every time you visit.
CONTACT INFORMATION:
Addresses:
176 Trần Duy Hưng, Cầu Giấy, Hanoi – 0943 439 999
79 Bà Triệu, Hai Bà Trưng, Hanoi – 0979 689 393 & 0963 426 669″
3) Sviet Beauty Spa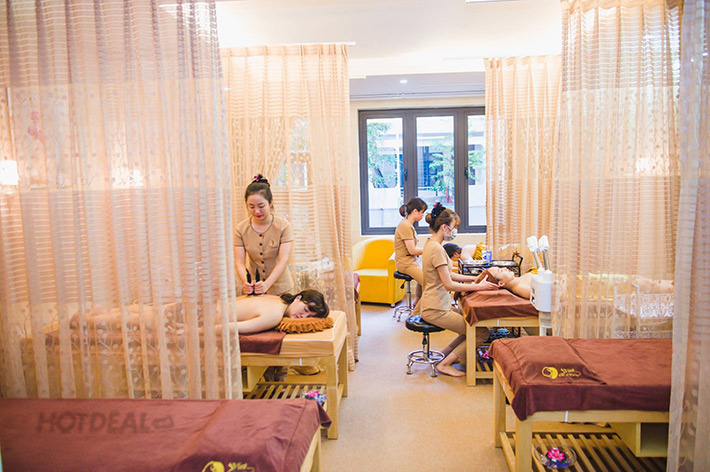 When it comes to Sviet Beauty Spa, new mothers in Hanoi immediately think of the hydrotherapy service – baby float for babies. 
However, today, We would like to review another popular service at Sviet, which is ACNE TREATMENT.
Responding to the needs of postpartum mothers when taking their babies for a swim and experiencing acne or blemishes during pregnancy, Sviet has conducted research and successfully introduced a Medical Standard Acne Treatment Protocol using Pharmaceutical Cosmetics for various types of acne, including:
– Treating acne during adolescence and hormonal acne in general.
– Treating acne for pregnant women from the 3rd month onwards.
– Treating acne and blemishes for postpartum mothers due to hormonal changes during pregnancy, especially persistent chin acne that keeps recurring and is difficult to treat.
– Treating acne caused by corticosteroid use on weak skin, which is always hot, red, occasionally itchy, and relapses quickly despite multiple treatments.
– Treating various types of acne such as blackheads, hidden acne, comedonal acne, especially blackheads on the nose (which almost everyone has but is afraid to treat due to fear of pain).
– Treating acne on the back, arms, legs, and body.
The treatment protocols are highly optimized in terms of time, effectiveness, and treatment costs:
– Medical Standard Acne Extraction – 10 steps: 199k VND/90 minutes.
– UNLIMITED Acne Extraction Package: 2.800k VND.
– Acne Treatment: From 600k to 2.000k VND per session.
– Even severe acne can be treated in only 7-8 sessions.
Sviet guarantees 5 No's:
– No Swelling.
– No Redness.
– No Pain.
– No Peeling.
– No Recurrence.
In addition, Sviet also offers highly effective services for new mothers and young people, such as weight loss, permanent hair removal, relaxation massage, and holistic therapy.
Apart from the above factors, you can fully trust Sviet because:
– The rooms are clean, with white towels, white walls, and white beds, creating a sense of safety – MEDICAL STANDARD.
– Acne extraction is painless, non-swelling, and non-redness. Both the experts, staff, and the owner are professional, friendly, and dedicated.
– 100% of the cosmetics used are from reputable brands with clear origins.
If you have acne, it is recommended to visit Sviet and experience their services at least once.
CONTACT INFORMATION:
Address: No. 38, Nguyen Hong Street, Lang Ha Ward, Dong Da District, Hanoi."
4) Loriskin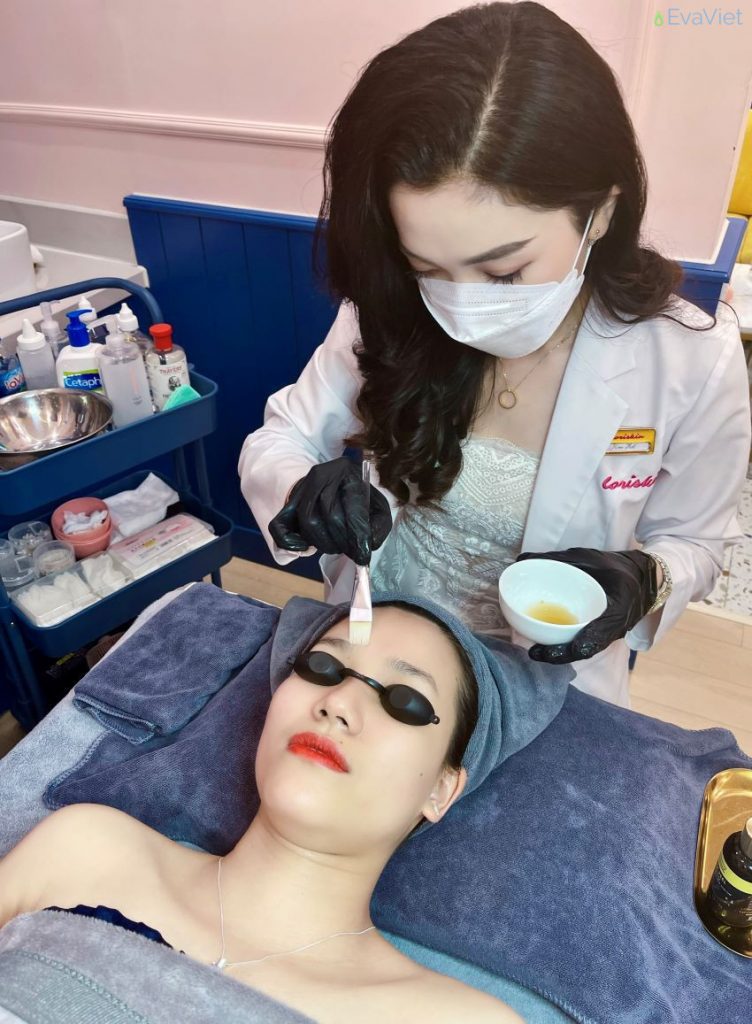 Located at 9 Alley 64 Le Trong Tan, Thanh Xuan, Hanoi, Loriskin is a reputable acne treatment center that meets the three criteria of Safety, Effectiveness, and Medical Standards.
Always prioritizing safety, the team at Loriskin consists of high-level dermatologists and experts with years of experience in treatment. They have a deep understanding of acne language, accurately diagnose each type of acne, and identify the root causes of acne. Based on this, they establish effective acne treatment protocols for each customer, ensuring sustainable skin health, minimizing time, and saving costs.
Moreover, the products used on customers' skin at Loriskin are carefully selected, guaranteeing 100% from reputable pharmaceutical cosmetics brands with clear origins. With gentle ingredients, they are especially suitable for sensitive acne-prone skin.
Why should you choose acne treatment at Loriskin?
Loriskin specializes in diagnosing and caring for the skin, providing personalized treatment protocols both at home and at their facility. They provide continuous 1:1 support throughout the treatment process by experienced specialists.
They combine professional Pharmaceutical Cosmetics and cutting-edge technology machines certified by FDA and CE, ensuring safety, rationality, and effectiveness in treatment.
The treatment process is sterile and follows medical standards.
They provide high-quality services at an extremely reasonable price.
After treatment, the care team will always stay in touch to monitor the patient's condition and remind them of follow-up appointments.
Acne treatment requires time, patience, and the guidance of a dermatologist. If you are experiencing acne, do not hesitate to contact Loriskin for consultation with a dermatologist!
CONTACT INFORMATION:
Address: 9 Alley 64 Le Trong Tan, Thanh Xuan, Hanoi
Hotline: 0977 162 628 & 0967 389 693
Opening hours: 09:00-19:00
5) Thao Ami Spa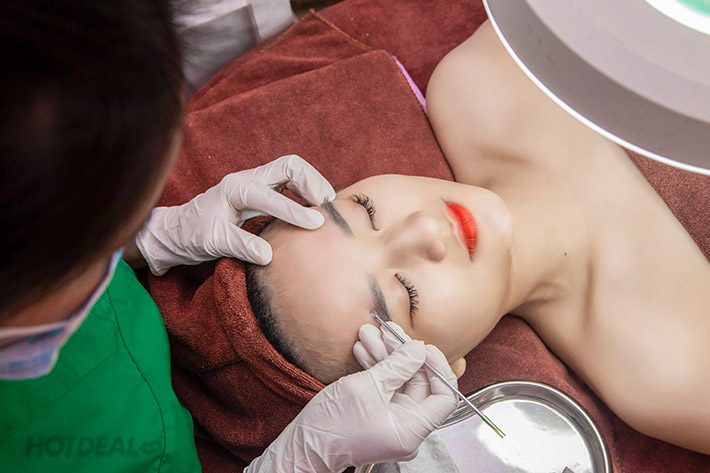 Located at 2 Alley 8 Lang Ha Thanh Cong, Ba Dinh, Hanoi, Thao Ami Spa is a trusted and high-quality skincare and acne treatment spa that has been chosen by many customers over the past period.
Thao Ami Spa is renowned for its medical-standard acne treatment services using exclusive and highly effective techniques, especially their advanced technique of extracting acne cores without leaving scars, redness, or recurrence. 
They specialize in treating severe acne, inflammatory acne, pus-filled acne, cystic acne, and long-standing acne that hasn't been cured by other places.
With an experienced team of specialists and the use of advanced technologies, Thao Ami Spa guarantees to provide you with a fresh and smooth complexion. 
Through their medical-standard acne treatment process, Thao Ami Spa deeply cleanses the skin, reduces inflammation and regulates sebum production, thereby fading acne scars and preventing acne recurrence. 
Additionally, the spa always uses high-quality products and adheres to hygiene standards to ensure safety and effectiveness throughout the treatment process.
– A sterile and medical-standard acne extraction and skincare process.
– No scarring, discoloration, or recurrence.
– Noticeable effectiveness after the first session.
– Written warranty and money-back guarantee if the acne is not cleared.
– After one acne treatment regimen, Thao Ami Spa will help you:
    – Improve 85-90% of the initial acne condition.
    – Balance sebum production and tighten pores.
    – Reduce discoloration, melasma, and prevent acne scars effectively.
    – Support anti-aging, wrinkle reduction, and achieve firm and smooth skin.
    – Support skin brightening, rejuvenation, and achieve a rosy complexion.
In addition to successful acne treatment services, Thao Ami Spa also helps customers address various skin issues comprehensively, such as scars, pitted scars, enlarged pores, melasma, freckles, brown spots, and skin rejuvenation.
Don't let hesitation lead to more serious damage to your skin. Visit Thao Ami Spa right away to find a suitable and timely acne treatment regimen. The medical-standard treatment methods from Thao Ami Spa will help you prevent complications, recover, and regenerate your skin quickly and effectively.
With over 8 years of experience and successful acne treatment for thousands of customers in Hanoi, Thao Ami Spa guarantees safe and effective acne treatment. It is the top choice for women and men to address their acne concerns using medical-standard methods. 
When you visit Thao Ami Spa, you will receive a free consultation, skin analysis, and acne treatment advice. Contact Thao Ami Spa now to enjoy the special offer of a medical-standard acne treatment session for only 99k!
CONTACT INFORMATION:
Address: 2 Alley 8 Lang Ha Thanh Cong, Ba Dinh, Hanoi
Phone: 0833 338 669
Opening hours: 08:00 – 19:30
6) Lã Hà Clinic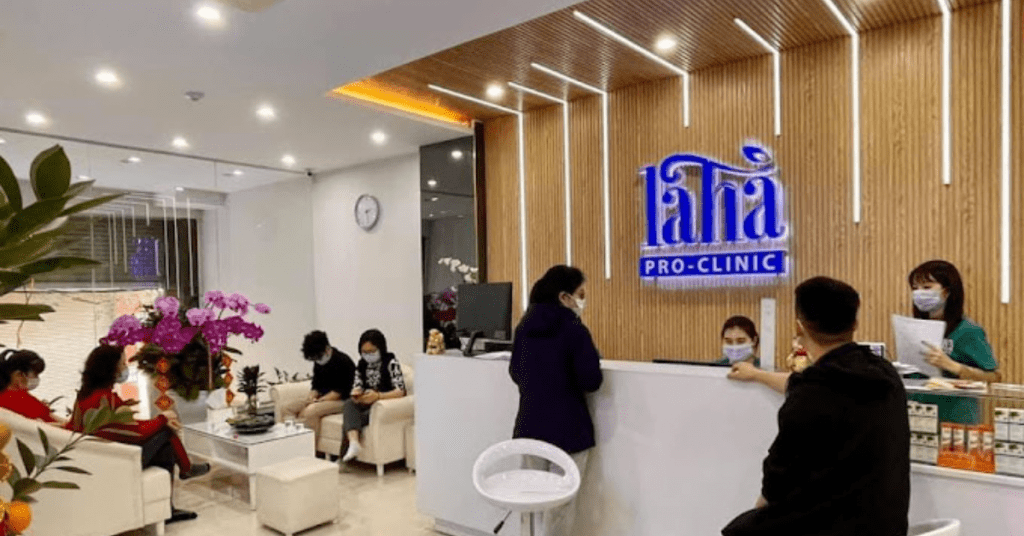 With over 12 years of operation, Dr. La Ha Dermatology and Aesthetic Clinic is consistently recognized as a reputable and top-quality clinic in Hanoi. The clinic has served over 80,000 customers and boasts a success rate of over 98% in treating acne, dark spots, melasma, and corticosteroid-induced skin toxicity.
Dr. La Ha Clinic is led and supervised by Dr. La Ha, who is renowned as the "golden hand" in acne and scar treatment in the Dermatology and Aesthetic field. 
She is a lecturer and the head of the Dermatology department at the Vietnamese Traditional Medicine Academy. Dr. La Ha is an expert in beauty and skincare, appearing on various national television programs such as VTV, Chuyen Dong 24H, Khoe De Dep Hon, Co The Ban Noi Gi, and sharing her expertise on official websites of the Ministry of Health. 
Her successful treatment cases have been honored on the Ministry of Health's information portal and the National Health Education and Communication Center.
Moreover, the clinic gathers leading Dermatology specialists, including Master's and PhD degree holders, professors, and experts from the National Institute of Dermatology, Hanoi Medical University, and other prestigious institutions. All technicians at the clinic have received formal training from reputable medical schools both domestically and internationally.
At Dr. La Ha Clinic, the treatment facilities are equipped with state-of-the-art equipment and advanced technologies that meet the standards of the US FDA and the European Medicines Agency (EMA) for acne treatment, such as Fotona 4D, Smart Fractional, NANO PLUS super micro-needle, and Celluma Pro LED + IR FDA.
Furthermore, Dr. La Ha Clinic exclusively uses rigorously tested specialized medications and skincare products from renowned brands such as Skinceuticals and Biologique Recherche.
Each customer at Dr. La Ha Clinic receives a personalized treatment plan tailored specifically to their skin, ensuring optimal results and minimizing treatment duration.
In addition to their expertise in acne treatment, Dr. La Ha Clinic offers notable services including scar treatment, skin rejuvenation, and aesthetic procedures such as RF + CR skin brightening and tightening, and Hifu/Ultherapy + CR facelift and skin rejuvenation.
CONTACT INFORMATION:
Address: No. 40, Alley 91, Tran Duy Hung, Cau Giay, Hanoi
Hotline: 0862 511 699
7) Kangnam Beauty Clinic Hanoi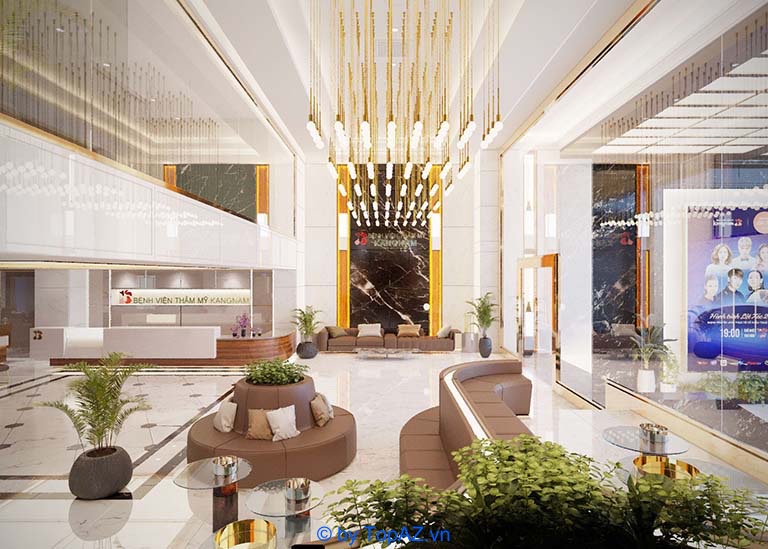 Kangnam Beauty Clinic is a renowned destination for beauty and aesthetic treatments, consistently updating and applying the most advanced cosmetic technologies from around the world. Recognizing the importance of technology in beauty, Kangnam Beauty Clinic is committed to continuous research, innovation, and the application of the latest technologies to deliver perfect beauty results as expected. All the machines and aesthetic equipment at Kangnam Beauty Clinic are directly imported from leading cosmetic giants worldwide, such as the United States, South Korea, Japan, and are directly transferred by top experts in the field, with quality assurance verified by the U.S. Food and Drug Administration (FDA).
For customers concerned about the quality of acne treatment services, Kangnam Beauty Clinic Hanoi is the most reliable choice. The clinic is built and designed according to Korean standards, featuring a luxurious and modern ambiance. 
The clinic is equipped with state-of-the-art equipment, machines, and cutting-edge technologies from around the world. The team of experts and doctors at Kangnam Beauty Clinic consists of highly qualified professionals from South Korea and Vietnam, with years of experience and overseas training. 
The clinic also has dedicated and attentive staff who listen and understand every customer's desires. Currently, Kangnam Beauty Clinic Hanoi utilizes the modern Oxy-Led acne treatment technology.
By visiting Kangnam Beauty Clinic Hanoi, you can eliminate any insecurities and self-consciousness about your previously acne-scarred skin, gaining the confidence to embrace new experiences in life.
 The cost of acne treatment at Kangnam Beauty Clinic Hanoi is 1,000,000 VND for severe acne and 800,000 VND for mild acne. The number of treatment sessions typically ranges from 3 to 5, depending on the severity of each individual's acne condition. 
With this affordable price, you can have peace of mind as it is the most cost-effective acne treatment option compared to the current market.
CONTACT INFORMATION:
Address: 190 Truong Chinh, Dong Da, Hanoi
Phone: 1900 6466
Opening hours: 08:00 AM – 06:00 PM
8) Xuan Huong Beauty Clinic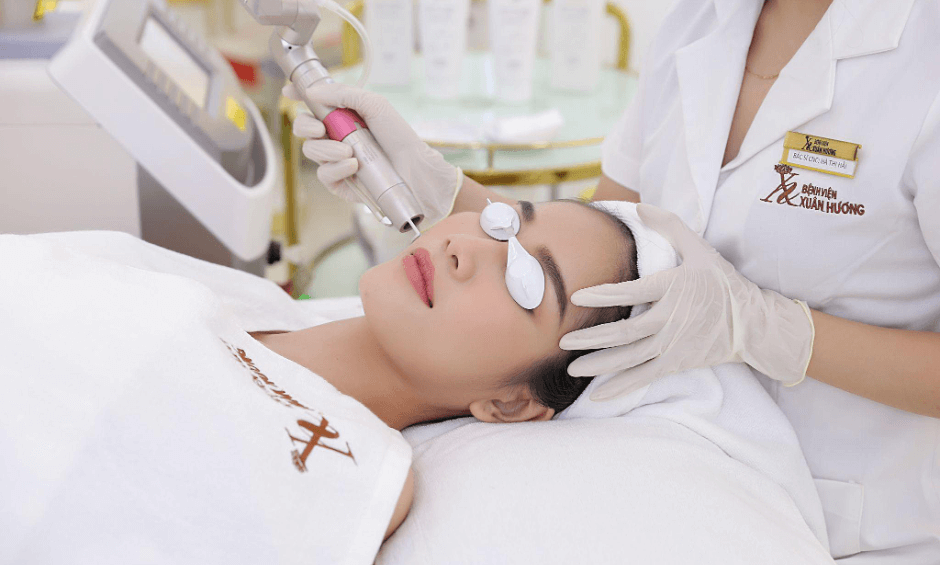 Xuan Huong Beauty Clinic has been in the beauty and aesthetic field for over 20 years. With a highly reputable team of aesthetic doctors, Xuan Huong Beauty Clinic upholds a strong sense of responsibility and commitment.
 Furthermore, all the cosmetic technologies used at the clinic are modern and meet international standards. The clinic is equipped with state-of-the-art facilities and advanced medical equipment to provide customers with high-quality aesthetic services, including cosmetic surgery, advanced aesthetic treatments, skin treatments, and professional cosmetic tattooing, all at competitive prices. 
Xuan Huong Beauty Clinic is the acne treatment spa that We believe you shouldn't miss.
With the desire to enhance beauty and bring holistic beauty to every Vietnamese woman, Xuan Huong Beauty Clinic has been fulfilling dreams for thousands of women over the past 20 years, providing them with complete beauty and instilling confidence in their lives. 
When you visit Xuan Huong Beauty Clinic, you will also receive skin care treatments using modern services such as infrared sauna, oxygen-let machine, skin analyzer, all imported from overseas. 
Moreover, the staff at the clinic are well-trained and dedicated to providing excellent service to the customers.
At Xuan Huong Beauty Clinic, they offer specialized acne treatments using a combination of biophotonic therapy to eliminate different types of acne such as whiteheads, blackheads, cystic acne, inflammatory acne, and comedonal acne. 
For keloid and hypertrophic acne, the clinic utilizes safe and effective CO2 Laser technology.
CONTACT INFORMATION:
Addresses:
22 Trieu Viet Vuong, Hai Ba Trung, Hanoi
19-21 Bui Thi Xuan, Hai Ba Trung, Hanoi
Opening hours: 08:00 AM – 08:00 PM
9) Petunia Charm Center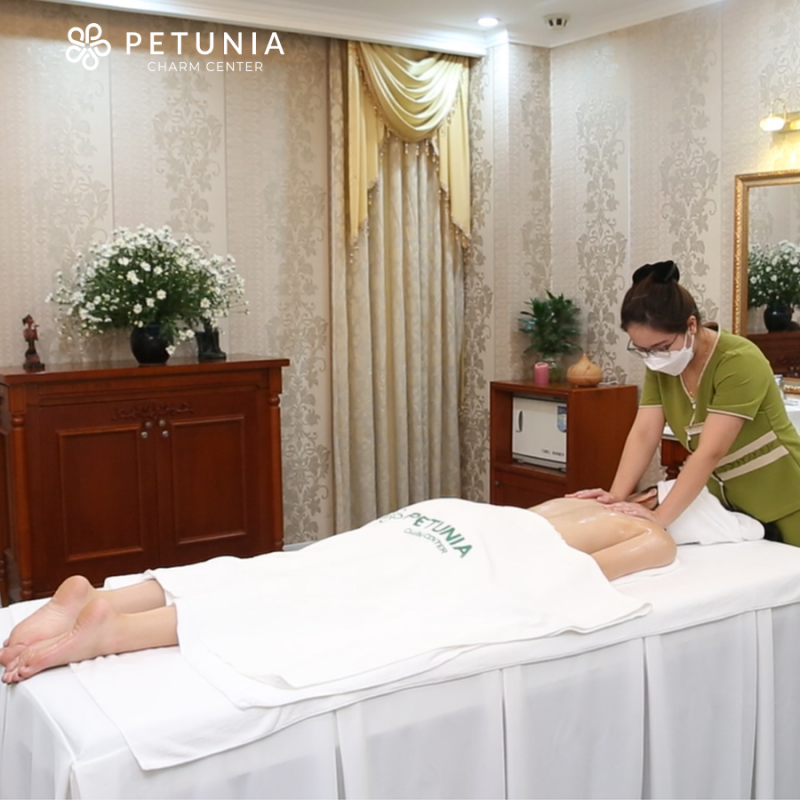 Treating acne can be time-consuming and costly, which often leads customers to lose patience and exacerbate their acne condition. Petunia Charm Center helps you save time and cost in the most effective way possible. With just a single treatment, you can address all your acne concerns.
With a 15-year heritage in traditional Oriental medicine for acne treatment, Petunia Charm Center offers a method that delivers clear and smooth skin. Stubborn acne such as whiteheads will not leave scars, and any existing acne marks will completely fade away.
Petunia Charm Center uses 100% natural herbal ingredients, making it suitable for all individuals and skin types. The center continuously improves the quality of its services and customer care policies. With a dedicated and professional team of staff, Petunia Charm Center has earned the trust of a large customer base.
Petunia Charm Center is recognized as one of the top 100 reputable skincare spas in Vietnam. With a mission to help women maintain their beauty, Petunia Charm Center strives for constant development and enhancement, always keeping up with the latest technological advancements from Korea to serve Vietnamese women. It is a sought-after destination for acne treatment and beauty care.
The center offers various facial skincare services, including:
– Treatment for pigmentation issues after therapies
– Acne treatment
– Pigmentation treatment
– Detoxification for the skin
– Brightening treatments and treatment for melasma
The spa utilizes advanced technologies such as FDA Neosys Laser Toning (for treating melasma) and Long Pulse Laser Alexandrite Noblex (for natural skin whitening). Furthermore, all products used at Petunia Charm Center are imported from renowned brands such as Matis Paris, Image Skincare, Ericson Laboratoire, and Sothys Paris, ensuring their safety and suitability for the skin.
Lastly, the center boasts a team of enthusiastic and well-trained consultants with professional expertise. In addition to its modern facilities and equipment, Petunia Charm Center leaves a lasting impression on every customer with its excellent service quality, always aiming to satisfy their needs.
CONTACT INFORMATION:
Addresses:
– 126 Vu Trong Phung, Thanh Xuan, Hanoi
– 34 Alley 47 Luu Huu Phuoc, My Dinh, Hanoi
Phone: 0966 446 144
Opening hours: 09:00 AM – 07:00 PM
You may also want to check out >> Top 20 must-try dishes in Ho Chi Minh City (part 2)
10) Mama Maia Spa – Safe and Effective Acne Treatment
Despite minimal advertising, Mama Maia Spa remains a top choice for acne treatment in Hanoi. Their deep cleansing technique targets old acne, ensuring effective and safe results. All products used are 100% authentic, guaranteed to be safe and deliver visible differences from the very first session.
Mama Maia Spa promises to eliminate old acne and prevent new breakouts within three sessions. Customers who have utilized their acne treatment services have expressed satisfaction for the following reasons:
Rapid improvement of acne condition: A 13-step acne treatment process, including deep cleansing, extraction, light therapy for reducing scars, and oxygen infusion, guarantees quick and positive results for customers.

Scar-free recovery with restored brightness and even skin tone: Mama Maia Spa utilizes cutting-edge technology to deliver acne-fighting ingredients deep into the skin, reduces scarring through scar-lightening light therapy, and restores firmness, brightness, and smoothness to the skin, effectively minimizing pore size.

Treatment and skincare to prevent acne recurrence: Specialized acne treatment products and dual-technology nourishment help maintain healthy and deeply cleansed skin, completely treating acne and preventing its return.
The acne treatment process at Mama Maia Spa includes the following steps:
Makeup removal

Facial and neck cleansing

Exfoliation

Steaming, oil extraction, deep pore cleansing

Acne extraction

Acupressure detoxification for the face

Warm towel application on the entire face

Ionized deep infusion of acne-fighting ingredients to treat acne and restore the skin

Scar-lightening light therapy

Oxygen infusion for deep cleansing and pore minimization

Acne treatment mask application

Application of acne medication for customers

Head, neck, shoulder, arm, or leg massage for customers
Mama Maia Spa guarantees:
– Highly skilled and delicate handling of acne by their professional team, minimizing skin damage.
– Use of 100% natural and gentle supplementary products.
– Elimination of 70% – 80% of acne after the first session.
– Complete eradication of acne at its root.
– Skin restoration and rejuvenation, minimizing treatment time and cost.
– Anti-inflammatory and anti-swelling effects, preventing acne recurrence.
With their scientific approach and highly skilled team, Mama Maia Spa offers effective and safe acne treatment at reasonable prices, along with attractive promotional programs.
CONTACT INFORMATION:
Address: 16/10 Nguyen Van Huyen, Cau Giay, Hanoi (Located between Tran Dang Ninh and Nguyen Van Huyen streets)
Opening hours: 09:00 AM – 06:00 PM
Tư vấn chuyên môn bài viết:
BÁC SĨ DƯƠNG THỊ THÙY NGA
Bác sĩ chỉnh nha tổng hợp
Ngôn ngữ giao tiếp: Tiếng Việt, Tiếng Anh, Tiếng Nga
Đặt Lịch Hẹn
Xem Hồ Sơ
BEDENTAL - TOP STANDARD DENTISTRY SYSTEM
In HANOI
Address 1: 7B Thi Sach St, Ngo Thi Nham, Hai Ba Trung Dist, Ha Noi. - 0934.61.9090
Address 2: 343 Tay Son St, Nga Tu So Ward, Dong Da Dist, Ha Noi. (Nga Tu So Cross) - 0934.61.9090
Address 3: CC2 Tower  Nguyen Huu Tho St, Dinh Cong Ward, Hoang Mai Dist, Ha Noi. (Inside True Hope ) - 0934.61.9090
In HO CHI MINH
Address 1: 140 Nguyen Van Thu St, Da Kao, Dist. 1, Ho Chi Minh. - 0766.00.8080
Address2: 25, City Land urban area, Go Vap Dist, Ho Chi Minh - 0766.00.8080
Working: 9am - 9pm everyday