Dental bone graft is a dental technique normally is prescribed by doctors in periodontitis treatment or implant surgery. However, when it comes to "bone grafting", many customers worry because they think this is a major, painful surgery or requires extremely strict abstinence. So what exactly is an alveolar bone grafting? What bone grafting techniques are available? Is jaw bone grafting painful? Let explore with BeDental in this following article!
What is a dental bone graft ?
Dental bone graft also known as bone augmentation. Dental bone grafts are extremely common, especially in dental implant and periodontitis treatment
A dental bone graft adds volume and density to your jaw in areas where bone loss has occurred. A dentist or oral surgeon makes an incision in the jaw and grafts (attaches) other bone material to the jaw. The implanted bone will bond with the old bone, continue to grow and produce new bone cells. The procedure is necessary in preparation for further dental work such as implants
See more: Implant Tekka
The bone graft material may be taken from your own body (autogenous), or it may be purchased from a human tissue bank (allograft) or an animal tissue bank (xenograft). In some instances, the bone graft material may be synthetic (alloplast). The choice of which bone to implant will depend on the location of the tooth loss and patient's healh condition. After a while, the grafted bone will be able to fully integrate with the socket and the teeth. At this time, the doctor will re-examine and determine if you are eligible for periodontal treatment or implant surgery.
This technique in the implant case will be performed 9-12 months before placing the implant post. This is the ideal time to make sure the newly implanted bone area is stable, strong enough to integrate and keep the implant free from any problems.
Why is bone grafting necessary ?
Not every case of periodontal treatment or implantation requires an alveolar bone graft. Depending on the current oral health status and the purpose of dental treatment, then doctors can make a decision on whether or not to have a dental bone graft.
More specific: In case of dental implant, a dental bone graft is a crucial technique to tightly hold implant post. Besides, this technique also helps promote the jaw bone to regenerate new bone, suitable for cases where the jawbone is thin or has been resorbed. Doctors will attach autogenous bone or artificial bone to the tooth socket.
See more: Implant Osstem
Moreover, with customers suffering from dental diseases such as periodontal disease, tooth decay, root inflammation, gingivitis, etc, can lead to infection and eventually, bone loss. At this time, when it is necessary to use removable dentures or porcelain dental bridges for a long time, it is imperative to graft bone before intending to dental implant.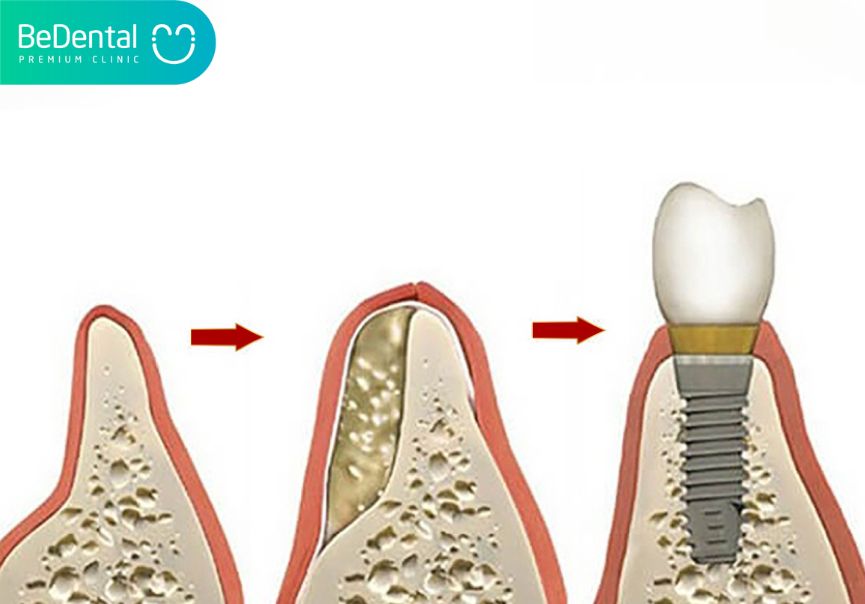 Who needs to graft bone before implant ?
You just can implant loss jaw bone only undergo a bone graftbecause this technique is the most optimal solution for customer whose jawbone is not enough quantity, density and volume to ensure that the implant is stable. Specifically, cases that need a bone graft include:
The alveolar bone is lost due to long-term tooth loss. The alveolar bone plays an important role in supporting and covering the root of the tooth. If bone loss occurs, the socket will be narrowed both horizontally and vertically, completely unsuitable for implant post placement because there is no longer a place to stand.
People who have used dentures for a long time and have a condition of jaw bone loss, deficiency, do not meet the standard conditions for implant.
Jaw bone has sequela or trauma from previous maxillofacial surgery. This will greatly affect the jawbone such as volume change, change in jaw bone structure.
Jaw bones that are too thin, soft or too weak also need bone grafts. Normally, this problem is congenital and requires bone grafting to increase density.
Due to dental diseases such as periodontitis, gingivitis, pulpitis, etc. This affects the quality of bone and teeth and makes the bones weak or insufficient palce for implant.
Types of dental bone grafts
To meet the demand of a dental bone graft , there are many types of bone graft types to suit each customer's health condition. There are 4 main types of dental bone grafts, include:
Alloplast Bone Graft
Alloplast Bone Graft is a biological form of bone made from Hydroxyapatite or Beta Tricalcium Phosphate as the main ingredient. Therefore, even though they are artificial bones, they can be self-dissolving, ensuring absolute safety.
Artificial bone is often grafted onto the missing bone to create space for the autologous bone to grow. On average, each month, autologous bone will grow up to 1mm.
Currently, artificial bones are commonly used because they are always available, cheap, do not need many surgeries and require less strict standards with the dental clinic.
However, one disadvantage of a bone graft is taking long time to recover. On average, it will take about 6 months for the bone to grow to the necessary conditions and another 3-6 months to ensure a safe implant restoration. In addition, there are some cases where customers who have artificial tooth root bone grafts have a rejection phenomenon, requiring a new bone graft.
Autograft Bone Graft
During this type of bone graft, our doctors will remove bone from the body of their patient's own body, typically from the chin or hard palate. When men and women don't have adequate bone tissue available from those areas of the body, our doctors may elect to take bone from the hip or shin
Because it is autologous bone, the success rate of the surgery is always 100% successful, absolutely no rejection occurs. This is understandable because the bone itself is coming from the patient's own body, so there will be no problems with compatibility.
The benefit of an autograft is highly safe, no risk of infection, low risk of bone graft rejection since the bone is coming from the patient's own body. On the other hand, this type of bone graft means that our doctors will have to create an incision on another area of the body.
Allograft Bone Graft
Homogenous bone is bone obtained from another individual of the same species, fresh or freeze-dried, usually stored in tissue banks such as cartilage tissue, bone tissue, internal organs. Therefore, an Allograft Bone Graft has many similarities with Autograft Bone Graft. The most obvious difference is that if Autograft Bone Graft is to take bone from your own body, and Allograft Bone Graft is to take bone from someone else's body.
The advantage of homogenous bone grafting method is that it can be used with a large number of grafts to ensure the compatibility of the properties and chemical composition of the transplant recipient area. The main concern with using this type of bone graft for dental implants is the risk of an immune reaction or rejection.
So that, before surgery, you will be tested for compatibility and thoroughly disinfected, reducing complications.
Xenograft Bone Graft
Heteromorphic bones mean different species. Xenograft Bone Graft is the use of bones of different species, possibly animal bones. Therefore, this method of bone grafting has made many customers feel anxious.
However, heterogeneous bones are taken from different species and have been processed, and depending on the purpose of transplantation, the doctor has further improved biological properties to ensure suitability such as freeze-drying, decontamination, mineral, de-organic. In addition, before implantation, the doctor will take the patient to test for compatibility and ensure that the graft material is sterile and compatible with the patient's body.
However, if you decide to choose a heterogeneous bone transplant, you may face the risk of incompatibility, rejection and an immune-stimulating reaction. At this time, it is necessary to find another safer bone grafting technique.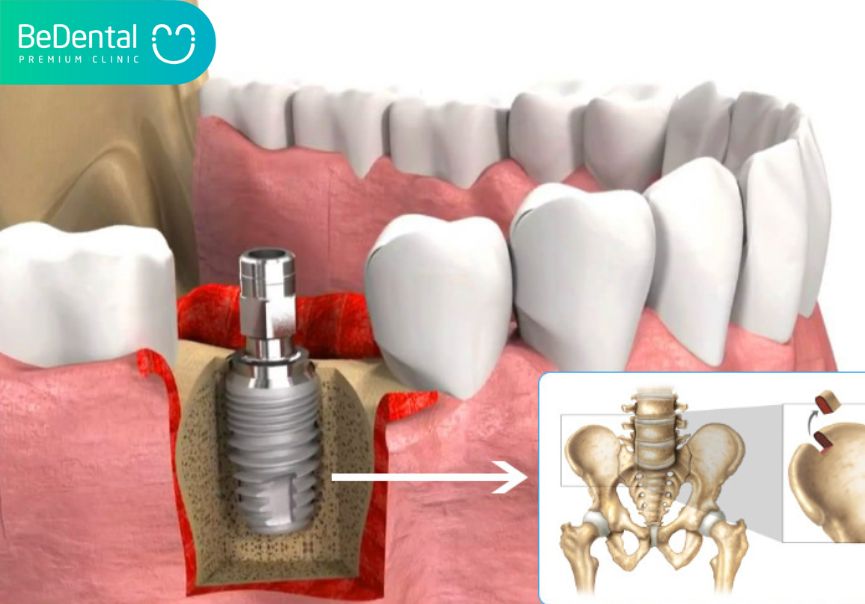 See more: Maxillary sinus augmentation
Is the Procedure Painful ?
Dental bone graft is a necessary condition to be able to safely carry out implant placement in cases where the jawbone is lost or there is not enough volume to keep the post strong. So, is it painful when having the procedure?
The first thing you should know is that the procedure is performed under general anaesthesia, and you will be heavily sedated for the entirety of the surgery. This, of course means you won't feel any pain or anxiety during surgery. Some discomfort is expected as you recover but not too serious. This is usually manageable with over the counter pain relief medication. This feeling of discomfort will decrease markedly day by day.
Your surgeon may also provide prescription pain relief if needed. Besides, applying ice or heat to relieve the pain.
Whether or not the alveolar bone graft is painful or not depends a lot on the skill of the doctor and the support of equipment. Therefore, in order to limit pain of jaw bone grafting, you should find a reputable dental address to undergo surgery.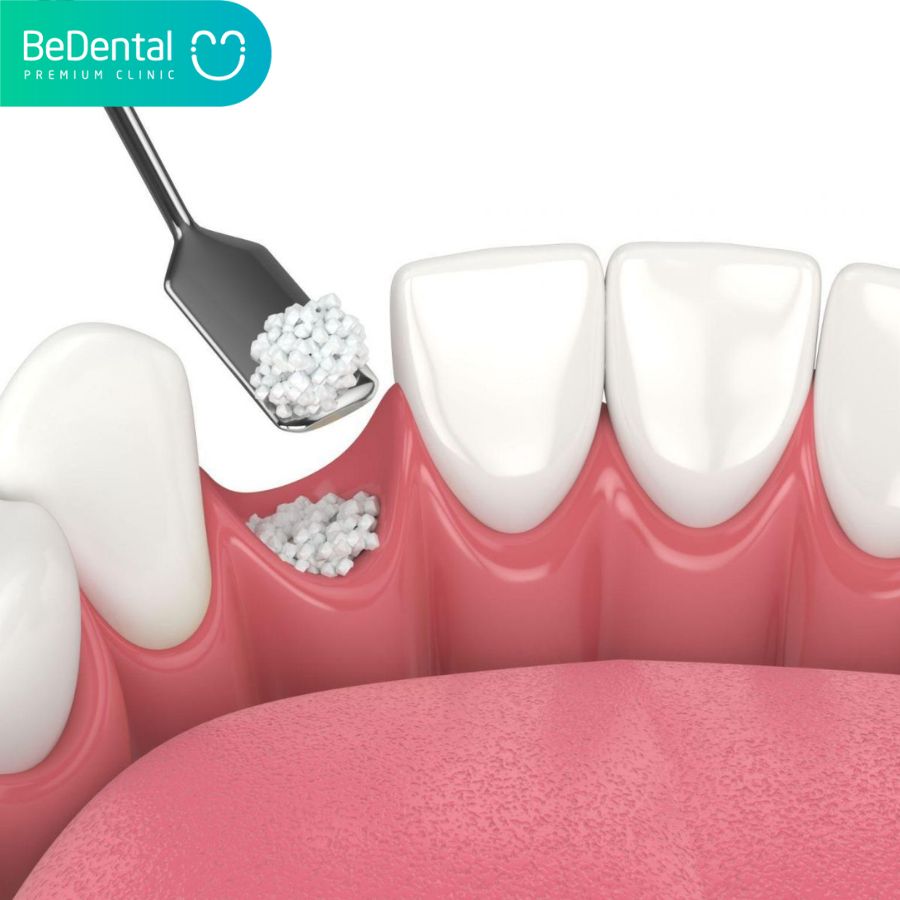 BeDental – a prestigious dental clinic to implant
Most dental facilities support a dental bone graft to implant. However, dental bone graft requires qualified, experienced doctors so as not to have any complications, and at the same time to ensure that the whole grafting process is painless for the client.
BeDental is proud to be one of the leading prestigious dental addresses providing top quality dental implant and bone grafting services. Our teams are all people with many years of experience in implant field. Besides, we are also fully equipped with modern facilities and advanced machines to optimize the process of dental implant and bone grafting in the safest way.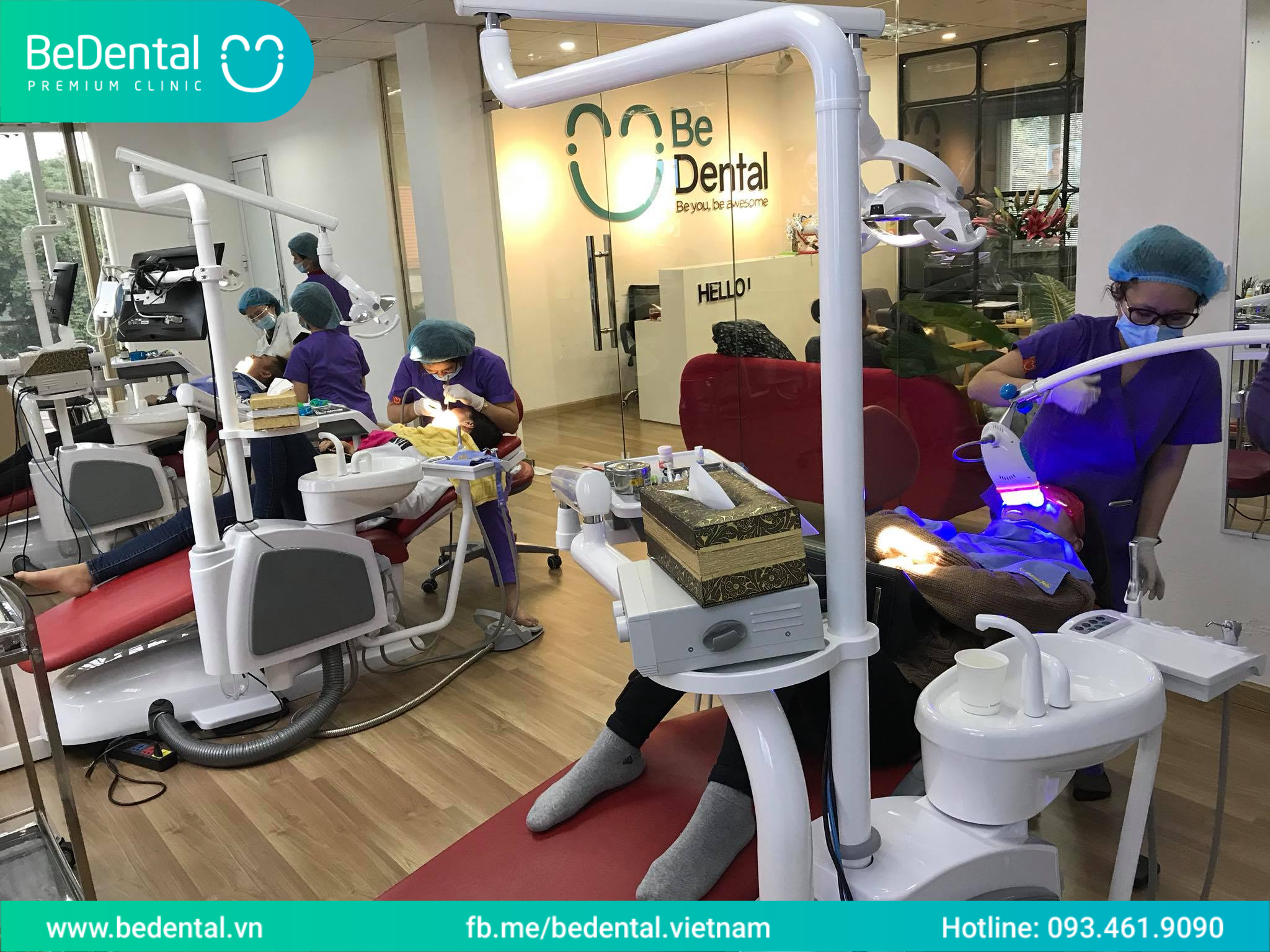 Tùy theo tình trạng sức khỏe răng miệng cùng nhu cầu của mỗi khách hàng, BeDental sẽ tư vấn chọn kỹ thuật ghép xương phù hợp. Dù là xương tự thân, xương nhân tạo hay xương dị chủng, BeDental luôn cam kết chất lượng để không xảy ra bất cứ một biến chứng nguy hiểm nào. Hầu hết các ca ghép xương được chúng tôi thực hiện đều diễn ra nhanh chóng, an toàn và không có hiện tượng đào thải. Loại trụ implant sử dụng cũng có rất nhiều sự lựa chọn cho quý khách hàng.
Caution:
To make sure a dental bone graft well-performed, there are few things you should keep in mind:
See more: Root canal treatment
Choosing reputable dental clinic like BeDental
Arranging work properly to have at least a rest day after bone graft surgery, to avoid affecting your overall health.
Complete treating dental diseases before grafting bone
After surgery, you should use pain relievers according to the antibiotics prescribed by your doctor. In addition, do not use dentures for several weeks to avoid pressure on the newly grafted tooth bone.
If there is any pain after operation, you should apply ice and heat at home. If the pain increases rapidly and does not stop, please contact your dentist for examination and treatment.
Absolutely do not use stimulants such as alcohol, cigarette, caffein, etc, because they can cause complications after the surgery.
You should visit your dentist for regular checkups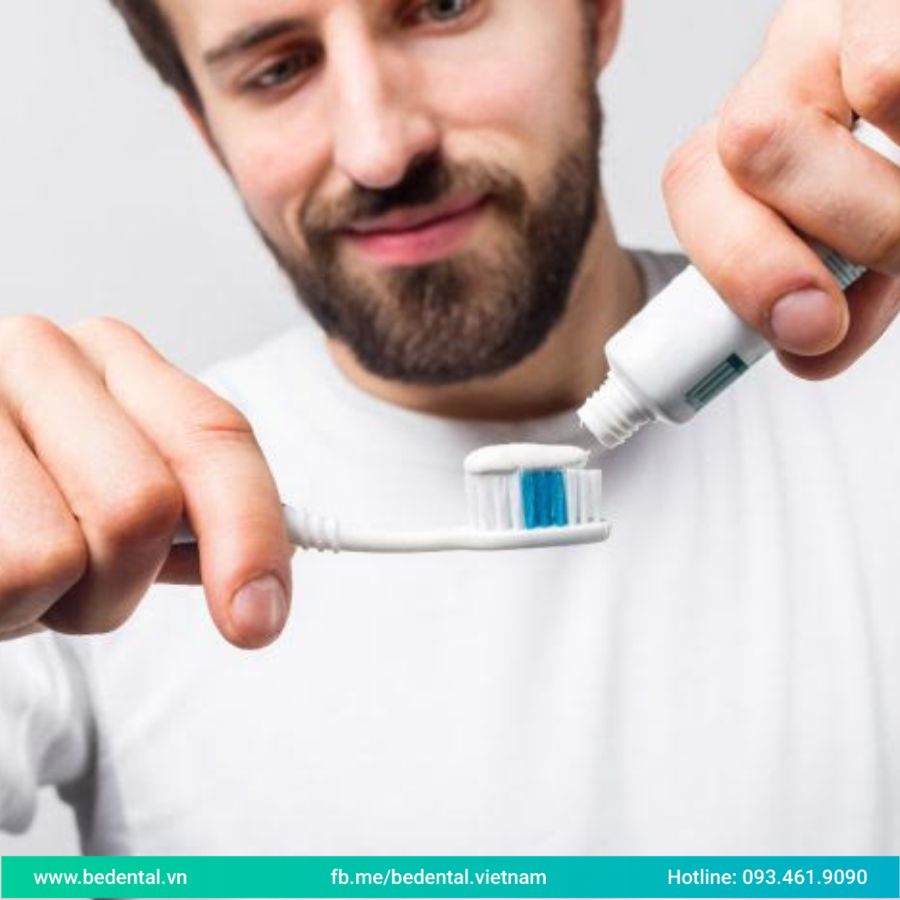 If you are still wondering if your case needs a dental bone graft, please contact BeDental for an Online dental consultation.
BEDENTAL - TOP STANDARD DENTISTRY SYSTEM
In HANOI
Address 1: 7B Thi Sach St, Ngo Thi Nham, Hai Ba Trung Dist, Ha Noi. - 0934.61.9090
Address 2: 98C Chien Thang St, Van Quan, Ha Dong Dist, Ha Noi. - 0934.61.9090
In HO CHI MINH
Address 1: 56 Nguyen Dinh Chieu St, Da Kao, Dist. 1, Ho Chi Minh. - 0766.00.8080
Working: 9am - 9pm everyday